Is the Best Destination Wedding One Within Driving Distance?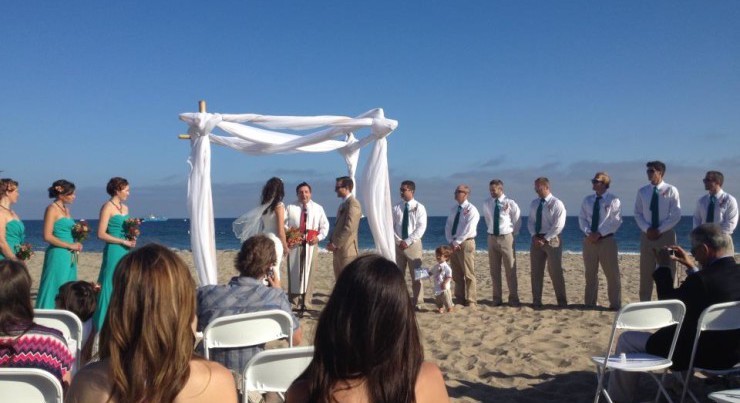 My husband (!) and I exchanged our vows last weekend on the soft sand beach of Santa Barbara, California. Considering that we live in San Diego and neither of us is from Santa Barbara, we had to field a lot of questions about why we chose to have our wedding there.
For starters, we absolutely love Santa Barbara and the surrounding wine valley. As one guest commented, driving into Santa Barbara from San Diego felt like he was arriving in Hawaii, with the low mountains capping the backdrop of the city with a hazy mist spreading out along its middle, a remnant of the marine layer that coats the city's coastline most mornings in the summer.
Secondly, we had a destination wedding without the hassle, or as I've liked to call it during the planning stages, a "mini-destination wedding" since Santa Barbara is only about a four hour drive from San Diego…well, if LA traffic cooperates.
And the wedding rocked (in my totally unbiased opinion). Here is why I recommend a mini-destination wedding and think it is the best kind of destination wedding to have.
You Get a Pre-Honeymoon
The wedding location is like a pre-honeymoon; albeit a slightly stressed out honeymoon. But when we weren't worrying about wedding details, we were able to go out with guests who were already in town and enjoy ourselves. Plus, by the time we got up to Santa Barbara, a few days before the wedding, most of the items were already done – they had to be done in order to get everything transported up to Santa Barbara, meaning we were able to enjoy the days leading up to our big day a bit more than if we'd had the time to leave things until the very last minute (which I assure you, I would have done).
Don't Worry As Much About a Too-Small Wedding
A mini-destination wedding enables you to not have to sacrifice list size if you want a bigger wedding as more of your hometown guests will be able to come. We wanted our wedding to be a big, fun party so didn't want a super small wedding. Yet we wanted to get out of San Diego and my desire to get married with my toes in the sand next to the ocean meant our Midwest hometowns were out of the question. We knew the people willing to fly to our wedding would do it no matter where we had it (well, in the U.S. anyway; my original idea of Tuscany might have seriously hindered our numbers), but we didn't want to make things too complicated for our San Diego friends, so a short drive up the coast was perfect.
A Mini-Destination Still Gets YOU Out of Town
A mini-destination wedding enables you to leave life stresses behind. One reason we didn't want to do our wedding in San Diego is because we both have demanding jobs and extra stresses from school and personal businesses and we didn't think we'd be able to get away from it properly if we stayed in San Diego. I didn't want working or studying happening the night before our wedding. By going up to Santa Barbara, we forced ourselves into a wedding and vacation mindset before the big day.
Mini-Destination = Mini-Vacation
Your guests feel like they're on vacation, resulting in a fun, party atmosphere. We had a lot of people fly in from the Midwest and so our wedding served as a beach vacation for them as well. Even those who were from San Diego still treated it like a weekend getaway. Most everyone arrived a day early and was in a fun, vacation mood. It also gave us more time to visit with guests before and after the wedding since many of them were staying in our hotel or a nearby one. Being able to have more time to visit with dear friends and family we don't see often made our wedding more special since the night of the wedding went by in a whirling, dancing blur.
The Planning Process is Easier with a Mini-Destination Wedding
It's easy to drive to the location and visit vendors. I am definitely not an event planner, but was planning this wedding on my own. If I had been putting together a far-away destination wedding somewhere I had to jump onto a plane to scout locations and vendors for, our wedding probably would have never happened. My (then) fiance and I had a couple weekends where we drove up to Santa Barbara to meet with vendors and having it in driving distance made everything much easier to figure out. Plus, we got to have a little mini-getaway out of it with wine tasting and strolls down Santa Barbara's distinguished, tree-lined State Street.
And, oh yes, exchanging vows with my hubby in such an amazing setting was also a pretty good reason to head up the coast for our mini-destination wedding!