One Day in St. Maarten, This Happened…
St. Maarten Taxi Ride: A taxi driver ends up being a highlight of my day on the island
I sit down with a sigh on the beach. It's 9am in the morning and I got off the cruise ship…quick check of my watch…35 minutes ago. And I'm already bored with Phillipsburg, St. Maarten. Apparently, I should have done a bit more research before just showing up. Philipsburg is basically a bunch of shops. Tourist central. Ugh. And they weren't even open yet.
(Which was actually nice. I got to walk the streets before they were filled with people spending money on diamonds and such. Yes, diamonds.)
Not that it would matter if they were open. I'm not much of a shopper when traveling. I pull out a map that I'd gotten at the Visitor's Center before taking the short St. Maarten water taxi from the harbor over to Philipsburg and peruse if there is anywhere worth walking to.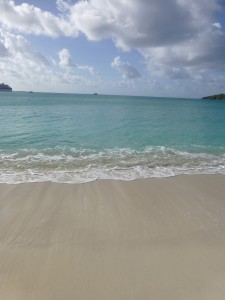 Nothing much that I can see. I debate for a sec taking my dress off and going for a swim in the ocean to pass the time figuring my bra and underwear can pass as a swimsuit, and the beach is still empty enough that my stuff would probably be fine if I buried it in the sand. But my brand new (non-waterproof) camera is keeping me from jumping in. How would that be to get home and explain to my husband? "Thanks for the early birthday present, but I decided to leave it unattended on a beach while I jumped into the Caribbean sans swimsuit and it got stolen."
Yeah…not such a good idea.
I peer at the map again and notice a section off to the side that lists 5 things not to miss in St. Maarten/St. Martin. Several of them involve beaches, but one suggestion is not to miss Pic Paradise on St. Martin, the French side of the island. It doesn't say anything else about it except what number it is on the map, but I remember seeing that on a sign in the visitor center. I think it sounded like it was a lot of vegetation and trees to walk through. Hmmm, does St. Marteen have rainforests? Maybe it'll be a rainforest to walk through. That would be fun.
I stand up, full of renewed vigor and head back to the pier to find a St. Maarten taxi. I quickly find the taxi line and approach a bench with a man and woman sitting on it, holding signs.
"Taxi?" the man asks.
"Yes…I think so," I say, wondering how much negotiation is reasonable for a St. Maarten taxi. "How much is it to Pic Paradise and to wait for me for a little bit while I visit it?"
"$25 to Pic Paradise," the man replies.
"And you'll wait?" I ask.
"How long you planning on going?"
I shrug. "I'm not sure. A half hour or hour maybe? I have to be back to the cruise ship by noon for work."
He gives me a puzzled expression.
I falter, unsure what I said that was confusing since he speaks impeccable English.
"Will three hours be enough to get there and back?" I ask.
The woman taxi driver is listening to our conversation and nods. "You'll be fine," she tells me.
"Well, depends," the man says. "Are you doing the extreme version?"
What? Did he just say extreme?
"Ummm…" I answer.
He senses my confusion now. "You know it's a zipline, right?"
A zipline? Um, no, I did not know that. However, not wanting to come across as a totally clueless tourist, I improvise. "Uh, yeah! But you know, I thought there were other things to do there."
"Well, they have an easier zipline course. I think that one you should have enough time to go through."
The woman next to him is rolling her eyes and nodding again. I grin at her. Apparently she doesn't worry about time as much as this guy. I like her style.
"Yeah, great! So $25 there and back – and that includes waiting?" I confirm with the man. It seems reasonable so I decide not to bother with any negotiating. I'm short on time.
He nods.
"Great…uh, let's go then!" I say jollily, excited to start my adventure.
We do, but first he checks I have the right shoes on to ensure I don't waste my time as flip-flop style shoes aren't allowed. I like his concerned parent style – not normal taxi driver style. I wonder if it's just him or if all St. Maarten taxi drivers are like him.
We walk through a small market to get to his taxi, which is a van. He tells me to sit in the front seat. I climb in and feel like I'm getting a ride from a friend, not a taxi driver.
As we discuss the fact that most people on the island know three languages – French, Dutch, and English – I make the mistake of telling him I know French and he begins speaking in it to me.
"Uhhh, maybe I don't actually remember any French," I stutter.
"You'll know this," he says and tosses out a phrase: "Comment vous appellez-vous?"
"Uh…."
He laughs. "What's your name?"
Oh! I know this one! "Je m'appelle Gina," I say proudly.
He nods. "Je m'appelle Glen."
I am lucky to have Glen as my taxi driver. He explains about the island as we drive through it. I ask him if each side pretty much sticks to itself.
"It's very friendly. We think of ourselves as one island," he says, adding that they've been at peace for hundreds of years, a fact which he seems to be very proud of. Sure enough, a few minutes later when we cross from the Dutch side of St. Maarten into the French side title St. Martin, there are no guards, no checkpoint. Besides a sign welcoming drivers into St. Martin, it was completely uneventful. A blink and you'll miss it encounter.
And so, we are suddenly in French territory.
"On the Dutch side, we promote tourism; it is healthy for our economy, so we put all the signs in English. But on the French side, they put the signs in French." He gives me a conspiratorial look as if to say "you know how the French are about their language".
I grin. Hmmm, maybe not a perfectly united island.
I also learn a bit more from Glen about being a taxi driver on the island. He said to be one you must have your own vehicle and only a certain number of permits are issued. He used to be a chef, but as being a taxi driver is such a good job on the island he made a career change; however, he had to wait 6 years on a waiting list before he got his permit. He said once you have a permit, it stays in your family. He can pass it down to his children when he retires.
I figure this must be why he's such a happy, fun taxi driver.
"We also have one of the best economies in the Caribbean," he tells me. "And a low crime rate. On the Dutch side, we've legalized marijuana and prostitution. We figure if we can't control it, we legalize it and regulate it."
I'm not a proponent for legalizing either in America, but when he says it in his laidback Caribbean drawl…well, it sort of makes sense. A few days on a Caribbean cruise and my brain must already be turning into an island mindset.
"Oh, I didn't know that," I say, and then remember good old Amsterdam and that it is a Dutch colony on one half of this island so makes sense.
As we drive through the lush island, we leave the coast and head farther inland. We drive over and around green hills dotted with white and pastel colored houses.
"Do most people who stay here stay by the beach or do some people stay here, in the hills?" I ask, sweeping my hand toward the window, beyond which lays gorgeous garden and tree views.
"The beach, mostly," Glen answers. "Used to be all over, but tourisms taken a hit the past few years so we're not full anymore and people usually want to stay at the beach."
I nod, but think I'd have to do the opposite. The inner island is breathtaking and looks so peaceful. Like a little tropical forest full of beautiful and serene looking houses.
And a few minutes later with that thought in my mind, Glen turns in to Pic Paradise and I know I've made the right decision to skip the beach on this sunny Caribbean day.