With One Baby Carrier That's a Must if You Work From Home
Babywearing is something I think most moms of little ones will benefit from. Babywearing means using a device called a baby carrier to strap your baby to you so you can move around freely and have your hands free, but your baby feels held and secure still. Here are my three go-to baby carriers that I think all new moms should have as they each serve a different purpose.
This post contains affiliate links.
Wrap: Awesome for Infant Stage and Work at Home Moms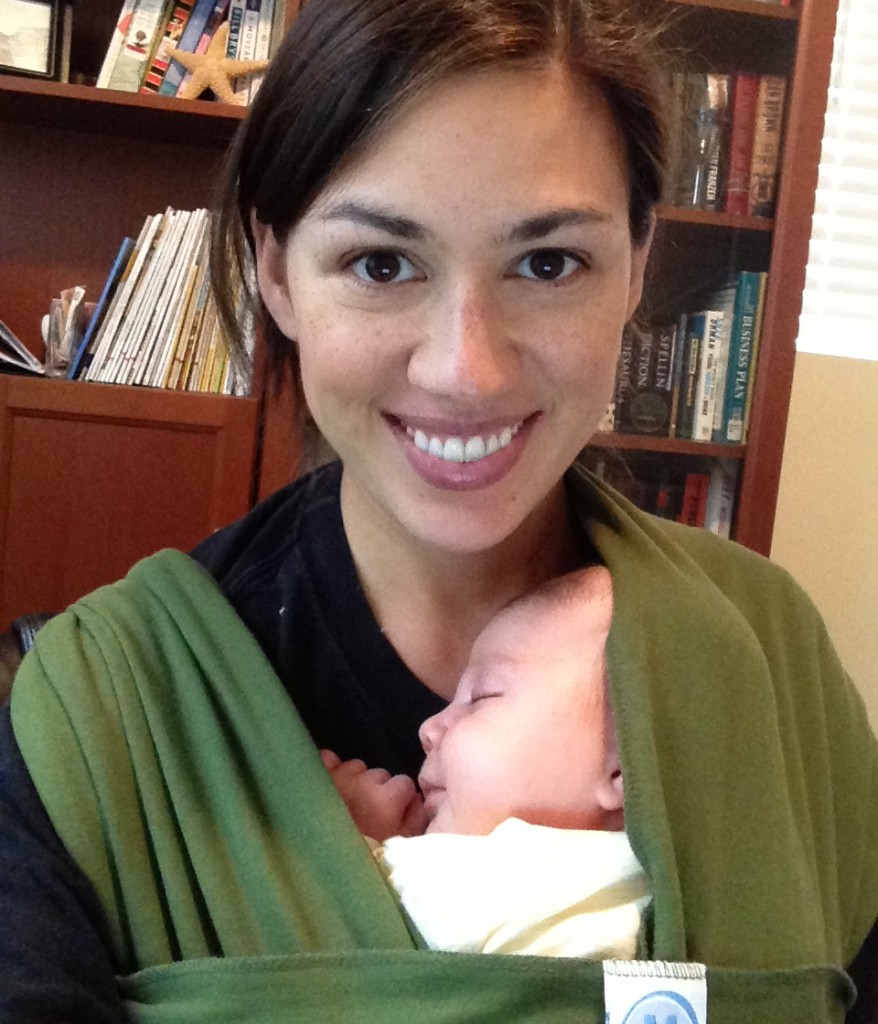 This is my go-to baby carrier in the early months. I think I stopped wearing Lulu in it around 5 months when she started getting too wiggly and would push against my chest. Vivi is still super happy in it. It's my favorite baby carrier for around the house because it's pretty secure so I can have both my hands free to do stuff with, and it isn't uncomfortable to wear.
In those first few months it is also an excellent way for the baby to sleep since they're right against your heart and you know they're safe next to you and you have both hands free so you can get stuff done. This is especially important if you work from home. Both my babies would sleep for two hours in this. Vivi sometimes will sleep in the Moby for upwards of three hours!
I think babies sleep so well in this type of wrap in the infant stage because it creates a womb-like atmosphere. You put them into the wrap with their legs bunched up in a frog position and then they're nestled against your heart.
So what's the downside of babywearing with a wrap?
It's really annoying to put on. Even now, after doing it 100 times I still find it cumbersome to put on. But it does get easier. And with Vivi I fold it before putting it on instead of bunching it together (watch the instructional videos and that will make sense) and I find it way easier to put on that way. I'm not sure why I didn't do it that way with Lulu.
And speaking of video, that is my main tip for the Moby Wrap: Watch lots of YouTube videos! They help a lot for figuring out how to put it on yourself.
Also, have someone around to help you the first few times. If my husband hadn't been there encouraging and telling me not to give up when Lulu was crying while I was trying to get her into it, I probably would have decided it was too complicated and never worn it again. Once I figured it out, though, it was easy to get the baby in.
Structured Carrier: Excellent for Hikes and Husbands 😉
This is an excellent baby carrier for long outings or tasks where you're going to be bending over more. It isn't just a piece of fabric like the Moby Wrap and is a stiff structure meaning the baby can sit quite comfortably in there for long periods of time while you're hiking, chasing your toddler through the park, or on an epic long Target run.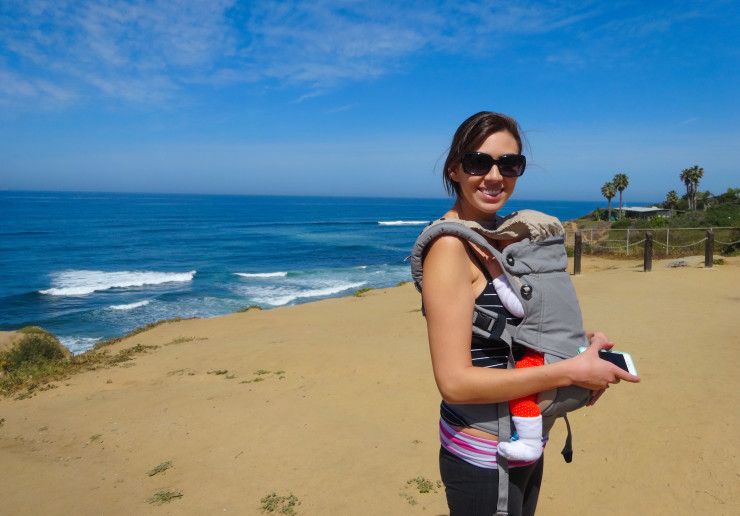 What I like about the Ergo is that it's comfortable to wear (though not as comfortable as the Moby Wrap in my opinion, which is why I rarely wear it at home) and there are multiple ways to wear your baby. You can snuggle your infant into it against your chest with the infant insert and then as they get older and have head support you can face them outward. The Ergo is designed to have proper hip placement whether the baby is facing in our out; you just have to adjust a button.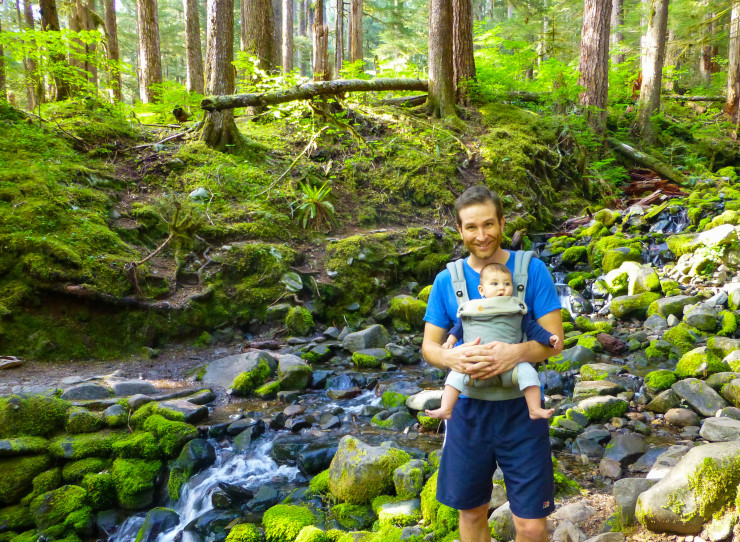 You can also wear the Ergo on your back which is nice for hiking. There's also supposed to be a way to wear a baby on your hip with the Ergo, but I haven't tried that position yet.
Also, I know there are husbands out there who embrace the wraps and ring slings, but my husband never did, but he likes the Ergo and will wear that at home or while we're out. He spent an entire afternoon making Pierogis (delicious Polish dumplings) with Lulu dozing away in it (while I slept, too!) when Lulu was a month old.
Ring Sling: Great for Traveling and Quick Errands
A friend recommended this to me when Lulu was almost five months old and I'm so glad she did. I had no plans of getting another carrier at the time, but this was worth the money. There are many ring slings on the market and I got the Maya Wrap. The main thing I like about my Maya Wrap are how quick and easy it is to put on. Once you have it looped through the ring you can quickly loosen it and tighten it without rethreading it through several wears.
This is awesome for occasions where you don't need to wear the baby long (so putting on the Moby or the Ergo isn't really worth it).
For example, I loved having the Maya Wrap when we were in Kauai when Lulu was a baby and we were doing a drive around the island with lots of stops to get out and see things. We didn't stop long so it was nice to be able to put the Maya Wrap over my head in just a couple seconds, quickly slide her into the ring sling so she felt more secure as we walked around at tourist spots and then could easily take her out to put back in the carseat and then quickly take the Maya Wrap off.
Another reason I like the Maya Wrap over other brands is the convenient pocket it has that can fit a diaper, wallet, phone, and small thing of wipes. Makes it easy to do a quick errand.
Have you used baby carriers or are you pregnant and planning to? Which style appeals most to you? Let me know in the comments below or drop me a message on my Instagram or Facebook page!