One Day in Lake Quinault while traveling with a toddler, this happened…
I criss-crossed my ankles on the vibrantly green grass and settled back into the large Adirondack chair as the panoramic view of the glistening lake spread out before me beyond the vast lawn.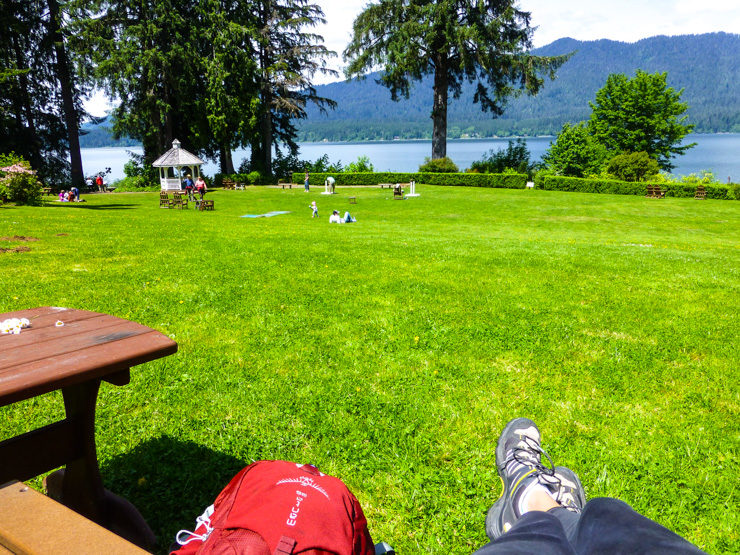 Twenty feet in front of me, my daughter Lulu played with a soft baseball bat for the first time, her chubby toddler hands gripping its handle awkwardly as she swung it around while my husband tried to show her how to hit a ball with it.
My heart swelled and I sighed contentedly as the warm sun poured down on my face and shoulders. It was Memorial Day weekend and this was quite the little slice of Americana I was privileged to enjoy.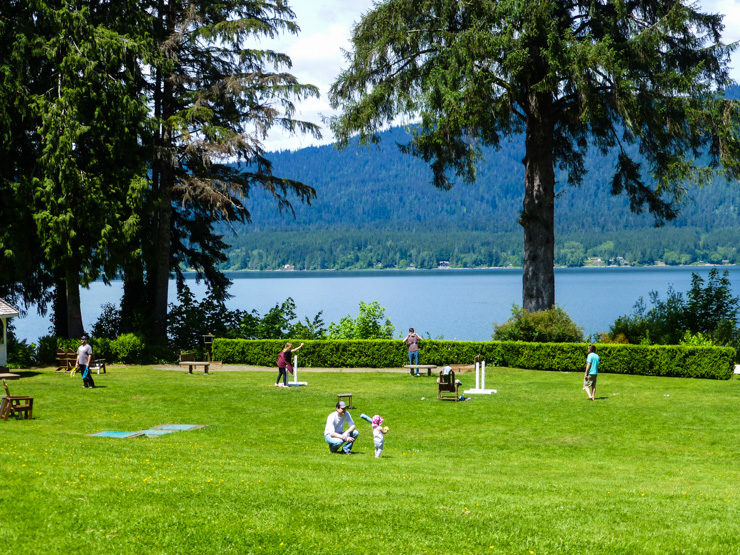 It was the last couple hours of a short vacation to the Olympic peninsula in Washington to explore its rain forests and Lake Quinault, and I was ready to make the most of the remaining time. Ending our vacation with lunch at the historic Lake Quinault Lodge already seemed the right choice.
We opted to get our lunch to-go so we could enjoy it on the immaculate grounds of the hotel instead of eating inside or on the patio. Plus, we figured that would be easier since eating out with a young toddler had started to prove a bit challenging.
Tom began walking up the sloping lawn toward me as Lulu continued to play with the bat and ball behind him.
"Food's almost ready," he said and passed me to go inside to get our takeout order from the hotel's restaurant.
Lulu still seemed to be playing contentedly so I stayed seated in my chair, relishing in the layout of the hotel's grounds since it has a wide, grassy area that makes it easy to take in the view and keep an eye on children at the same time. Lulu had plenty of room to run around and bushes blocked her access to the lake except for a small trail to the far right of the grassy area that led to a beach.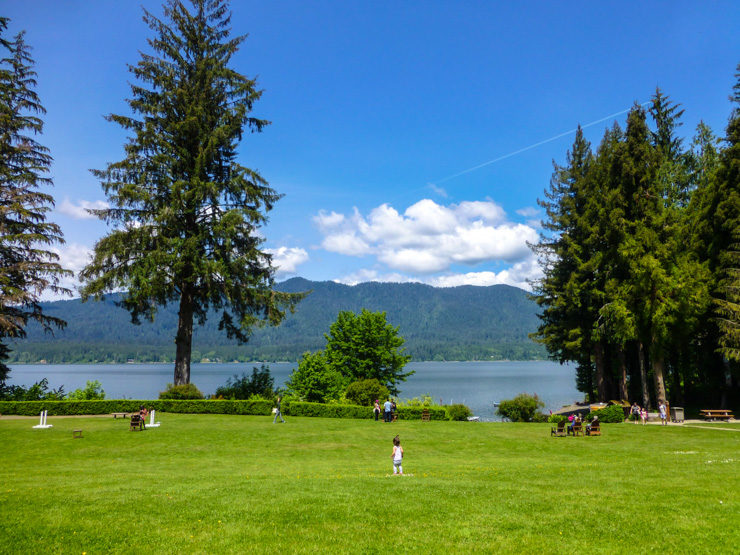 Suddenly, Lulu stopped playing with the bat and began chewing on it instead.
It was then that I made my mistake.
Despite the fact that Lulu had spent much of her young life chewing on everything she could get her hands on, her slobbering on the hotel's bat in this idyllic setting suddenly seemed inappropriate and I felt the urge to stop her before all the other parents judged me for letting her gnaw on the communal bat.
I should have let them judge me. Because, unbeknown to me, they were about to anyway.
Lulu, who had been happily playing on the grass for the past 15 minutes with minimal running sprees (a rarity for her), saw me coming toward her and took that as an invitation to take off. Still holding the bat, she ran away from me down the hill toward the bushes, veering toward the right.
I caught up with her right next to the end of the bushes and grabbed her arm to stop her from running down to the beach.
"Not yet, honey," I said. "We'll play in the water after lunch." I started to pick her up to bring her back up the hill and wait for Tom to deliver our lunch.
And that's when it happened.
In one split second, Lulu went from happy-go-lucky child to angry, tantrum-ing toddler. I barely had her lifted and placed onto her usual place on my hip when she arched her back, threw back her head, and wailed. Loudly.
"Lulu, stop, we're going to go see daddy and have lunch," I said sternly as she continued to wail. "Don't you want to see daddy? Where's daddy?"
Looking for daddy usually is cause for some grinning excitement, but not this time.
The wails turned into screams and she thrust herself back some more. It was then I realized my little baby had officially morphed into a little girl and was getting too big for me to carry around at my own free will. This little one had her own free will now. And she was going to use it.
As she continued to rage against me, I worried about dropping her and so set her feet on the ground. She instantly collapsed into a heap, her little legs spiraling in anger as she rolled to her side, kicking and screaming.
It was official. My sweet daughter was having her first full-on public meltdown.
Which I was completely unprepared for.
Couldn't she have done it in a grocery store like a normal child? Where I could quickly hide behind an aisle or take her outside to the car? No, she had to choose here, in this beautiful, serene, openly visible setting.
Since we were now at the bottom of the vast, sloping lawn, all the guests who were also enjoying it were situated above us. I could see all of them. And they were all looking straight at us.
"Honey, please," I pleaded.
I made an attempt to pick her up, which elicited more screams and a kick to my stomach. I gritted my teeth and put the bat under my arm and then picked her up again, this time holding her under her armpits and away from my body as I carried her kicking body behind the bushes, hoping once she couldn't see the water she'd calm down.
"Lulu, you're fine, please calm down," I said as calmly as I could, despite the embarrassment that felt much like panic rising up inside me. I hoped my calm voice would also calm her down. It didn't. I tried another tactic. I proffered the bat. "Here, do you want the bat? Lulu…do. you. want. the. bat? Do you want the ball? Do you want to try hitting the ball again? Let's play!"
My calm voice was quickly fading and replaced by shrill pleading.
The bat, which had been providing her so much entertainment minutes earlier, did not work as a peace offering. She just ignored it and wailed some more as she got up and ran past me toward the beach. I quickly caught up with her and stopped her running spree as she screamed louder.
We were once again in the sight of everyone on the lawn, and at this point, I was becoming quite embarrassed.
I looked like I had no control over my daughter whatsoever.
Probably because I didn't.
As she dramatically cried and acted like it was the end of the world because she couldn't go down to the lake and as everyone stared at us, I debated my options. My parenting tactic choices seemed to be "let her cry it out" or "give in". I think there is supposed to be a third option for tempter tantrums: "remove from the situation," but I wasn't sure where to remove her to. I wasn't even sure if that was the best way to deal with temper tantrums. The only strategy I could currently remember reading about before was to act like a caveman to her or something. Yeah, that was NOT happening.
So back to the original two options. The way I figured it, I was going to look like a bad parent either way. Let her cry and I'd annoy all these people trying to enjoy their last day of vacation on a relaxing long holiday weekend. Give in, and everyone would probably knowingly roll their eyes that this was what was wrong with parenting today and kids got whatever they wanted. (Of course, there was the always the possibility that no one would care enough to think this, but at the moment I was quite convinced they all would.)
I looked around again. There were no sympathetic glances being tossed my way. Even the nice dad we had passed on a hiking trail earlier that morning who was currently sitting at a nearby picnic table was steadfastly avoiding eye contact. It was clear. This had to stop NOW. There would be other times to put my foot down and not give into Lulu's demands. This peaceful and charming setting was not one of them.
"Ok, Lulu," I sighed wearily. "You want to go down to the water?" I set her down and started walking down the trail.
She stopped wailing and opened her clenched up eyes briefly to peek at me and discern if I was serious. Seeing that I was, she excitedly hurried after me, the tears immediately stopped, cooing and babbling happily about wa-wa.
Faker.
As we ambled down the hill, my face still flushed in embarrassment, I looked behind me and still didn't see Tom. What was taking so long with the food?
Lulu and I got down to the beach and I proceeded to do a delicate dance of blocking her attempts to wade into the water with her clothes and shoes on, but not doing so in a way that would prompt another meltdown.
She luckily seemed content to throw pebbles into the water. I sat down beside her, feeling exhausted and like I'd just run around the entire lake.
Finally, Tom appeared, a hazy figure at the top of the hill by the chairs currently baby-sitting our backpack that also held my cell phone. I could see him looking around for us.
"Lulu! Daddy's back!" I said. "Let's go see Daddy!"
I picked her up and started walking away from the water.
Cue tantrum.
I made it as far as the edge of the grass, Lulu's flailing body half hanging off of mine as I waved at Tom. Which was dumb. He obviously saw us. Everyone did.
He spread his arms out in a "what the –" gesture of confusion.
That is when I started laughing.
Oh, great. Now, I'm the parent with the temper tantrum throwing toddler with the shrieks piercing everyone's pleasant day who is laughing about it.
But I couldn't help it. Lulu was being sooo dramatic. And I'm sure I looked wholly ridiculous trying to haphazardly hold her.
It was funny!
Though…probably not to everyone else.
So with one arm still keeping some sort of hold on Lulu, I pointed forcibly at Tom and then at the lake, and then let Lulu go to run back toward it.
She squealed in delight and sprinted off as fast as her little legs could take her and I turned to follow her with a sigh.
Tom reached us quickly. "What is going on? I was gone for five minutes!"
Was that all?
I couldn't answer because Lulu had just run into the water. I plucked her out before she could get completely soaked.
"Ok, let's at least take off your shoes," I told her.
She was having none of it and kicked and started screaming again. I knew she understood what take off your shoes meant. But the kid was tired. Traveling can be hard on toddlers and she hadn't gotten as much sleep as she was used to.
Still, couldn't she calm down for 15 seconds and let me take off her damn shoes?
This is when another dad with older kids helpfully (ha!) suggested we just let her go in the water.
Yeah, no shit. Thanks dude.
But Lulu, thinking that I was determined to once again take her away from her beloved beach, ran away from me toward the chairs surrounding a lakeside bonfire pit and began climbing on them.
This is where Tom intercepted her and picked her up.
She cried and pouted for twenty more seconds, but then started to calm down. I had been prepared to eat on the beach at this point, but Tom suggested we try going to the picnic tables.
"She's going to freak out again!" I replied.
"Let's try. She seems calmer."
So we did. And lo and behold, she let Tom carry her away from the lake while I filled him in on the mild turn of events that led to this epic meltdown. I paused in my babble to realize Lulu was actually letting Tom take her back up the trail and onto the grass and wasn't screaming.
"Seriously? Seriously?!" I mutter to him under my breath. "Now I look like the parent who can most definitely not control my kid and you're Mr. Perfect Father." Tom laughed.
We reached the picnic table and Lulu continued to stay calm. She must have sensed the French fries.
We sat down on the picnic bench and gradually lost the attention of our fellow hotel patrons as Lulu stayed relatively quiet, distracted by the dog lounging at the next picnic table over and the promise of a French fry.
"Lulu, would you like a French fry?" Tom asked, waving it in front of her. She had just recently discovered the world of French fries and was hooked.
She reached toward it.
"What do you say?" Tom asked.
"Pweeese," Lulu said sweetly.
Tom gave her the fry, grinned, looked around comically, and then said jokingly to me in a quiet announcer voice:
"Did you see that people? Our daughter may throw tantrums we can't control that we stop with greasy French fries, but she says please. We are awesome parents."
I was still mortified, but couldn't help laughing.
Traveling with a toddler. Not so easy, people. But now I know what to do next time a tantrum happens on our travels.
Give in. Immediately.
Ha, but seriously, how do you deal with toddler temper tantrums while traveling? What if you can't easily remove them from the situation or divert their attention with dogs and French fries? I love this post from Caz at yTravelBlog about their daughter throwing an epic meltdown in the middle of the Grand Palace in Bangkok. It made me feel not so alone – and glad we at least weren't in the middle of the Grand Palace when it happened! 😉 A tantrum didn't stop them from traveling with a toddler, and it won't stop us, but…I need some better strategies prepared for next time.
Share what's worked for you and your kids in the comments below or on my Facebook page. I'm curious how others deal with toddler travel tantrums!
You also may enjoy reading:
Flying Alone with a Baby: What I Love and Hate
6 Tips for Hiking with a Baby
15 Things I Learned My First Year Traveling with a Baby