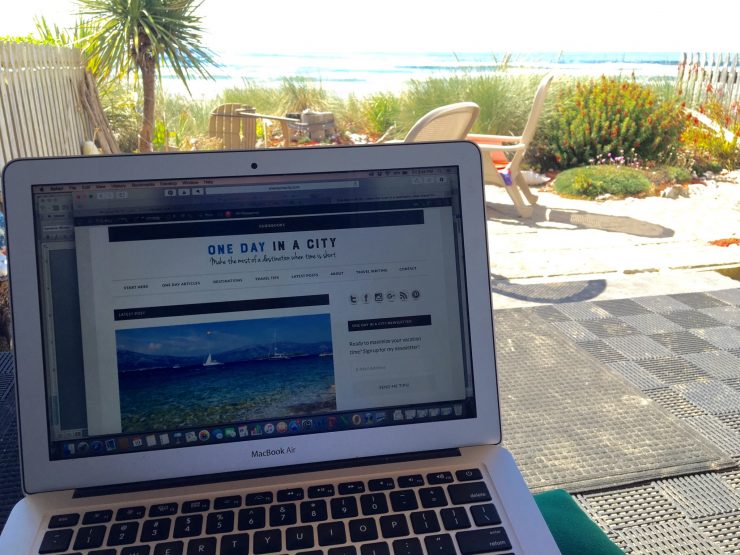 Vacations are never quite the same after becoming a freelancer. Many people are used to working on vacation even if they're an employee – it's just the reality of our always-connected civilization today. But being a freelancer adds an added stress to it; you feel a bit more replaceable because there's no employee handbook mandating you two weeks vacation and being a freelancer means if your client gets annoyed you're not accessible you could lose your income – and there's not an HR team to back you up.
But vacations are important. They make you feel refreshed and ready to tackle new projects. I think especially when you own your own company and tend to work around the clock that vacations are important to prevent burn-out.
But you still might have to work while on vacation as a freelancer.
The good news is you can totally still take vacations as a freelancer. The bad news is you're probably still going to be working a bit on that trip. I took and wrote an assignment while on a 12-night trip in Hawaii that was too good to pass up, but it was one I knew I could do fairly quickly and doing the work while looking at the ocean from my hotel balcony was surprisingly peaceful. I've also had client calls at two in the morning while on vacation in Europe. Those are just a couple examples of many ways I have worked on vacation. But that work amounted to limited hours during what were amazing getaways I wouldn't have been able to do if I didn't have the flexibility of being a freelancer. So the trade-off is worth it.
But DON'T Work the Entire Vacation
Still, you need to have some guidelines for how much work you'll do while on vacation and setting limits with your client for what you will or will not do while on vacation is key. So while you should be prepared to work, you shouldn't be prepared to work as much as you do at home. (And in this scenario, apply the typical one-week vacation time a couple times a year; I don't recommend telling your client you're taking a vacation every month – you can totally travel more than that as a freelancer, but then you need to be working on those trips the same way you do at home and not treat them as a "true" vacation.)
Alright, onto how to prepare your clients for your upcoming trip.
Setting Expectations for Your Clients
Phone Time While Vacationing
I often travel internationally, which can get expensive from a phone plan perspective. A texting plan is usually much cheaper than one with a substantial amount of talking minutes. Therefore, it's best to explain the situation to clients, but let them know you will have your phone with you if an emergency comes up, but if it's nothing vital then to email you.
To help with this matter, set phone expectations for clients as soon as you sign that contract. Whether it's weekly, biweekly, or monthly calls, have a schedule and do your best to make sure they stick to that schedule (or you charge them more) except for rare occurrences. This means you won't need to be stressing about them calling you every day while on vacation (or every day while you're at home for that matter – no one has time for that).
Managing Email on Vacation
Speaking of email, you don't want to spend your entire vacation checking and responding to emails, so let your clients know that while you will be checking emails daily, you may not get back to them immediately and to expect a 24-hour turnaround time for responses, and that will only be for urgent emails that require prompt attention. Other emails you'll get back to when you return from your vacation. Let them know to text you if it's an emergency with the nature of the issue and you'll call them back as soon as you're able to.
If you're building your freelance business, I do think it's important to still be accessible while on vacation, but sometimes that just isn't possible. If you're hiking the Inca Trail, you're not going to have wifi or cell service – and you shouldn't want to; you have to unplug sometime. Unless you have an assistant who has experience interacting with your clients, I'd recommend not taking these types of trips too often while you're getting your business established. But I also don't recommend passing an opportunity to hike the Inca Trail (or some other remote part of the world) so the key there is to plan in advance so you can give your clients a heads up you'll be unreachable for a few day several months in advance. That gives them plenty of time to get used to the idea and you lots of time to prepare for being gone. Which brings me to my next point.
Do Advance Work
Make sure your client knows you've taken care of everything you possibly can in advance. Whether its scheduling social media posts, drafting and setting blog posts to publish in advance, or writing an extra variation of an ad copy they may need so they have options, make sure your client knows you've prepared for this trip from a work perspective and won't leave their needs in flux while you're gone.
Lastly, remind them that taking this vacation and getting away for a bit to recharge will make you a better freelance worker when you return, and you're sure you'll come back from vacation with fresh ideas to reinvigorate their business.
Found this article helpful? Pin to read again later!