One Day in Cambodia, this Happened…
Pretending to be 22 again at Angkor What and Temple Bar in Siem Reap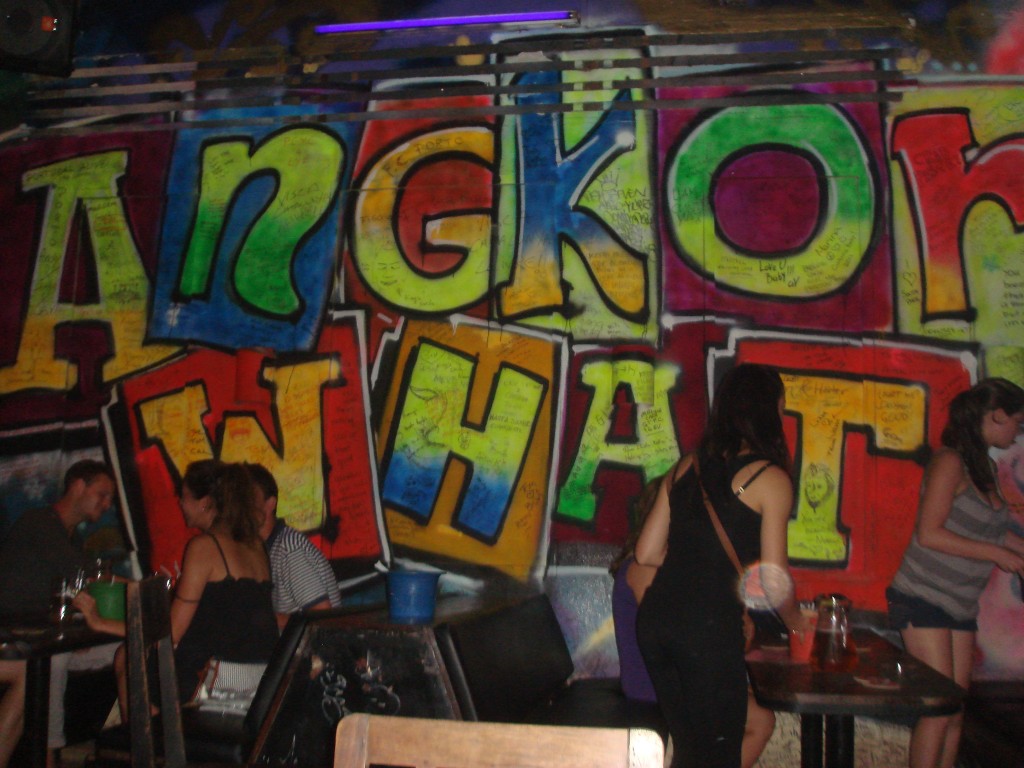 "Drink," Li, the Chinese guy sitting next to me at Temple Bar in Siem Reap, commands.
The next second he and my fiancé, Tom, are chugging down beers like they're old friends celebrating a reunion night out.
Except we just met Li literally all of 20 seconds ago.
30 minutes earlier at Angkor What…
The music is blaring at Angkor What, the infamous party bar in Siem Reap, Cambodia. The neon walls of the bar are covered with graffiti messages from visiting backpackers and are only half visible against the hordes of westerners crammed in. Tom and I are also possibly the oldest people in the bar.
"I want to be 22 again," I moan to Tom. He rolls his eyes at me.
Sensing my recent 30th birthday was starting to hit home with me and that staying at the bar may make me change the rest of our travel plans from Cambodia and Thailand to searching for the fountain of youth, Tom suggests crossing the street to Temple Club, an equally loud bar playing Top 40 hits, but with a (slightly) higher age demographic from what we could see from our table on Angkor What's patio.
Angkor What to Temple Club for More Drink Bowls
I have been itching to head over to Temple club since watching a bunch of the bar's patrons stand and start singing on a table in the middle of the bar. But before we can head over we have to finish our massive vodka-cranberry-schnapps-orange-something bowl of alcohol. Hey, just cause I'm not 22 anymore doesn't mean I can't drink like a 22 year old anymore. (Ok – that's exactly what it means. But the drink came with a free t-shirt so I decided it was worth the potential hangover.)
A short while later we are sitting at a table on Temple Club's patio a couple tables down from the singing partyers – who much to my disappointment are no longer singing.
Tom glances at the drink menu on our wooden table.
"Hey! They have drink bowls here, too," he says.
I begin to groan in protest.
"-and they also come with a free T-shirt."
Well, in that case…what's a little hangover? They sell Tylenol in Cambodia.
Tom orders a bowl and asks the server for a T-shirt that will fit me. While I stare at him adoringly for not claiming all the T-shirts since the default size they give us is always a large, a guy from the next table suddenly slides over next to us. I recognize him as the lead singer of the group.
He has two glasses in hand and a pitcher of beer. He places the glasses down and smiles at us broadly.
"I'm Li," he says.
Tom and I introduce ourselves as he fills the glasses with beer. He places one in front of Tom and picks up the other. He lifts it in a "cheers" motion toward Tom. "Drink," he commands, then starts chugging the beer.
Tom, always up to a drinking challenge, looks surprised for a quarter of a second, then grins and quickly picks up his beer and begins guzzling it. It's a close race, but Li wins.
They both set down their glasses and exhale; instant friends. Guy bonding is so weird.
Li tells us he's from Beijing and introduces us to the rest of his table, a group of girls also traveling from Beijing, though they've just met Li tonight as well.
"You missed out on our singing," Li says. "You should have gotten here earlier."
"I know!" I exclaim. "We saw you guys from over there." I point across the tourist-filled street to Angkor What. "It looked like you were having so much fun."
No more singing happens, but we do order a couple more pitchers, the girls try to get me to dance (I am a horrible dancer) and they introduce us to shanzhu fruit – delicious.
We have a wonderful night hanging out with our new friends from China all thanks to bonding over chugging a beer. I'm reminded again why I love backpacking – you never know when or how you'll meet memorable people.
Maybe being a 30-year-old backpacker is better than being a 22-year-old one after all.