Why I Fell in Love with Tofino, British Columbia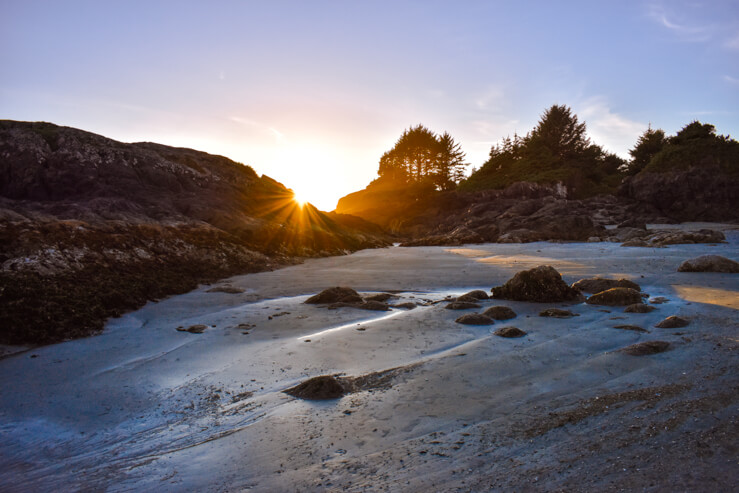 I'm a California girl at heart, having spent my twenties and early thirties in the state and exploring it every chance I got. I love California, from the southern beaches to the rugged landscape and forests of California's northern coastline. Why am I talking about California right now when the title of this post obviously means it's about Tofino, British Columbia?
Because I feel like California is a tangible travel destination most people know about, while Tofino isn't even on the radar of most people who live just on the other side of the sea of the island Tofino is on (that would be the Salish Sea and Vancouver Island in case you were wondering).
And Tofino is like the best parts of California all rolled into one small, special place.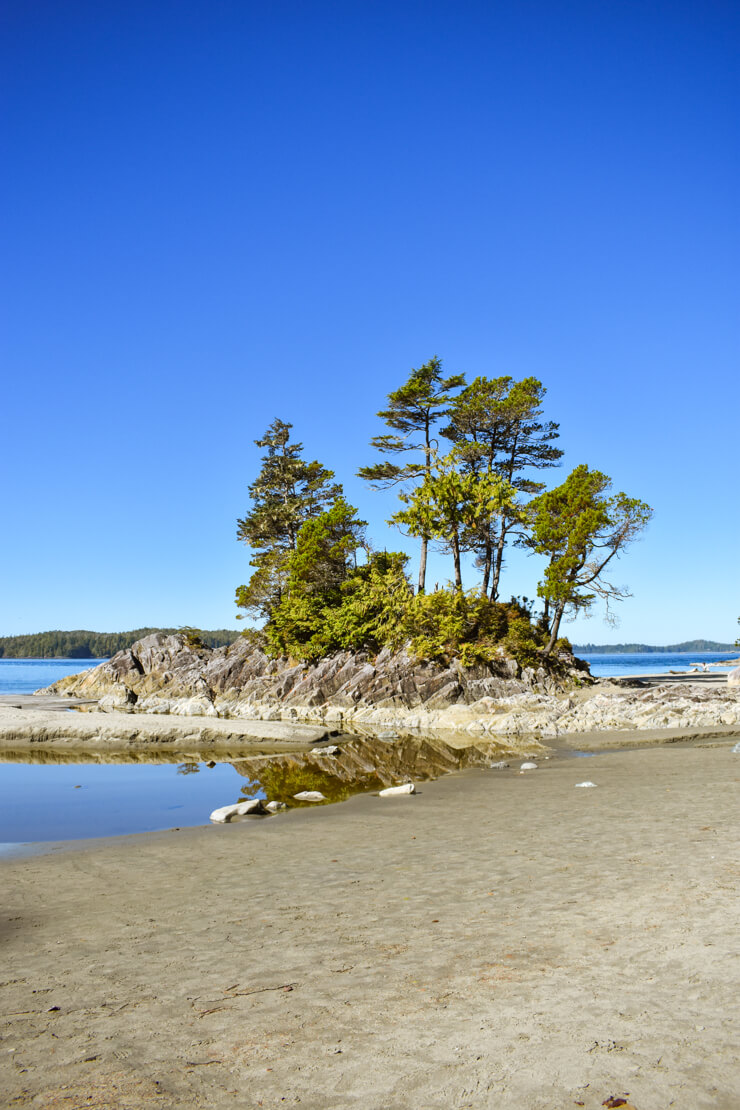 Which is why I seriously don't know why it's not talked about more (maybe because everyone is trying to keep it on the down low before it gets overrun with Americans; so maybe I should stop talking, but oh yeah, I'm a travel blogger, so here goes…go to Tofino, people!)
But back to why I think it's like California.
For starters, Tofino is a major surf destination. Where we stayed at Pacific Sands Beach Resort right by Cox Bay Beach, there were surfers there morning, noon, and night, most of whom I assumed were locals judging by their skill level (i.e. they were good), but visitors who wanted to surf could easily rent a board, too. Pacific Sands had a surf shop onsite and places to store your board right by your accommodation as well as numerous outdoor showers.
Surf, Sand, and Pine Trees in Tofino, British Columbia
So we get to Tofino the first night and go stand out on Cox Bay Beach and stare west with our feet in soft sand that stretches all around us for what feels like miles, and it's like I'm back in San Diego watching surfers ride the large waves into the golden sands of the shoreline.
Except, oh yeah, I turn my head to the right and to the left and I'm suddenly on a curving bay that is dotted with pine trees instead of palm trees. I spin around and I could swear I'm in Big Sur, California. Except things are green because there's no multi-year long drought here. The blue above the water is just that: blue. There's no lingering smog here. There's no crush of people milling about. The drive here was scenic and free of traffic.
It's like I'm in California, except I'm actually eons away and in some fluke land where people surf by pine trees and then go get a fish taco for lunch followed by a hike in a rainforest (yes, rain forest…of the temperate kind) and eat s'mores by bonfires. With some native art, fine dining, whales and bears, and awesome donuts thrown in.
(As I'm writing this, I'm wondering if Tofino is actually my favorite place in the world. I'll tell myself it's up for discussion and that a return trip is necessary to decide. #takemeback)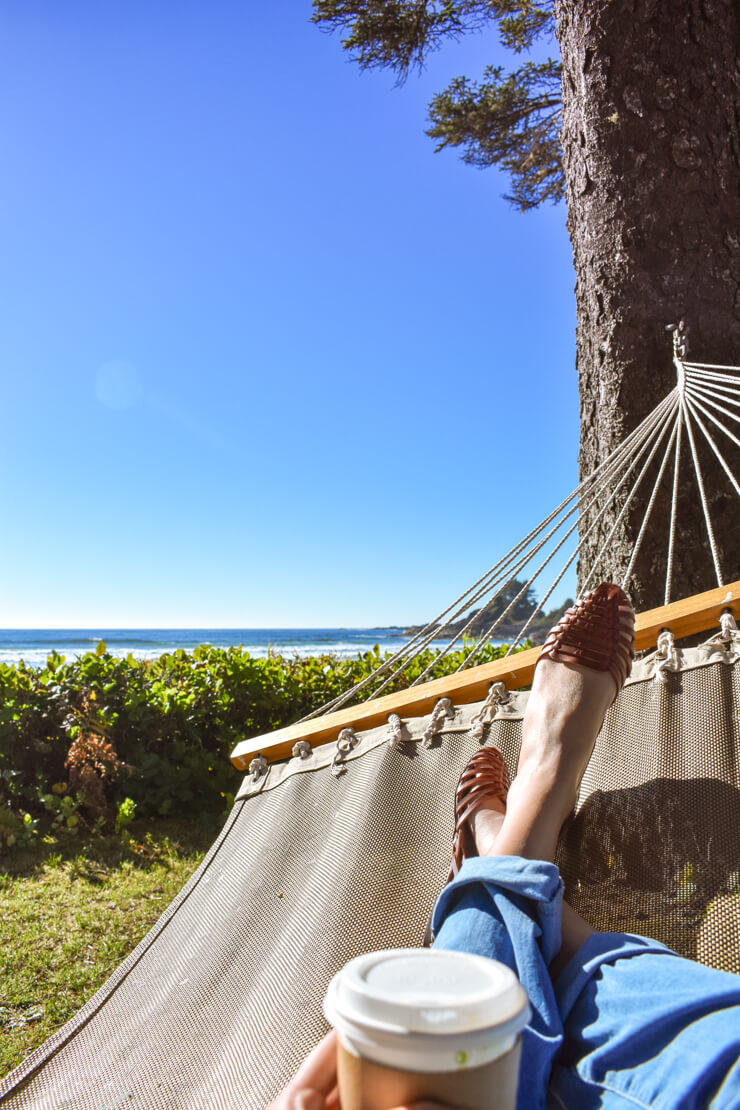 My Favorite Moment From My Tofino, British Columbia Trip
My favorite moment in Tofino was my second night there. My family and I had just gotten back from dinner at Shelter Restaurant (delicious!) and from the windows of our accommodations I could see the glowing colors of a gorgeous sunset.
I went out onto our balcony to take a picture and stare at it some more without glass between it and me. Suddenly, I thought, this is crazy. Why am I not down on the beach?
It was right at bedtime for the girls and me leaving (and taking my boobs with me #nursingmama) was probably not going to go over well with Vivi, so I picked her up, threw a jacket on her, and raced out the door, with Tom calling after me to have fun while he and Lulu lounged on the couch watching an episode of Octonauts before bed.
I walked quickly across the short distance from our room to the beach. I'd lived in San Diego long enough to know that the sunsets over the ocean horizon can fade quickly. Vivi and I reached the sand and I looked up…and magic. With nothing between us and the sunset except sand and ocean waves, it was truly spectacular.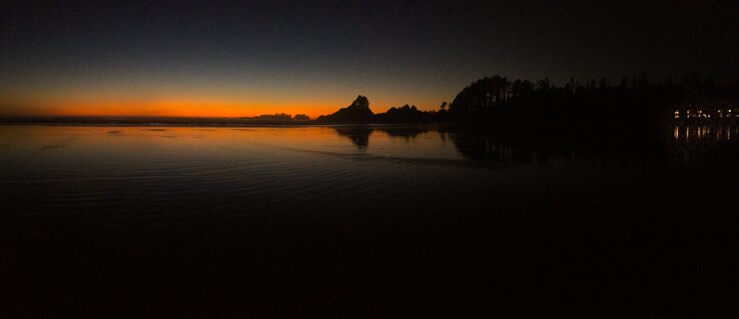 Several couples were scattered around the beach and I was surprised there weren't more people down here watching this epic sunset, but I didn't mind the solitude. A handful of surfers were still out riding the waves, the orange and crimson colors providing a dramatic backdrop to their silhouettes, so I didn't feel alone.
Though it was Vivi's bedtime, even she seemed to be in awe of mother nature's spectacular performance in front of us, and was calm in my arms, but once I put her down, she toddled toward the waves and the sunset with squeals of glee. I took out my phone to snap a few photos, but knew it would never do the colors justice, so then put it away to live in the moment. I grabbed her hand and we walked slowly closer to the dimming sunshine, the light playing on the expansive sand that was still glistening in dampness from the water before the long tide went out.
The way the bay curved around the water with towering trees on either end provided a cushion of shadow that made it seem darker around us than it maybe really was, while making the area we were on feel aglow in tangerine highlights.
I could no longer see the others on the beach and it was just Vivi and me in this moment with those far off surfers. It was the only time in my life I could remember feeling like a sunset was enveloping me in its glow, like I wasn't just witnessing the sunset, I was a part of it.
We stayed down there long after the sun went below the horizon, Vivi cuddled up in my arms and me staring out at the lingering colors and breathing in the salty air.
When the last three surfers made their way out of the ocean and were almost to where we were standing, I knew it was time for us to go back as well. I took one last look at the remaining tinge of pink and orange and turned to head back to the room. But in that moment, I knew Tofino, British Columbia, wasn't going to be a place I'd go to and just forget. It had wedged itself into my travelin' heart and I already couldn't wait to go back.
You May Also Enjoy Reading: A Winter Weekend in Vancouver, British Columbia and Where to Go in the Pacific Northwest Now (Before I even knew I'd be going to Tofino and staying at Pacific Sands, I included them in this roundup — I kid you not!) 
Disclosure: I was a guest of Tofino Tourism during my trip to Vancouver Island, but — as always — all thoughts and opinions are completely my own. 
Enjoyed this post? Pin it to read again later!