Missing Montana Always Makes it Harder Leaving Montana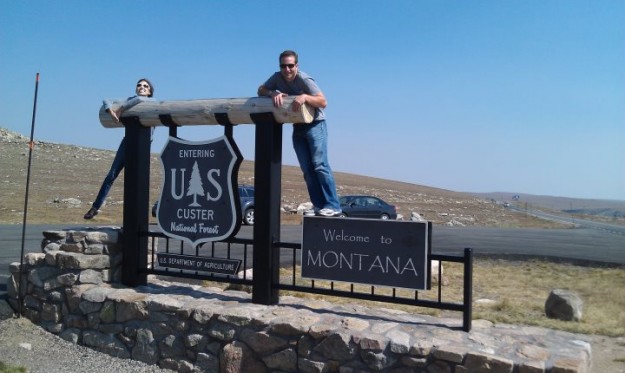 I have a confession: I'd love to move to Montana. Yes, me, who loves the San Diego weather and the ocean and feels claustrophobic about the idea of moving back to the Midwest.
Montana may be landlocked, but there is nothing claustrophobic about it.
So when I recently read the commencement speech Colin Meloy – Montana native and lead singer of the Decemberists – gave to the graduating class of the high school in Helena, Montana he graduated from, his words resounded with me.
In the commencement speech, Meloy admits he was a subpar student and hasn't made it to any reunions. Yet despite what he felt may have been an unqualified resume to speak at the commencement ceremony, he did know he had one very strong point of wisdom to impart on the graduating seniors:
He was a Montanan who left.
Meloy goes on to say that his grandfather "brought up [his] family to follow a religion of his own creation: the Great Western Religion. The sanctity of the American West, of Montana in particular. He also pronounced that all Meloys, should they leave Montana, will make their way back here. Eventually." For Meloy, that was a sentence he couldn't wait to prove wrong – he was ready to get out of town upon graduation. The more he was gone though, the more he started to realize a thing he calls "Montana exceptionalism" – in all his travels he hasn't found a better community or group of people than in Montana.
I, sometimes to my discontentment, am not technically a Montana native, though I feel like I should be. When people ask me where I'm from (literally the first question anyone asks in San Diego) I say I'm from Minnesota…
But I often want to amend that by telling them my home, however, is in Montana.
My mom grew up in Eastern Montana on a huge farm my Italian immigrant great-grandfather and my grandpa cultivated into a prospering business. When I was three my parents moved their growing family to a suburb of Minneapolis due to a job opportunity for my dad. And there we stayed – but my mom's heart never left Montana. Every summer and every Christmas we would pile into the van – wave goodbye to my dad who often wasn't able to accompany these trips – and head across North Dakota to Montana.
No matter our age, when we pulled up to my grandparents house, situated in the middle of their thousands of acres of land, I think all of us – my mom, me, and my three siblings – all breathed a bit lighter. We were back in Montana, the land of wide, open spaces; we were home. My grandparents raised ten children on that land, most of whom are still in Montana. As my granny says, "We must have done something right, all our children keep coming home." And it's true. It's weird to me if I don't get back at least once a year to the flat acres of crops and rolling hills where my cousins and I used to drive 4-wheelers up and down and over. It's the land that saw my first steps, that I learned to drive on, that educated me on the value of hard work and being an entrepreneur. Land that is a privilege to be a part of, no matter how infrequently. More so than the land of the tiny town my grandparents cultivated a family and life in, is the people.
As a child I loved the fact that when I went into the small town, perfect strangers (to me anyway) would come up to me and say, "Oh you must be Nancy's daughter. You look just like her." To me, there was a sense of peace in that. I was in a place where everybody knew who I was and had my back, simply because I was a part of one of their town's families.
It's a sense of community that I think is fading in many parts of America, but it still exists strongly in Montana.
There are no direct flights from San Diego to Billings, making me feel even farther removed from the state I love. When talk of moving comes up with my fiancé – will we/won't we leave the city of San Diego we've grown to love so much – the appeal to get closer to Montana is huge. If we moved to San Francisco, I could visit more! Same with Denver! And Chicago! All those places I once said I would never move away from San Diego to.
Will I actually move to Montana some day?
Maybe, but probably not. Montana doesn't have many career opportunities for my fiancé's chosen profession — and even as a marketer I'd be hard pressed to find a job that would elevate my career. (I know. I've looked several times.)
But as long as I live, I know Montana will always be calling me back.