Is it worth it to take a toddler to Disneyland and California Adventure?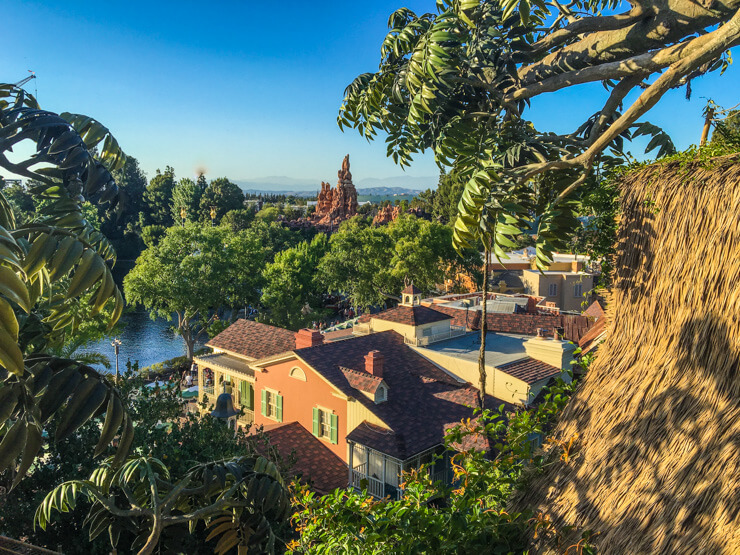 When my husband and I decided to take our two and a half year old to Disneyland we weren't sure what to expect. Our daughter is a runner and we had visions of meltdowns in line and constant chasing after her through crowds as we made our way through the park. Still, our little future track star was starting to become obsessed with princesses and had long had an infatuation with Minnie Mouse so we decided to do just one day at Disneyland (sandwiched between beach days in Orange County) before heading to Palm Desert to finish up our week-long family vacation in California. We figured if it was a disaster, it was only one day of our vacation and you live, you learn.
But it was far from a disaster – we all had a blast during our day in Disneyland and it was the highlight of our vacation.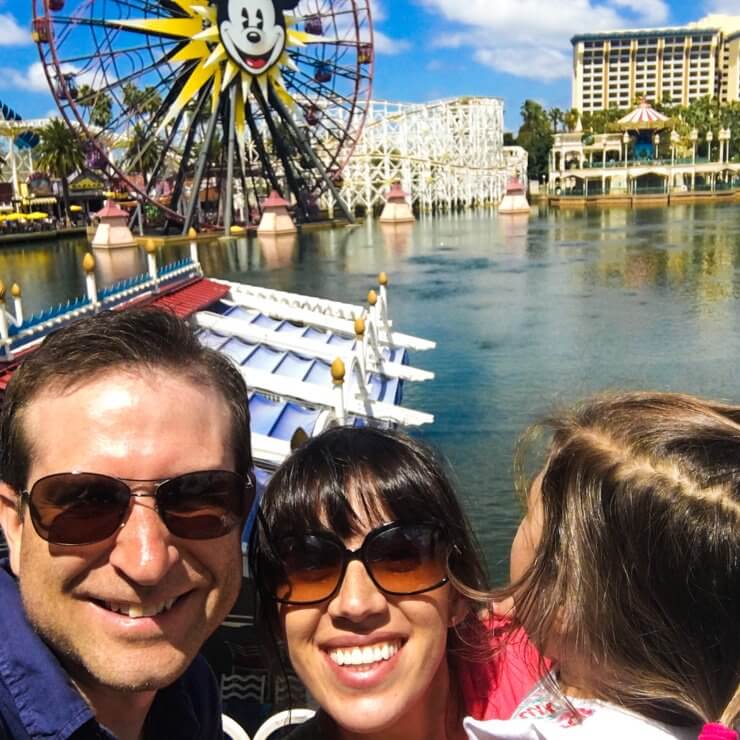 Turns out you CAN take a toddler to Disneyland and not be stressed out (parents) or have constant temper tantrums (toddler).
In the first section of this post I'll list the top tips I have for bringing a toddler to Disneyland and in the second section I'll list out the itinerary we did.
This post may contain affiliate links.
10 Tips to Have a Fun, Memorable & Meltdown-Free Day at Disneyland with a Toddler
Disneyland with a Toddler Tip #1: Stay in Anaheim within Walking Distance to the Hotel
We stayed at the Residence Inn Convention Center in Anaheim. It took about 15 minutes to walk to the entrance to Disneyland and California Adventure. Our room had a kitchen and separate bedroom from the living space, which is always convenient with little kids. Plus, it had a rooftop pool with an awesome splash pad that we used the evening before our day at Disneyland.
–>For prices and pictures of Residence Inn Convention Center, click here.
If you can splurge on a Disney hotel, go for it. They're located close to the hotel and best of all, you get access to the park an hour earlier than everyone else. For this trip, we decided to pass on spending the extra money, but with older kids I could see this hour being very valuable.
The last reason I recommend staying in walking distance to Disneyland is because it makes it easy to leave the park for an afternoon break. Which brings me to tip #2…
Disneyland with a Toddler Tip #2: Take a Nap Break!
I can't stress this enough. I think this is the BIGGEST reason we enjoyed our day and didn't have to deal with any meltdowns (by parent or toddler). We left the park for about two hours in the mid-afternoon and both my daughter and I napped and my husband relaxed in the living room and watched some TV. We all felt rejuvenated for our evening at Disneyland.
Disneyland with a Toddler Tip #3: You Don't Need a Fast Pass Ticket
I didn't realize this until I started planning out our itinerary (and luckily we hadn't bought Fastpass tickets) that Fast Passes aren't available for most rides, only the most popular ones. The most popular ones are generally the big roller coasters or action-packed rides, i.e. rides toddlers aren't old enough to go on. So if you're planning on just going on toddler rides, a fast pass ticket is totally a waste of money. Even if you think you might split up and go on other rides, still maybe skip getting it; my husband debated riding Space Mountain while we were there, but he was having so much fun watching Lulu's delight as we walked through the park that he didn't want to leave us for part of the day and miss out on any of those special moments. (I was pregnant so big rides were automatically out for me; luckily, all toddler rides are also safe for pregnant women!)
Disneyland with a Toddler Tip #4: Get a Park Hopper Ticket
You might think paying extra for a park hopper ticket for a toddler is pointless, especially if only there for a day. HOWEVER, the princess lunch at Ariel's Grotto is located in California Adventure and if your child loves princesses I highly recommend paying extra for the park hopper ticket and booking that experience. I was extremely impressed with it, which I talk more about under the itinerary section of this article.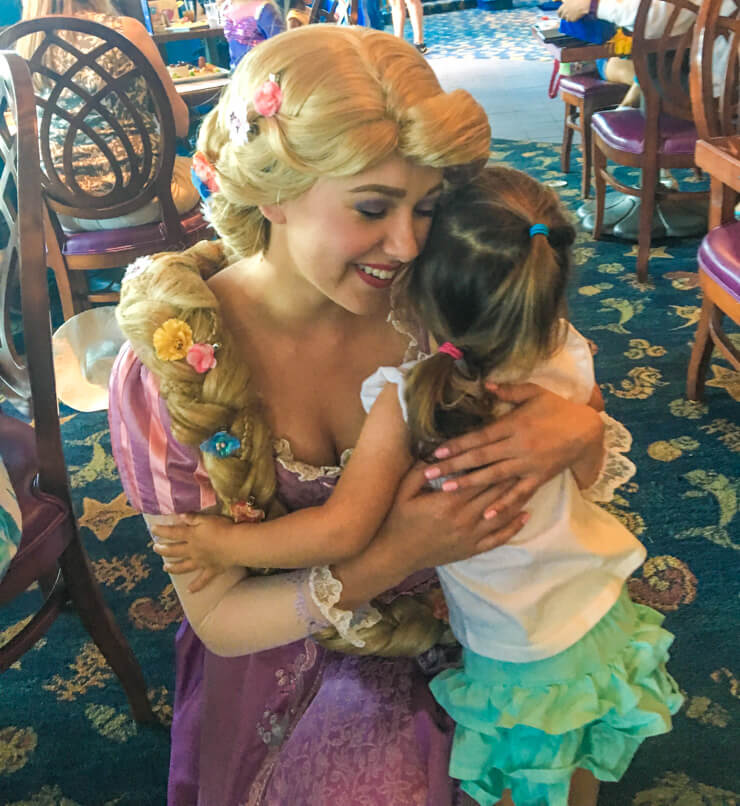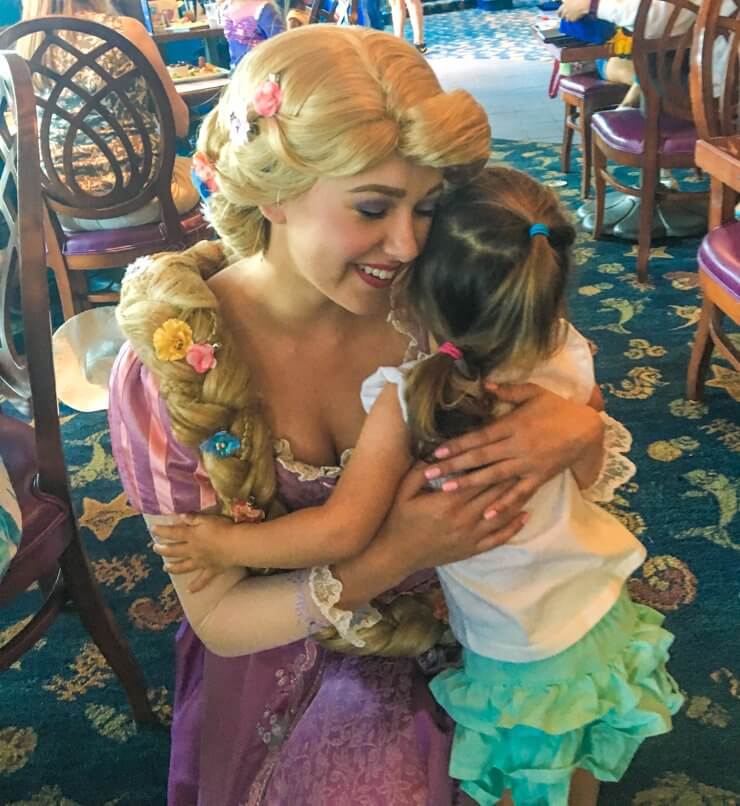 #5: Bring Chocolate (or Other Bribe)
When you're probably spending $200+ just to get into Disneyland, do not be above bribing your child! For us, this occurred shortly after arriving to Disneyland. Our first 20 minutes in Disneyland did not go so well. Our daughter is sensitive to noise and she was immediately overwhelmed by the crowds and the constant music and sounds of the park. She buried her head in the stroller and we could not get her to come out of it. My husband and I exchanged looks signifying "really? We just got here. Is this day already a wash?"
But then we found a quiet spot by a café not opened yet (over by the train ride in Fantasyland) and she still sat worried in the stroller. But then I remembered I had chocolate in my purse. I pulled it out and she immediately perked up. We coaxed her out of the stroller to sit at a table with us and eat the chocolate.
By this point I was quite sure she hadn't eaten enough breakfast either in our excitement to leave the hotel and get to Disneyland so we plied her with one of the many snacks we brought (this tip probably goes without saying, but bring lots of toddler snacks!). Then we let her have five minutes to explore in this quieter area of the park before directing her attention to the train. She felt safely confined from the crowds in the line and by the time we were done with the ride she was starting to realize "hey, maybe this place is actually fun!"
So yeah, we were probably the only parents at Disneyland who basically had to bribe our child with chocolate to go on a ride and have fun. But hey, it worked!
#6: Stay Up Past Bedtime
Yes, I recommended still napping, but this is not the day to keep your child on a strict schedule. If they're still doing alright, stay up late and maximize your time at the park — and that expensive ticket. Plan an easy morning for the following day with plans to take a shorter nap and then go to bed a bit earlier to get your child back on track. (At least, that's what works for us the next day after a late night. You know your kid best!)
#7: Consider Skipping the Parades
Unless you know your child is very into parades, I'd recommend skipping them at this age if you only have a day to spend at Disneyland. You'll already be doing waiting in lines for rides and to get a decent spot for the parade you'll need to get there early – that's a lot of sitting and waiting for a two or three year old.
#8: Download the Disneyland App for Ride Times
The official Disneyland app has park info like hours, tickets, and showtimes plus ride wait times. The wait times listed in the app would help us decide on what ride to go on next if we were debating between a few or knew we needed to be done with the ride by a certain time.
#9: Have a Good Map to View
Of all the maps I found online, I found this one to be the most helpful and easiest to use quickly to find something:
You can download it to your iBooks app if you have the iPhone and open it throughout the day as you need it.
#10: Pack for the Day Accordingly
There are some items you won't want to forget to put in your daypack or stroller caddy for Disneyland, but don't overdo it. Mostly, as long as you have the things to keep your kid happy and meltdown free, there's not much else you need.
Here's what we made sure to have with us for our day at Disneyland with a toddler:
Sunscreen: Not much ruins a vacation faster than a bad sunburn. I slathered Lulu in this brand in the morning and then had this one easily packed in my purse to add coverage throughout the day.
Sunhat (if you can get your child to wear one – mine rarely will!)
Stroller: We don't use a stroller that often at home anymore, but it was well worth checking our umbrella stroller on the plane with us to have at Disneyland.
Lovey: Lulu had a special lamb stuffed animal that went everywhere on the trip with us and because we are sometimes dumb as parents, we didn't bring it with us in the morning to Disneyland. She was so happy having it to clutch when we went back after Disneyland after naptime and we felt bad we didn't have it for her in the morning. So don't forget a lovey for your toddler to have so they feel safer among all the new sights and sounds and crowds of the park.
Snacks: Yes, there is plenty of food to be found at Disneyland, but toddlers can be picky eaters so make sure you have something on hand that you know they'll eat. These and these are our go-to snacks when out and about.
Disney Themed Clothing: Ok, you don't have to have this, but it's fun for the child to be dressed up in clothing with their favorite Disney character to get in the Disney mood in the morning. Lulu had on a Little Mermaid shirt and even showed Ariel her shirt when she met her. Plus, it looks cute in photos!
Change of Clothes: Potty accidents, food spills, etc. – make sure you bring a change of clothes so you don't have to run back to your hotel or purchase a $50 outfit from the Disney store.
Mouse Ears: You don't really need these either, but you'll see lots of people wearing them and it was entertaining for Lulu to see her mom and dad in them. We bought some on Amazon before our trip for much cheaper than you can get them at the park. Plus, then you'll have them to wear on the walk from your hotel to the park!
Sippy Cup (or whatever your child likes to drink out of): Make sure your child has something that is easy for them to drink out of so they stay hydrated throughout the day.
Running Shoes…for you so you can chase your child through the crowds when they inevitably sprint away from you. Haha, kidding…kind of. 😉
A Recommended Itinerary for Spending the Day at Disneyland with a Toddler
Itinerary Schedule
7:30am: Get to Park before it opens at 8am. (we were running late of course and got there around 8:20 and then it takes a while to get through the security checkpoint and the line into the park. So I recommend aiming for 7:30am and then if you're late you'll hopefully still be there by 8am. #toddlerschedule 😉
8:30am: Walk down main street. Avoid the souvenir shops.
8:45am-10:45am: Fantasyland and Tomorrowland
10:45am – Lunch: Toontown
Character Lunch: (Highly recommend this — more about this experience is detailed below under the Itinerary Breakdown)
After lunch until 2:30ish (aka naptime): California Adventure Time (Ariel's Undersea Adventure, Paradise Pier Ride, Cars Land, Disney Junior Dance Party Show)
2:30-2:45: Walk back to hotel
2:45-4:45: Nap/Rest/Snack Time
4:45-5:00: Walk back to park
5:00 – 6:30: Adventureland (and Critter County if your child loves Winnie the Pooh since that's where the Winnie the Pooh ride is located.)
6:30 – 8:00: More Fantasyland
8:00 – 9:00: Dinner (I know this is late for dinner for most people, but I recommend it because it maximizes your ride time as the closer you get to the World of Color start time the more rides start closing down. Have a big afternoon snack.)
9:00: Make your way to your viewing spot for World of Color. If you're not concerned about getting the perfect spot, stop in a souvenir shop on the way.
9:45: World of Color
(The above times are based off of typical summer hours for Disneyland. Check the open times of the park before you go in case it differs when you're there.)
Itinerary Breakdown
Start on the Disneyland side since that's where most of the rides for toddlers are located. For your time before lunch, pick two or three rides to do in Fantasyland and Tomorrowland (these two areas of the park are located quite close to each other) and spend some time in Toontown.
I recommend choosing rides based off of characters your child loves.
We went on the Casey Jr Circus Train because it was an outdoor ride on a train – something she was familiar with — so we figured would be a good introduction to the world of rides for Lulu. She seemed to enjoy it, but then wanted straight back into the stroller. So we decided to skip the iconic Peter Pan ride (a personal favorite of mine) since we were already behind on our schedule due to the aforementioned chocolate/snack break and headed to Tomorrowland.
Lulu's first Disney movie obsessions were the Little Mermaid and Finding Dory so off to the Finding Nemo ride we went. It meant leaving Fantasyland, but it's located in Tomorrowland right next to Fantasyland so was a short walk.
Lulu LOVED it.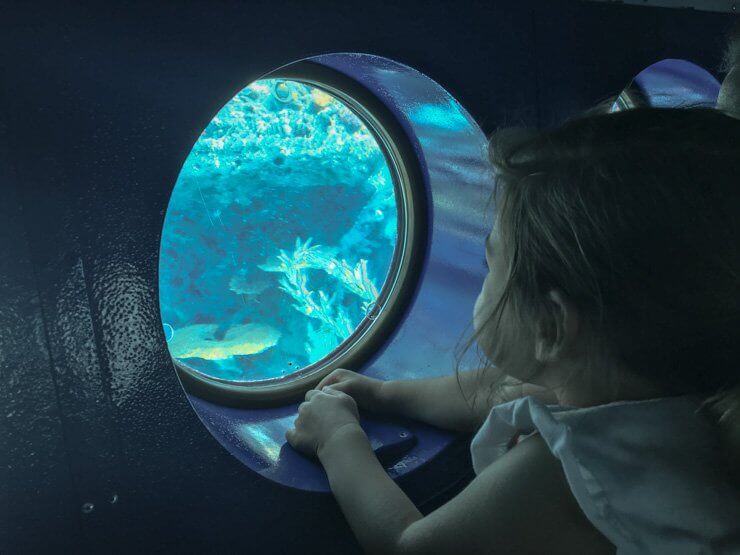 I would say that was the moment our day really started getting fun and stayed fun.
If we'd had more time we would have gone on that ride again since she was so delighted staring through her own porthole window at all the sea creatures floating by.
We had an early lunch scheduled for 11:15 so after these rides we headed to Toontown to let Lulu run around and get some energy out.
Toontown has several different houses for kids to explore complete with slides and other structures to climb on and play with. It's also where the houses of Mickey and Minnie are located, which is where you can stand in line to do a meet and greet and picture with them. Lulu was having a blast at Goofy's Playhouse running around.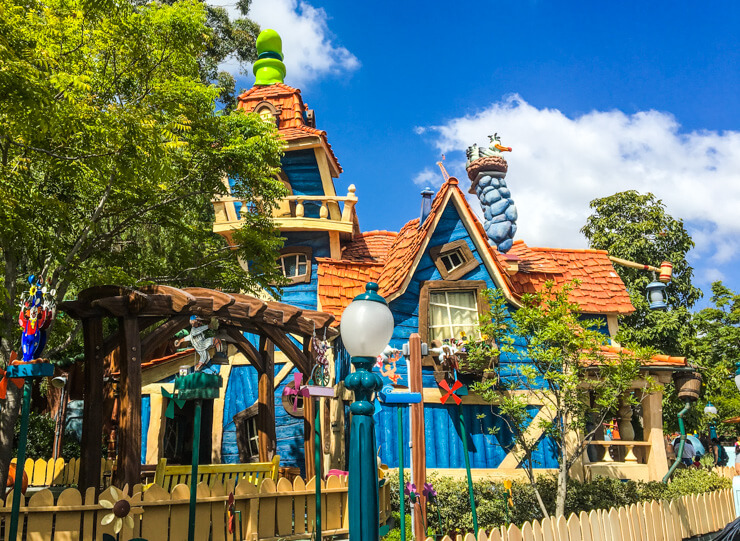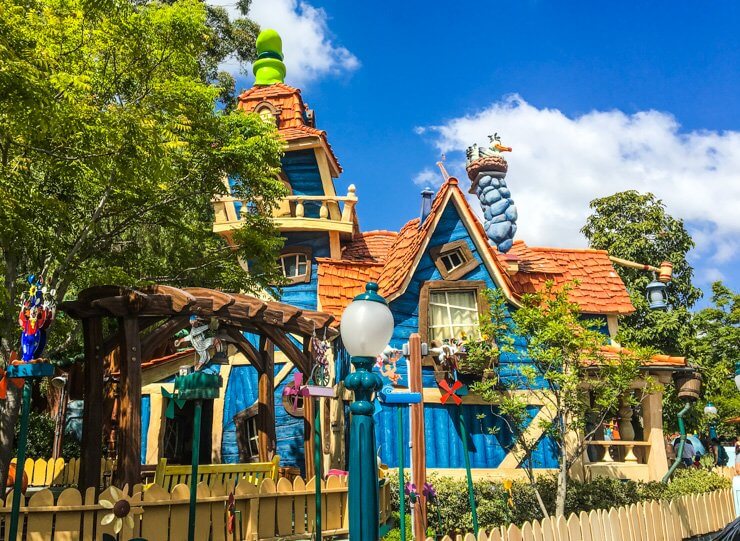 Until the one breakdown of the day happened.
Into Goofy's Playhouse came Pluto to interact with the kids. Most of the kids were high fiving him and giving him hugs, but not our Lulu. She took one look at him and burst into terrified tears. Apparently seeing a lifesize Pluto did not add up with the little Pluto she knew from her books and her first encounter with someone dressed up as a Disney character did not go well.
At this point it was almost 10:30 so we decided to cut our losses and not try to see Minnie Mouse as planned (another potential meltdown after a 30 minute wait? no thanks) and did a leisurely stroll over to California Adventure.
Princess Lunch: the Highlight of the Day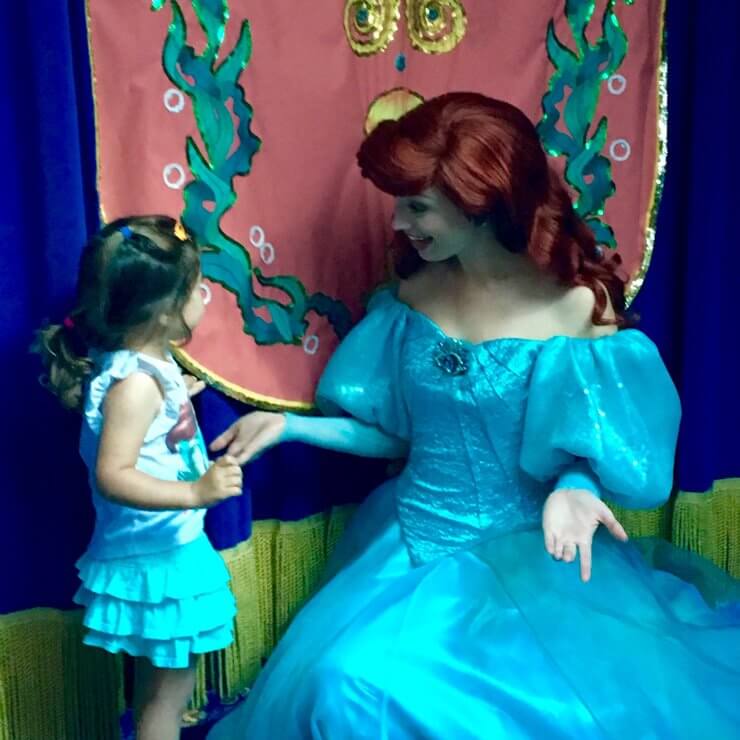 Our reservation was at 11:15am because that was the only time for lunch available when we booked it a couple weeks before leaving for our trip. Reserve a time early! If your heart is set on the Princess lunch and it's all booked, you can also do a Princess character breakfast at Ariel's Grotto (Ariel's Grotto is also open for dinner, but the characters don't come around then).
As I mentioned before, I was so impressed with this experience. The process to meet the princesses was efficiently streamlined, the princesses themselves were wonderfully in character and really took the time to engage, and the food was even pretty good!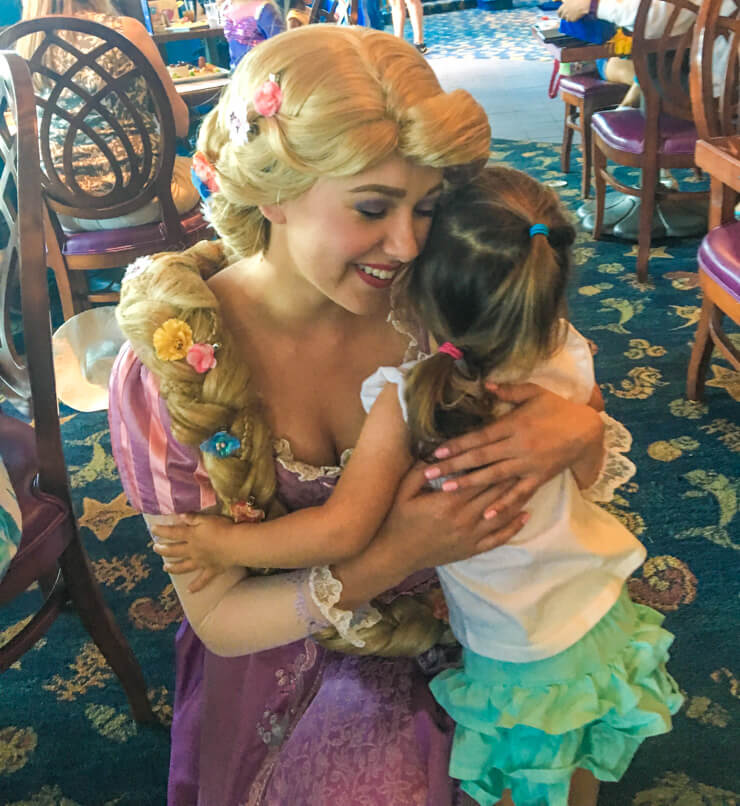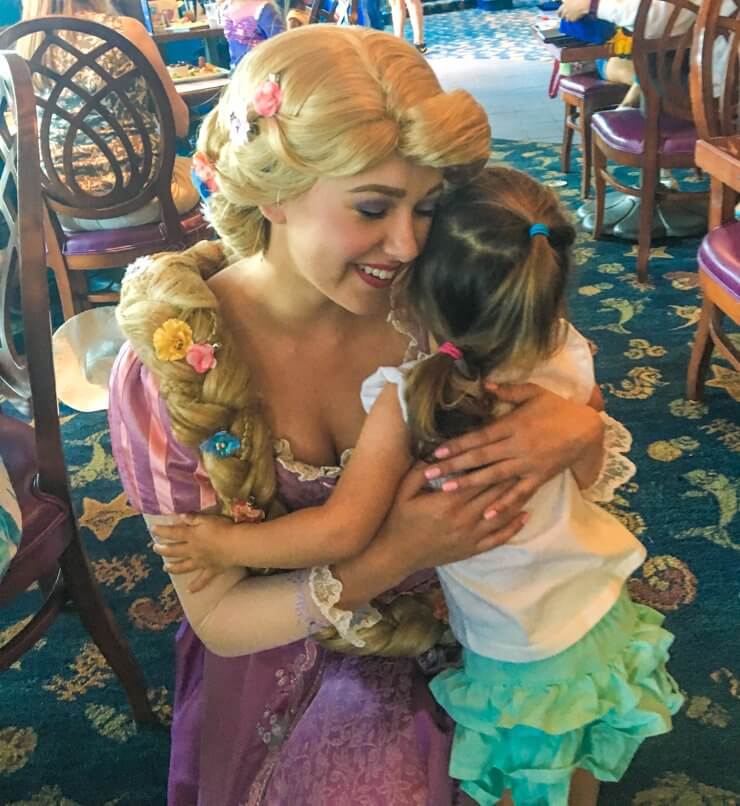 My heart still melts when I think of Lulu meeting Ariel. She LOVES the Little Mermaid and has watched the movie at least a couple dozen times plus has many dolls and books about Ariel.
We weren't sure how Lulu would react to this stranger, but we forgot…this wasn't a stranger, this was Ariel! And Miss Ariel was so sweet and great with children. Lulu immediately took Ariel's hand and walked over to the picture spot with her and then gave her a big hug. Our daughter is NOT typically the huggy type with people she doesn't know, but she DOES know Ariel — through books and movies anyway.
People were seated in small waves so the line to meet Ariel, which you do before you're sat at your table, never got super long. The princesses were all sweet as can be and really made an effort to engage with Lulu, who was a bit shy.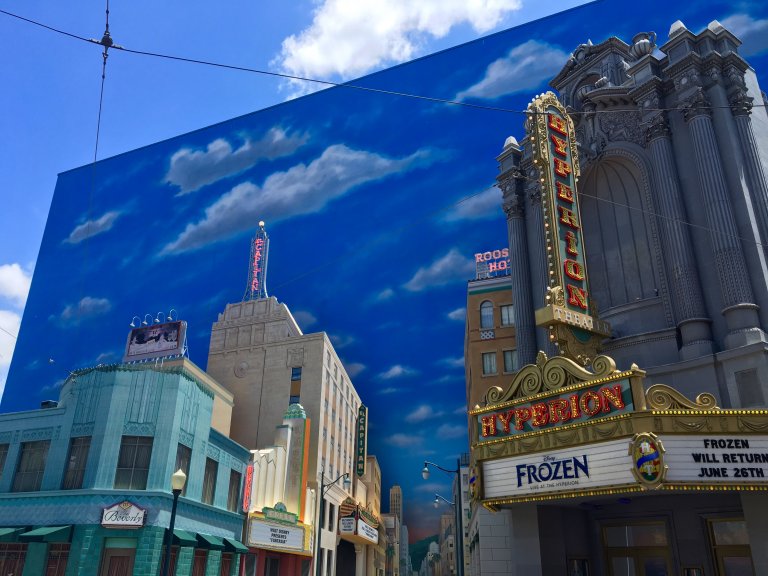 After the Princess lunch we walked down main street in California Adventure and went on the Ariel ride. We could tell at this point our daughter was definitely ready for a nap – and I was, too!
But first…
A Frozen Delight (No, not that Frozen)
I had read in multiple Disney blog posts about the Dole Whip, a frozen yogurt style concoction served at Disneyland and I wanted to try it. We decided a good time for enjoying that would be our walk back to the hotel before nap time. So after we left California Adventure, my husband ran back over to the Disneyland side and to the stand with the Dole Whip, while my daughter pushed the stroller around the park entrance area and I sat and rested my preggo feet before our walk back.
You can get Dole Whip as soft serve in a cup, but we opted for the Dole Whip Float, which is pineapple juice blended with pineapple frozen yogurt and it was indeed delicious.
I was glad we tried it, but it was maybe slightly hyped up so decide for yourself if it's worth waiting in the often long line to get it. The Dole Whip can be found at the Tiki Juice Bar stand, which is located in Adventureland by the Enchanted Tiki Room attraction.
Then…Nap Time!
We napped in our hotel for about an hour and a half and then had a snack before returning to Disneyland.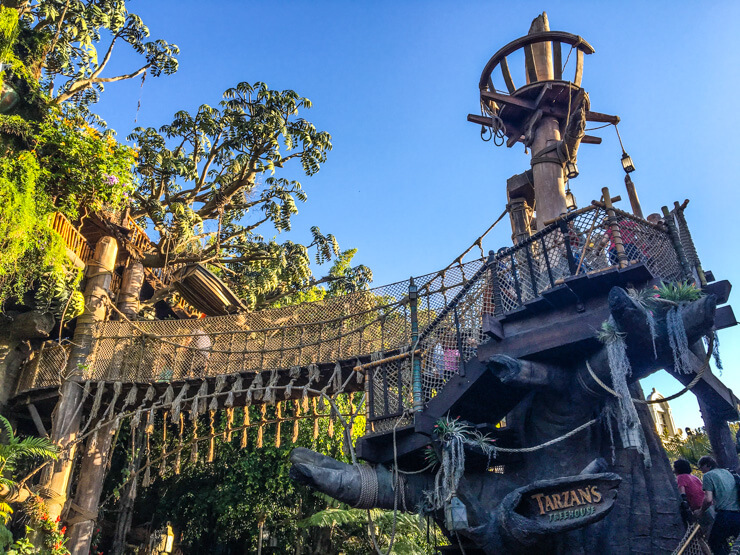 After nap time we eased Lulu back into the busy action of Disneyland by doing the Tarzan treehouse in Adventureland first, instead of straight to a ride. She loved exploring the treehouse (stairs and ramps are quite fun for a toddler!).
Next we went on the Jungle Cruise, also in Adventureland, which probably rivaled Finding Nemo for Lulu's favorite ride of the day. She got so excited seeing all the robotic animals.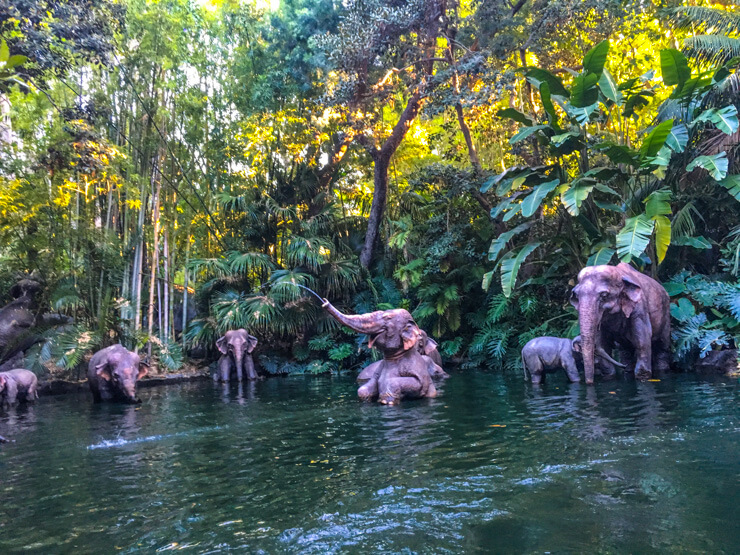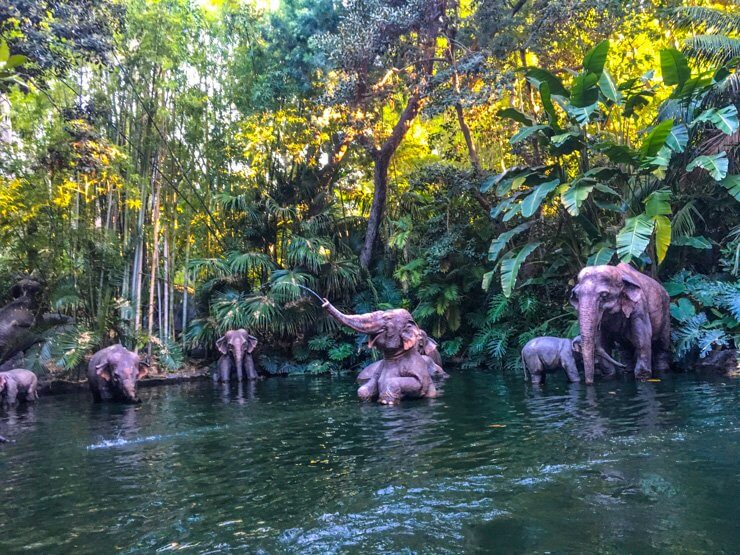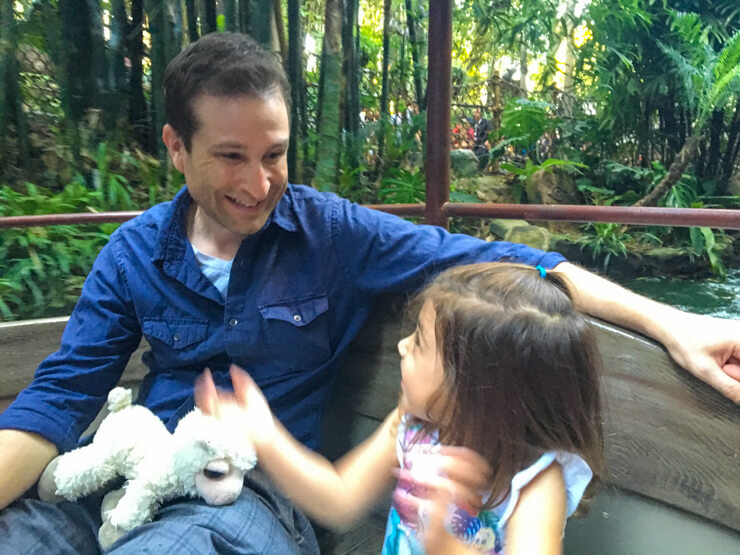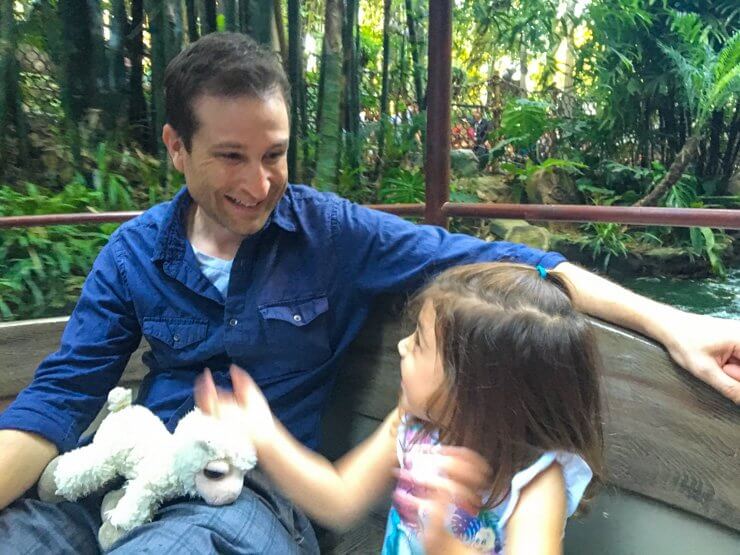 Adventureland is fairly close to Critter County so we wandered over there next to go on the Winnie the Pooh ride since Lulu loves her Winnie the Pooh books.
Before it got dark, we went back to Sleeping Beauty Castle to get a family pic in front of it because how could we skip that photo op?? Most of our selfies in front of the castle looked something like this.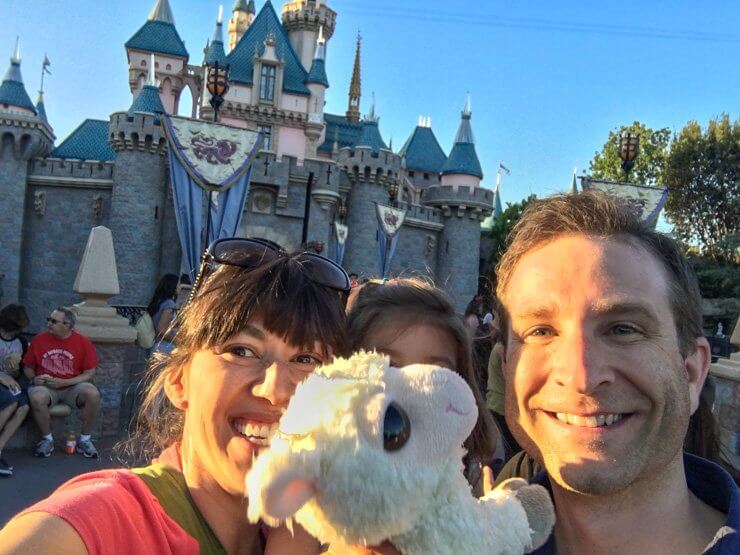 Apparently selfies with a toddler and her stuffed animal don't turn out so great. But we did get some fun pictures and a cute video so it was worth it. 🙂
By this point of the day, Lulu was loving everything about Disneyland so we headed back up to Fantasyland to try taking her on the iconic Dumbo ride. We were worried it might be a bit too scary for her earlier in the day since it goes up into the air, but now she seemed to have warmed up to rides. She had a blast on it!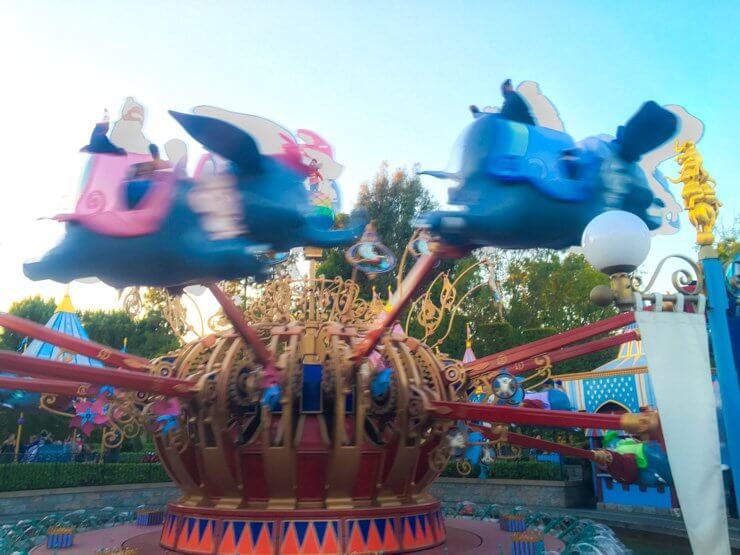 Next ride up for us was Small World, which she seemed unimpressed by, but the video I took during it is one of her favorite videos to watch on my phone now so I guess she was quite impressed and just taking it all in.
Time for: Dinner!
Our family eats dinner a bit later than most so saving dinner for the end of the day before the firework spectacular worked out well for us. We didn't want to try doing anything sit-down again and opted for the Rancho del Zocalo Restaurante in Frontierland that had tacos, burritos, and other Mexican cuisine you ordered from a counter cafeteria style and then paid before seating yourself at one of the many tables on the restaurant's patio. While it was far from the best Mexican food I've ever had, it was still good and hit the spot. Lulu – who can be a picky eater – enjoyed the bean burrito kid meal that came with a side of rice, milk, and apple sauce pouch.
End the Night with a Bang
For the nightly World of Color show that includes light displays and fireworks we didn't want to battle the crowds on Main Street for a spot so I asked an employee where the best spots to watch it were and she recommended New Orleans Square on the boardwalk by the waterfront (Rivers of America on the map).
We headed there about 15 minutes before the show started and was surprised to see how uncrowded it was. The steps and low wall of the boardwalk were already pretty full with people sitting on it (get there early for one of those prime spots), but we were able to sit down on the sidewalk of the boardwalk right in front of where all the light action was going to take place (the area across from French Market Restaurant).
The show began with lights and animation being broadcast on the fountain in Rivers of America. This was so cool to see and Lulu was mesmerized by it. (The other two main spots to watch World of Color are Main Street, which does a light show on the buildings along the street, and the Small World ride, which does the light show on the façade of the ride.) Then the fireworks started and she wasn't so excited about those. It was her first firework show and she did not like the loud noise.
When the show ended we could tell it was definitely time to leave as we figured it would be. Lulu was getting tired and clingy and though it would have been fun to stay until midnight when the park closed and go on some more rides with less crowds, we knew that to end our day on a high note meant following the masses out of the park.
And that was our fun-filled day in Disneyland and California Adventure with a toddler!
There were two things we didn't do that I was hoping to, which was mostly scheduling logistics with our day.
The first was a walk-through of Sleeping Beauty's Castle.
We were going to do this first, but since our daughter was in her overwhelmed mood (see #5 above) that didn't happen. Then when we went back that evening, it was already closed for preparation for the nightly World of Color show. So check when things close for that.
The other thing was going to the Disney Junior Dance Party show in California Adventure since I thought it would be fun to do something non-ride related and the show features Princess Sofia and Doc McStuffins. The princess lunch went a bit later than we thought and we were about five or 10 minutes late to this performance, but they don't allow late admittance. We knew we wouldn't be back to California Adventure after nap time so didn't try to make one of the later shows.
All in all, though, our park hopper day at Disneyland and California Adventure was just about perfect and made me a firm believer in both the magic of Disney and that Disneyland can definitely be visited and enjoyed with a toddler!
Found this article helpful? Pin to make it easy to read again later!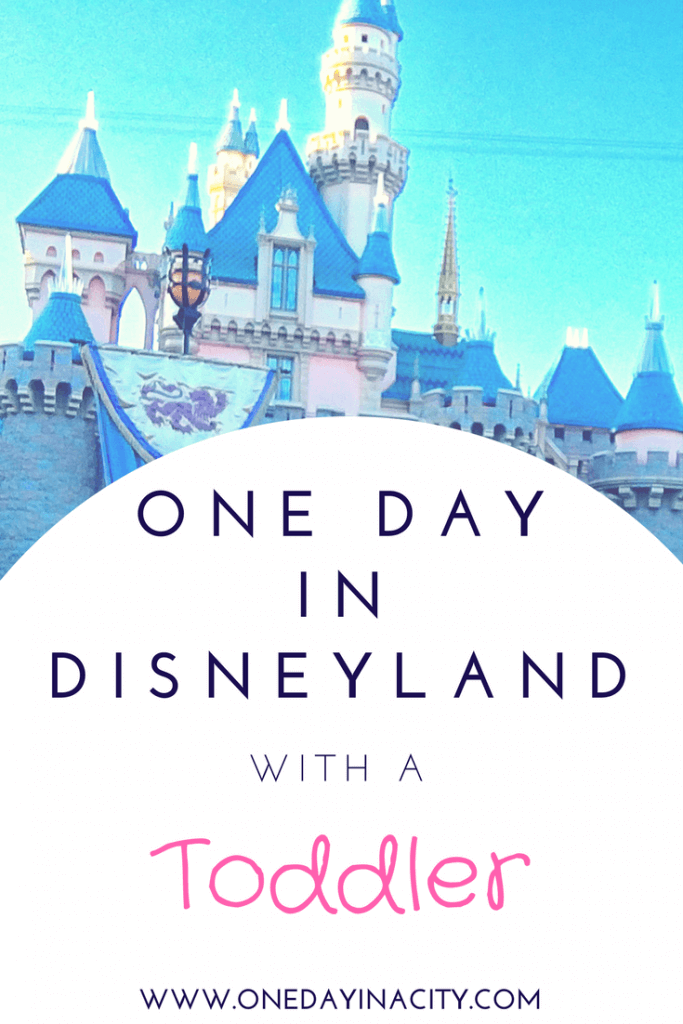 I received complimentary admission to Disneyland and California Adventure, but – as always – all opinions are completely my own.