Paradise Beach in Mykonos: Paradise for Swimming and Lounging Fun
I stumbled upon Paradise Beach during a day in Mykonos as part of a Mediterranean cruise Tom and I were on. In an effort to get out of the mob that is Mykonos Town, we trekked up a hill away from the town and came upon a 4-wheel rental shop.
We were handed a map by the lady who worked at the shop – who also seemed a bit confused we were renting at the day rate but would be back in 3 hours (she didn't seem to catch onto the "we have to catch our cruise" concept) – and after a brief look-over of the map we decided to point our 4-wheeler toward Paradise Beach since the name sounded like…well…paradise. We weren't disappointed.
Warm sand, cool water, and a fun reef made it the perfect remedy to tourist heavy Mykonos Town. It made us wish we had more days just to lounge on Mykonos beaches.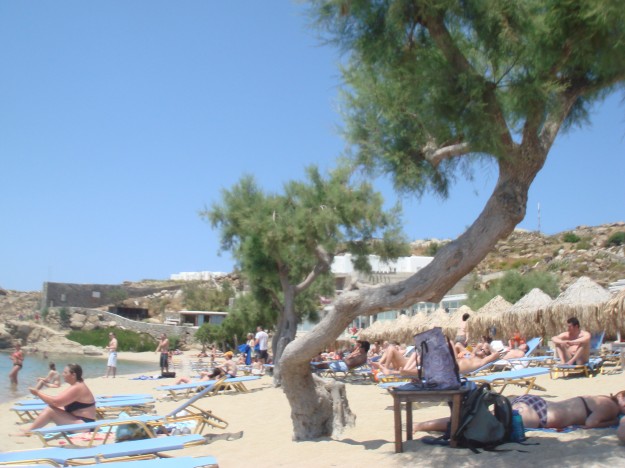 Leaving this beach to go back to the ship was so hard, we could have easily spent several more hours there. Plus, we heard that it is a super fun place to be once the sun goes down. A party begins each night right on the beach, combining socializing and the beach for an unforgettable night. Next time we go back to Paradise Beach in Mykonos, we'll be hitting up Paradise Beach at night for sure. In fact, maybe we'll just never leave this fun stretch of sand.
Pin this post!