Food, fun, Pacific Northwest scenery, and a whole lot of LIVE salmon make Salmon Days an unforgettable festival.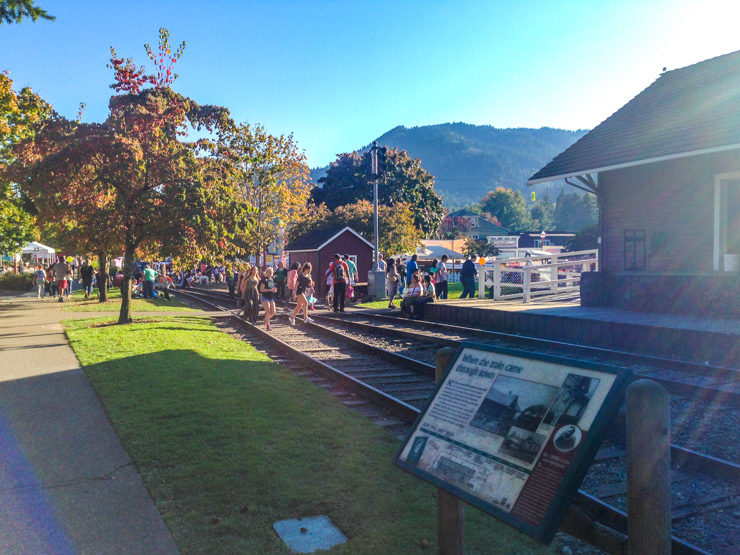 At first glance, Salmon Days in Issaquah (a suburb of Seattle's Eastside) looks like any other festival: food, rides, music, crowds of people. I knew the event coincided with the salmon migration up Issaquah Creek, but I didn't understand what that truly entailed – or how very important that salmon journey is for all of civilization. Yes, all of civilization.
Before I learned how the salmon of Issaquah Creek are helping to save the world, I was gorging myself on food in the big courtyard of food stands in downtown Issaquah that are set up during the festival.
After filling ourselves with gyros, pizza, and donuts like we were at a state fair, my husband suggested we go over to the hatchery.
"Oh, right," I responded, unenthused. "I suppose we might as well since we're here."
We made our way to Issaquah's salmon hatchery while I prepared myself to be underwhelmed by what was probably going to be a boring facility that maybe had some eggs in it.
I was in for a wild and wondrous surprise.
After walking through a little museum-type room detailing how salmon spawn (more on that later), we saw a large bridge crossing the creek with hordes of people standing on it peering over the railing.
What were they looking at? Was there a duck down there or something?
Uh, no duck. (Which showed just how clueless I was about Salmon Days.) The view awaiting me as I peered over the side of the bridge was several massive salmon furiously flipping their bodies upstream against the current in water so shallow it was only inches deep in parts. Their backs and tails splashed out of the water as they forced their dying, beat up bodies over rocks and under the bridge until they ended up in the small pool of water at the base of the hatchery.
They had done it. They had gotten home. This was the end of their journey. For some of these salmon that meant swimming all the way from the Pacific waters of Alaska to get back to Issaquah, where they had been born. It was amazing. But the reasoning behind this journey is truly a wonderment of nature – and a little precarious on mother nature's part.
These Issaquah-born salmon need to get back to Issaquah because this is the only place where they will fertilize and lay their eggs. Once that deed is done, their time on this earth is complete and they die. So in a way they are coming home to die, but in another way they are doing that strenuous journey home to ensure there is another generation of salmon.
Who knew salmon could be so poetic?
It also seems like a stroke of insanity on mother nature's part. But again, here's where another piece of the puzzle falls into place and makes the whole world seem tiny and majestic all at the same time.
By having this instinct to only lay the eggs where they were born, it requires the salmon to swim back upstream (called a salmon run), past miles and miles (and miles and miles) of trees and vegetation. And while the salmon do these salmon runs they are bringing nutrients back from the ocean to the rivers, which the river and surrounding forests need to survive. During their run, salmon are also releasing nitrogen bubbles into the environment; nitrogen which trees need to thrive. Plus, salmon absorb carbon dioxide, which helps to slow climate change. Basically, the salmon do a lot, and if wild salmon ever completely become extinct it will be a sad day for civilization.
Seems like mother nature knows what she's doing after all.
So why the Issaquah salmon hatchery?
Well, mother nature may know what she's doing, but humans – as we're well aware – are messing up left and right: overfishing, contributing to climate change, building dams in the wrong places (poorly thought out dams wiped out entire species of salmons in the mid to late 20th century before humans figured out what was happening). All this has brought salmon (real, wild salmon and not the ones in fish farms which are generally best to be avoided — google "why salmon fish farms are bad") to the brink of extinction.
The Issaquah hatchery was opened in the 1936 as part of the WPA after logging and other industrialization activities greatly hurt the prevalence of salmon runs up the Issaquah Creek. The hatchery assists salmon populations to increase by helping to ensure they make it through the precarious early years when they're likely to be eaten by predators. How the hatchery does this is through an intricate process, that has to be done very careful since hatcheries can provide more harm than good to wild salmon if not done correctly.
After leaving the bridge, I was about to see firsthand how this process works – and a lot more jumping, amazing salmon.
After the fish make it to the bridge, some immediately spawn and die (we saw a few dead salmon in the water). When I asked what happened to those eggs, the salmon docent hanging out by the bridge to answer people's questions responded that the eggs would probably get eaten by birds, though some natural spawning does occur. Back when there were hundreds of thousands of salmon making this journey every year that wasn't a big deal, but now every little salmon counts, so for those fish that have a bit more energy to keep going, they swim just a bit further past the bridge and that's where they enter the hatchery.
Upon entering the hatchery, the salmon are caught up into a massive rectangular shaped tank. This is crazy to watch since it's hundreds of salmon swimming and jumping through the water. Some of those feisty salmon get some impressive height on their jumps! The salmon live here until its harvesting time, which sounds like the premise for a science fiction movie, but basically is the process when the salmon are taken out of the water, immediately knocked out so they don't suffer, and are sliced open to get their eggs and sperm. Remember, they were going to die very soon anyway (which I had to keep reminding myself when I heard about this process), but this ensures as many of the eggs as possible are fertilized.
The salmon are then raised in hatchling pools (which you can also see while walking around the premises during salmon days) until they're large enough to be released into the creek with more of a fighting chance to swim fast and get to deeper water where they're less likely to get eaten by predators.
After hearing so much about salmon, it made it harder to want to eat it later — since Salmon Days has no shortage of salmon to actually eat — but…we had some anyway, and it was delicious. More delicious? Developing a newfound appreciation for fish and what they do for our environment thanks to Salmon Days. Let's save the fish, people! (And no, I have no real clue how to do that…but thanks to Salmon Days I'm eager to learn more about the plight of fish around the world and what can be done to help — and that to me makes for a high-quality festival.)
Salmon Days in Issaquah Quick Tips
Where: Downtown Issaquah, Washington, which is about a 30 minute drive from downtown Seattle. The hatchery is located at 125 West Sunset Way in Issaquah.
When: First weekend in October
What: Food, music, kid entertainment, and learning about salmon.
Entrance Fee: Free!
Website: www.salmondays.org
More Info about the Issaquah Salmon Hatchery: www.issaquahfish.org
Smart Tip: Parking in downtown Issaquah can be a headache on Salmon Days so instead head to the free Park and Ride garage in Issaquah Highlands or the Issaquah Transit Center and take a cheap bus shuttle to the festival. (The ride is only about five minutes to 10 minutes.)