One Day Around the World…This Happened
The King of Every What-Up Cat Lives in Bangkok
I am a huge cat lover. In fact, my own two cats are a big reason of why I'll probably never travel around the world for an extended period of time. So, being a cat lover, I also tend to be drawn to cat paraphernalia. Before you start envisioning my living room with cat paintings and statues all over the place, let me assure you I never actually buy anything cat-like, I just like to look at them. And they seem to pop up a lot on vacation.
There was this cat statue in the bathroom at Zoetry in Punta Cana. This actually annoyed me as every time I went to the bathroom and saw it, I missed my little RooneyRoo and MiaMoo (those are the extended versions of their names. Tom would like to note that he does not call them by these names) and wondered how they were doing without us.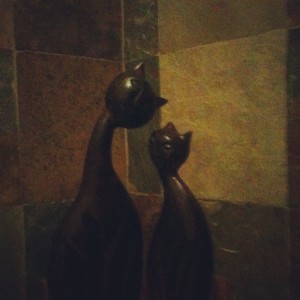 However, no cat statue lives up to the amazingness of the What-Up Cat.
I first discovered the What-Up Cat at a wine tasting in the Asian restaurant on the Celebrity Equinox cruise ship after our port day in Istanbul during a Mediterranean cruise.
Tom, knowing I'm always missing Rooney and Mia when we're on vacation, pointed to a yellow statue chilling in the middle of the table, surrounded by wine. "Look, a cat," he pointed out.
I looked and gasped in delight. This was the mecca of all cat statues. This was a cat that moved and waved at you! I was besotted. "I want it!" I exclaimed. "Think they'll let us buy it?" This was one cat piece of art that I would be happy to prominently display in the middle of my living room.
Tom laughed and shook his head. "Think it's saying 'what-uuuup?'"
"Ummm….YES." I was in love.
Since then, we've seen quite a few of these in Asian restaurants, both in the U.S. and in Asia, making me wonder how I've never noticed the charming What-Up Cat before. And each time we see one, Tom and I of course have to say "what up" to it with proper hand gestures.
So imagine my excitement when we saw what may be the biggest What-Up Cat ever in Bangkok. We were in the new Pier 21 mall on the Tokyo level of the mall during a day exploring Bangkok (each level of the mall signifies a different city around the world) and we were suddenly face to face with the God of all What-up Cats. He stood taller than me and grinned and waved in all his What-Up Cat glory. I felt lighter and happier just being in his waving presence.
I immediately ran up to the statue, giddy. Then became annoyed that I was apparently not the only What-up Cat fan in the world as several others were crowded around it trying to get a picture. But finally, it was my turn.
However, there is actually a greater significance to the What-Up Cat then just waving at people and making me incredibly happy. These statues are said to bring good fortune and luck, which is why you'll often see them in stores and restaurants. I've read that they originated in Japan where they're called Maneki-Neko.
You may also enjoy reading: One Day in Nagoya, Japan
Is there a particular object that you always get excited to see while traveling?