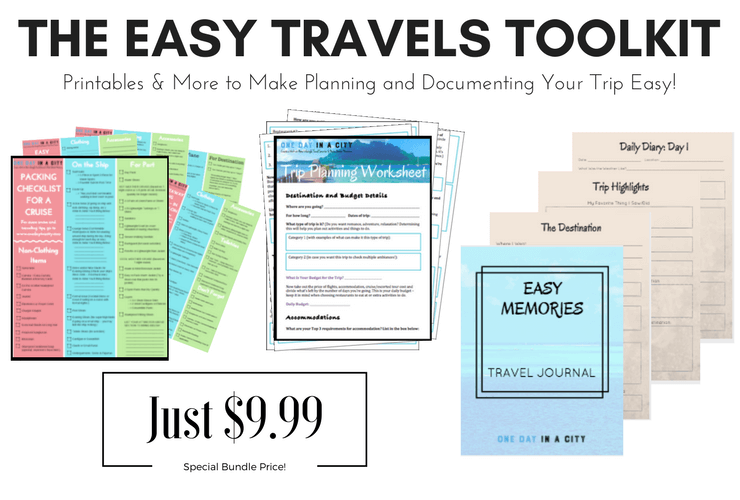 The Travel Tools You'll Get in the Toolkit
Travel Planner Printable: You get an 8-page travel planning printable that you can use to easily plan your trip and make sure you haven't forgotten anything. You can also stick it in your suitcase so you have numbers, confirmation codes, itinerary notes, and other important info easily accessible.
Packing Printables: The toolkit includes 4 (+bonus) different packing list Printables for different types of trips that guide you to pack smartly and concisely and keep your packing to-do list organized. The Printables include:
Beach Getaway Checklist
City Getaway Checklist
Cruise Packing Checklist
Easy Packing Checklist (For any type of trip)
Bonus! Baby Packing Checklist (Extra checklist for any of you new parents out there!)
And my favorite tool in the toolkit…
The Digital Travel Journal! I have found it's annoying to pack a travel journal cause it takes up space, plus who has time to write in one! I'm sooo much faster at typing than writing longhand. My digital Easy Memories Travel Journal makes travel journaling effortless.
It's an editable PDF you save to your computer that has sections you can fill in from your laptop or smartphone — right in the document! It also has questions and prompts that I've put together from my years of travel writing that will help you remember the things that will be most important to you when thinking about the trip years down the line.
This 20-page digital travel journal is planned out for a 7-day trip, but if you're going longer, no problem! Just save another copy of the PDF. You can also print out the diary after you get home and incorporate the pages into a scrapbook. You're going to love having the Easy Memories Travel Journal to help you document your trip!
So, to recap: The Easy Travels Toolkit makes your travels…you guessed it…easier!  (And the digital travel journal is awesome.)
Purchasing the Easy Travels Toolkit is also easy. Simply click the purchase button below and you'll be taken to a secure payment platform. Once you've put in your payment info, your toolkit access will be emailed to you and ready for download.