There was a period of my life in my mid-twenties that was tumultuous, financially strapped, and career-driven.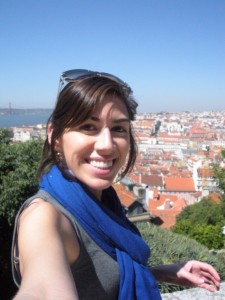 During that time, I had to put traveling on the back burner and focus on simply making it and getting through the year. But the lure of travel never waived, not even for a moment. My heart ached for a new place to visit and when the time was right, I did it again. I had a long layover in Lisbon on my way to meet my boyfriend in Spain and decided to take my seven hours in Lisbon to explore it on my own.
As the plane careened down the runway, I felt excitement bubbling up through me – an almost-forgotten feeling of getting ready to explore something new and foreign. Of putting myself out of my comfort zone and learning and experiencing new sights, emotions, people. The excitement was followed by a shiver of apprehension. What if I couldn't do it anymore? A lot had happened since my last trip to Europe, the last time I had traversed a city on my own or with a traveling companion whose goals were the same as mine – push myself, explore, learn, experience everything. Things were different this time around though, I was different. I felt more mortal, had come to the realization that life doesn't always turn out as you expect, that bad things happen, that sometimes all life wants to do is tear you down and it's all you can do to keep your head above water and build it back up. Could I do this on my own again? Could I navigate my way around a city, converse with locals via hand language when I don't know the language, be safe when walking alone down an alleyway? Was I still brave and adventurous enough to do this?
I left the airport and breathed in the hot air. I easily spotted the bus into the city center and soon I was off. I took in the modern buildings mixed with older ones, tree-lined boulevards, laundry strung outside windows, billboards promoting movies I recognized and didn't recognize in Portuguese. I felt a sense of calm happiness come over me. I'd never been to Lisbon before, but I felt like I'd come home. Home to my sense of self, what makes me happy, what makes me feel connected to the world.
A couple hours later after navigating my way around the winding and colorful, streamer-lined alleyways of the Alfama District, I came to a patisserie. Feeling a bit hungry, I popped in. It was on a side street, away from normal tourist traffic. I stepped inside. The walls were gray and I felt like I'd stepped from the sun into a cloudy day. But the good kind. The kind that makes you want to curl up with a coffee and a good book. Not that this was a place to lounge around. The tables were silver with hardback chairs. A long sterile looking counter stretched along one side of the shop. A few tables were placed on the other side. Beyond that, in the back, were more tables. A TV was on displaying a soccer game and there were a few men watching it. Despite its drab interior, the place was inviting. A man behind the counter smiled at me and I grinned back. I may be the only woman in here, but I felt welcome.
"Patisserie?" I said, pointing at the pastries lining a clear compartment beneath the long stretch of counter.  He nodded encouragingly and spouts something off in quick-sounding Portuguese.
"Falo Inglês," I said and pointed to myself.
He nodded and continued to smile. "That one please," I said even though I know he can't understand me and pointed to a fluffy, golden pastry in the shape of an S. He said something in response that sounded like I made a good choice and not understanding or knowing how much it is, I handed him a ten euro note, assuming that will be enough. He handed me some change and I took a seat at one of the tables near the front of the store. He continued to smile and then watched the TV in the back of the room for a bit until another customer came in. The customer looked at me as if to say, "who is this random person", then began talking animatedly to the man behind the counter. One of the men in the back shouts some words into the conversation. So far, nobody in the back of the room has paid me much attention except a few glances. Still, I started to feel like it's time to move on and let the boy's party be all boys…plus there was more of the city to see.
I waved a goodbye as I leave and the man behind the counter raised his hand in goodbye and gave me a huge smile. He said something in Portuguese and I said "Thank you" and "Have a nice day" and though we can't understand the words we were saying, I knew we understood each other just fine.
And I knew then that I hadn't forgotten to travel, that I won't ever forget how to travel.