Love and Travel: The story of how Tom and I met and bonded over travel
I was perusing Facebook last night and came across a friend whose status update was this: "I want to travel the world and marry a man who will travel it with me."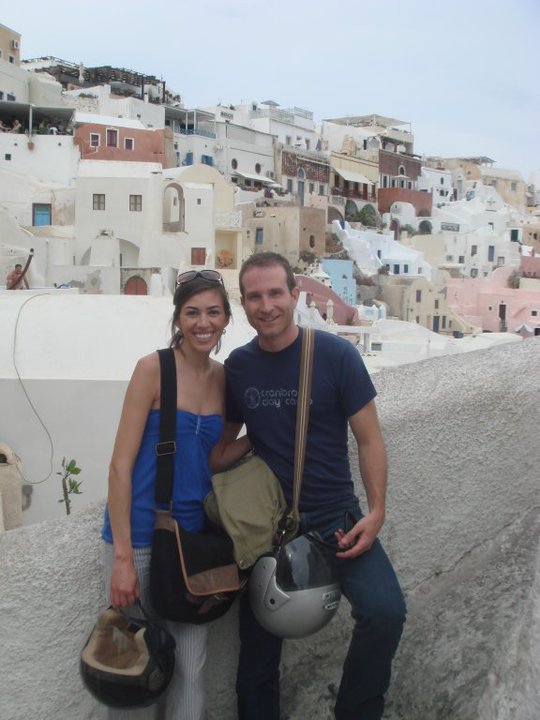 Aw, love and travel. The two fit together so well. The status update immediately made me smile, because luckily (and maybe miraculously) I managed to accomplish just that – love and travel…together. It made me think of the first day I met Tom and how our very first conversation consisted almost entirely about our love of traveling. Then my thought pattern went like this:
Wait, the anniversary of the first day Tom and I met should be coming up soon. I should write a blog post about it. What day is that anniversary again? It's in November. November 15? No, November 13. Wow, that's soon. Wait! It's already November. But it's only November 6. Wait!!! No, it's November 14! Crap, our anniversary was yesterday!
Yes, four months into marriage and we're already forgetting previous anniversaries – and that was the anniversary we always celebrated! (Also, the whole thing about time going faster the older you get is sadly true. I was convinced it was only the beginning of November despite the fact that I had used the November 14 date multiple times for work that day. I'm getting old. Sigh.) Between school, work, and writing projects, we both entirely forgot to celebrate the day our paths first crossed.
Love and Travel Cross Paths
When Tom and I met 4 years ago I wasn't exactly looking for a guy (more I'd decided they were all assholes and was on the verge of giving up on them completely. Yes, yes, I was that girl). When my friend asked if I'd go to an art show at a bar that the guy she was dating was putting on so she wouldn't have to go alone, I thought sure, why not? I'd never been to an art show at a bar and I figured with my current stance on men I'd be a great wingman. Well, that lasted until my dear friend pointed out Tom to me and said, "he's cute, you should go talk to him". I stupidly didn't listen to her, instead deciding to talk to the player guy standing next to me who would no doubt break my heart. Luckily for me, fate was listening to my friend and Tom came up and started talking to me. It took all of two minutes to figure out we were both obsessed with traveling and we spent the next hour talking about where we'd been, why we loved traveling, where we wanted to go and how we were hoping to accomplish that.
I ended up not being a good wingman (wingwoman?) that night, but I'd found my favorite traveling partner and more importantly, my life partner, at the bar that evening. (There's a bit more to this story involving one..or two…or three too many martinis that night plus a few weeks of texting and a subpar first date followed by an amazing second date and lots more talk about travel, but that's too long of a story to tell on here. The ending is all that's important – I'd found my man.)
So happy "old" anniversary to my darling husband who makes my world go 'round and goes 'round the world with me!