How to Spend One Day in San Diego + Extra Things to Do if You Have More Time
San Diego attracts visitors from all over the world for its beauty, warm weather, world-class beaches and attractions, dynamic craft beer scene, and terrific restaurants. It's the perfect place to spend the day…or longer than 24 hours!
San Diego has a particularly special place in my heart.
I moved to San Diego right after college and stayed there for over a decade. A job opportunity for my husband moved us up to the Pacific Northwest a few years ago, but San Diego is still my adopted hometown and where I feel most like "me".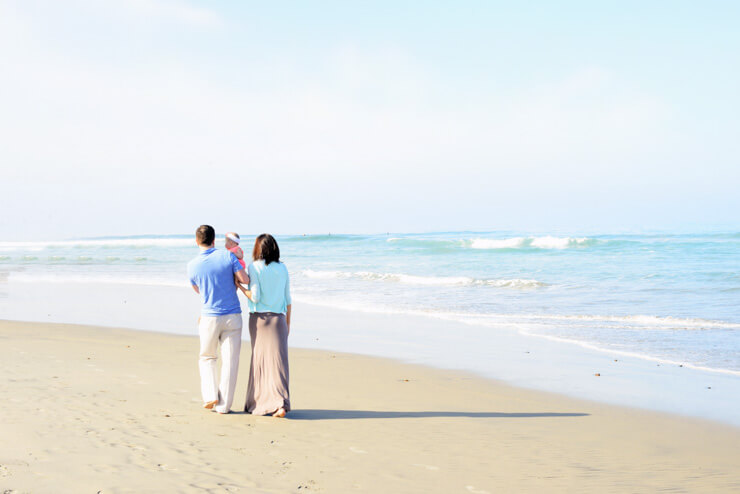 Luckily, we still have wonderful friends who live down there that always open a spare room to us so I visit every chance I get. This also means I'm in a unique spot to put together a San Diego visitor guide with both a local and visitor perspective.
Read on to find out how I recommend you spend the perfect day in San Diego. I've also included some recommendations under the "modified itinerary section" below that will help you out if you have extra time in San Diego or want to get off the beaten path a bit more.
More San Diego Trip Inspiration: 15 Best Day Trips from San Diego
When to Visit San Diego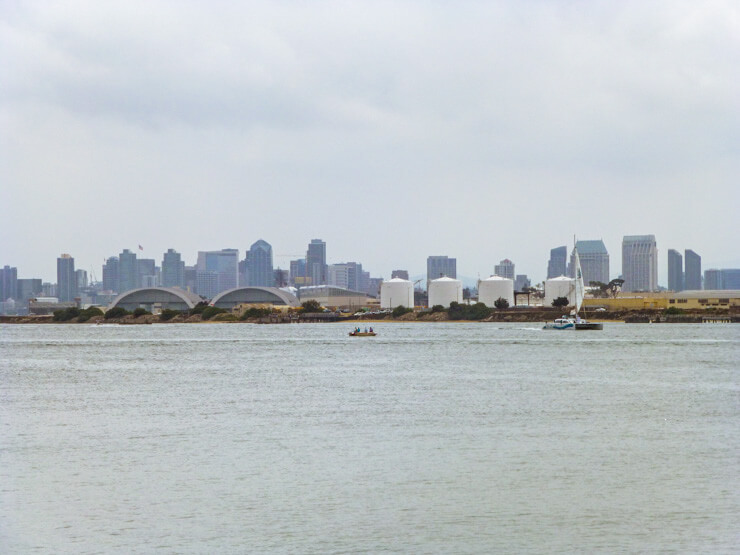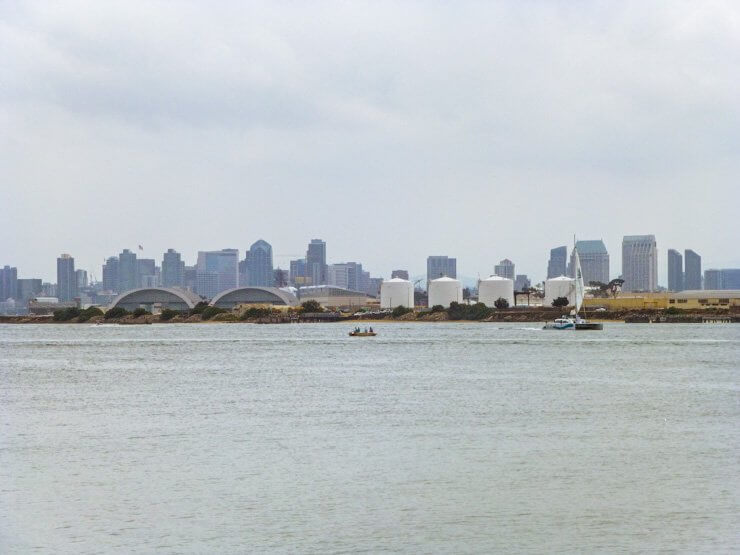 San Diego is known for being the land of sunshine and perfect weather all year 'round, but as locals will tell you, this isn't exactly true.
If you love sunshine while being on the coast, you might want to stay away from San Diego during the months of May and June. During those months, the city is prone to "May Gray" and "June Gloom" when the marine layer stretches a cloud of gray over the skies for most of the day.
Keep in mind that even in the summer months, the nights can get a bit chilly by the coast so bring long sleeves to cover up with after the sun goes down.
Book Your Trip Like a Pro!
---
San Diego Top 10 Things to Do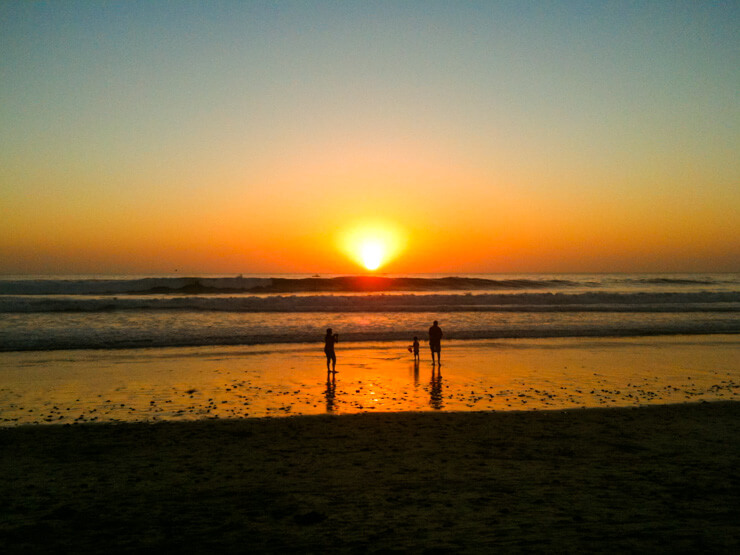 I'll go into these in more detail below.
Before we get into all those top things to do and see during one day in San Diego, let's cover some logistics of visiting America's Finest City.
Accommodation in San Diego
Wondering where to sleep in San Diego? Here are some of my top picks. I've either stayed at all these places or have been inside to visit the lounges or restaurants.
San Diego Luxury Hotels
Hotel Del Coronado – With white sides and striking red roofs, the Hotel Del Coronado stands out from the shoreline. Luxurious rooms amidst a historic ambiance.
Location: 1500 Orange Avenue
Phone: 619-435-6611
Cost: From $279 per night
The US Grant – A palatial hotel built in 1910 with a beautiful lobby that retains the charm from that era. Located in the Gaslamp Quarter.
Location: 326 Broadway
Phone: 619-232-3121
Cost: From $314 per night
San Diego Mid-Range Hotels
Tower 23 – A contemporary lifestyle hotel located right next to the boardwalk of PB. Stylish rooms with ocean views.
Location: 723 Felspar Street
Phone: 858-270-2323
Hotel Indigo – An upscale city hotel in the Gaslamp Quarter with modern amenities and is pet-friendly.
Location: 509 9th Avenue
Phone: 619-727-4000
Paradise Point – Gorgeous landscaped grounds make up this well-appointed resort located on Mission Bay.
Location: 1404 Vacation Road
Phone: 858-274-4630
La Valencia Hotel – A can't-miss-it pink hotel nicknamed "the Pink Lady of La Jolla" overlooking the La Jolla Cove with an oasis of a pool area and sumptuous rooms.
Location: 1132 Prospect Street
Phone: 858-454-0771
San Diego Budget Accommodations
Old Town Inn – A comfortable and affordable hotel within walking distance to Old Town and right across the street from a bus and trolley station, making it ideal for someone visiting San Diego without a car.
Location: 4444 Pacific Highway
Phone: 800-643-3025
Hotel Circle – This cluster of hotels in Mission Valley offers some of the best values for accommodation in San Diego at well-known hotel brands, such as Comfort Inn, Travelodge, Best Western, and more. Many restaurants and shopping opportunities are nearby. Check out www.hotelcircle.net for a list of hotels and rates.
Location: Mission Valley off of the 8 Freeway
Getting to San Diego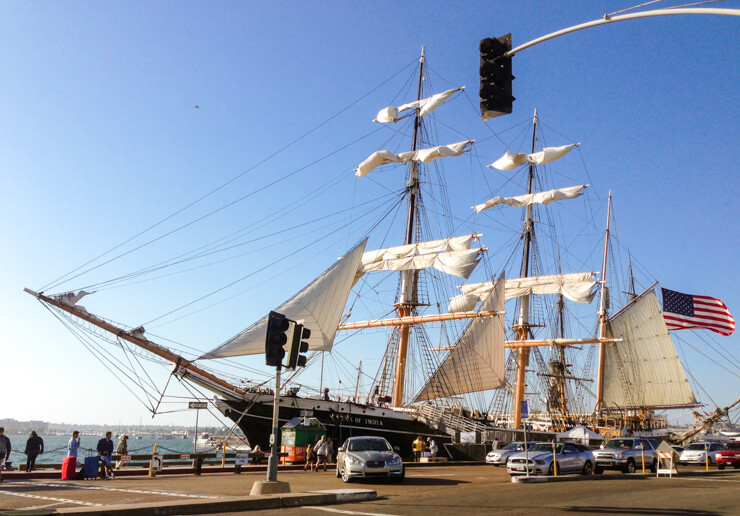 By Plane
The San Diego airport was completely renovated a few years ago and is a good introduction to the laidback lifestyle of San Diego. The San Diego Airport is located right near the harbor and is just a 5-10 minute drive from downtown.
By Train
Catching a train into the city center from a distant city in California is easy with Amtrak, which has a stop right in downtown San Diego.
By Car
It's Southern California, land of the massive freeways, so of course San Diego is easily accessible by car. Just connect with the 5 or 15 Freeway from wherever you're coming from, head south, and you'll find your way into San Diego. (Just keep an eye open for the "last exit before Mexico" signs, you don't want to spend your one day in San Diego in customs).
By Ship
San Diego is an itinerary stop for several cruise ships and the harbor of San Diego is conveniently located within easy walking distance to San Diego's Gaslamp Quarter, and the Santa Fe Depot from which you can easily hop on public transportation to another part of San Diego.
Getting Around San Diego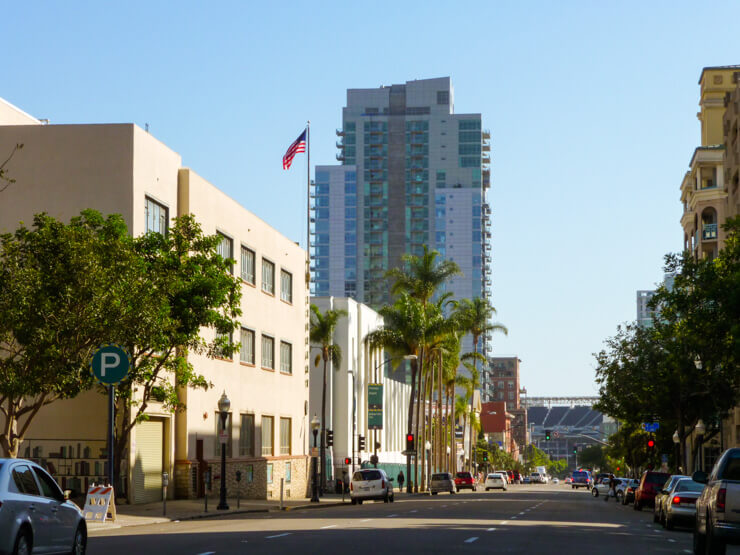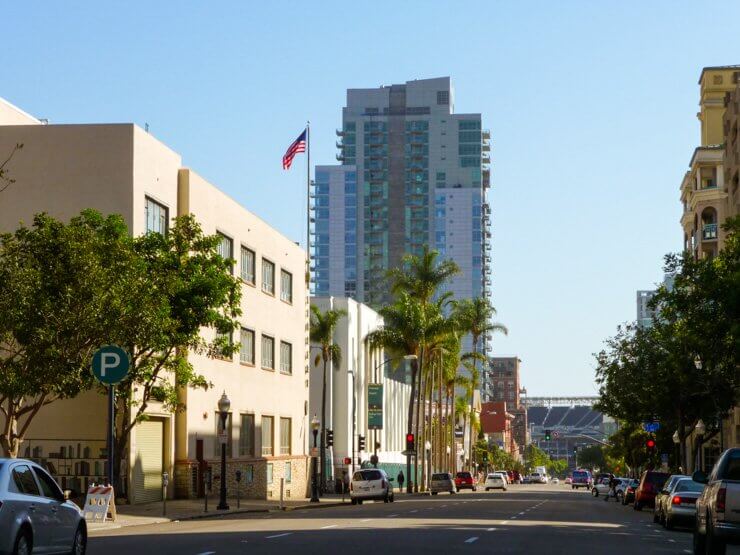 The Coaster
The Coaster connects downtown San Diego to the coastal cities of North County San Diego. You can head all the way up to the Coaster's northern most stop in Oceanside (which is also an Amtrak station) or use it to simply get between downtown and Old Town. The Coaster stops cover three zones and includes the following stops from south to north: San Diego – Santa Fe Depot (downtown), San Diego – Old Town, Sorrento Valley, Solana Beach, Encinitas, Carlsbad Poinsettia, Carlsbad Village, and Oceanside. Buy tickets at the station before boarding and keep it handy – attendants will come through and check that you have one once onboard.
Also, for those flying into San Diego and staying outside the city center, there is a bus, MTS bus 992, from the airport, which connects with the Santa Fe Depot station.
The Trolley
For getting around the city of San Diego, the trolley is a great option as it extends from Old Town through eastern San Diego (such as to the popular Fashion Valley mall) and down to the San Diego Convention Center. The Trolley is basically an above ground metro system, but has the charm of looking like an old-fashioned trolley from the outside.
There is even a trolley San Diego tour! Don't miss a wonderful chance to explore San Diego by trolley. Click here to book this fun tour.
Taxi
Taxis are easy to find in most areas of San Diego, though you may have to wait for one if looking for a cab right when the bars close (at 2 a.m.) in one of San Diego's prime nightlife districts (such as PB, OB, Gaslamp Quarter, or North Park). Taxis are always metered and ask before getting in if they take credit cards or are cash only. There are also plenty of Uber drivers working in the city.
Bus
San Diego's bus system, part of the Metropolitan Transit System, connects the majority of San Diego that the trains don't reach. Visit Click here for bus routes and timetables.
Car
San Diego is predominately a driving city.
To get to most of the beaches and other popular sites, you'll need a rental car, unless you want to take a taxi or bus. Check prices and availability here.
In summer, keep in mind that heavy traffic starts earlier in the afternoon with people coming back from the beach or ditching work early to get to the beach. The 5 Freeway is backed up a large majority of the time.
If you run into traffic, consider taking the scenic Coast Highway – it's not always faster due to stoplights, but at least you have views of the Pacific while you wait out traffic. Though if short on time in San Diego, try to avoid having to be on freeways for a long period of time during rush hour.
One Day in San Diego Itinerary: How to Have the Perfect 24 Hours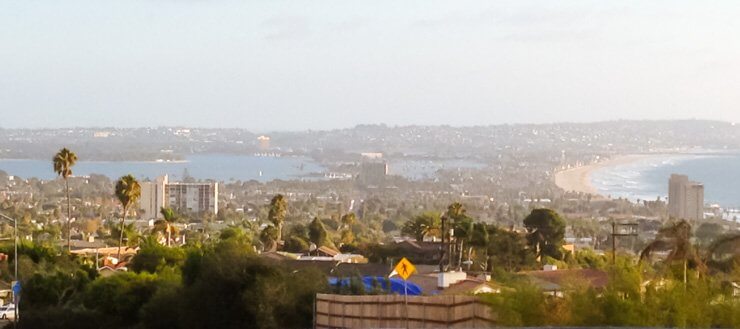 Now for my recommended itinerary for how to spend one day in San Diego, which is set up to give you a taste of the cultural and modern influences of San Diego and what makes the city a popular destination.
A modified itinerary section is included after it for those who may have particular traveling interests with recommendations on how to switch up the day to include them.
Coronado: San Diego's Beautiful "Island"
One of the most noticeable landmarks of San Diego is the Coronado Bay Bridge, and over that bridge is the "island" city of Coronado, which is home to (debatably) San Diego's nicest beach and most famous hotel.
When you arrive in Coronado you'll see signs for the naval base and the Hotel Del Coronado; follow the latter.
The Hotel Del Coronado with its red roofs, which has catered to Hollywood royalty over the years and even has some ghost stories, may be too expensive for most people to stay in, but it warmly welcomes visitors into its grand lobby and bars and restaurants. Sit out on the patio of one of the Hotel Del's bars and enjoy a cup of coffee or mimosa while taking in the view of the nearly white, pristine sand.
The beach across from the Hotel Del is one of the widest in San Diego County and also the most uncluttered. The wealthy residents of Coronado must like their beach perfect, because I can barely even find a piece of seaweed on its combed sands.
Coronado Quick Tips:
Location: Just west of downtown San Diego across the Coronado Bay Bridge (Highway 75).
Hotel Del Address: 1500 Orange Avenue, Coronado
Parking: The Hotel Del Coronado has valet parking, which can get quite expensive. There is also usually free street parking that can be found on Ocean Boulevard.
Short on Time Tips: Start out your day in Coronado early in the morning to get there before the crowds and enjoy views of the gorgeous beaches and the hotel public areas without so many people milling about. Grab a mimosa or coffee and simply enjoy the morning view. Don't spend more than 90 minutes or so exploring Coronado. There's much more on the mainland of San Diego to see.
Tour Tip: Explore gorgeous Coronado and learn about its history with this small-group tour that's under 3 hours.
Old Town San Diego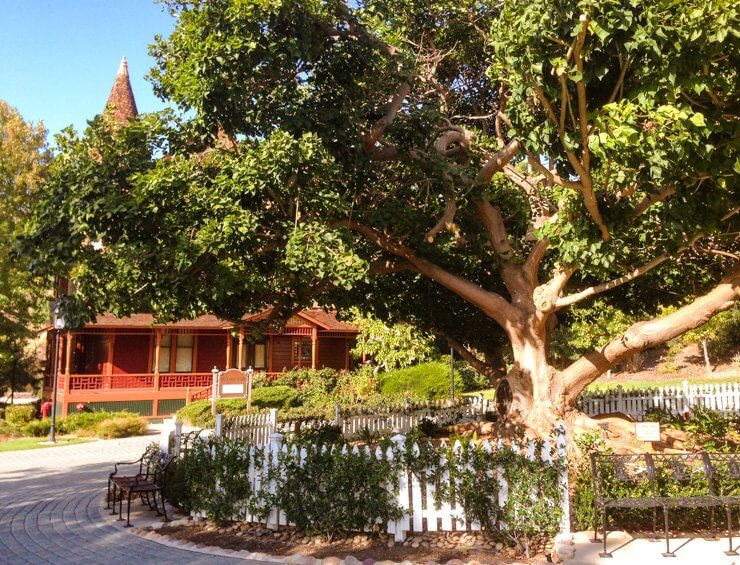 After getting an early morning view of the beach, soak up the history of San Diego. For that, Old Town is where you want to be. At first glance, Old Town appears to be filled with Mexican restaurants and kitschy souvenir shops. However, amidst the array of tourist-oriented shops, there are some interesting artifacts and historical buildings that can be found, most of which are free though some require a small fee to tour.
Casa de Estudillo
Built in 1825 for a Spanish aristocrat, the Casa de Estudillo became a safe haven for women and children during the American Occupation of 1846. In 1887, a new owner stripped the house of much of its windows, tiles, and other features to sell. In 1910, architect Hazel W. Waterman oversaw its reconstruction to bring it back to its former glory, and today it stands as an excellent example of early Spanish architecture in California.
Address: 4000 Mason Street
Mason Street School
Was San Diego's first one room schoolhouse. Children will enjoy sitting at the desks and seeing various school objects from the 1800s.
Address: 3966 Mason Street
McCoy House
Originally built in 1869, the McCoy House was home to San Diego's first sheriff, James McCoy. Reconstructed in 2000, the McCoy House shows the type of house that wealthier settlers of California built.
Address: 4002 Wallace Street
Old Adobe Chapel
This building dates back to the 1830s and the chapel served as the first parochial church in the first parish of California following the secularization of the missions in 1832.
Address: 2476 San Diego Avenue
Whaley House
The Whaley House is the oldest brick structure in San Diego, however, these days Whaley House's main claim to fame derives from the rumors that it is haunted. Tour the house and hear about the supernatural occurrences that have been documented at Whaley House.
Address: 2482 San Diego Avenue
Heritage Park
Head to Heritage Park, located right next to Old Town, to see Victorian homes and San Diego's first synagogue. The park also has an idyllic grassy area.
Address: 2454 Heritage Park Row
Mid-Day San Diego Lunch Break: Fish Tacos!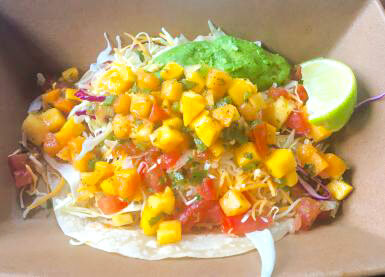 Before leaving Old Town, grab lunch – some of the best Mexican food in all of San Diego is found in Old Town. Order a fish taco if you've never had one – it's a San Diego delicacy. Here are two of Old Town's most popular Mexican restaurants, both of which I've eaten at multiple times and have always enjoyed the food:
Café Coyote – An award-winning Mexican restaurant that has been serving up traditional Mexican dishes for over 20 years. Has an excellent patio for those wishing to eat outdoors.
Address: 2461 San Diego Avenue
Phone: 619-291-0715
Old Town Mexican Café Restaurant – This popular Mexican restaurant has been around for over 30 years and has also won its fair share of awards and has a large dining room with tasty Mexican food favorites and is the home of the original handmade tortilla makers in Old Town.
Address: 2489 San Diego Avenue
Phone: 619-297-4330
Tour Tip: Combine Old Town and tacos on the San Diego Old Town Tales, Tacos and Tequila Small Group Tour. Book early, this one tends to sell out!
Mission Beach & Belmont Park: San Diego's Most Fun Beach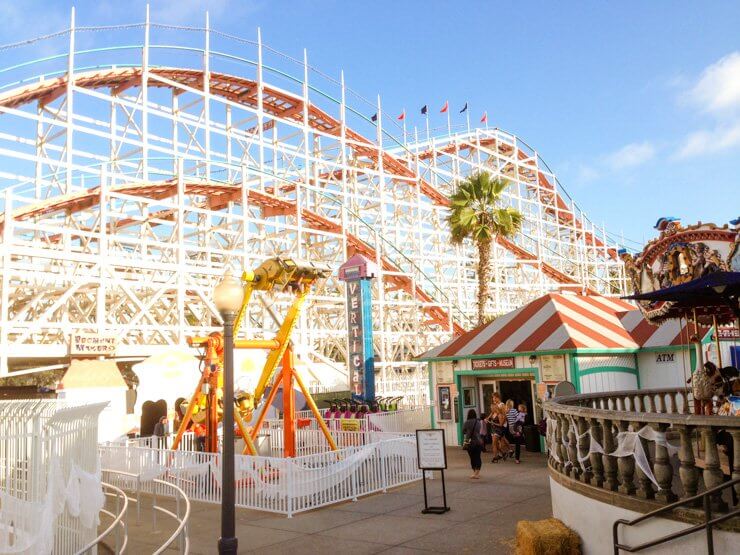 Fun for the whole family can be found at Belmont Park in Mission Beach.
Belmont Park is an amusement park which has been open since 1925. With an old-school wooden roller coaster and other rides plus fair-inspired games and food located right next to the beach, Belmont Park is reminiscent of a bygone era of carnivals and ocean breezes.
Head to the Wave House, a bar and restaurant which features a sand floor and wave simulators where you can watch novices and experts do tricks on surfboards (or fall). You can even try it yourself if you dare.
Or you can rent a surfboard and go try it in the real waves of the Pacific Ocean located right behind Belmont Park. Mission Beach is the type of San Diego beach people go to when they want a scene that looks straight out of the opening sequence from Baywatch.
Short on Time Tip: If short on time and you really want to see a wide range of San Diego, don't spend more than an hour or two at the beach. If you want more time, well, you're certainly not the only one as San Diego's beaches are a major draw for the city – see the modified itinerary section for a list of San Diego's most popular beaches.
Belmont Park Quick Facts
Location: 3146 Mission Boulevard
Cost: It is free to enter Belmont Park, but rides require you to purchase tickets.
Phone: 858-488-1549
Parking: A free parking lot is available next to Belmont Park. There is also street parking nearby and parking located along Mission Bay Drive by Mission Bay Park.
Don't Forget to Pack These Items!
Quick break from the itinerary (the gorgeous, can't-miss La Jolla Cove is up next!) to call out a few things you should pack for your one day in San Diego. You probably know to bring a swimsuit and good walking shoes, but here are some other items you won't want to forget.
Cuddly Sweatshirt or Sweater

Or a cozy blanket poncho like this one for cool nights. The coastal breezes tend to drop the temperature quite suddenly after the sun goes down in San Diego, even in the summer.

Beach-Ready Flip Flops
Wetsuit

You'll be glad you have one if you want to swim in the ocean for a long period of time, particularly if it's not July or August.

Beach Umbrella
La Jolla Cove on the North Tip of San Diego
La Jolla is the northernmost neighborhood of San Diego and is located right along the coast.
The beach area just west of La Jolla's downtown village area is the La Jolla Cove and is one of the most stunning pieces of coastline in all of Southern California.
The La Jolla Cove curves around a bay that is home to leopard sharks, seals, spiny lobster, and many types of fish. If you're going to snorkel or scuba dive during your time in San Diego, this is the place to do it (see itinerary modifications).
Small patches of sand with large rocks cover most of the coastline of the La Jolla Cove. These rocks are fun for children and adults alike to explore when the tide is out as you can find crabs, octopuses, and mussels caught in the small tide pools that form among the rocks.
Framing the rocks is a walking path, which is also bordered by a large grassy area for much of it; perfect for a picnic on a sunny day or letting the kids run around and get some energy out.
Head south along the walking path and you'll come to Children's Beach – named for being shallow and ideal for children…until marine animals took it over. Now children (and adults!) delight in seeing sea lions and seals play in the water and sunbathe on the sand and nearby rocks.
Visitors can also visit a sea cave via land at the Cave Store. This store is located at the north end of the cove and has information and souvenirs about La Jolla and is built around an entrance to a long staircase leading down through the rock to Sunny Jim Cave, which visitors can head down into for a small fee.
Tour Tip: Explore and learn more about La Jolla on this guided tour.
La Jolla Cove Quick Facts
Location: West of Prospect Street in La Jolla.
Parking: The closest parking is available on Coast Boulevard which connects with Prospect Street, or you can take Girard Avenue down to it. If parking is full, there is plenty of street parking in La Jolla village along Girard Avenue and Herschel Avenue and their side streets, though some are only one to two hour parking spots (which will be marked by a street sign). There are also pay lots located throughout La Jolla.
Short on Time Tip: If you do one circle loop on Coast Boulevard and around La Jolla Village and can't find a parking spot, just opt for a pay lot to save time. There is an affordable lot on Coast Boulevard across from the Cave Store. There is also a parking garage right off of Prospect Street by Herschel Avenue and if you buy anything in the shops of the building the parking garage is adjacent to, some or all of your parking can be comped.
San Diego Breweries
San Diego is one of the premier regions for microbreweries, and San Diego breweries are constantly winning awards for their diverse and tasty beer.
After catching the sunset (or before depending on the time of year), head to a brewery to try a flight of local beer before going to dinner. Here are some of the top breweries located within the city of San Diego (the county of San Diego as a whole has many, many more).
Tour Tip: Don't worry about driving. Instead, take a brewery guided tour that takes you brewery hopping in a fun open-air vehicle.
Ballast Point Brewing and Spirits – Brewery tours are offered daily at at this popular San Diego brewery. There is also a tasting bar which has 27 beers on tap and serves up tasters or pints. As the two original owners (it was sold to Constellation Brands for $1 billion in 2015) love fishing along with beer, you'll find beers by the name of Longfin Lager and Black Marlin on tap – both of which are great choices for a drink. Ballast Point also makes one of my absolute favorite beers: the Grapefruit Sculpin.
Location: 10051 Old Grove Road
Phone: 858-695-2739

AleSmith Brewing Company – With their award-winning, hand-forged ales, AleSmith Brewing Company has developed a devout following of fans. Try the Belgian-style Grand Cru or the malty, dark Speedway Stout in the tasting room.
Location: 9366 Cabot Drive
Phone: 858-549-9888
Green Flash – Featuring a tasting room and beer garden, the acclaimed brewery, Green Flash, is an excellent place to grab a pint. The tasting room serves up their pilsners, porters, and pale ales in a fun setting. The brewery also offers tours for $5 per person; they fill up quickly so call to book in advance.
Location: 6550 Mira Mesa Boulevard
Phone: 858-622-0085
Pizza Port – This local brewery chain has several locations in San Diego County. If staying right in San Diego, head to the one in Ocean Beach (OB), a laidback beach community located north of Mission Beach. Grab a pitcher of the popular Shark Bite Red Ale and take a seat on one of the long benches. The big tables and bench seating setup also makes this a nice brewery to bring kids to. Plus, the pizza's awesomely good.
Location: 1956 Bacon Street
Phone: 619-224-4700
For True Diehard Beer Lovers: Stone Brewing Company – Hands down in my opinion, the most impressive brewery (and some argue, the brewery with the best beer) is Stone Brewing World Bistro and Gardens in Escondido, a city located in the northeast region of San Diego County. It's a drive, though, from San Diego. If you time your drive when there's no traffic, it takes about 30 minutes to get there from San Diego. Upon arriving at Stone Brewing, you'll be met with a gorgeous beer garden that consists of walking trails, koi ponds, and trees and other greenery. The inside is also impressive with views of the steel brewing barrels, which you can arrange a tour to see up close during your time there. Take advantage of their many beers on tap, of which the Stone Pale Ale (my favorite!), Stone IPA, and Arrogant Bastard Ale are popular local favorites. The brewery also has a full restaurant with many organic and farm to table menu options. For dessert, try the "beer float" variation of a root beer float.
Location: 1999 Citracado Parkway, Escondido
Phone: 760-294-7866
Also, though I don't think it's quite as unique of a space, Stone also has a restaurant with a large outdoor bar area in the Liberty Station center, which is located within San Diego city limits.
Itinerary Modifications (or What to Do if You Have Extra Days in San Diego)
Is there something else you want to see or do in San Diego? Here are some other great options based off of common traveling interests, with recommendations on what to switch out from the previous recommended itinerary.
San Diego Beach Bum Itinerary Modification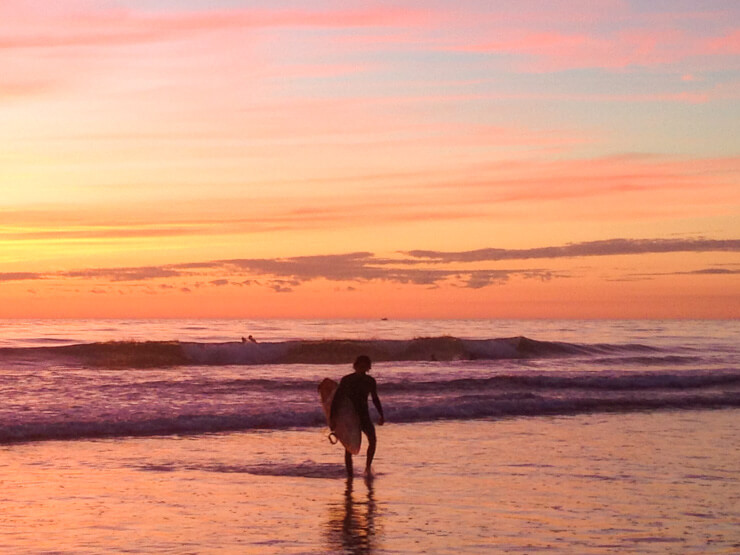 Want to nix some of the sites and just be a beach bum during your day in San Diego? No one will blame you. The beaches of San Diego are ideal for lounging around on all day and playing in the waves.
Keep in mind that the water is too cold for most people outside the months of July through September so you may want to rent a wetsuit if planning on frolicking in the ocean.
Here is my list of San Diego's best beaches:
As I mentioned earlier, this beach is pristine, posh, and perfectly positioned for gorgeous views of both land and sea.
Pacific Beach
Party central for beach-goers with beachside bars, music usually being blared, and beach games being played on the sand. Also, great waves for boogie boarding. The coast lining the northern part of PB is great for surfing, and is zoned to keep out swimmers and boogie boarders, making it a favorite spot of local surfers.
Mission Beach
With its location next to Belmont Park, this is a fun beach for families, and has a great boardwalk in front of the beach.
Windansea Beach
A cragged piece of beach with outstretches of rock breaking up soft, clean sand in southern La Jolla.
La Jolla Cove
Small pockets of sand surrounded by tall pieces of rock give a different type of beach ambiance than most of San Diego's long, wide open beaches.
La Jolla Shores
A wide stretch of beach in northern La Jolla with many water sports available for rent.
Short on Time Tip – What to Switch Out: Depending on how long you want to stay at the beach, skip the morning spent in Coronado and instead start your day in Old Town. Then bypass Belmont Park (unless the beach you're heading to is Mission Beach) and spend your late morning and afternoon at the beach. Grab a pint of local beer at one of the many bars in San Diego that carries them instead of visiting one of the breweries, and then head to La Jolla for the sunset.
Hiking Enthusiasts Itinerary Modification
If you enjoy hiking, here is the place you won't want to miss doing so in San Diego.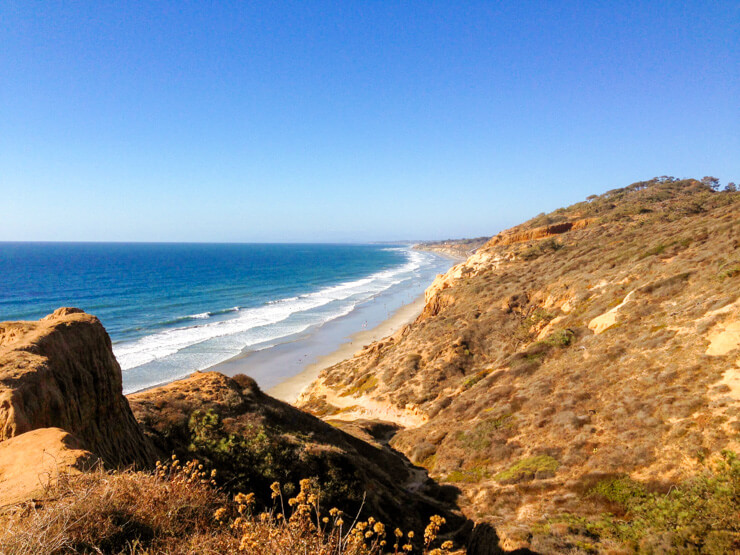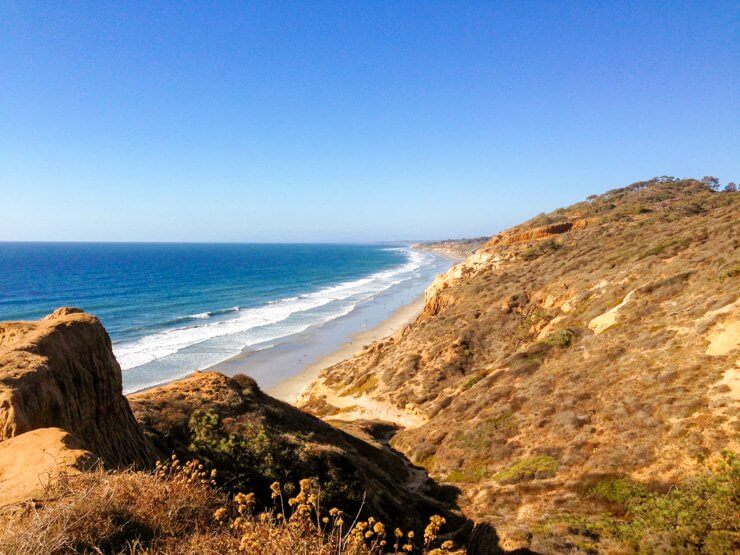 Torrey Pines State Reserve
Framed by the ocean to the west and heavily wooded, a hike through Torrey Pines State Reserve feels like you're a world away and not just a couple miles from a big city.
With ocean views from nearly every part of the trail system winding through a mesa, you can hike up and down the steep side of the park, getting in a good workout and possibly seeing wildlife along the way. There is no place on the reserve to buy drinks or food so bring plenty of water and a snack to keep your energy level up on your hike.
Location: 126000 North Torrey Pines Road
Phone: 858-755-2063
Hours: Daily, 7:15 a.m. – Sunset. The Sunset time will be posted upon entering the park (varies between 5 p.m. in winter to 8 p.m. in summer depending on the time of year).
Cost: There is a vehicle charge for Torrey Pines State Reserve and parking lots are located at the base of the reserve and at the top of the mesa. (Opt for the lot on the top as it's faster access to the best trails.)
Short on Time Tip – What to Switch Out: Skip Belmont Park and Mission Beach and instead get your excitement and beach views from your hike.
Golf Course Itinerary Modification
Love to golf? Here are two memorable places to do so in San Diego.
Torrey Pines Golf Course
If you're a golf addict who gets thrills out of playing at the best courses, you may not want to pass up your chance to play at a top one located right in La Jolla. The Torrey Pines golf course has been used for many high profile golf tournaments, including the PGA Tour and U.S. Open, and the best players in the world have hit balls on the greens of Torrey Pines. Plus, the golf course has gorgeous views of the San Diego coastline.
You have two course options when golfing at Torrey Pines – the North Course and the South Course, the latter of which is considered to be more challenging and is where the epic 2008 U.S. Open was played.
Location: 11480 North Torrey Pines Road
Phone: 877-581-7171
Tee Times: A reservation is a must – walk-ons are very hard to come by at Torrey Pines.
Coronado Golf Course
If you love to golf, but aren't sure Torrey Pines is the right fit for you due to the cost or course difficulty, a cheaper and less challenging golfing option is the Coronado Golf Course. The holes are less planned out and elaborate than Torrey Pines, but it still has great San Diego views.
Location: 2000 Visalia Row
Phone: 619-435-3121
Short on Time Tip – What to Switch Out: Skip spending your morning at the beaches of Coronado and instead head to the golf course of Coronado or of Torrey Pines. Head to Old Town afterwards, and know that golfing may mean you have less time at the beach in the afternoon.
Scuba/Snorkeling Itinerary Modification
With an assortment of fish, shellfish, and reef sharks, plus a kelp forest, the La Jolla Cove is a prime place to scuba dive or snorkel, either on your own or with a guide. Plus, since it's a beach dive, it's usually fairly affordable to dive in the Cove since a boat isn't needed to get to the dive spot.
Scuba San Diego – This outfit offers scuba diving in the La Jolla Cove with an expert guide. The dive includes equipment. They also offer a snorkel excursion at 10 a.m. every day that includes equipment and a guide.
Phone: 619-260-1880
Short on Time Tip – What to Switch Out: Since scuba diving is typically best in the morning, bypass Coronado. If you really want to see Coronado, head there instead of Belmont Park and Mission Beach in the afternoon.
Kayaking Itinerary Modification
San Diego has many spots for kayaking, but two of the best ones are at La Jolla Shores and Mission Bay. There are a number of companies who offer kayak tours and rentals, but here are a couple options I've used:
La Jolla Shores Kayaking
Kayaking here is great for nature and animal lovers. You're bound to see sea lions and seals, and they may even swim right underneath your kayak. There are also caves that can be kayaked into with a guide, an excursion that costs extra but is worth it. A good outfitter option:
La Jolla Kayak: Offers both kayaking tours starting from $39, and kayak rentals starting from $30.
Location: 2199 Avenida de la Playa
Phone: 858-459-1114
Mission Bay Kayaking
See stunning views of San Diego and wildlife from the calm, relaxing waters of Mission Bay. A great place for beginners to try kayaking. A good outfitter option:
Aqua Adventures: Located right on Mission Bay with an adjacent dock and ample parking, Aqua Adventures ensures you'll get in and out fast with more time in the water. Which is ideal for someone who is short on time in San Diego. Kayak rentals start from $16.50 for up to 1 ½ hours.
Location: 1548 Quivira Way
Phone: 619-523-9577
More Kayak Tours: Staying more inland? Easily book a kayak exploring tour here (no experience required!)
Short on Time Tip – What to Switch Out: Shorten your time at the beach and get your fun in the sun via kayaking instead. If kayaking at Mission Bay, you'll still have time to head to Mission Beach for a little while, and if kayaking in La Jolla, head to La Jolla Shores or Windansea Beach after.
Zoo Lovers Itinerary Modification
You can't go to San Diego without at least considering going to the San Diego Zoo. The San Diego Zoo consistently makes the top 10 lists for zoos around the world and is a greenery-filled masterpiece of a zoo.
The animals' enclosures are made to be as close to their natural habitat as possible and as the zoo is so big, there are many, many different types of animals to see.
The scale of the zoo is also why this is a modified itinerary recommendation; it's very possible to spend the whole day at the zoo and if you only have one day in San Diego that may not be how you want to spend your time.
—> Get your 1-day pass ticket to San Diego Zoo here.
Location: 2920 Zoo Drive
Phone: 619-231-1515
Short on Time Tip – What to Switch Out: For those who want to make visiting the San Diego Zoo a priority, get there as early in the day as possible and then plan on leaving mid-afternoon to check out La Jolla Cove or another beach before sunset.
Boaters Itinerary Modification
If you love sailing or marina life, head to Shelter Island, San Diego's most nautical neighborhood. I wrote up a comprehensive guide to Shelter Island San Diego here.
Read More: Hidden Gems in San Diego You Don't Want to Miss
Museum Mavens Itinerary Modification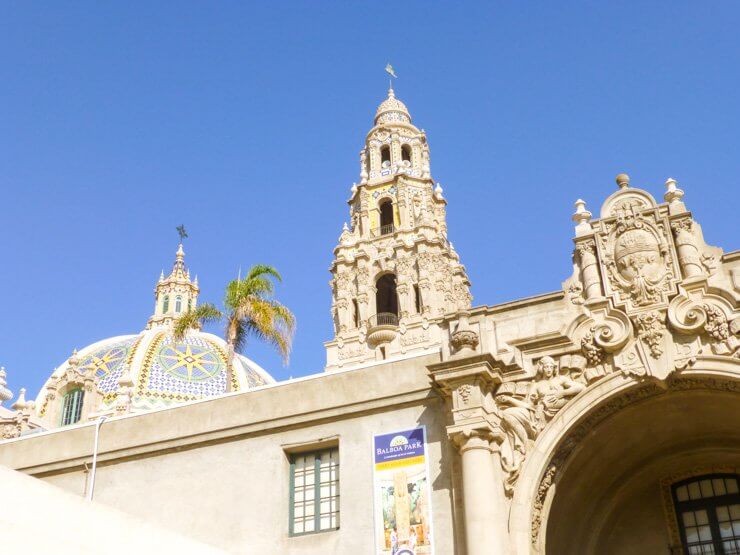 USS Midway Museum: A unique museum experience in San Diego is the USS Midway. You'll get the chance to walk around a former naval ship that's now permanently docked in San Diego harbor. Learn about how these types of ships operate and more about the military past of the USS Midway while walking around it. If you love history, it's easily one of the neatest things to do during your day in San Diego.
Tour Tip: This is one of the most popular attractions in San Diego, so if you're short on time, I highly recommend getting this skip-the-line ticket for the USS Midway Museum.
Location: 910 N Harbor Dr.
Phone: 619-544-9600
Balboa Park – This large park is home to San Diego's best museums. Marvel at physics in the San Diego Air and Space Museum, find out more about San Diego's history at the San Diego History Center, and learn about San Diego's art scene at the San Diego Art Institute. Or visit one of the over a dozen other museums onsite in Balboa Park.
Location: 1549 El Prado (Balboa Park Visitors Center)
Phone: 619-239-0512 (Balboa Park Visitors Center)
Admission and Hours: Prices and hours vary depending on the museum; visit www.balboapark.org for a breakdown of museums.
Short on Time Tip – What to Switch Out: Get your San Diego history fill here instead of Old Town, if you still want time at the beach. If you can live without lounging on the beach for a couple of hours during your time in San Diego, head to Balboa Park or the USS Midway after Old Town instead of Mission Beach.
Shopaholics Itinerary Modification
Want to do some retail therapy while in San Diego? Here are the best places to go shopping in San Diego.
Read More: Best Girls Getaway Spots in San Diego
Fashion Valley
A huge shopping mall located in Mission Valley with favorites such as J.Crew and designer meccas like Louis Vuitton.
Address: 7007 Friars Road
La Jolla
The area next to La Jolla Cove is full of boutiques with high-end clothing, plus some unique furniture and art stores.
Address: The area east of Prospect Street
Seaport Village
A quaint little area on the harbor that features an array of souvenir shops, clothing stores, and restaurants.
Address: 849 W Harbor Drive
Westfield Horton Plaza
A large shopping mall located in downtown San Diego with outdoor walkways and is also adjacent to an ice skating rink.
Address: 324 Horton Plaza
Short on Time Tip – What to Switch Out: Head to the shops instead of the brewery. Many of the shopping areas are located adjacent to restaurants and bars that serve local breweries if you still want to try one on tap before leaving San Diego.
Good Eats in San Diego
Access to amazing cuisine is one of the things I miss most about living in San Diego. Here are some of my favorite places to eat at when I'm in San Diego.
Always Popular San Diego Favorites
Mama Mia
Don't be surprised if you're greeted with a double cheek kiss at this Italian run eatery in PB serving up some of the best Italian food in San Diego. It's hard to pick only one, but this just may be my favorite restaurant in San Diego.
Location: 1932 Balboa Avenue
Phone: 858-272-2702
Indigo Grill
Inventive cuisine that mixes in a variety of tastes and seasonings in a lively, trendy setting.
Location: 1536 India Street
Phone: 619-234-6802
Alexander's on 30th
A nearly all-white interior gives a romantic vibe to this restaurant in North Park and the upscale twist on comfort foods offers a great dining experience.
Location: 3391 30th Street
Phone: 619-281-2539
Urban Solace
Gourmet American comfort food such as macaroni and cheese and pot pie is served alongside entrees like duck and pork cheeks at this foodie haven located in North Park.
Location: 3823 30th Street
Phone: 619-295-6464
OB Noodle House
A funky restaurant in OB serving up delicious Asian food – try the pho.
Location: 2218 Cable Street
Phone: 619-450-6868
Searsucker
Paying homage to the best seafood and farm ingredients, downtown Searsucker is located in a warehouse-style building and is led by celebrity chef Brian Malarkey. Searsucker also has a location in the small coastal city of Del Mar, just north of San Diego.
Location: 611 5th Avenue
Phone: 619-233-7327
Island Prime / C Level
Located on stilts over the San Diego Bay, the restaurant of Island Prime and its adjacent C-Level lounge serve up delicious seafood and steaks with great views of San Diego and Coronado.
Location: 880 Harbor Island Drive
Phone: 619-298-6802
Cucina Urbana
Italian food is taken to new levels at Cucina Urbana, a Banker's Hill restaurant that manages to be hip and traditional all at the same time.
Location: 505 Laurel Street
Phone: 619-239-2222
Best Breakfast/Brunch Spots in San Diego
The Mad Beet
Two words: Acai Bowl.
Location: 933 Garnet Ave
Phone: 858-529-5129
Crushed
I haven't eaten here yet, but I hear this is the cool new place for brunch in San Diego.
Location: 967 Garnet Ave
Phone: 858-230-6567
World Famous
Excellent views of the ocean and good breakfast eats, especially the eggs Benedict.
Location: 711 Pacific Beach Dr
Phone: 858-272-3100
Fine Dining Eats in San Diego
George's at the Cove
Some of the best fine dining in San Diego can be found in George's at the Cove California Modern dining room, plus one of the best ocean front patios at their Ocean Terrace bistro with a view of La Jolla's cove.
Location: 1250 Prospect Street
Phone: 858-454-4244
Bertrand at Mr. A's
A top-floor restaurant in a high-rise building with an excellent view of the San Diego skyline – and most importantly, stellar modern American food. (Still somehow haven't eaten here, but I have only heard good things!)
Location: 2550 5th Avenue
Phone: 619-239-1379
Marine Room
This La Jolla restaurant is known as much for its proximity to the ocean (in high tide, ocean waves hit the dining room windows — book your reservation well in advance for these dates) as its gourmet cuisine.
Location: 2000 Spindrift Drive
Phone: 858-459-7222
Cheap Eats in San Diego (But Delicious!)
Rocky's Crown Pub
Always a contender and often the winner in ongoing debates of the best burger joint in San Diego. (It's my favorite which is why it's on the list over the other fave: Hodad's 😉 Rocky's only serves burgers and fries, plus beer and wine, and is cash only.
Location: 3786 Ingraham Street
Phone: 858-273-9140
South Beach Bar & Grille
A small dive bar located in OB with some of the best fish tacos in San Diego. Get there early or expect to be waiting for a table for a while.
Location: 5059 Newport Avenue #104
Phone: 619-226-4577
Pizzeria Bruno Napoletano
Traditional Neapolitan-style wood-fired pizza, located in North Park. Also serves up beer and wine.
Location: 4207 Park Boulevard
Phone: 619-260-1311
El Zarape
A taco shop located in University Heights serving up some of the best fast Mexican food around (no small feat in San Diego). If you've never tried Carne Asada fries, get them here.
Location: 4642 Park Boulevard
Phone: 619-692-1652
Sushi Deli
Offers affordable and delicious hand-crafted sushi and other Japanese cuisine favorites in three different San Diego locations with hip décor, including one located downtown.
Location / Phone: 228 W. Washington Street / 619-231-9597; 135 Broadway / 619-233-3072; 7986 Armour Street / 858-292-5515
Short on Time Tip: Make a reservation at these restaurants if possible to avoid having to wait for (or missing out on) a table.
San Diego Nightlife
Now that I'm a frazzled mom, I'm glad I took advantage of the San Diego night scene back when I still had the energy to go out drinking and dancing until two in the morning. Here are some classics, plus a few new ones I had to get input about from my friends who are still "cool". 😉
Pacific Beach (PB)
Pacific Beach, known as PB by locals, is party central with a laidback, beach vibe. Bars stretch alongside either side of busy Garnet Street and along Mission Boulevard by the coast. Any night of the week – and pretty much any time of day – you'll find coeds and the young at heart dancing the night away or enjoying drinks on patios. So grab your flipflops and enjoy the beach party life. Here are some favorite bars of mine in PB:
BeachWood – A beach vibe with a retractable roof and ocean views. Also has outdoor seating during the day on the roof-top terrace.
Address: 4190 Mission Boulevard
Tower 23 – An outdoor patio right on the boardwalk and stylish décor makes this a sophisticated place to grab a few drinks in PB, with great ocean views.
Address: 723 Felspar Street
Turquoise Bar – Located in quieter North PB, Turquoise Bar has a Spanish flair and serves up tapas with Sangria and other drinks. Often has live music.
Address: 873 Turquoise Street
Johnny V's – A more upscale dance club with a garden-style area that feels like an outdoor courtyard and a large central bar.
Address: 945 Garnet Avenue
Bub's Dive Bar – A popular laidback bar that has baskets of peanuts on tables and peanut shells covering the ground. Along with its fun and lively setting, Bubs also attracts a loyal patronage by having some of the best bar food in PB – try the Archie wings or tater tot nachos. My husband and I spent a ton of time here when we first started dating so it will always hold a special place in my nightlife memories!
Address: 1030 Garnet Avenue
Gaslamp Quarter
In the Gaslamp Quarter of San Diego, keep the flip-flops packed and bring out your best downtown shoes. The Gaslamp Quarter covers 16 ½ blocks and is the epicenter of downtown San Diego's shopping, dining, and nightlife. The Gaslamp Quarter gets its name from the faux gas lamps erected in the area during a revamp to give it a more Victorian feel in the 1970s, a much-needed facelift after nearly a century of serving as a seedy brothel zone. Today, it's hard to believe that the Gaslamp Quarter wasn't always as classy and trendy as it is now. This vibe also makes it an excellent place to spend your evening and late night hours, with many clubs and bars that are prime for socializing and dancing, and even some singing.
Maloney's Tavern – A basement club with a pub feel and pool tables.
Address: 777 5th Avenue
Shouthouse – A dueling piano bar with good food and drinks and a raucous, fun atmosphere.
Address: 655 4th Avenue
House of Blues – Music lovers should check which bands are playing here the night you're in San Diego. The hip venue gets some great bands.
Address: 1055 5th Avenue
Whiskey Girl – Dance the night away once the sun goes down in a large room that is more laidback than some of the other downtown dance clubs, with a Karaoke downstairs in the lounge.
Address: 702 5th Avenue
Vin de Syrah – A posh, garden-inspired wine bar that turns into a dance club in the late night hours. Oh, and be careful with the door. You'll understand once you get there.
Address: 901 5th Avenue
Basic – This place serves up some of the best pizza in town during the day and evening; later it turns into a popular dance club.
Address: 410 4th Avenue
Noble Experiment – A prohibition-style speakeasy with excellent drinks in a lounge setting with skull-covered walls. Reservations needed.
Address: 777 G Street
Top of the Hyatt – The name tells it all. This bar is located at the top of the Hyatt hotel and offers 360˚ panoramic views in a sumptuous setting. I spent a fun Fourth of July here once – it's a very cool place from which to watch the fireworks.
Address: 1 Market Place
North Park / South Park / University Heights
Those who like hitting the latest up and coming hot spots will love North Park and its neighboring communities of South Park and University Heights. Attracting students, urban professionals, hipsters, and beach bums alike, the mix of restaurants and bars is eclectic, fun, and hip, and often with a focus on local businesses and agriculture.
Small Bar – This "small" bar in University Heights packs a big punch with urban decor and is popular for their excellent mules. Try the Small Bar Elephant Mule.
Location: 4628 Park Boulevard
Hamilton's Tavern – This dive bar in South Park has one of the most extensive craft beer menus on tap in San Diego.
Location: 1521 30th Street
Tiger! Tiger! – Great local beer and grub in a hipster setting in North Park with communal tables and dark wood accents.
Location: 3025 El Cajon Boulevard
Mosaic Wine Bar – A stylish bar in North Park with an excellent and eclectic wine list from around the world.
Location: 3422 30th Street
Splash Wine Lounge – A unique wine bar in North Park that has self-serve wine bottles arrayed around the bar offering 1 oz. servings of wine. You can try a few tastings before selecting a glass to sip on for the night or just keep tasting new ones!
Location: 3043 University Avenue
Have a Fun Day in Gorgeous San Diego!
So there you have it! My ultimate guide to San Diego. Did I miss your favorite thing to see, do, or eat in San Diego? Let me know in the comments below. 🙂
Read More: Continuing your California vacation? Check out our guides on San Francisco and Santa Barbara. Plus, read about the 10 best small cities in California, the most romantic destinations in California, and the best girl getaways in California!
Found this article helpful? Pin to read again later!