Christmas Markets and Bright Nights Make a Winter Weekend Getaway Special in Vancouver in December
Vancouver in person wasn't quite as picture-perfect as I'd had in my mind, but that's because I had pictured it as a sunny, green mountainous wonderland. My reality was a rainy, wet city with gray skies that nearly matched the asphalt and skyscrapers. This probably shouldn't have been surprising to me. I live in Seattle after all. I know what Pacific Northwest winters are like. But guess what? Vancouver is still magical at Christmastime.
Here's how I had a fun Vancouver Winter Weekend Getaway even with the rain.
Vancouver at Christmas Time
With Vancouver being in the mountains, it's easy to think that it will be this majestic snowy wonderland at Christmastime with twinkling lights and steaming hot mugs of chocolate.
Well, there were definitely lights and hot drinks when I was there one wintery weekend in December, but as for that snowy Christmasy weather? Replace that with cold, drizzling rain.
But guess what? Vancouver is such an awesome, beautiful city that the rain didn't take away from the holiday charm Vancouver exudes in the weeks leading up to Christmas day.
The Vancouver winter weekend getaway was planned by my husband as a birthday surprise. I knew we were going away with our daughter for the weekend, but didn't find out where until the night before. Why did my husband choose Vancouver?
We had never been to Vancouver
I love Christmas activities so…
The Vancouver Christmas Market!
Exploring the Vancouver Christmas Market in the Rain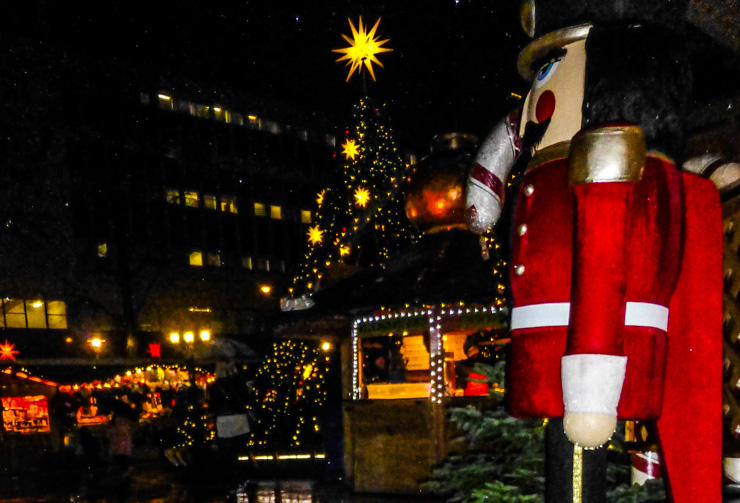 This post contain affiliate links.
The Vancouver Christmas Market is located right in downtown Vancouver. We stayed at the Vancouver Four Seasons (parent tip: the bathroom was big enough to fit a Pack 'n Play) which was just a couple blocks away from the market and which we got a pretty good deal on in early December.
The Vancouver Christmas Market was nice in that it wasn't overly huge. It was easy to walk around and felt festive even in the rain. And you know what was awesome about the rain? The market was blissfully uncrowded.
This was even more wonderful with a one year old who was already practically running everywhere.
The Vancouver Christmas Market has a huge tree set up in the center with live music next to it, which is its focal point. The market is set up to reflect the famous Christmas markets of Germany and so you'll find wooden stands selling traditional German cuisine along with treats like popcorn and candy. There are also gift stands, including an actual shop in one corner of the market that you can walk through and which features many intricate ornaments. I poked my head in, but we mostly took a detour from it since it didn't seem the most toddler-friendly of places.
While Lulu ran around, oblivious to the rain and cold, Tom and I stayed warm with mugs of Glühwein, a mulled wine sold in a couple centrally located huts. It was fun to drink it out of an actual mug, which required a deposit. Return the mug and you get the deposit back (I think it was $5); or keep the mug, forego your deposit, and have a fun souvenir!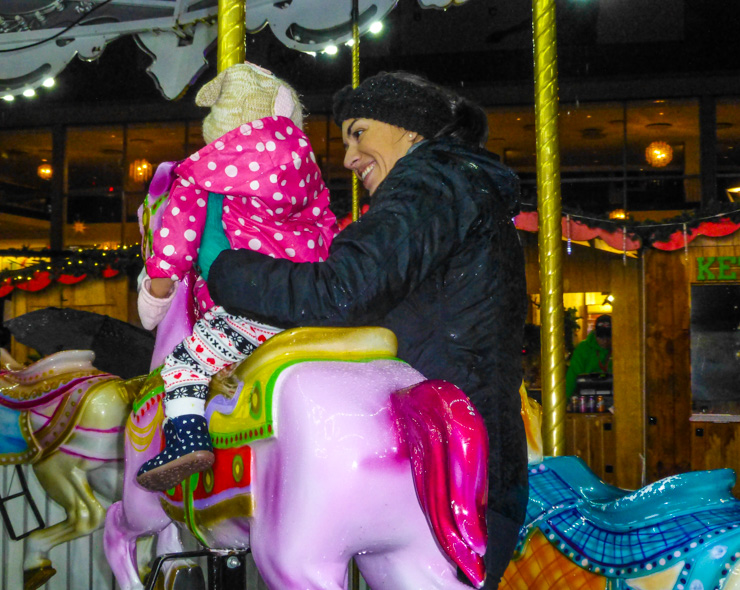 My favorite part of my time at the Vancouver Christmas Market was the Merry-Go-Round. Ok, this may have been because it was Lulu's first time on a Merry-Go-Round as I don't normally get quite so excited about them. But regardless, it was a fun touch to have.
Vancouver Christmas Market Quick Tips
When: First Saturday after Thanksgiving through December 31. Open daily from 9 a.m. to 9 p.m. (closes at 6 p.m. on Christmas Eve and closed all day on Christmas).
Where: Jack Pool Plaza located at 1055 Canada Place in downtown Vancouver, British Columbia
Cost: Admission tickets are $8 for ages 13 and up, and $4 for kids ages seven through 12. There are also pricing packages that include Santa pictures, food, and more. See the packages and purchase tickets online here.
Website: vancouverchristmasmarket.com
A Morning and Afternoon in Vancouver's Stanley Park
The next morning we had a yummy breakfast downtown and then headed to Stanley Park. I love Stanley Park. I love it even in the rain and can only imagine how amazing it must be to look at downtown Vancouver across the bay from Stanley Park on a clear, blue-sky day.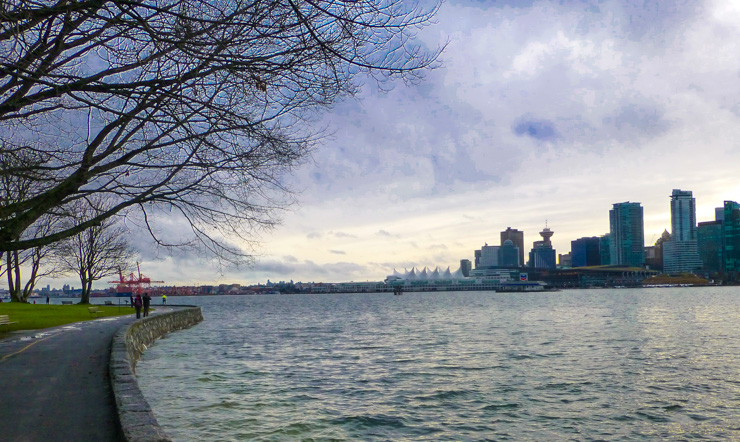 Stanley Park is a little peninsular that juts into the sea and has a scenic drive around the edge. Be sure to stop and see the intricate totem poles near the beginning of the drive.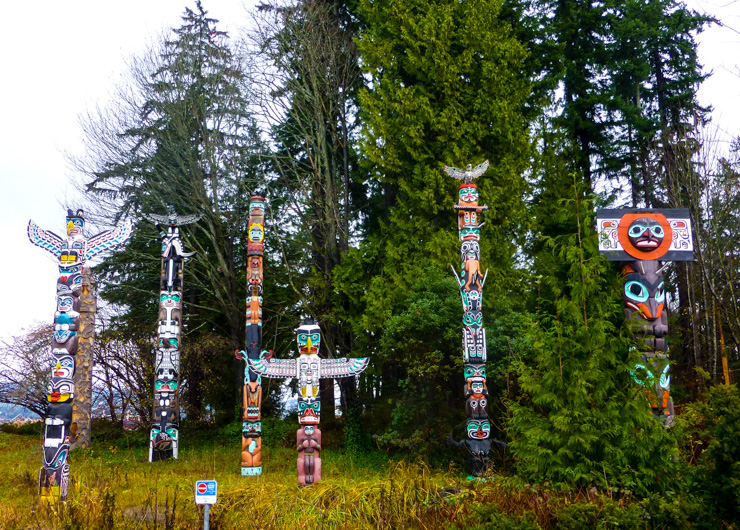 There are also some inner drives through the forest and hiking trails. It was along one of these drives that we stumbled upon Bright Nights in Stanley Park.
Visiting Vancouver's Bright Nights During the Day
We first heard of Bright Nights thanks to a sign we saw while driving around Stanley Park, which proclaimed holiday lights and displays plus a Christmas Train.
"We have to go!" I said to Tom.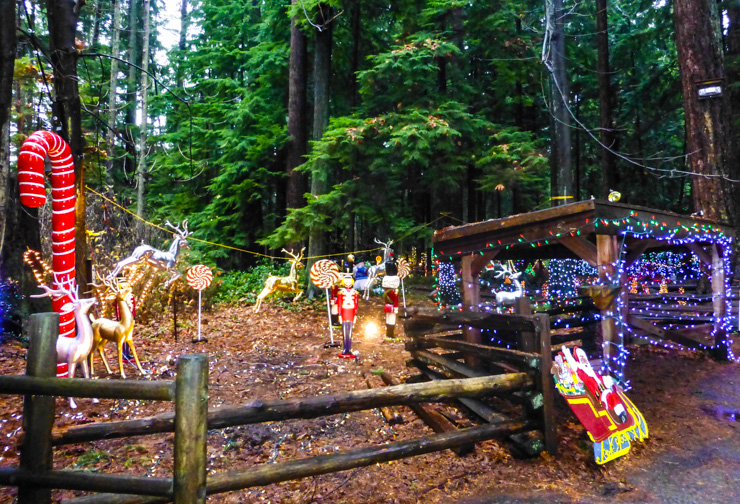 So we detoured to Bright Lights, which is located in the woods and had hardly anyone there since I'm assuming most people who do their research about Vancouver during the Christmas season find out about Bright Lights in advance and then go at night…you know, when the lights are actually bright.
Still, even during the daylight we had a blast walking around the empty trails that led past all sorts of Christmas scenes ranging from the Grinch to Charlie Brown to Santa and more.
We weren't sure how Lulu would do on a train so we opted out of it, but hope to go back someday and check it out. It sounded fun. There's also a Santa picture opportunity, but we'd already done a Santa picture at the Vancouver Christmas Market the night before so kept walking by that attraction.
Bright Nights at Stanley Park Quick Tips
When: Bright Nights runs from the week after Thanksgiving to January 1. Hours and train times differ by week and day. Check operating hours here.
Where: Pipeline Road in Stanley Park. Onsite parking and overflow parking nearby is available.
Cost: $4 donation recommended to enter the plaza with all the light displays (goes toward the BC Firefighters' Burn Fund). Train rides cost extra and are $12 for adults and $8 or $9 for children depending on age (children under two are free).
Website: vancouver.ca/parks-recreation-culture/bright-nights-train.aspx
What to Pack for Your Vancouver Christmas Weekend Getaway
Vancouver is a lovely place for a Christmas getaway, rain or shine. Make sure you're prepared for any weather with this packing list:
Rain boots or waterproof boots. I don't recommend shoes even if water-resistant since walking through puddles can still slosh water into them.

These socks also keep my feet toasty in my tall rain boots — plus they look cute!

A waterproof jacket as opposed to a rainjacket. It gets pretty cold at night.
Non-knit gloves — my knit mittens were soaked by the time we got back to the hotel after being at the Vancouver Christmas Market
Rainsuit for kids — keeps them drier and happier and you less worried about them jumping in puddles.
Ready to book your trip? Use my favorite hotel site, Booking.com, which is super easy to use and see exactly what types of rooms are available at each hotel, plus has free cancellations for most rooms in its system. (I'm also an affiliate of Booking.com which means I get a percentage of any bookings you make through the links on this page to Booking.com at no cost to you – thanks for supporting One Day in a City!)
Pin this post to read again later!