Ready to make trip planning easier and your vacation more relaxing? Here are some of my favorite travel resources. I list sites and products for accommodations, Europe transportation, flights, travel research tools and insurance, and packing — in that order. So peruse through all of them or skip down to the category you need help with right now.
Also, there are some affiliate links in this post, which means if you book or purchase something through them, I get a small commission at no cost to you. That helps me cover the costs of running this site and so I would super appreciate you using the links below if one of these products or services is the right fit for you. Thanks for supporting One Day in a City! Happy Travels! 🙂
ACCOMMODATION RESOURCES
This is definitely one of my favorite resources when trying to figure out accommodations for a trip and one I use a lot. Why? Because staying like a local by renting a local's place is all the rage thanks to Airbnb (more on that one below), but there are elements of Airbnb that make me nervous, particularly if traveling with my child. I like that VRBO lists if the vacation rental is managed by a professional property management company (which I can then google to make sure they really seem professional) which makes me feel more comfortable about staying there. Plus, there are a ton of different types of properties in all price ranges on the site.
This is my favorite hotel booking site. I just think it's so incredibly easy to use. I love the box that shows up for each listing quickly showing the availability of different room types and what they include. It also easily shows deals and savings that are available. I always like to know when I'm getting a deal, don't you? Makes me feel better about hitting that book button.
Depending on the nature of your trip, Airbnb can be a great resource — and deal. You're often staying in people's actual homes. Sometimes they leave during your stay and give you the entire property, or often they're there and you rent a room. This can be excellent for budget-conscious travelers, and also lets you experience a way of local life.
EUROPE TRANSPORTATION RESOURCES
A lot of my visitors to One Day in a City are planning European vacations so I list a few of my favorite transportation resources for Europe below.
Omio is a travel search engine that focuses on transportation around Europe. And unlike other flight and train websites, you don't need to choose your mode of transportation first in order to do a search. Just choose the cities you're traveling between and Omio will tell you the possible plane, train, and car routes in between them, how long each transportation method takes, and then makes it easy for you to book your trip. This is awesome. I can't tell you how many hours I've spent trying to figure out this very dilemma while planning a Europe trip. Car, Train, or Flight? Omio makes it so simple.

Rail Europe is who I got my rail pass through during my original trip through Europe over a decade and a half ago, and I've used them several times since. Whether you dream of backpacking through Europe or traveling through multiple countries in first class comfort, you'll likely want at least one ride on one of Europe's famous trains, and Rail Europe will help you book it.
Renting a car overseas is always a bit nerve-wracking. However, I've used this site a couple times for booking car rentals in Europe with no complaints. Auto Europe has an easy to understand process and good customer service.
FLIGHTS
Hate mundane, crowded airport layovers, but don't have the status to get into lounges? Try Priority Pass. For a yearly fee, you get access to relaxing, luxurious lounges and can even bring a travel partner in with you for a small fee.

Not sure what seat to pick when reserving your flight? Utilize the services of SeatGuru, which will tell you which rows to avoid (don't recline, next to bathroom, no window, etc.) and which seat to try to nab if it's available.
I love Alaska Airlines! I fly with them a lot since they're headquartered in Seattle so there's often lots of flights on Alaska Airlines in and out of Seattle. Their in-flight menu options are a step above most airlines in my opinion, and I'm kind of obsessed with their cheese and fruit plate (featuring Beecher's cheese — a Seattle favorite!). I also love that they have Pacific Northwest wines and craft beers.
Did you know on Southwest you can change your flight free of charge? And no fees for checked bags. And reasonable prices. Yeah, I would say that's worth not knowing my seat assignment in advance. (If where you sit is really important to you, you can always pay an extra fee to be one of the first to board.)
TRAVEL RESEARCH TOOLS & INSURANCE
Travel insurance is a must if you are planning a vacation that doesn't have components you can cancel cost-free, such as a cruise or guided tour, or expensive flights to some exotic destination. It can also help cover lost luggage, medical expenses incurred during your trip, missed connections, and many other travel mishaps. There are many travel insurance providers out there so do your research to find the best fit for you, but Travelex has been around a long time and has policies that cover many different scenarios so is a good one to look into.
Heading to one of the major cities in the U.S? Check out a CityPASS, which saves you money on visiting four of the city's top attractions than if you visit and pay for those attractions separately. It also has perks like skip-the-line access! CityPASS is available for Atlanta, Boston, Chicago, Dallas, Houston, New York City, Philadelphia, San Francisco, Seattle, Southern California, and Tampa Bay, plus Toronto, Ontario.

Planning a cruise? The forum at cruisecritic.com have some great information from past cruisers about ships, dining, staterooms, shore excursions, port info, and much more.
Ask your friends! People love having an excuse to talk about travel so asking for feedback about a destination on Facebook is sure to get you some responses from people whose opinions you hopefully trust.
Utilize those annoying hashtags! Yes, they do have a point. Search for the destination you're going to and then look at the other hashtags some of the top photos use to get more searching ideas and travel inspiration.
PACKING MUST-HAVES FOR YOUR TRAVELS
Packing cubes make packing so much easier and keeps things organized after you get to your destination.
Don't rely on your camera or memory to remember things! Take notes. I love Moleskine's extra small notebooks to stick into my bag when traveling (they're only four inches tall!). Plus, they come in cute colors.
An eye mask is a must if you want to sleep on the plane. This is my favorite eye mask because it has a concave shape and doesn't rest right on your eyelids.
A neck pillow is another must to help you sleep. Get one like this that goes in a bag so you're not dragging your pillow through the germy airport. Gross.
I nearly always pack a lightweight scarf, especially if traveling to Europe in summer time. I stick it into my daypack or travel purse and then can take it out to wrap around my shoulders when visiting churches. Also can serve as a make-shift pillow.

Speaking of travel purses, this is my favorite brand and style. I love the water bottle holder on the side!
There are differing opinions on money belts, but I like using them, especially to sleep in if I'm in an airport or hostel. Just don't be that tourist that is digging through it in a crowd of people by a major tourist attraction (where pickpocketers usually love to hang out)! Kind of defeats the purpose.
Upgrade Your Travels! Free Mini eBook
Learn how to create a 5-star travel experience on any budget with my eBook, yours FREE when you sign up for my newsletter, which features exclusive travel tips and stories.
Found this article helpful? Pin for later!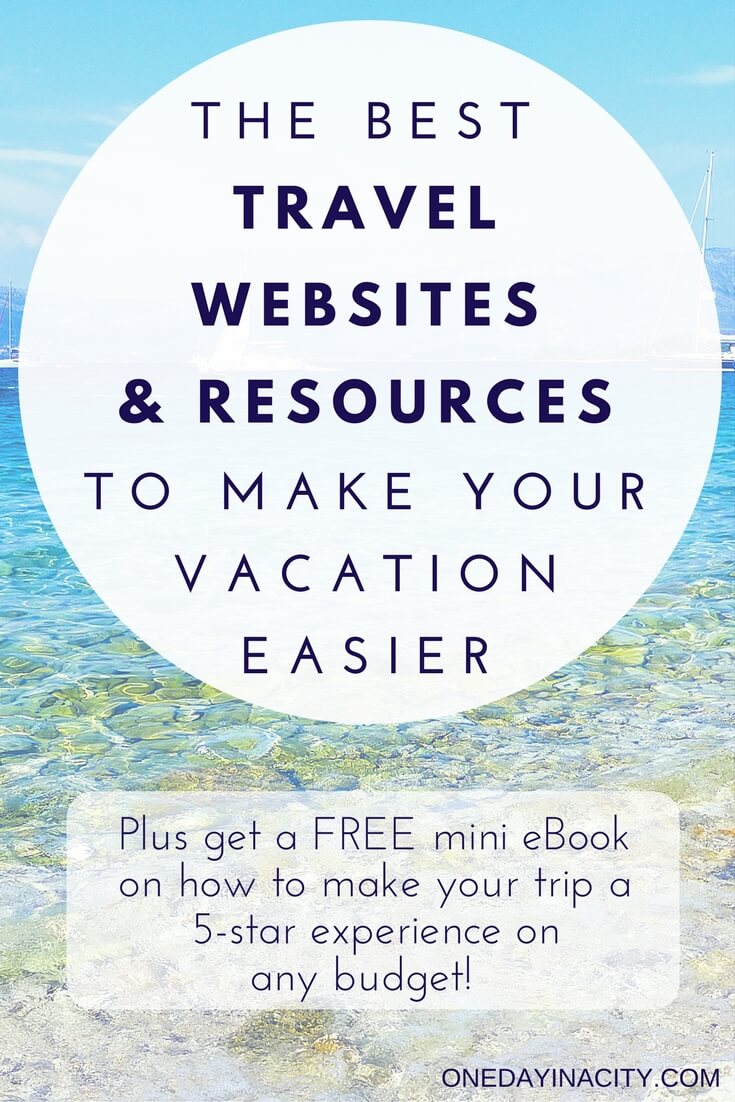 ✕
Upgrade Your Travels
Learn how to create a 5-star travel experience on any budget with my eBook, yours FREE when you sign up for my newsletter, which features exclusive travel tips and stories.