While in Prague, I got the opportunity to tour the Aria Hotel and let me just say, I was pretty impressed. If you're looking for a luxurious, slightly eclectic boutique hotel in the heart of Prague, you should definitely check out Aria Hotel. And if you're obsessed with music, look no further and just make your booking now.
Aria Hotel consists of four floors for a total of 51 rooms with a different music genre characterizing each floor: Jazz, Opera, Classical, Contemporary. The rooms on the corresponding floor reflect the music genre while still keeping the general aesthetic modern and tasteful. Every room in Aria Hotel is different, making this a truly boutique hotel.
The best room in the hotel is the Mozart Suite, a two bedroom family-friendly suite with a small kitchenette and gorgeous views of Vrtbovska Garden.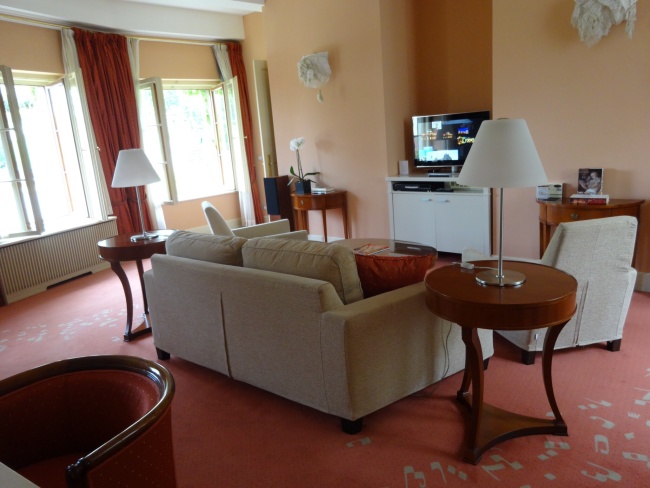 Each room has an Apple TV to make it easy to hook up your iPhone or iPad and play music. Hotel guests also receive an iPad to use during their stay. Music isn't the only form of art you'll find entertaining you at Aria Hotel; the owner of the hotel is also a huge art collector and the hallways and rooms are filled with artwork and you'll discover art by Picasso and Dega in the hotel plus be delighted by the eclectic caricatures of musicians done for the hotel by Josef Blecha.
The music theme of Aria Hotel isn't just secluded to the rooms. In the lobby you'll find live piano music Tuesday through Sunday. There is also a music library for guests that is run by the hotel's Music Director who holds a PhD in Musicology; it is the perfect place to discover a new artist or music genre you may have overlooked before.
Despite being right in the center of Prague's downtown area, Aria Hotel still has a nature feel thanks to being adjacent to the baroque Vrtbovska Garden, the oldest garden in Prague and a UNESCO World Heritage site. Entrance to the garden is free for hotel guests of Aria Hotel and it is a lovely place to walk around or sit on a bench for awhile – perhaps while listening to classical music on your ear buds.
The hotel's fitness center overlooks Vrtbovska Garden. Other amenities of Aria Hotel include an onsite spa, free Wi-Fi, and Coda Restaurant, which is a gourmet culinary delight with many farm to table options.
Aria Hotel is conveniently located a short 5-6 minute walk west of the Charles Bridge on Tržiště Street.