Epic Beaches to See During a Bahamas Vacation or Cruise Port of Call in Nassau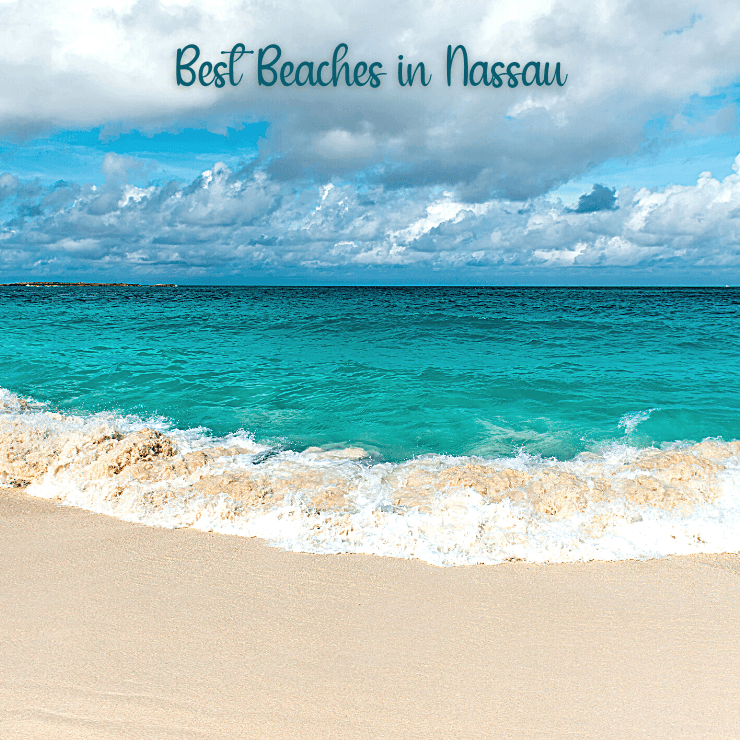 Finding the best beaches in Nassau isn't too difficult. After all, pretty much any beach you end up at while in traveling to Nassau on Providence Island is going to have silky golden or white sand, palm trees, and translucent water in vibrant shades of turquoise and teal.
However, there are some Nassau beaches that stand out!
The beaches of Nassau tend to be more crowded the closer you are to downtown Nassau and adjacent Paradise Island and get less crowded as you move away from the tourism center, especially on days that multiple cruise ships are in port. To increase your chances of finding a spot of sand that offers some peace and quiet, your best bet is to head to the west end.
That being said, for Nassau's most famous beaches (that are lined by its resorts and close to the downtown action), you'll want to stick closer to Nassau and Paradise Island.
No matter what experience you're looking for — remote and peaceful or lively and iconic — here are some top options for the best beaches in Nassau.
Nassau's Best Beaches
Cabbage Beach
Cabbage Beach isn't just one of the best beaches in Nassau, it's also often considered to be one of the best beaches in the entire world. Its soft, white sand stretches alongside the turquoise sea for about two miles. The foliage framing Cabbage Beach consists of both palm trees and pine trees, giving it an untamed tropical look.
Also, adjacent to Cabbage Beach are some of the Bahamas' top resorts (including Atlantis) where you can find restaurants and shops.
Junkanoo Beach
Junkanoo is one of the best beaches in Nassau for cruisers looking for ease of access and convenience. It's located within easy walking distance of the cruise port and has onsite bathrooms and changing facilities. There are also souvenir and food stands. Junkanoo Beach is also close to downtown Nassau, meaning you're not far from restaurants, bars, and shops, if you need a break from the beach.
You might head to Junkanoo Beach for convenience, but you won't be sacrificing beauty – this beach has soft golden sand and calm sea water shimmering in shades of turquoise and teal.
Blue Lagoon Island Beaches
Blue Lagoon Island provides some of the best beaches in Nassau for cruisers because the island is an easy shore excursion away from the cruise port and takes you to a gorgeous private island. On Blue Lagoon Island you'll find water sports, soft sand to sit on, relaxing hammocks, and shade from coconut palm trees.
While the beauty of Blue Lagoon Island is a major draw for visitors, it's the mammals that call it home that usually makes a day at the beach here most memorable; Blue Lagoon Island has a Dolphin Encounter facility that lets you observe and interact with these incredible creatures in a natural ocean lagoon. There are also stingray and sea lion encounters offered.
Saunders Beach
Another beach that is great for families during a trip to the Bahamas that is easier to get to is Saunders Beach. Located just a 10- to 15-minute drive from the cruise terminal (or a 45 minute walk), Saunders Beach is one of the best beaches in Nassau for families with children because it has calm and shallow water plus an onsite restroom and playground.
Food and drink stands are also usually set up on the beach, making it ideal to get a midday snack or refreshment. And as you have probably come to expect from Bahamas beaches, it has soft sand framed by clear, turquoise water.
Jaws Beach
One of the Jaws movie sequels was filmed at this beach, hence its name. But don't worry – the chances of seeing a shark here are slim to none. Film buffs will enjoy visiting this piece of cinema history. The calm, shallow water is also great for families. Jaws Beach is located on the West End and doesn't have any facilities so plan accordingly for water and food.
Love Beach
If you like your beaches a bit more on the rugged side, head to Love Beach, which has natural rock walls stretching out to sea with some of the rocks even creating natural pools within the sea. People also love coming here for snorkeling since there is large coral reef just 150 yards offshore.
Love Beach is located just past Gambier Village on Providence Island's north shore, about 12 miles from Nassau's cruise port.
Montagu Beach
Montagu Beach is located a short drive or a 45-minute walk east of the Nassau cruise terminal and is a great option for cruise passengers who like some history thrown in with their beach-going (or for anyone staying on the island). That is because Fort Montagu is a historic fort constructed in the 18th century to protect the eastern entrance to Nassau Harbor from invaders — and it is located right by the sand.
Montagu Beach has a sandy shoreline, often dotted with vendors selling food, including seafood and local fruit. Montagu Beach also has a pretty promenade that gets quite lively in the evenings.
Start planning your cruise or vacation to the Bahamas today so you can begin dreaming about all of the lovely beaches you can visit while there!