Florida Day Trips: Beaches, Cities, Museums and More
Florida is jam-packed with places to explore and day trips on which to embark. With hundreds of miles of coastline, a never-ending summer, and palm tree-lined streets, it's easy to fall in love with the Sunshine State.
Plus, Florida's fairly compact nature (you can drive from Miami on the southern tip to Jacksonville on the northern coast in just five hours) makes it easy to do day trips to numerous gorgeous and interesting places no matter where you're staying.
I spent nearly five years living in Florida, and with a state so large (and long) it can be overwhelming to think about just where to go and what to do while visiting. Of course, it's easiest to just stick to one city or beach, but there's so much more to see than just one locale!
Whether you're visiting for a short dose of sun, on a longer trip, or even a Florida resident, there's undoubtedly a place to visit that you just haven't seen, or perhaps not even heard of, that will make for the perfect day trip.
So take a break from the usual and head out on one of the best day trips in Florida– you'll be glad you did! Read on for a mix of the best beaches, cities, and parks that make for a quick and fabulous Floridian adventure.
Florida Keys: A Perfect Day Trip from Miami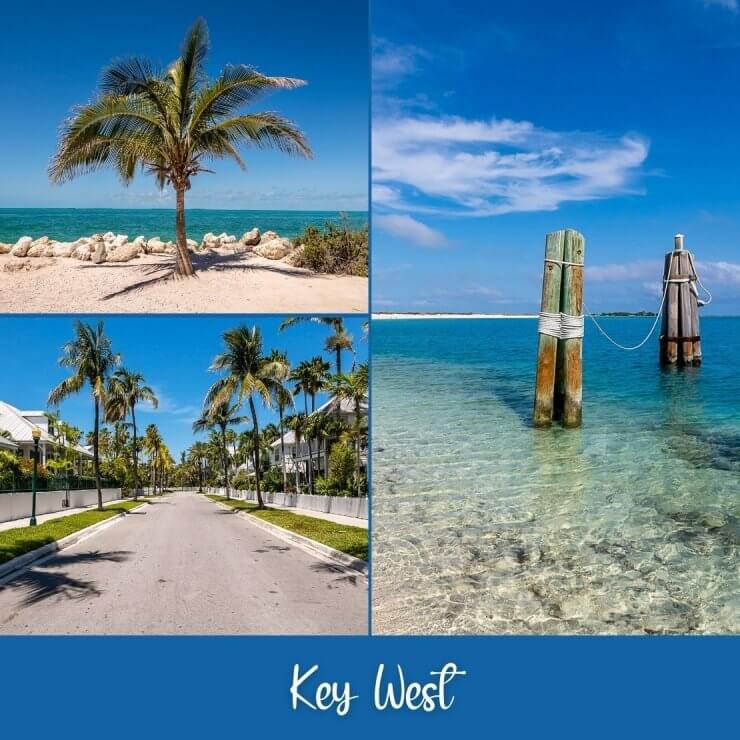 The Florida Keys are beautiful, whacky, and include Key West, which boasts the southernmost point in the US.
While Miami's beaches are nice, the Keys will make you feel like you're in the Bahamas with their white sand beaches and clear blue waters.
The Keys are composed of dozens of islands, though the most notable places to plan your visit to are Islamorada, Key Largo, and of course, Key West. Key Largo is ideal for those that love watersports, while Key West is the best choice to chill and relax. You can also try conch in the Keys, a delicious seafood item that's similar to (but better than in my opinion!) calamari.
The islands are about a 2- to 4-hour drive from Miami, depending on how far into them you want to go.
Fort Lauderdale: An Easy South Florida Day Trip
Fort Lauderdale is known as the "Yachting Capital of the World" and is a great day trip choice for those starting from anywhere in South Florida. Fort Lauderdale is significantly more relaxed than Miami, and has some truly beautiful beaches.
The South-Floridian city is also known for its iconic shopping centers like Sawgrass Mills and Las Olas Boulevard. I'd especially recommend a day-trip here to anyone living or vacationing in Miami – it's the perfect change of pace and only 30 minutes away from the 305.
Crystal River: A Manatee-Filled Day Trip
Florida has the highest concentration of manatees in the world, and Crystal River is where the majority of them live.
A day trip to Crystal River means you can actually get the opportunity to see, swim, and even kayak with manatees! The small city is situated around Kings Bay, which is fed by dozens of springs. Come winter, hundreds of manatees can be found grazing in the warm waters; in fact, Crystal River is the only place where you can legally interact with these majestic creatures.
The city virtually revolves around manatee tourism, and there are tons of places where you can rent kayaks and sign up for tours that will take you into the springs. One of the most popular springs in Crystal River is called Three Sisters, though there are others as well.
Crystal River is conveniently located about 1.5 hours from Orlando and just over 1 hour from Tampa.
Everglades National Park: An Adventure-filled Florida Day Trip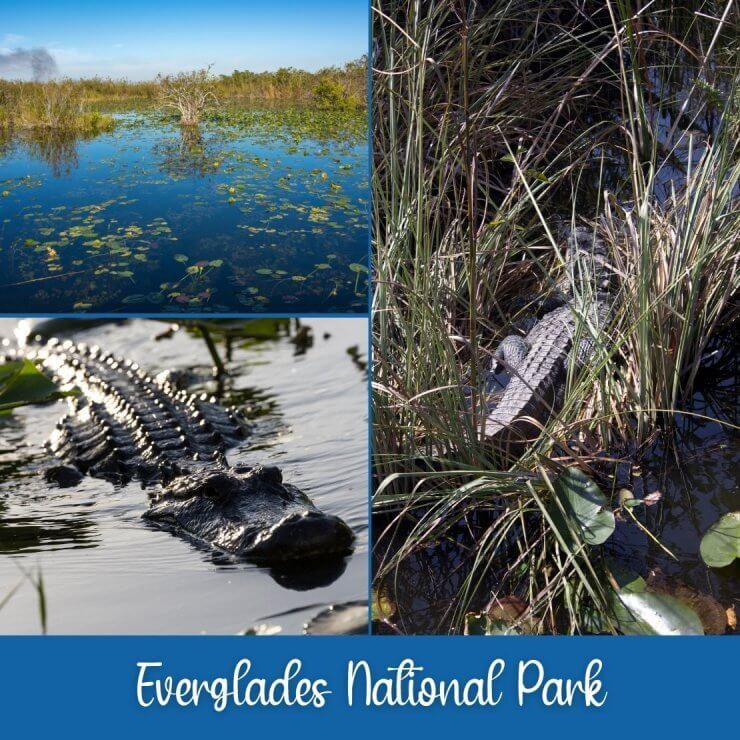 The Everglades National Park is a 1.5 million acre wetland preserve located at the tip of the state. It's the best Florida getaway for outdoor lovers as it gives visitors a chance to get acquainted with mangrove forests and see some of Florida's iconic wildlife. 
The park has dozens of trails perfect for cycling, kayaking, and hiking, along with plenty of places to spot alligators or perhaps even crocodiles.
This massive national park is about 1 hour from both Miami and Naples.
Disney World: The Happiest South Florida Day Trip
While many think of Disney World as a trip of its own, it can easily be turned into a day trip from anywhere in Central Florida. A week in Disney might be pretty pricey, but one day is a significantly more affordable option. With just a day, you can elect to visit just one park, or possibly two depending on how long of a day you want your trip to be!
Disney World is technically located in Lake Buena Vista, Florida, which is about 20 minutes from downtown Orlando, 1 hour from Tampa, and 1 hour and 15 minutes from Daytona Beach.
St. Augustine: The Best North Florida Day Trip
Did you know that St. Augustine is the oldest continuously occupied European settlement in the US? Yup, this northeastern Florida city was founded in 1565 and is filled with historical places.
Can't-miss attractions include the Castillo de San Marcos National Monument, the St. Augustine Lighthouse, the Colonial Quarter, and the Lightner Museum.
St. Augustine is about 1.5 hours from Gainesville and 45 minutes from Jacksonville.
Clearwater Beach: Florida's Most Beautiful Beach
Florida is chock-full of stunning seaside locales, but none can compare to the perfection that is Clearwater.
The beach takes after its namesake with truly crystal-clear water and pure white sand. The beach has previously been named #1 by Tripadvisor and is the best Florida day trip option for beach lovers.
Clearwater is located on Florida's west-central coast and is about a 30-minute drive from Tampa and a 2-hour drive from Fort Myers.
South Beach: Best Southeast Florida Day Trip
If you're living or staying anywhere in Southeast Florida, a visit to the iconic South Beach in Miami is a must. South Beach is as glitzy as Florida beaches get, and the entire city (yes, it's more than just a beach!) is filled with historic art-deco architecture from the 20th century.
South Beach's most famous strip is Ocean Drive, which coasts alongside the beach and features numerous places to shop, eat, drink, and enjoy the views.
South Beach is technically on an island and takes about 2 hours to reach from Naples and only 30 minutes from Fort Lauderdale.
Kennedy Space Center: The Most Unique Florida Day Trip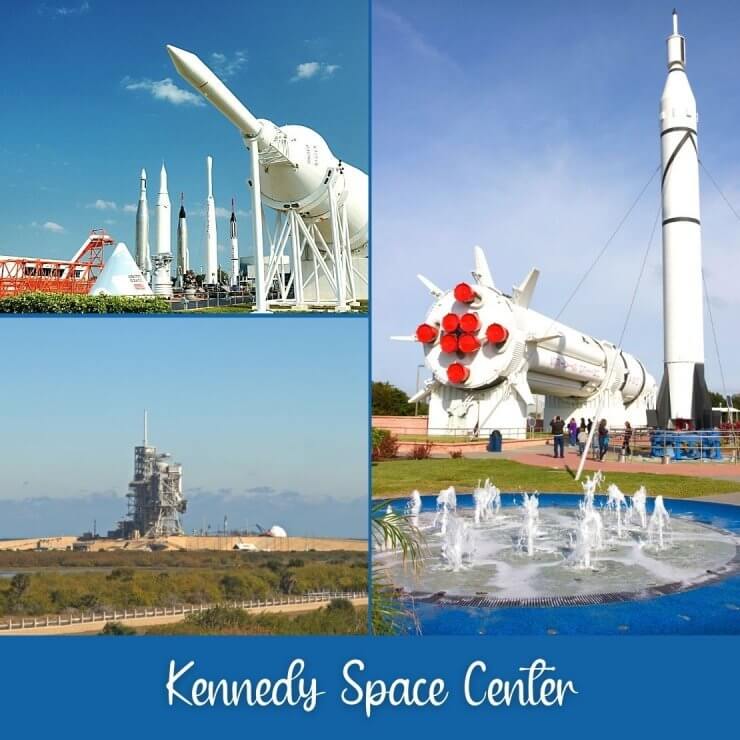 Visiting a space center certainly isn't something you can do anywhere, so why not take a day out of your time in Florida to see one? The Kennedy Space Center is located on Merrit Island and contains dozens of cool exhibits. Every so often, you can even see a rocket take off here, too.
The various attractions showcase the history and science behind space exploration and is a particularly great Florida day trip for kids.
Admission tickets cost $47 for kids and $57 for adults at the time of this writing. Kennedy Space Center is about a 1-hour drive from both Orlando and Daytona Beach.
Sanibel Island: The Most Relaxing Florida Day Trip
Sanibel is a South-Floridian paradise. The small island is one of Florida's best beach towns and is home to a truly picturesque seaside.
This paradise is also known for its millions of shells and great fishing opportunities, making it an ideal Florida day trip for those that want to experience the joys of the ocean and nature all in one.
You can also visit the Bailey Matthews National Shell Museum, which is dedicated to every aspect of seashells.
Even though it feels like a far-out island, Sanibel is only a 30-minute drive from Fort Myers, a 1-hour drive from Naples, and a 2.5-hour drive from Miami.
Have Fun Exploring Florida!
That wraps up my recommendations for the best day trips in Florida! I hope you now have a better idea of all the awesome places there are to see in this sunny state– just don't be surprised if you find yourself wanting to stay longer than 24 hours in any of these Florida destinations!
About the Author: Samantha is a full-time backpacker who has spent five years living in Florida and now spends most of her time exploring South Asia. She runs the travel blog Intentional Detours where she shares tips, guides, and tales to help others make it to these off-beat places, too. You can follow her on Facebook and Instagram.