When I went to the Cisco Brewers, the brewery located on Nantucket island, I expected to enjoy the beer. What I didn't expect was to have the best Bloody Mary ever.
Cisco Brewers + Distillery and Winery
That was because I didn't know before arriving that the locally loved brewery was also a distillery and winery. All the drinks were awesome.
Cisco Brewers is located in the center of the island, toward the southwest side, just a few miles from the hustle and bustle of downtown Nantucket, but it feels a world away. The brewery has a farm feel with a covered outdoor area with picnic tables.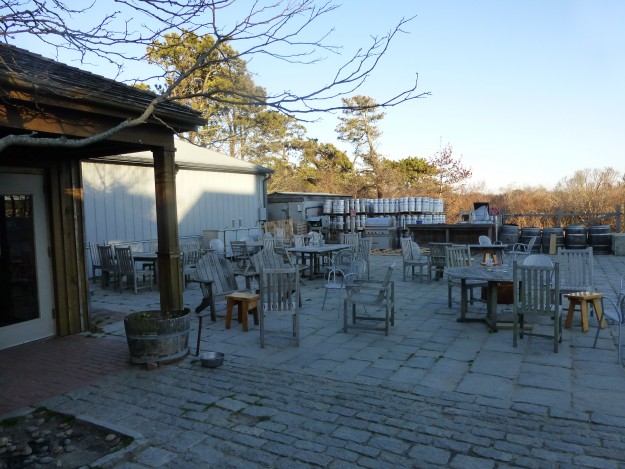 Live Music and Fun Nantucket Ambiance at Cisco Brewers
Inside the brewery is a large room, which fills with people on busy days as they make their way to the long bar serving up the brewery's beer, wine, and liquor specialties. Cisco Brewers was started by a local couple in 1995. In 1997, they partnered up with another local couple who had started Nantucket Vineyards back in 1981. Together they began producing liquor in 2000. The bar area only serves up their creations.  Also, don't show up to the Nantucket Brewery hungry. There's no food, though you can buy bags of chips.
Beer Tastings at Cisco Brewers
I started out my time at Cisco Brewery doing a tasting. Not only did it give me a great overview of the beers, it was also a great deal at 10 tastings for $10 and the tastings were a few ounces each. Cisco has over a dozen beers, some of which get quite creative. My favorites were the Grey Lady, an unfiltered Belgian wheat beer with a hint of lemon to it; the Baggywrinkle Barley Wine, a beer that was slightly hoppy and had a sweet taste to it from the residual sugar from the malt; and the Russian Imperial Stout, a dark beer that was hoppy and sweet and tasted like jam on burnt toast. Cisco Brewery also had a good cider, which was barrel aged to make it less sweet, giving it a fresh and crisp taste.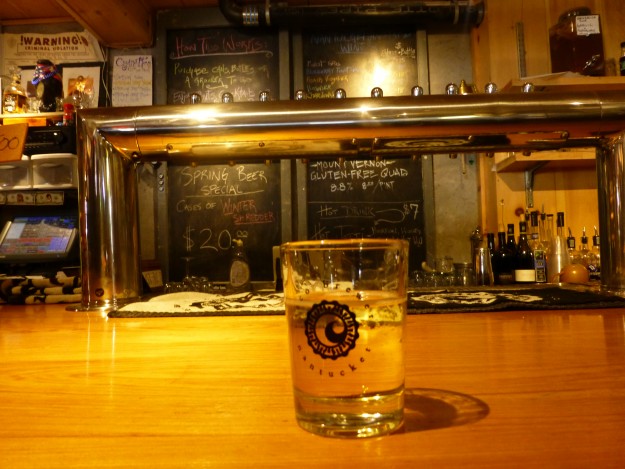 The Best Bloody Mary
But back to that Bloody Mary. I'm like Goldilocks and the 3 Bears when it comes to Bloody Marys. Either they're too spicy or they're too bland. As a result, I don't even bother ordering Bloody Marys very often and certainly not in the late afternoon after I've already had 10 tastings of beer. However, I became intrigued after noticing a large jar of liquid labeled Horseradish Root, Garlic, and Peppercorn Vodka.
"Does anyone ever actually order that?" I asked with a wrinkled nose to the bartender, Pat.
He followed my gaze to the vodka. "Oh, that? That's what we put in our Bloody Mary."
"Ohhhhh, that makes sense now," I replied. "That actually sounds really good!"
A half hour later I had finished the beer tastings and had a Bloody Mary in front of me.
I took a sip and my eyes widened in pleasure.
"Oh. My. God," I stuttered. "This is the best Bloody Mary I've ever had. "Try it." I shoved the drink at my mom who matched my enthusiasm. I then had to go find my Uncle Dean, whom I was on the island visiting to ask him why he hadn't told me about the most amazing Bloody Mary ever.
"I've never tried their Bloody Mary," Dean replied.
"Drink!" I ordered, appalled that a local (even if he had only been a local for the past year) hadn't tasted the wonderment of this red hued piece of alcoholic heaven I was holding.
He did and immediately went to the bar to order his own Bloody Mary.
It was that awesome.
Cisco Brewers also serves up wines. Nantucket isn't ideal for growing grapes, so the grapes are sourced from California and Washington and then made onsite at Cisco Brewery. Their winery is called – aptly enough – Nantucket Vineyards. Several of them were infused with fruit flavors, such as a Blueberry Pinot Gris and a Peach Viognier, both of which I tried. They weren't as full bodied as I typically like my wines, but are a good option for a warm, summer day on the island.
If visiting Cisco Brewers during your time on Nantucket, note that parking can be problematic as it's very limited. The parking lot is small and there is only street parking on the north side of Bartlett Farm Road, the road the brewery is located off of. Since the island isn't too large, consider taking a bike or cab to get there instead.