A Luxurious Bed and Breakfast in an Old, Remodeled Newport Mansion
I've spent very little time on the east coast of the United States. I seem to chronically be a Western and Midwest girl when I travel domestically, which is slightly strange as I've always had an affinity for the east coast. It always seems so romantic and historic with the perfect dichotomy of rustic and cosmopolitan airs. So I was quite excited to be spending a weekend in Newport, Rhode Island this spring. I wanted it to be the perfect east coast getaway that I always picture. And for that to happen, I needed the perfect accommodation for a backdrop. Luckily, I stayed at Cliffside Inn.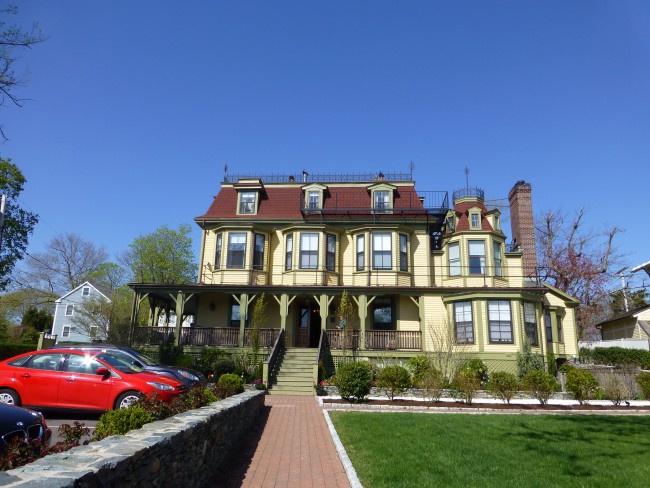 Located a thirty second jaunt from Newport's famed Cliff Walk, Cliffside Inn has an ideal location in more ways than one. Newport is known for its old, grand mansions and Cliffside Inn is located in a restored mansion originally built in 1876 by Governor Thomas Swam as a summer house. After he died in the 1890s, St. George's Prep School moved in and ran from the mansion until 1903 when the school moved to a larger campus.
A family by the name of Turner bought the mansion in 1907 and it stayed in the family until 1949 after the daughter, Beatrice, died. There isn't much known about the Turners, who were the longest running owners of the house. They must have been quite well off, but didn't travel in the higher society circles of the time like the Vanderbilts. There is still a picture hanging of Beatrice and her mother, Adele, in the dining room of Cliffside Inn.
From the 1950s on, the mansion served as a boarding house or B&B. In the 1980s, it was turned into a luxury inn, but over time the luxuries of 1980 faded and the inn was in desperate need of an overhaul. That's where the current owners, Bill and Nancy Bagwill, stepped in.
They bought it and completely remodeled it from top to bottom. Old horse hair plaster wallpaper that was basically holding the walls up had to be diligently taken down and replaced with sturdier walls and more modern accents and colors with an emphasis on deep blues and crimsons with gold accents. The exception is the library, which is decorated in soothing green. Ornate upholstery adorns chairs and couches and gives Cliffside Inn a mix between old-fashioned elegance and new luxury.
I also loved the cool, eclectic lamps in Cliffside Inn like this one that was in the library:
In addition to the luxurious amenities found inside the walls of Cliffside Inn, I enjoyed that it was in a quaint residential neighborhood instead of the hustle and bustle of downtown Newport as it provided a relaxing atmosphere that felt a tad bit like a throwback to another era despite the modern amenities. Plus, it was only a five minute drive to downtown.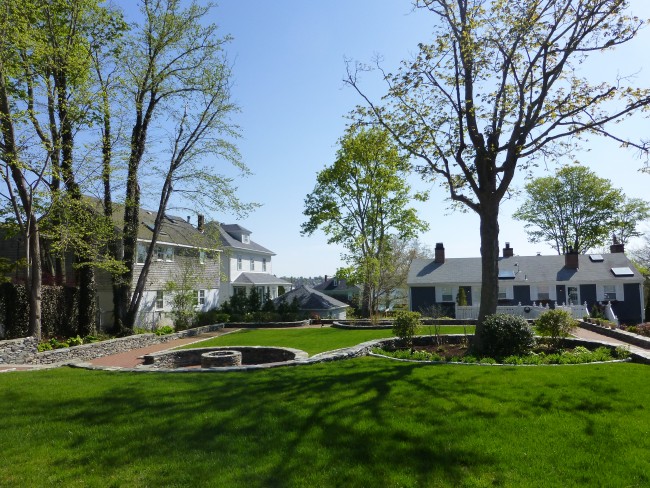 Cliffside Inn consists of the main house, which holds the breakfast area, a library (so many wonderful old books) and grand foyer.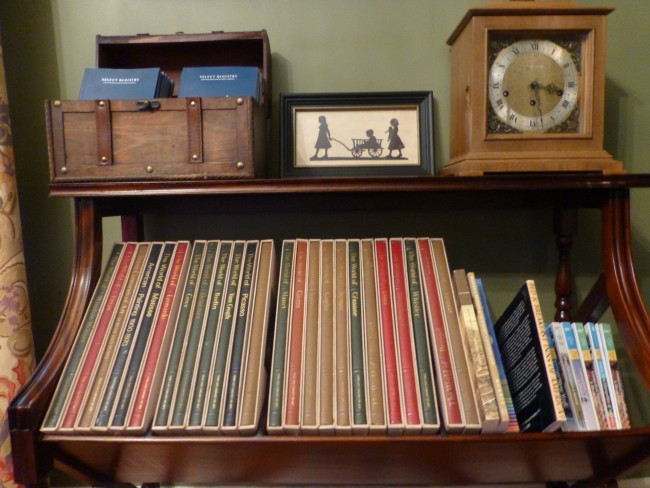 The elaborate staircase in the foyer leads up to a series of 13 bedrooms. These aren't the only rooms at Cliffside Inn, though. There are also three other rooms that are separate from, but still right next to the main house. One of these rooms is the Carriage House, which is the room Tom and I stayed in.
If you're looking for a romantic getaway or honeymoon, the Carriage House is an ideal room to stay in.
Large, comfortable bed…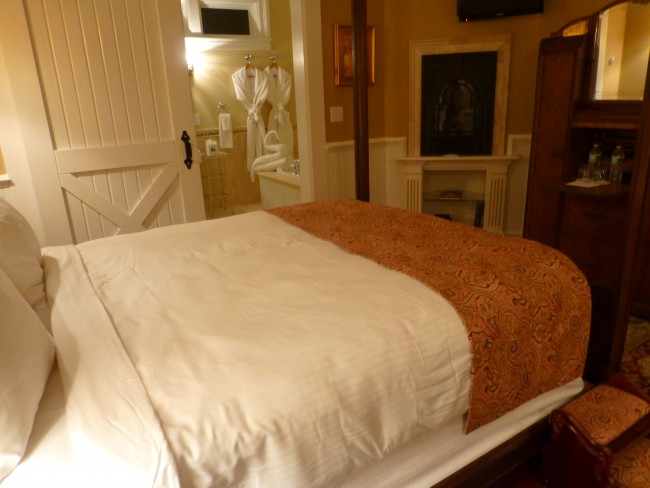 Window seat…
Fireplace…
Jacuzzi Tub…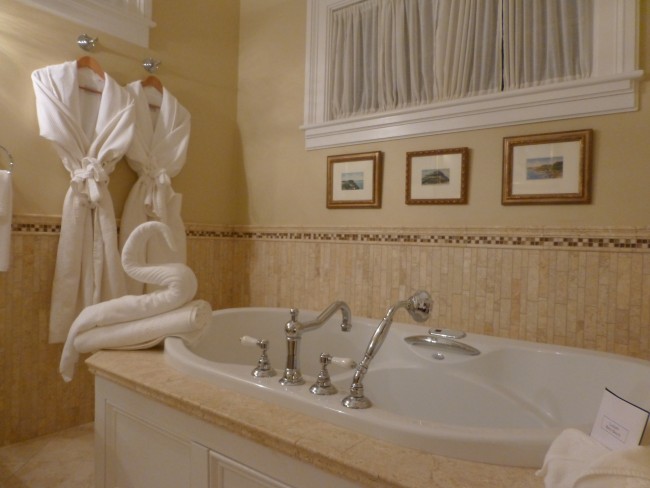 Dual Sinks and a huge shower with waterfall shower head…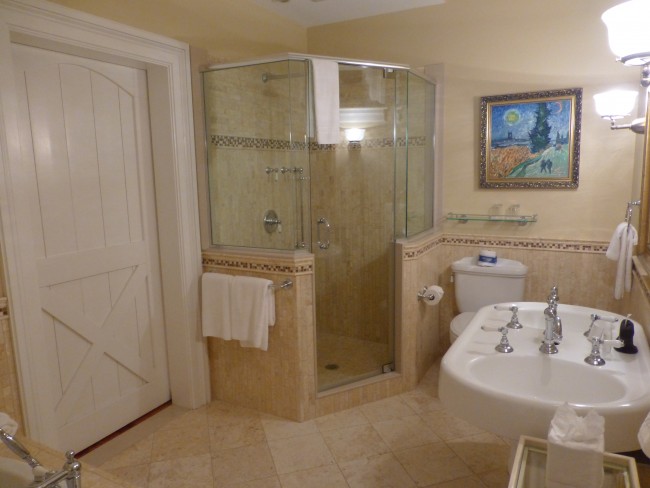 It had all the right touches for a romantic and luxurious stay. The bedroom also looked out into the yard and the fire pit that is lit most nights. (Perfect for some outdoor cuddling with a glass of wine. Romance and more romance.)
The breakfast part of this establishment also lived up to my expectations with a huge spread of homemade goodies. The friendly owners, Nancy and Bill, are often there at breakfast, chatting with guests and making sure everyone is having a lovely time and sharing stories about Newport and tips on what to do.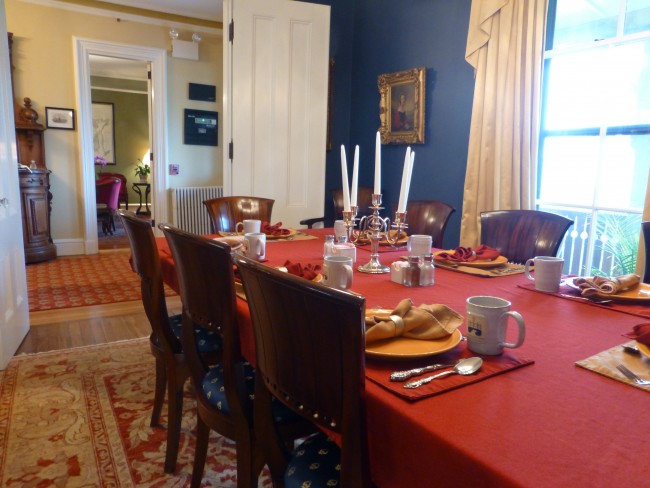 The personal touch on hospitality from the owners combined with the luxurious rooms and amenities make Cliffside Inn a top place to stay while in Newport, Rhode Island. For reservations, book online or call 800-845-1811.
Note: My stay was hosted by Cliffside Inn, but — as always — this review on my accommodations experience consists of my unbiased thoughts and opinion.