One Day in Maui, I Ate Here…
Sansei Restaurant in Kapalua
Perhaps the greatest testament I can give to how delicious Sansei restaurant in Kapalua, Maui was is to point out that I ate there — and had its awesome sushi — when I was pregnant. My OB actually told me sushi during pregnancy was completely fine as long as it was from a reputable place and I ate a fish that wasn't high in mercury. Well, Sansei is one of the top rated restaurants in all of Maui and they had a large sushi menu with fish that was ok for me to eat so…I was not going to pass up this opportunity to eat one of my favorite foods. It was one of just two times I had sushi while pregnant with Lulu (despite my doctor telling me it was fine I still erred on the side of caution more often than I'm sure was necessary. I'm told this overly cautious behavior doesn't usually happen with subsequent pregnancies. We'll see).
Sansei serves sushi along with other Asian-inspired dishes and the menu is designed for patrons to order small plates to be shared by the table. In this case, the table was Tom and me and we shared several different dishes.
Some of the Best Sushi on Maui
First, let me tell you about the sushi and other raw fish we ordered.
Up first was the white tuna, which had slices of the flavorful fish w onions and a red pepper slice. While not as high in mercury as ahi tuna (which I disappointedly didn't eat at all while in Maui), it's still higher on the mercury scale than other types of fish so I only had one piece, which I savored because it was so good. The seared edge gave it a slight grilled flavor while the onion provided a hint of spice different from most sushi pieces. Tom also loved it and was quite delighted that he got the rest of the pieces all too himself.
Next we had the pink snapper sushi served with ponzu sauce. It was a very light fish and healthy tasting dish. I enjoyed it, though I thought it had a hefeweizen plasticky aftertaste. Tom said that was crazy and he didn't get any such aftertaste, but I stand by my statement. (Maybe I was just really missing beer so was trying to pick up on hops and malt wherever possible.)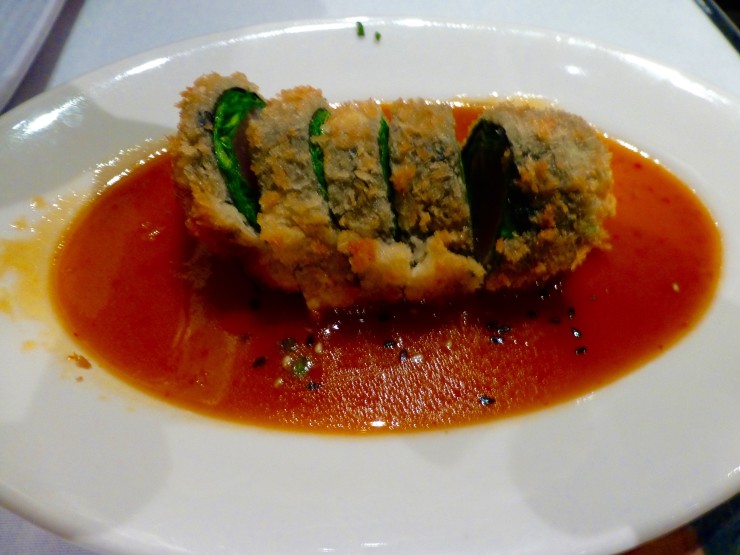 We also tried the interesting sounding Kapalua butterfry roll. It had a surprisingly fresh flavor for being a tempura fried roll. I think this was thanks to the "salad" it was wrapped in before it was dipped in tempura.
The panko crusted ahi sashimi with garlicky wasabi sauce was also delivered to our table. As previously stated, I avoided ahi while in Maui. This dish came highly recommended by our server and Tom really wanted to try it so I watched on jealously while he proclaimed it "amazing."
Other Seafood Entrees at Sansei
In addition to sushi, we got the spiny lobster and crab entree. The lobster was mixed with pasta. The pasta had a very mild seasoning and butter and probably would have been quite plain had it not been mixed with the very tasty and fresh tasting lobster. As a result, the pasta didn't overpower the lobster and it ended up being quite a well-balanced dish. The crab portion of the dish were a duo of crab cakes. They were more sweet tasting than I'm used to with a slight hint of spice, which was a welcome change from the rich over the top flavor of other crab cakes I've had.
We also ordered Sansei's shrimp dynamite, a shrimp tempura dish with a yummy creamy sauce for dipping. We nibbled on the bites of shrimp throughout the meal. They were so good we felt they sufficed for dessert so we passed on a sweet ending to the meal and just ate more of the shrimp dynamite. Yum, yum.
Sansei Restaurant's Ambiance
The setting of Sansei is in an upscale strip mall a short walk from the tony Ritz-Carlton resort in Kapalua. Inside you'll find a small space that feels larger thanks to an open bar area and simple but elegant tables and chairs. The sounds from the kitchen drift into the room and lively conversation fills the air, which suits the family style dining of the restaurant and makes it a fun and lively meal out while in Kapalua.
Note: I was provided a complimentary meal at Sansei, but — as always — all opinions are my own.