One Day in Barcelona, This Happened…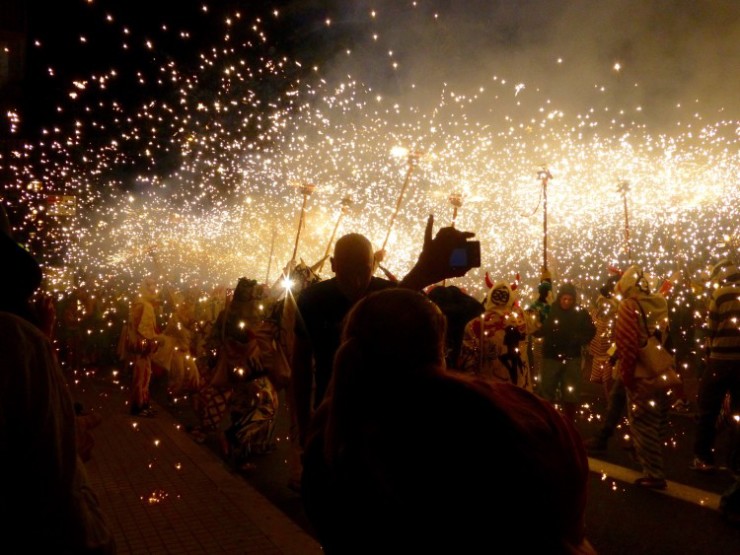 It was my last night in Europe after a six-week trip through the region. My travels had culminated with two nights in Barcelona and as I surveyed the crackling lights popping around me in mayhem, it was clear I was ending my travels with a bang…or at least a sizzle.
Thanks to the recommendation of the guide for the Gaudi walking tour we'd been on earlier that day, my mom, sister, and I left our hotel an hour earlier to find a parade going on as part of the Festa Major de Gracia, a street festival that happens every August.
Barcelona loves its festivals. It's just one of the facets that make Barcelona such a fun, exciting city to visit. We'd learned earlier there's nothing tame about the city's architecture, so it shouldn't have come as any surprise that an air of eclectic craziness was found in the festival parades of Barcelona as well.
The sun had just set and after exiting the subway stop into the hot summer air sifting around the Gracia neighborhood of Barcelona, we followed the crowds to a square where I got my first glimpse of the Gracia festival parade: a swarm of drummers.

The drummers eventually weaved their way through the crowd off the street where they continued the music with a drum circle. Most people stayed lining the streets, though. As we'd put no research whatsoever into this night and festival, we decided to once again follow what the crowd was doing and hung out next to the street…and waited.
Several minutes passed and my mom suggested it might be time to find somewhere to eat (she was quite excited to try some Barcelona paella), when we heard a commotion. I turned my head and saw smoke swirling into the air down the street.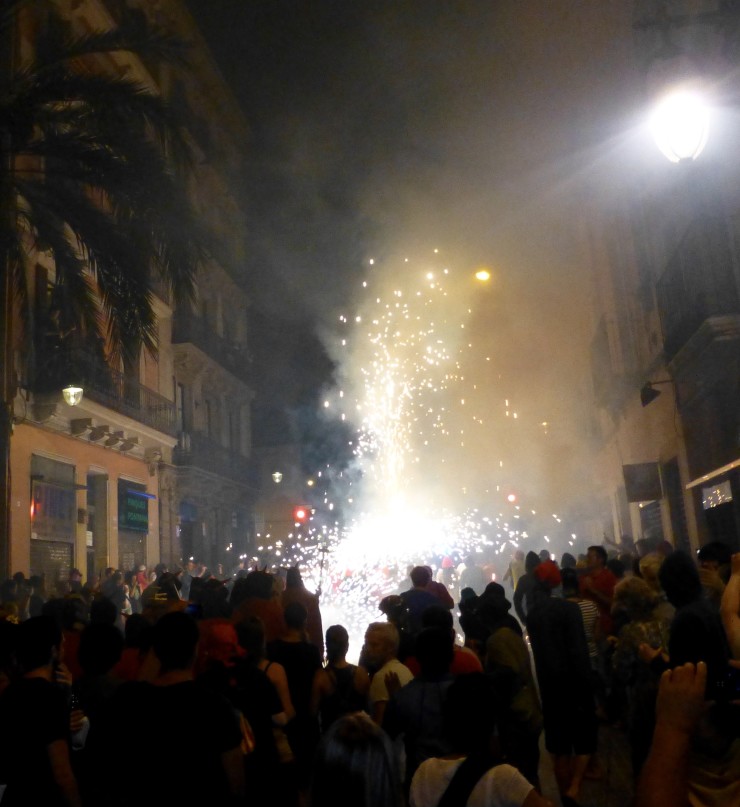 A few minutes later, this next part of the parade train was upon us, with small dragon floats and devil-horned costumes.
A dozen or so of the people in costume paused in front of us and formed a circle, brandishing what looked like sticks toward the sky.
Only they weren't sticks. In a matter of seconds, the sticks were alit and the street was suddenly transformed.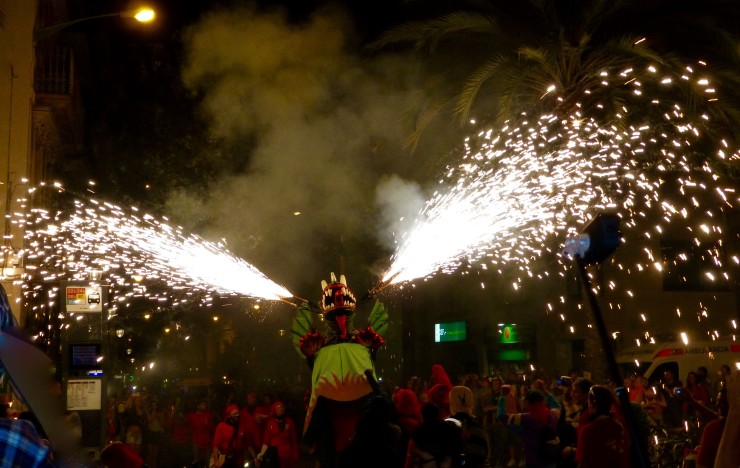 Brave individuals in the crowd suddenly rushed forward into the street to dance as golden and platinum sparks flew all around, and the bits of fire seemed to take on a life of their own as the crackling and popping from the parade performer's sticks got louder and more frenzied sounding.
This didn't seem safe. At all. Surely a building was going to start on fire. Surely someone was going to get burned. Surely this was insane.
Surely this was absolutely marvelous.

I couldn't stop squealing and laughing. Somewhere next to me I heard my sister chortling in shocked laughter, too. My mom had (perhaps wisely) backed up from the direct street side mayhem.
I felt a sudden burning sensation on my ankle. I swatted at it as if it were a mosquito. I noted no part of me was on fire, but maybe it was time to seek some cover.
I turned my back to the parade and tucked my head down and waited for the crackling to stop. As it began to die away less than a minute later, I turned around and immediately made eye contact with my sister.
"That was crazy!" she exclaimed.
"I got burned!" I squealed excitedly.
"Me too!" she shouted back in elation.
Never had getting injured been so much fun.
Our burns were extremely minor. We compared. Mom took a picture. We declared Barcelona the winner of best parade ever.
Then I saw smoke starting to swirl up into the sky from down the street, seemingly from a building. Normal? We didn't know.
"Dinner?" Mom implored.
We'd had enough excitement for one night. So we left behind the fire and smoke for the allure of Barcelona's tapas and paella, with the fun branded onto our skin and the memory of our last night on this European adventure singed permanently into our minds.