One Day in Ljubljana, This Happened…
Watching a Movie While Dining at Gostilna na Gradu in Ljubljana
I was in for a treat by dining at Gostilna na Gradu restaurant on a Friday night during July – and not because of the Ljubljana restaurant's delicious dessert. Rather, my other senses were treated to the viewing of a movie shown on a massive outdoor movie screen.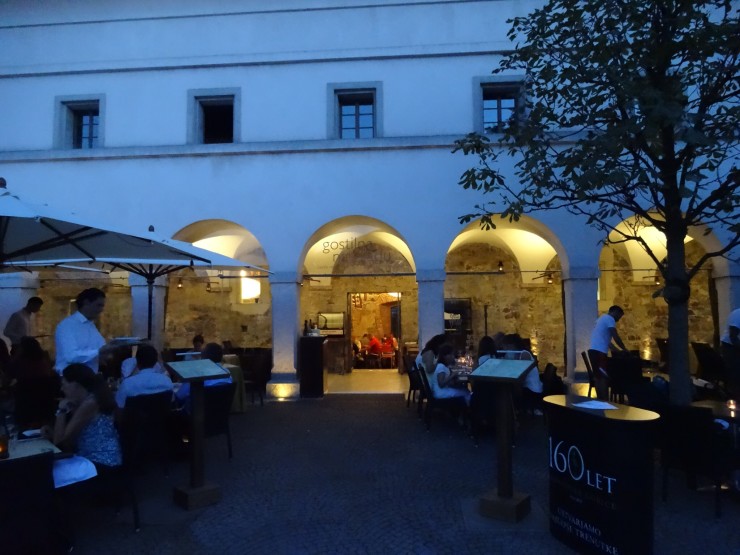 Every summer, Ljubljana Castle (where Gostilna na Gradu is fabulously located) plays host to "Film Under the Stars" during which a slew of international movies are shown in the castle courtyard.
If you're spending the day in Ljublana when a show is happening, definitely try to work it into your itinerary.
Chairs are set up on the grassy area and are available on a first come first serve basis. The movies are free (as is access to the Ljubljana Castle courtyard at any time of day) and start at 9:30 p.m. after the sun sets.
While the chairs are a welcome and comfortable way to enjoy the movie, dining at Gostilna na Gradu is even better.
Request one of the patio table that borders the courtyard and then dine on Golstilna na Gradu's fresh, inventive menu of Slovenian and Mediterranean cuisine and sip crisp white wine while you watch the movie being played.
Since Ljubljana Castle is high up on a hill overlooking the city of Ljubljana, you also may be fortunate to get some light breezes as I experienced once the sun drops, which is a welcome break from the sometimes crippling heat Europe gets in the summer months.
For a list of movies, visit www.Kinodvor.org and click on the "Film Under the Stars" section. You'll see there are both blockbuster and indie/documentary films that are shown, so you should be able to find a movie to suit your filmmaking tastes.
Now, you just need to get yourself to Ljubljana this July!