The Easy Way to Pack Only a Carry-On for a 7-Night Europe Cruise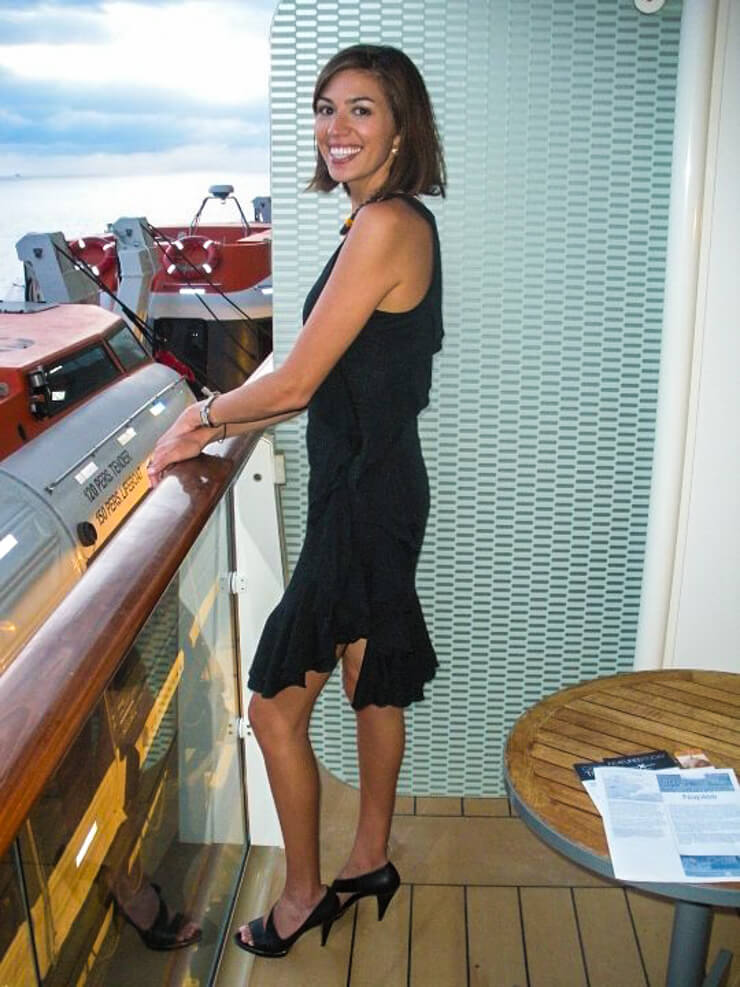 You may have seen a meme going around social media that says something to the effect of: Me at Home: I've worn the same shirt for the past five days. Me on Vacation: I need three different outfits for every day of my week long vacation!
And as any seasoned traveler knows….you never actually wear all those outfits! So with that in mind, here is how to pack for a 7-day Europe cruise in just a carry-on.
But first – why is it beneficial to pack just a carry-on?
1. Don't have to pay a fee to check your bag.
2. You get rid of the risk of the airline losing your luggage.
3.     You won't spend time waiting in line to check your bag or waiting to get it at the baggage claim carousel.
4.     You won't waste time figuring out what to wear each day. Just get dressed and start your day exploring the ship or the ports of call.
5.     Save your checked bag allotment for the return trip home. More on that below!
Europe Cruise Packing in Just a Carry-On Suitcase Tips For Women
To pack in just a carry-on you'll want clothing that can work both on the ship and in port. Here are some tips for what to pack for a 7-night European cruise plus your packing secret weapon.
You'll want to pack two pairs of shorts, one pair that is reminiscent of resort wear and looks nice walking around port or the ship, but won't get heavy or uncomfortable; i.e. stay away from denim. The other pair should be sportier in case you want to do anything active while on the ship or in port.
In addition, pack a pair of nice linen pants as these will be cool to wear on hot port days. Depending on the ship's dress code for dining, you can also usually wear these to dinner with a button down shirt and statement necklace.
Other shirts to bring include ones that can be easily layered: a few tank tops or t-shirts, and a couple lightweight to midweight (depending what time of year you are going) cardigans or sweaters for breezy nights on the ship.
Also pack a touring dress – this is made of breathable material and should hit below the knee if you're planning to visit any religious sites that require women's knees to not show. Get it in a solid cover and dress it up for dinner back on board the ship with your packing secret weapon. Which is…
A nice, lightweight scarf.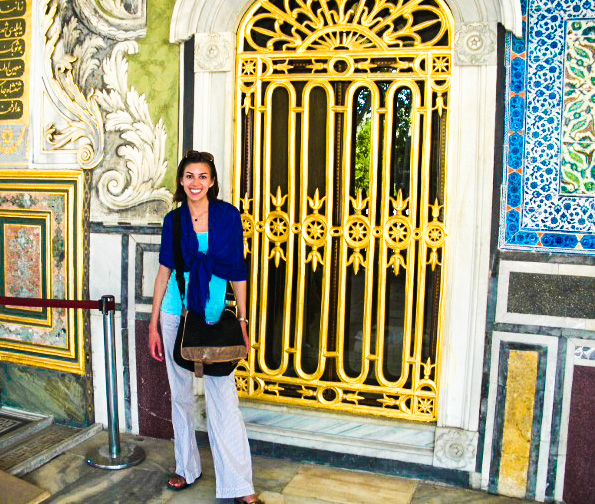 A nice scarf is your secret weapon on a cruise vacation if you're packing in just a carry-on.
It can do double duty as a cover while touring ports and making a simple dress fancier for nights dining and attending theater performances on the ship.
Best of all, a dress scarf packs up so thinly you can stick two in your suitcase for some extra fashion choices.
The reason you'll need a cover up in port is because nearly all of the religious sites in Europe that are popular tourist attractions have a strict dress code that requires shoulders to be covered (the knee one mentioned above is less common, but still one to be aware of). A scarf folds up easily in a day pack and can be effortlessly wrapped around your shoulders to cover them before going into the place of worship.
Also, if you really want to save space you can even use an extra-wide scarf as a pool cover-up and tie it around your waist as a sarong for the walk to the pool.
Speaking of the pool, stick in two swimsuits, including one that is easy to move around in so you are comfortable if you decide to do any water sports activities while in port, such as snorkeling or jet skiing.
Lastly for attire, pack something to wear on the formal nights, though most cruise lines have changed it to more of a resort chic vibe, so you hopefully won't have to pack a formal gown! Check the dress policy for your cruise and have fun getting fancy in a way that fits your personal style.
Expert Cruiser Tip: many styles of cocktail dresses pack up small and can also be worn if you decide to hit the dance club late at night.
As for shoes, these are what will take up the most room. Wear your walking shoes on the airplane since these usually take up the most space and then pack a pair of flip-flops for pool and beach days and a dressier pair of flats for wearing around the ship (stick in heels if you must, but know that they take up more space and aren't as comfortable to walk in).
Europe Cruise Packing in Just a Carry-On Suitcase Tips For Men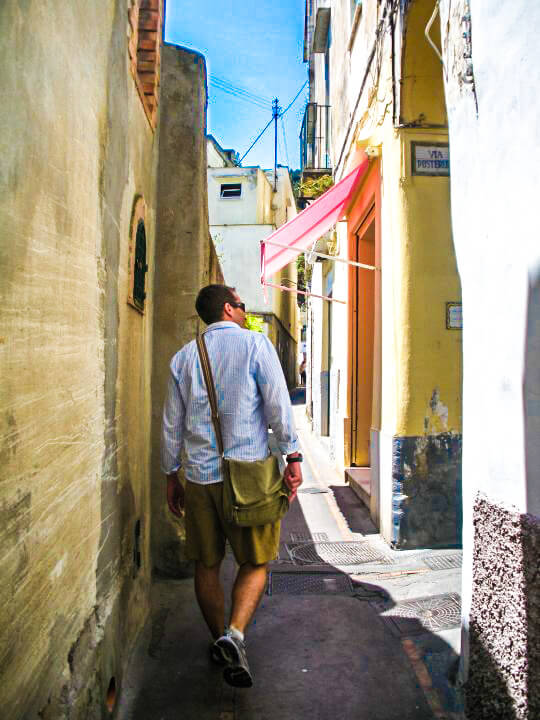 Men have it a bit easier when needing to pack clothing that can do double duty. (And yes, I consulted my husband for this!)
-Two pairs of non-denim pants in neutral shades that can be dressed down in port and dressed up for dinner.
-Two pairs of shorts that can be worn for lounging around the ship and when in port on hot days.
-Three pairs of light-weight collared button down shirts that can be tucked into your pants to wear to dinner or tucked out with sleeves rolled up for touring cities. Pack several moisture-wicking t-shirts to wear underneath so you can take off your shirt in port if you get hot.
Bring two swim trunks if you are planning to hit the pool frequently and don't want to have to wear wet swim trunks if there's not enough time for them to dry in between. Plus flip-flops for walking to the pool.
If you have a resort wear dress policy on your ship, the above pants and button down shirt with nice shoes should suffice. If more formal attire is required, stick in that suit or tux, or see if you can rent on onboard.
Lastly, don't forget some comfortable walking shoes or sandals to wear in port.
How to Get All Those Souvenirs Home
Part of the fun of going on vacation in Europe is getting the chance to purchase some of the latest European fashion as well as getting some traditional European souvenirs.
If you think you are going to end up purchasing a lot of clothing and souvenirs during your European cruise, pack a duffel bag that folds up small in your carry-on suitcase on the way to your destination.
Then when it's time to go home, use the duffel bag to hold your belongings and check it with the airline to get it back home as your one checked bag (which pertains to number five above about why you want to pack for your European cruise vacation in just a carry-on).
Most airlines charge more for the second and third bag checked so by still being able to bring a carry-on and just one checked luggage even with all the souvenirs you've bought during your trip, you'll save money.
You can also bring the most special or breakable souvenirs onto the plane with you by substituting some of your original packed items into the duffel bag to make room for souvenirs in your carry-on.