The Best Things to Do on Your Cruise Ship or in Port on a Rainy Day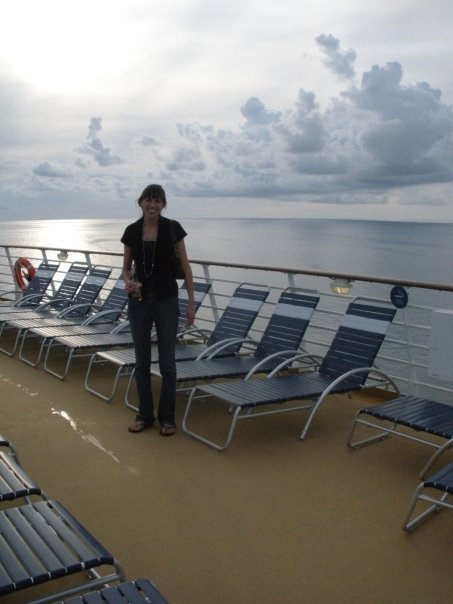 You're on your cruise vacation and you're all excited to enjoy a day at sea with a poolside lounge chair, a good book, and a fruity cocktail. But then you step outside onto your stateroom veranda and see it: rain.
If one of your cruise days at sea is punctuated by rain falling on the outdoor decks where you were planning to relax and hang out – don't worry; you can still find plenty of fun, relaxation, and vacation vibes without stepping outside into that rainy weather.
Here are some excellent ways to spend a rainy cruise day – both on the ship and in port.
Explore a New Part of the Ship On a Rainy Cruise Day
Modern cruise ships are large with a myriad of public spaces in which to relax or converse with friends old and new — even the smaller ships like Paul Gauguin Cruises and Silversea have multiple lounges and "hang-out" areas. And the larger ships like Royal Caribbean, Carnival, and Norwegian have a huge number of places to hang out indoors.
If it's raining, take a look at the ship map and pick out a place on board you haven't been to yet and then go check it out. This might be a modern lounge with stunning ocean views, a relaxing corner in the library, a sojourn in the cafe, or some of those shops you have yet to browse.
Depending where you end up on your ship exploration, you might just discover a new favorite place to spend the remaining days of your vacation. 
Stay In and Lounge to Escape the Rain
We've all had those rainy days at home when nothing sounds better than cuddling up on a couch with a warm drink and a new novel or movie to devour. Well, guess what? You can have that on a cruise ship, too – only you'll have ocean views, a luxuriously appointed stateroom or suite to lounge in, and no worry about pressing work deadlines, carpool pickup, or dishes that need to be done.
Grab a specialty coffee from the onboard cafe or a glass of wine from one of the lounges and then chill in your stateroom. If you get so comfortable you don't want to leave, no problem – simply take a break from that on-demand movie you're watching on your television and order some room service, which is free of charge on most cruise lines.
A Rainy Cruise Day Might Be Your Lucky Day at the Casino
If rain is keeping you away from the pool, try your luck at the onboard casino. Play a hand or two of blackjack or have some fun on the slot machines. Who knows? Maybe you'll win big and can treat yourself to another quintessential rainy cruise activity: a spa day.
Spa Time Will Make You Forget It's a Rainy Cruise
That's right, the spa is the perfect place to while away a rainy cruise day.
The spas onboard most of the major cruise lines' ships offer a wide assortment of treatments, ranging from manicures and pedicures to facials and massages, plus some even have dermatological treatments like botox and laser procedures. You can even get acupuncture done during your cruise on some ships.
Before your treatment, sit in the peaceful relaxation room and let your worries (and the thought of rain on vacation) drift away as you listen to soothing music in a calm setting.
Check Your Daily News Flyer
Every evening a flyer with the next day's cruise agenda is placed in your stateroom or suite. If rain is the forecast, check what activities are going on. The flyer has everything happening on board that is hosted by the ship's crew conveniently listed for you.
See if there is a new fitness class you want to check out, an interesting lecture that will teach you something new, a cooking demonstration, a dance class, a trivia game or Bingo, or one of the many other onboard experiences offered throughout your cruise.
Keep the Kids Entertained
Kids are usually happy to while away a rainy day in the onboard kids' clubs, but if they need more to do, head to the arcade, see if there's an all-ages dance class or craft being led by the ship's crew, or head to the card room and see what board games are in there that you can challenge each other to and have a day of family bonding fun.
Rain During a Port Day
If it is raining during a day you're in port, don't stress. Most shore excursions can continue on even if it's raining.
To ensure rain doesn't damper your day in port, bring a poncho or easy to pack rain jacket in your daypack. Stick in an extra pair of socks as well in case your feet get wet while exploring the port of call in the rain.
It's also a wise idea to make sure your touring shoes and your daypack are water resistant.
If rain does have an impact on your plans for the day in port, stay flexible and be spontaneous. Find a local café or bar and chat with some locals, or head to the nearest shopping center and pick up some cool souvenirs. Museums are also a great place to spend a rainy day in port and can teach you more about the history and culture of where you're visiting, too.
Stay open-minded about activities you can do, and then if it's rain or shine, you're bound to have a memorable time on your cruise!