One Day in Prague, I Ate Here…
River views, delicious seafood and romantic ambiance can be found at Kampa Park in Prague.
One of the best parts of Prague is the river. So when visiting – especially if short on time – you'll want to try to maximize your views of the scenic flow of water. One way to do that is to eat at Kampa Park Restaurant, which is located right along the river bank. I recommend doing so even if you have just one day in Prague.
Kampa Park has several different sections, but I recommend eating where I did if possible; Kampa Park has a terrace overlooking the river with what feels like a secret dining train car underneath and that's where you want to eat for some incredible ambiance and views.
This part of Kampa Park Restaurant feels cozy and romantic, but still has open windows so you get the riverside sounds, plus has an incredible view of the Charles Bridge.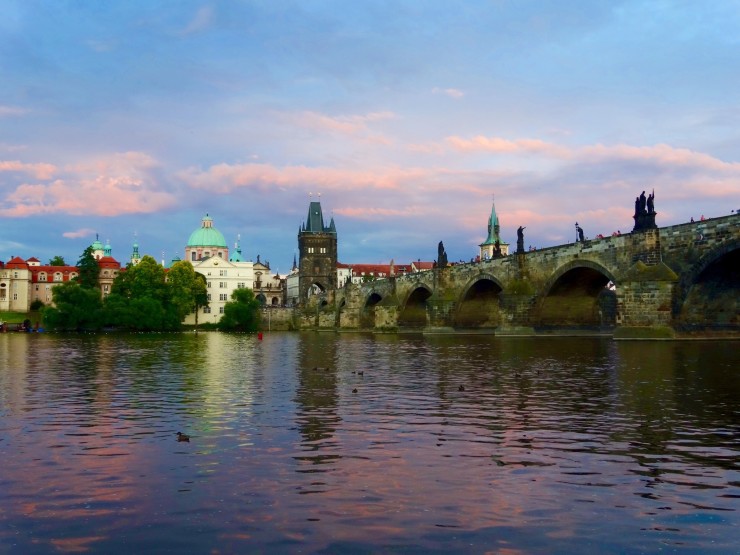 When I was there, Kampa Park had a daily 3-course menu for 995 CZK (about $40) or you can have more choices by ordering from the main menu, though not too many choices — which is a good thing; I always feel restaurants that focus on a very select offering of cuisine do them remarkably well. The menu looked amazing and had an excellent seafood section with entrees built around lobster, crab, salmon, and halibut. The owner is actually Norwegian, I was told by our server, so most of the fish is from Norway and around Scandinavia. There were also more traditional meat options as well as vegetarian entrees.
I knew we were in for an impressive meal as soon as I had the amuse bouche, which were cold scallops with cucumber. I'd never had cold scallops before, but it turns out that the chef knew what he was doing — because they were delicious.
Though I didn't do the 995 CZK menu, I did still opt for three courses.
Creative Cuisine with Touches of Foam at Kampa Park, Prague
The first course was crab ravioli — but this wasn't how you typically think of ravioli as it was not made of pasta. Instead the crab was served in between thinly sliced radishes. I typically don't like radishes as I think they're too overpowering, but the ingredient mix in this appetizer was perfect. The sweetly bitter aftertaste of the radish paired nicely with the buttery mild flavor of the crab and the lime zing of the mayonnaise-based sauce.
Mom got the green asparagus soup with soft boiled egg. I though this was a brave choice when she ordered it, but it was excellent — surprisingly creamy and rich, and did not taste like drinking pureed asparagus as I thought it might.
Kampa Park has a great selection of wine served by the glass so I opted to do a different pairing with each meal as suggested by our friendly and knowledgeable server who suggested each wine. If you opt for a wine bottle, though, you'll still have a memorable wine dining experience as they serve red wine in a decanter on the table to ensure you get the fullest flavor of the wine while you eat.
For my entree, I opted for the lobster dish, which included butter-poached lobster tossed in an avocado puree and served alongside ricotta gnocchi, brown beach mushrooms, shrimp, and lobster tamarind foam. I was quite pleased with my decision.
Mom's meal was delicious as well. She got the olive oil poached halibut with black truffles, pancetta, mashed potatoes, and vegetable foam. Her meal also looked incredible in the candlelight (it's the entree pictured at the top of this post).
The "foam" ingredient was interesting in each dish, don't you think? I don't see that on restaurant entrees much.
For dessert I got a unique peach cobbler that was incredibly fresh and light tasting while mom got a delicious toasted whipped cream fruit pudding concoction.
Kampa Park is located at Na Kampe 8b and you can contact them by calling them at 420 257 532 685. Reservations are highly recommended, especially if there is a certain part of the restaurant you want to eat in. But even if you don't get to dine where I did, the other dining rooms of Kampa Park are lovely. Below are a few shots of the various dining areas of Kampa Park in Prague.
Which area of Kampa Park would you want to dine in — the elegant interior or the Prague city views of the terrace?
Note: I was provided a complimentary meal at Kampa Park Prague, but — as always — all opinions are completely my own.