A Michigander Shares How to Spend the Perfect Day on Mackinac Island
If you love outdoor adventures, gorgeous scenery, shopping, and great eats, Mackinac Island will be your paradise! Continue reading for our suggestions of the best things to do on a day trip to Mackinac Island plus tips on getting there and what to eat.
Tips to Know Before Your Day Trip to Mackinac Island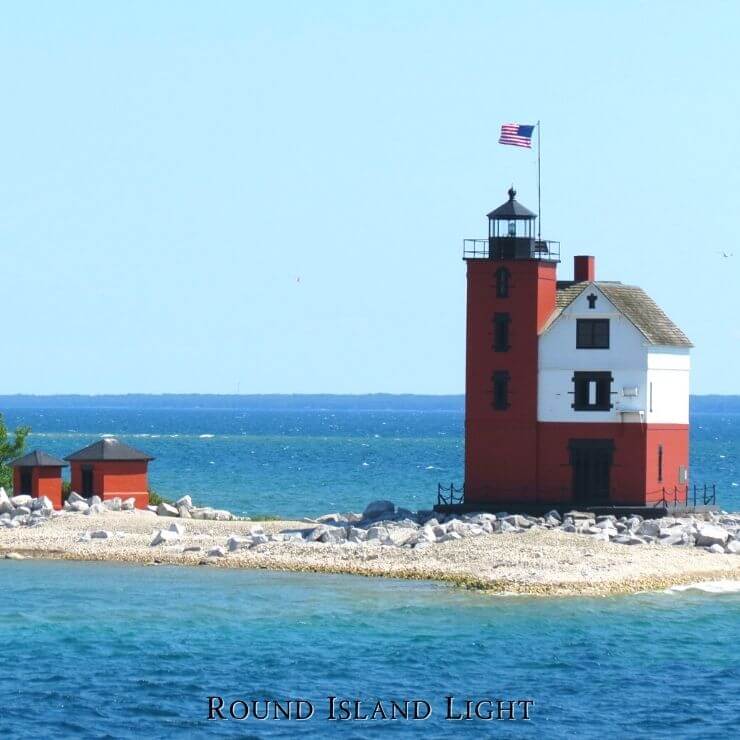 Before we get to the top things to do on Mackinac Island during your day trip, here is a quick overview of what to expect when visiting Mackinac Island and how to get there.
How to Pronounce Mackinac Island
First off, know how to pronounce it: mack-in-aw. Yup, that "c" at the end is silent!
Where is Mackinac Island?
Located at the northernmost tip of Michigan, Mackinac Island is the gateway to Michigan's stunning upper peninsula.
It is a paradise of scenic hiking and biking trails, rocky beaches, gooey fudge, horse drawn carriages, butterfly houses, and nostalgic family hotels. Most famously, it is home to the famous and majestic Grand Hotel that can be seen from Mackinaw City on the mainland.
Adding to the mystery of the island, visitors can only arrive by personal boats or one of the ferry lines that shuttle visitors across Lake Michigan from either St. Ignace or Mackinaw City. Vehicles are also prohibited on the island so it is a very safe destination for small children.
Tickets
Be sure to book your ferry tickets ahead of time online; you must choose whether you are leaving from St. Ignace or Mackinaw City. The tickets are not date specific, but buying your tickets early saves time upon your arrival. You can also prepay for several tours and the fee to transport your bikes if you are bringing your own.
Ferry Information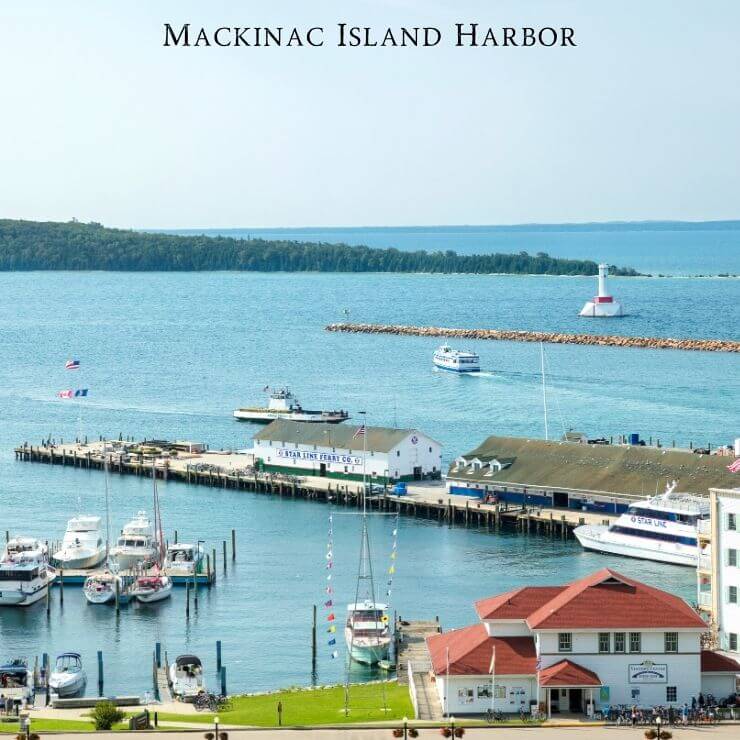 We recommend spending the night in Mackinaw City or St. Ignace prior to your day on Mackinac Island. This allows time for you to arrive, explore either city, and find your departure parking lots.
We also recommend arriving at the parking lot one hour prior to your intended departure time (if you are taking Shepler's from Mackinaw City) as you will need time to park, gather your belongings, walk to the shuttle, wait for the shuttle to load, and the time it takes for the shuttle to drop you off at the docks.
Departing from Shepler's from St. Ignace is less hassle as you simply board the ferry from the parking lot. Ferry parking is free and there are restrooms on the ferry.
Lockers
If you plan to bring a lunch, extra layers of clothing, or a backpack, you can store your items in a rather large locker after you arrive on the island so you don't have to lug them around with you all day on Mackinac Island. The lockers are located near the ferry boarding areas.
Dogs
Dogs are allowed on the island, so feel free to bring your well behaved and leashed furry friend!
Rent a Bike
It is a very wise idea to bring or rent a bike so you can explore the entire island (or more likely just the perimeter if you have one day). You will see so much more of Mackinac Island if you bike instead of attempting to walk.
Top Things to Do on Mackinac Island
Now for the top things to do and see during a day trip to Mackinac Island.
Bike the Perimeter of the Island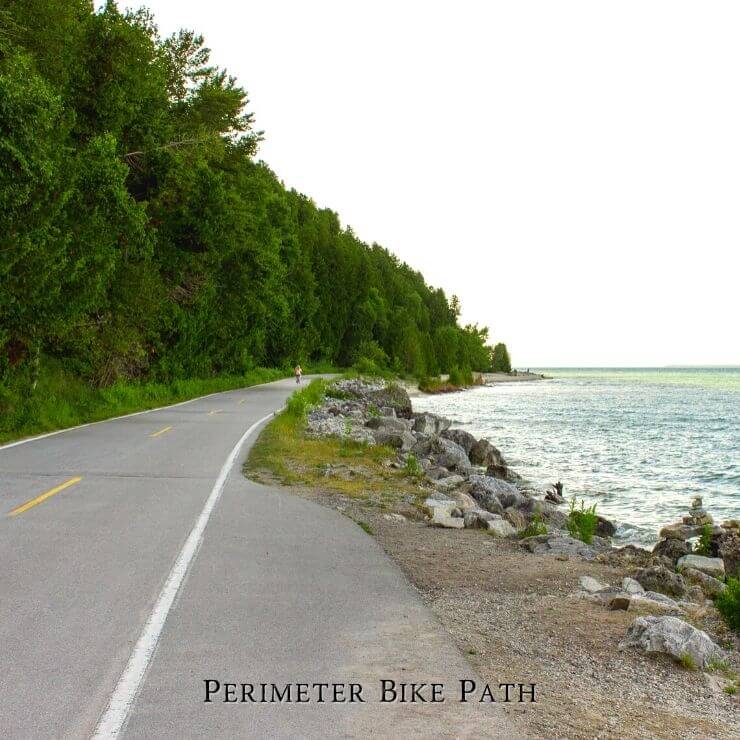 The scenic perimeter is 8.3 miles around and is definitely worth about three to four hours of your time. This paved trail offers stunning views of Lake Huron and the stunning Mackinaw Bridge.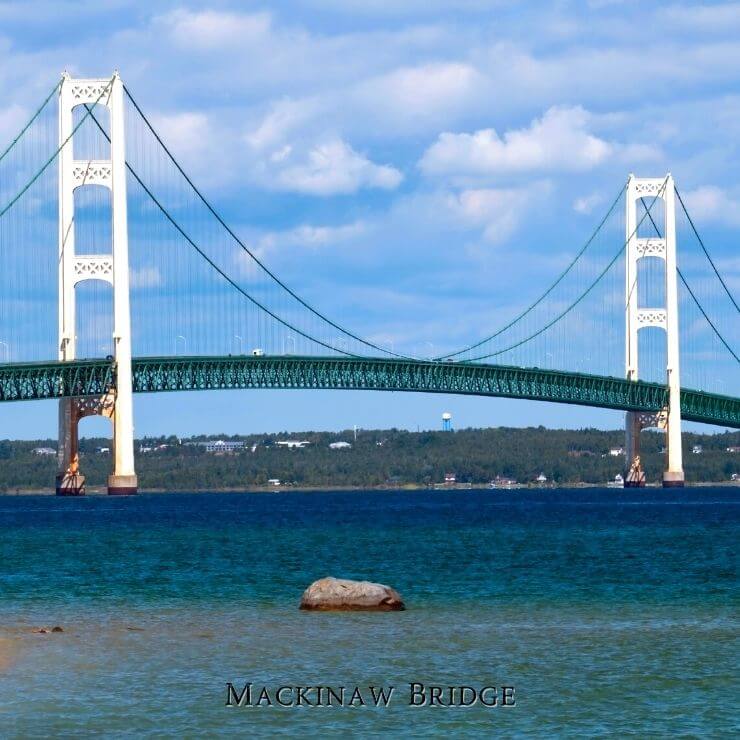 There are many benches along the way, so be sure to take time to relax and enjoy the waves crashing against the shoreline.
Keep an eye open for popular spots such as British Landing (restrooms and food) and Dwightwood Spring. These springs were named after the son of Edwin O. Wood of Flint, Michigan.
In the early 1900s, Mr. Wood donated money to the island in memory of his late son, Dwight Hulbert Wood. It is interesting to find the scenic spring as it originates from within the bedrock of the limestone on Mackinac Island. In the early 1900s, island visitors would drink from the springs but now it is not safe to drink this water.
Arch Rock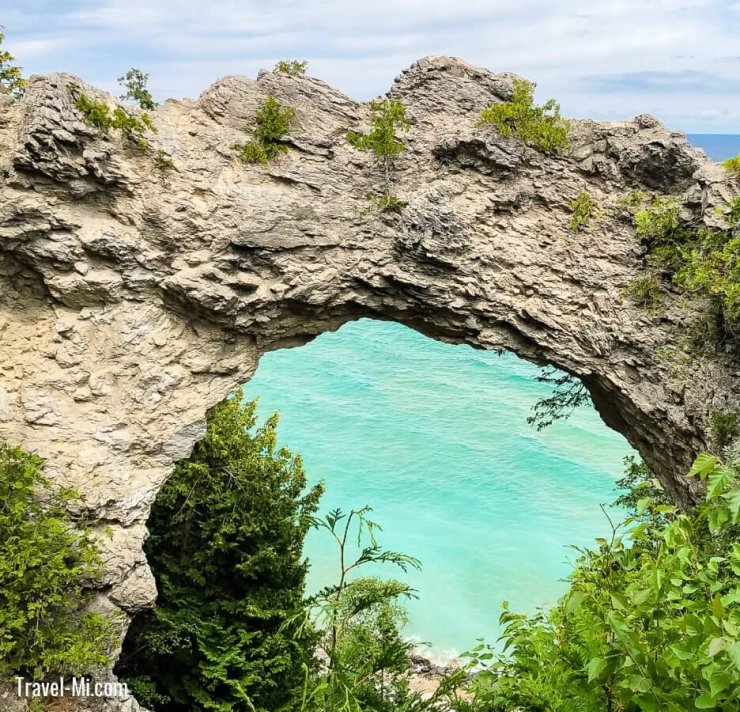 One of the highlights of the island perimeter trail is Arch Rock, a jaw dropping wonder to discover.
Per its name, this geologic formation is a natural limestone arch that stands 146 feet above Lake Huron's shoreline. Be sure to look up as you near the formation as the view from the perimeter path is breathtaking.
If you wish to have a closer look, be prepared to ascend about 200 stairs leading to Arch Rock. But it is definitely worth the effort as you will be awarded unparalleled views of Lake Huron.
Nicolet Watch Tower
Just a few steps from Arch Rock is the Nicolet Watch Tower, a monument to John Nicolet who passed through the Straits of Mackinac in 1634 in a birch-bark canoe.
After reading the monument to Mr. Nicolet, you may want to take a short hike to stretch your legs (and get in some steps!) by walking along the Tranquil Bluff Trail.
This wooded pathway, located only a few steps from the Nicolet Watch Tower is quiet and scenic as few tourists know about this trail. It weaves through dense forests high above the crashing waves and leads to British Landing.
Grab Lunch at the Pink Pony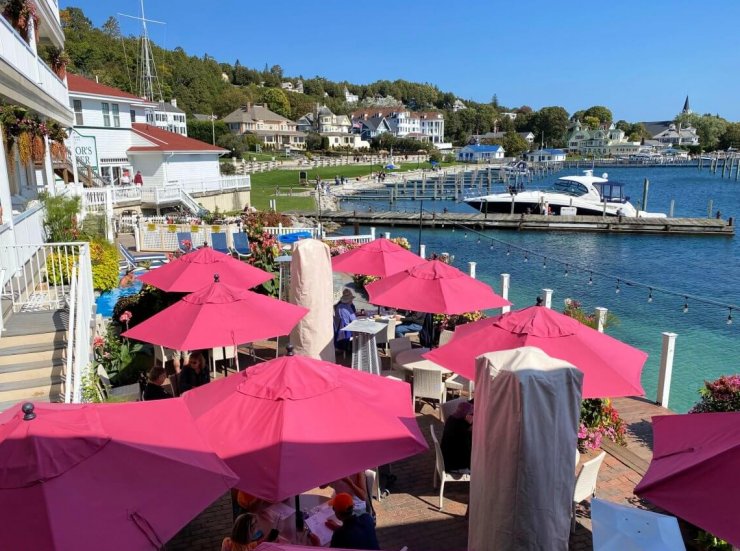 After all that exercise, you will no doubt be hungry!
Our favorite restaurant on Mackinac Island is the Pink Pony, located on Main Street.
Insider Tip: Put your name in at the host station about one-and-a-half to two hours before you are ready to eat as the wait can be very long in mid-summer. The restaurant will text you when your table is ready. We wisely spend that time shopping and exploring Main Street (more on that in the next section).
Eating at the Pink Pony is a treat as you can eat inside or outside. If you are eating outside, the views of Lake Huron and busy ferries is very scenic and entertaining. We love their huge pink umbrellas and adorable Pink Pony glasses that follow the theme of the restaurant. The restaurant has fantastic fish tacos, burgers, and salads.
Explore Main Street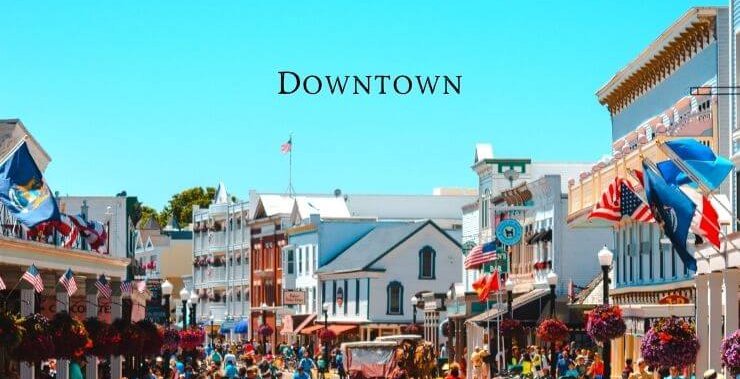 You will definitely want to take some time to explore Main Street during your day on Mackinac Island. This street is the main hub of the island where you will find a helpful Visitor's Center, several delicious restaurants, Dowd's General Store, and lots of entertainment.
When visiting Mackinac Island for the first time and especially if you have only one day, we recommend obtaining a map and lay of the land from the Visitor's Center located east of the ferry docks. They can also be a resource for any questions, souvenirs, or advice.
If you love hustle and bustle, you will enjoy wandering into the diverse shops on Main Street. It's nearly impossible to leave the island without a few Michigan made souvenirs, delicious taffy, and home décor with a cheerful island theme.
It is also enjoyable to sit on one of the many benches along Main Street to people watch while licking a delicious Mackinac Island Fudge ice cream cone.
Haunted Theatre
If you like spooky experiences, step inside the Haunted Theatre for a hauntingly fun time, but be careful as ghosts may grab your hand! The Haunted Theatre is a unique thing to do on Mackinac Island, and even teaches you about a bit of the history of the island in the process of scaring you!
Mackinac Island Fudge
For a sweet treat, taste a sample of delicious Mackinac Island Fudge from several of the shops in the downtown area.
Our favorite fudge shop is Murdick's since many times you will see the fudge being made on huge slabs of cool granite. It is hard to resist purchasing a piece of the gooey goodness as you watch it being cut into fresh slices right before your eyes.
Notable Mackinac Island Churches
Further to the east on Main Street is the beautiful Mission Church. This historic church is Michigan's oldest surviving church building and also the earliest surviving example of a New England Style church in the Midwest.
Another noteworthy church is Ste. Anne's Catholic Church, built in 1827. Be sure to look way up as the steeple and stained-glass windows are photo worthy.
Tour, Have Lunch or Dinner, and Stay at the Iconic Grand Hotel
When visiting Mackinac Island, it is imperative that you visit the famous Grand Hotel. This hotel was built in 1887 to welcome visitors to its lavish 397 rooms.
For a nominal $10 entrance fee, you can wander the Grand Hotel, explore the shops, and dine.
Be sure to take a few minutes to relax in a white rocking chair on the hotel's spectacular veranda, heralded as the world's largest front porch. At 660 feet, you will be amazed at the beauty of the chair-lined porch and spectacular American flags waving in the breeze.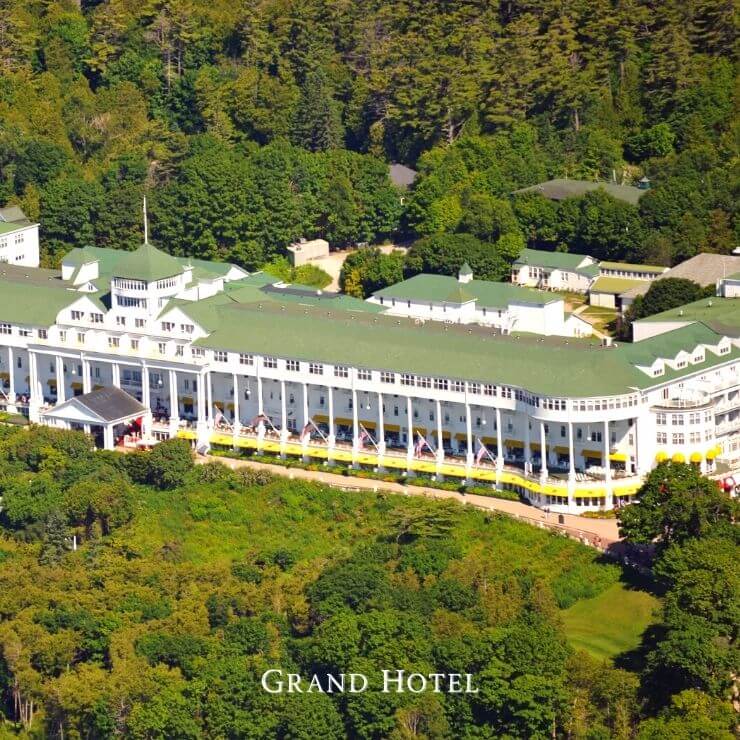 We love exploring the Grand Hotel gardens which contain edible flowers and herbs used by the Executive Chef and his staff while preparing meals for the hotel guests. The gardens are included in the cost of admission.
Five presidents, including Harry Truman, John F. Kennedy, Gerald Ford, George H.W. Bush, and Bill Clinton have stayed at the Grand Hotel. It was also the backdrop to the 1980 film, "Somewhere in Time" starring Christopher Reeve and Jane Seymour. Thomas Edison and Mark Twain also stayed at this famous hotel.
In 1957, the Grand Hotel was designated a State Historic Building and on June 29, 1989, the hotel was deemed a National Historic Landmark.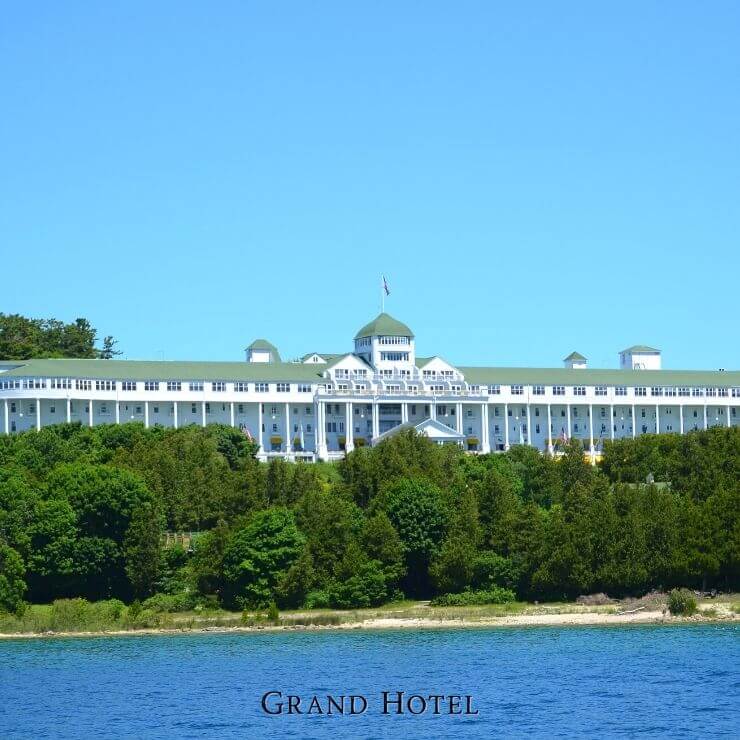 If you have the chance to stay overnight at the Grand Hotel, be sure to book very early as weekend stays are very popular throughout spring, summer, and fall. Staying here and on the Island will be an experience you will never forget and well worth turning a day trip to Mackinac Island into a 24 or 48-hour itinerary.
Found this Mackinac Island article helpful? Pin to read again later!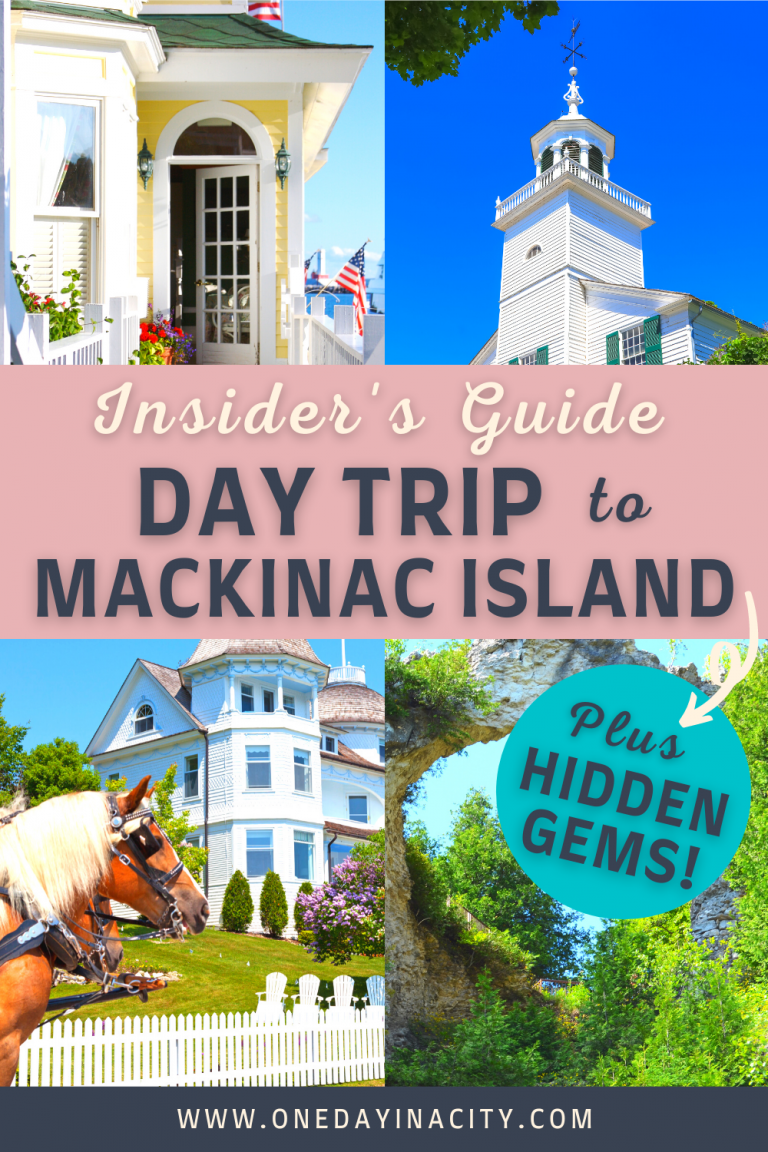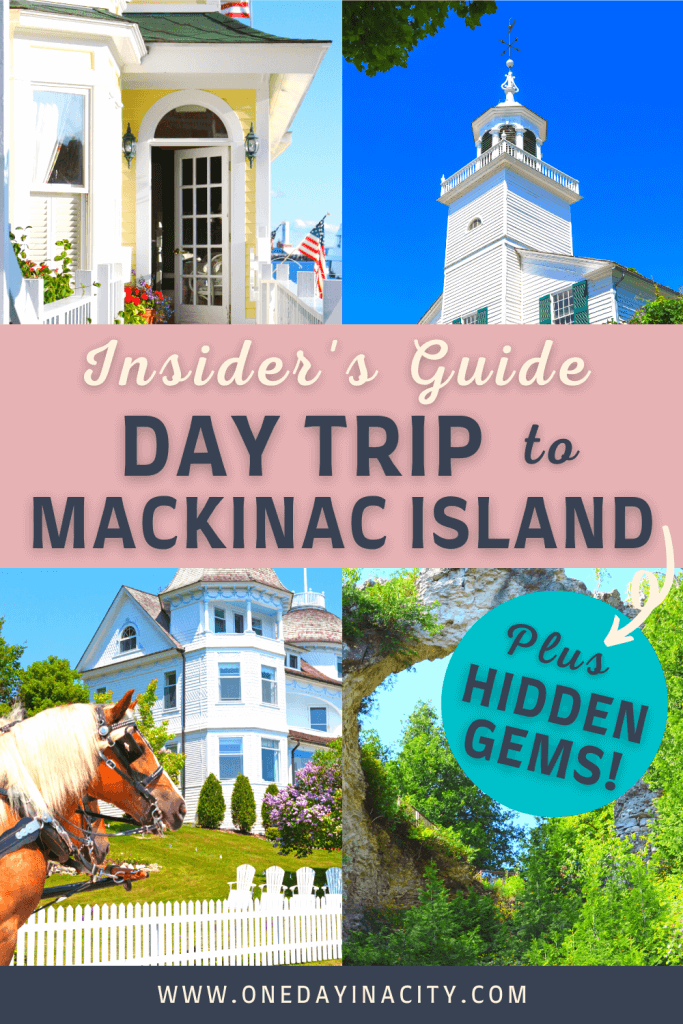 About the Author: Sherry Trautman, founder of Traveling Michigan, loves to explore every inch of the Mitten State by hiking, biking, kayaking, and getting lost! Connect with Traveling Michigan on Instagram and Twitter.