One Day in Killarney, Ireland, I Slept Here…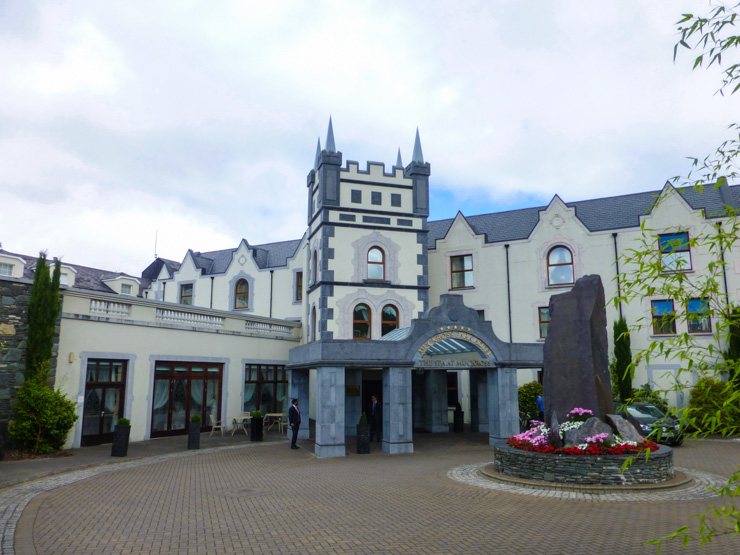 I knew my stay at Muckross Park Hotel and Spa in Killarney was going to be a great one before I'd even seen my gorgeous room. One of my first thoughts after checking in was "these people know what they're doing" because the service was that prompt, friendly, and on-point. Plus, the lobby is stunning and brimming with turn of the century opulence, which is fitting since this is one of the most historic hotels in Killarney.
The original hotel where Muckross Park Hotel and Spa stands was actually the first hotel in Killarney. Parts of this original hotel are still located within Muckross Park Hotel and Spa, which you can experience firsthand if you stay in the George Bernard Shaw Suite (so named because the playwright stayed in it in 1923) or the Inisfallen Suite. Shaw wasn't the only famous person to stay at the hotel; Queen Victoria also stayed at Muckross Park, making it a hotel truly fit for a queen.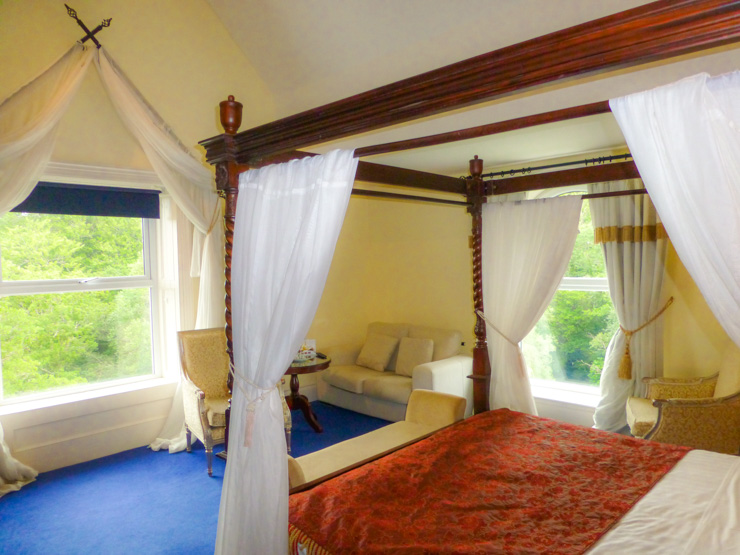 I felt more like a princess upon seeing my room, which had a large canopy bed, window seats overlooking the Killarney woods, and rich blue-hued wallpaper adorning one wall.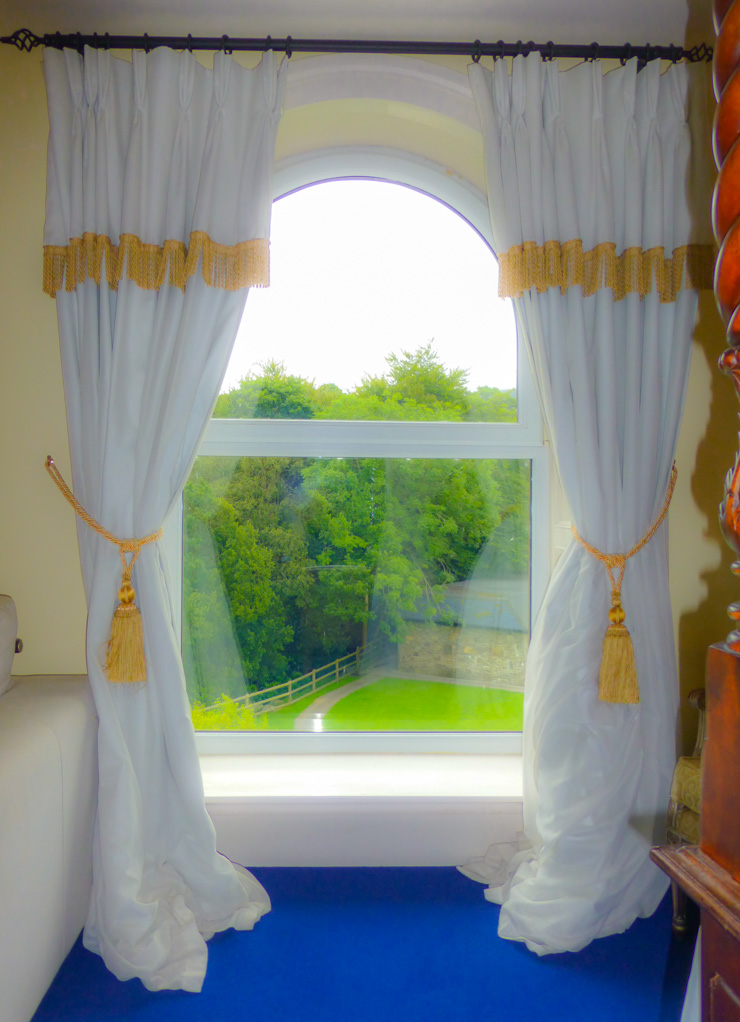 Muckross Park Hotel & Spa…Emphasis on the Spa
Guests typically get access to the spa facilities (check when booking that the rate includes this, though if you book direct it is always included along with complimentary bike rental) and within thirty minutes of checking in, I was relaxing in a whirlpool. I immediately headed down to the spa after putting my bag in my room because I was that excited about checking out the spa facilities as they had looked amazing online.
The actuality of the spa was just as lovely and relaxing as the pictures conveyed. Humid warmth permeated the dim room, providing a cozy atmosphere against the bubbles of the large spa pool. Once in the pool, jets came out from most locations on its side, ready to massage tired travel muscles.
Across from the pool was a room with heated stone loungers and ice, which I used to cool myself down before heating my muscles back up (a trick I learned at Zoetry Resort in Mexico that makes you feel amazing after the initial shock). The ice was next to a neat shower where you could change the temperature depending on what part of nature you wanted to experience, such as sea water or tropical rain. It was a fun touch.
That leads me to one of the things I liked most about Muckross Park, which was the way the hotel seemed to bring nature in whenever possible. This was also on display in the spa thanks to the hot tub that was located right outside French doors beside the pool and which was surrounded by the woods behind it. It was an absolutely lovely and relaxing setting for a hot tub.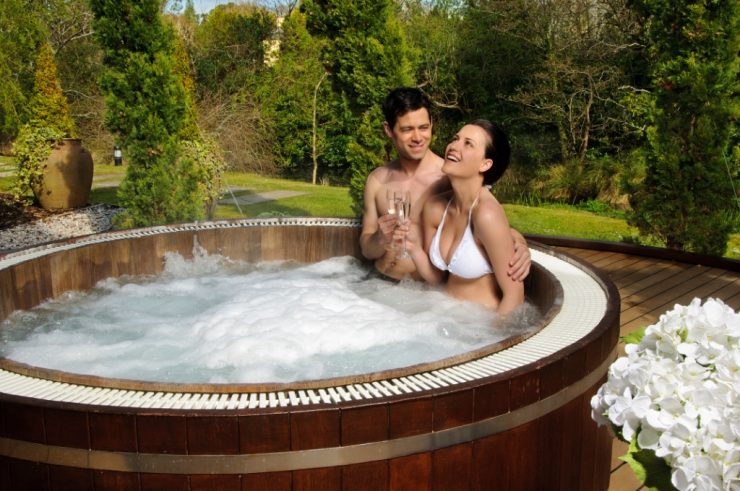 I didn't do a spa treatment, though I was tempted! Muckross Park offers a full range of treatments ranging from massages to wraps to manicures.
Dining at Muckross Park Hotel & Spa
Muckross Park Hotel is home to an onsite gourmet restaurant called Yew Tree Restaurant. It is stately yet welcoming and uses local ingredients.
If you're tired after a day of sightseeing, Yew Tree Restaurant is a nice option to have since you can enjoy a good meal and then retire straight to your room – if you're not sidelined by Monk's Lounge.
Monk's Lounge is also located on the main floor of the hotel and I loved the ambiance of it as it had opulent touches that felt both romantic and cozy. The bartenders were very friendly, too.
Muckross Park Hotel is also home to a pub called the Jarvey's Rest. I didn't have a chance to check this place out too in-depthly, but it sounded fun. Check the schedule when you're there as it may have live Irish music and dancing.
The breakfast buffet is also served in Yew Tree Restaurant and it was one of the best hotel breakfast buffets I've had. Lots of options and everything still tasted fresh despite being buffet-style. I especially liked the slow baked egg with cream, chive, and tomato. You could also order an omelette or Irish breakfast from the kitchen. The tiered plate of pastries reminiscent of afternoon tea that was placed on each table was also a nice touch.
The Extra Touches
So, Muckross Park Hotel & Spa is a lovely place to stay, but what makes it even better? The things that are not on its premises, but right next to it.
Muckross Park is within walking distance to Muckross House and its many sights, which you can read more about on my One Day in Killarney blog post. Muckross Park Hotel and Spa is also located within a short walk of Muckross Abbey, which the receptionist handling my check-in mentioned was an eerily cool place to visit at dusk – I didn't have a chance to do that, but I could see why it would be a memorable time to visit it after going in the daylight. Muckross Park Hotel makes it easy to visit Muckross Abbey and other local sites whenever you want thanks to the hotel's convenient location.
One last touch that I thought elevated Muckross Park Hotel & Spa into a truly luxurious hotel experience was the service aspect again, this time very early in the morning before we'd even checked in. We'd asked if we could drop off our bags at 6 a.m. before heading to Skellig Michael so we didn't have to leave them unattended in the car all morning in Portmagee, and they said it was no problem even though it was so early. They kept our bags safely stowed and then delivered straight to our room once we checked in later that day.
Muckross Park Hotel and Spa Quick Tips
Address: Killegy Lower, Killarney, Co. Kerry
Phone: +353 (0) 64 6623400
Website: http://www.muckrosspark.com
Cost: Prices start at €122 but can go up to over €400 depending on the time of year and the room you book.
Note: I was a guest of Muckross Park Hotel and Spa, but — as always — all opinions are completely my own.