What to Do to Have the Perfect 24 Hours in Atlanta
If you're hoping to find a fun, cultural, and easy to follow one day in Atlanta guide, then you've landed in the right place! Today, Allie is sharing her recommended 24-hour travel itinerary for Atlanta, Georgia; she has lived in Atlanta so I'm excited to have her share her tips on One Day in a City!
Although Atlanta is the 9th largest city in the United States by population, it is the most sprawled city in the United States meaning there are miles and miles of city and things to do. Home to the Coca-Cola company, Delta Airlines, and the largest aquarium in the United States, the city of Atlanta has days worth of activities.
However, if you only have one day in the city of Atlanta do not worry — this guide has all of the high points to make the most of your 24 hours in Atlanta.
Where To Stay in Atlanta
First off, let's cover the neighborhoods of Atlanta and where the best place to stay is.
There are several major neighborhoods in the city of Atlanta and they each have their own unique eclectic feel.
Downtown Atlanta is in the heart of the city and will give you a big city feel, while putting you close to a lot of major attractions. Additionally, Downtown Atlanta is readily accessible to transit and will allow you to move around the city easily without having to drive.
For all of these reasons, Downtown is my recommendation for where to stay when you are visiting Atlanta.
Coming in a close second are West Midtown and Buckhead because they have more nightlife options, but are still accessible to major attractions and public transportation.
What to Do with Your 24 Hours in Atlanta
If you have 24 hours in Atlanta and are interested in seeing some of the cities largest attractions I recommend purchasing a CityPass because for just approximately $75, it gives you access to five Atlanta attractions: Georgia Aquarium, World of Coca-Cola, CNN Studios Studios, Zoo Atlanta/National Center for Civil and Human Rights, and Fernbank Museum of Natural History/College Football Hall of Fame.
If you were going to buy tickets to all of these places individually the tickets would cost more than $125, so in my opinion, it is really a no brainer.
Now let's get to my Atlanta itinerary!
One Day in Atlanta: the Morning
To start your 24 hours in Atlanta you have to get breakfast!
There are so many incredible breakfast/ brunch spots in Atlanta, it's kind of a big deal. The combination of Southern comfort food like fried chicken, fried green tomatoes, macaroni and cheese, and collard greens served alongside breakfast staples like waffles, eggs, and biscuits makes for the best breakfast.
Some personal favorites are Greens and Gravy on the Westside or Another Broken Egg in Buckhead. There are some other great breakfast spots in Atlanta, however, just be warned that the wait can be prohibitive if you have a limited amount of time in the city.
After brunch head to Pemberton Place in the heart of Downtown which is the home of the Georgia Aquarium, the National Center for Civil and Human Rights, and The World of Coca-Cola. Both of these attractions are included in the CityPass if you purchased it. You will probably want to spend between one to two hours in each of the attractions depending on your level of interest.
For the Aquarium the whales and penguins are my two favorites must-see exhibits.
At the World of Coca-Cola, the 4D movie and the tasting room are two must-see exhibits.
While I do not have a favorite exhibit in the National Center for Civil and Human Rights, it is incredibly informative and is worth visiting.
Lunch and Centennial Park
After hitting all of the attractions in Pemberton Place, it's time to get lunch if you are hungry.
To save time since you only have a day in Atlanta, you can grab a quick bite of food in the CNN Center food court before your tour of CNN Center Studios or you can stop at the Chick-fil-a inside of the College Football Hall of Fame.
There is not a particular order you should visit either attraction in and they are in close proximity: just a 5- to 10-minute walk past Centennial Park, another popular Atlanta attraction.
Centennial Park commemorates the 1996 Olympics that were held in Atlanta.
Similar to the other three attractions you will probably spend between one to two hours each at CNN Center Studios and the College Football Hall of Fame.
CNN Center Studios
The CNN Center Studios tour takes you behind the scenes of the actual CNN Studios in Atlanta. Depending on the time of your tour you will be able to see actual shows being shot.
My favorite aspect of the tour is the ride on the escalator up to the studios and getting the opportunity to stand on the green screen and be a meteorologist.
College Football Hall of Fame and Fan Experience
The College Football Hall of Fame and Fan Experience is a great interactive activity if you are traveling with kids.
My favorite exhibits in the College Football Hall of Fame are the skills challenge and fan wall. The skills challenge allows the young and young at heart to kick a field goal, run a footwork deal, and dive for a catch.
Explore Downtown Decatur
After a full day of visiting the big attractions of Atlanta, you should get on the Marta at Peachtree Center and hop onto the East/West Marta to the Avondale Stop and finish your day in Downtown Decatur.
Downtown Decatur is a cool, eclectic and up-and-coming neighborhood with a relaxed vibe and plenty of food and bars. From a veggie hot dog at Farm Burger to traditional bar fare at Twain's Brewpub and Billiards, there something for everyone in Downtown Decatur, and it is a great way to wind down from a full day of exploring around Atlanta.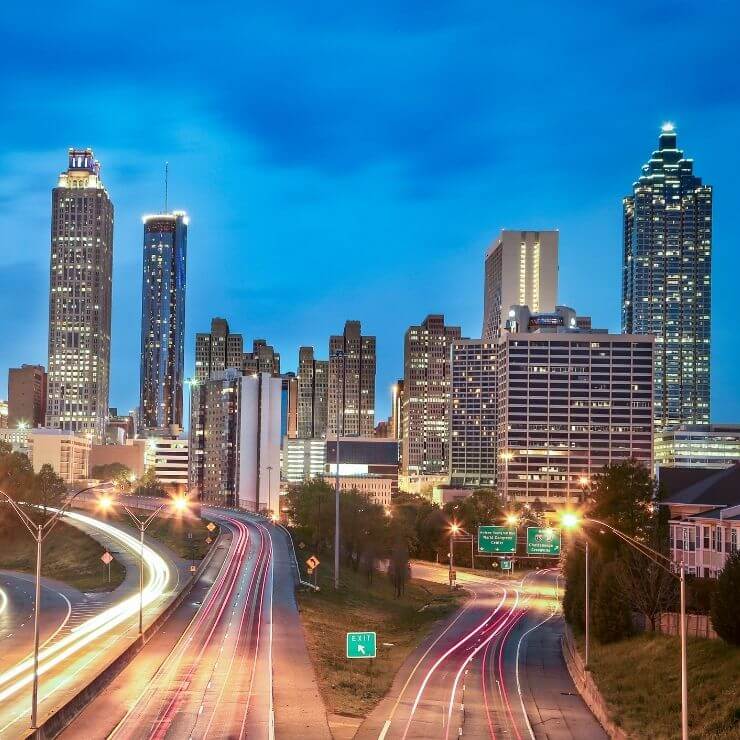 About the Author: Allie runs the WOC Travel Blog and has lived in Atlanta and traveled all over the world.