One Day in a City Itinerary: Bangkok, Thailand
Bangkok is a whizzing whir of people, food carts, skyscrapers, vehicles, and more people. Here's how to experience it all when short on time.
Thailand's most populated city is easy to get overwhelmed in. It's massive and vibrant and pulls visitors in an array of different directions; shopping, history, food, dancing on rooftops, a whole other type of dance show, and more.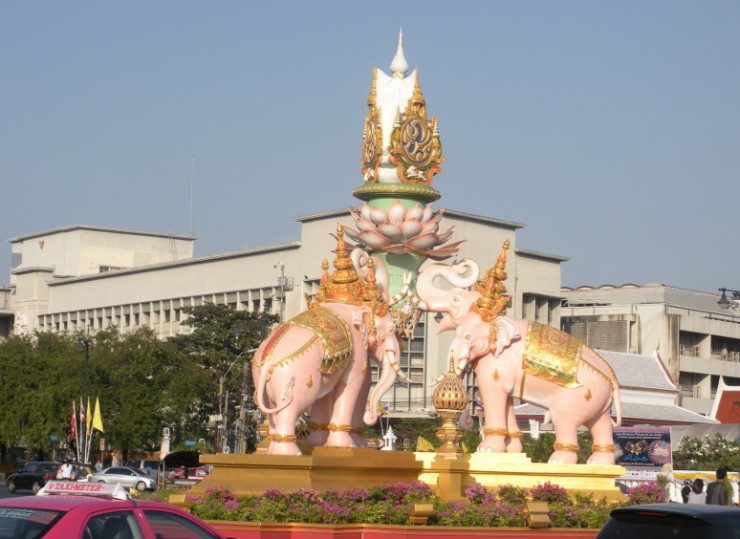 If you only have one day in Bangkok, it may seem easy to give up and go drown your sorrows in a bunch of expensive beers atop the already-famous-but-made-more-famous-by-Hangover 2 Sky Bar, bemoaning the fact that you don't have more time in the majestic city.
But where there's a will, there's a way, so put on your walking shoes and get ready to make the most out of your one day in Bangkok and get a taste – figuratively and literally – of everything this city has to offer. Skip to the bottom of this post for quick tips on Bangkok, including transportation. 
This post contains affiliate links, which means I get paid a percentage of any purchases made through those links at no extra cost to you, which helps me cover the costs of running this site so I can bring you more great travel content. Thanks for supporting One Day in a City! 
Discover the History of Bangkok at the Grand Palace
Start your day at the Grand Palace as it is a more slow-paced excursion outside the bustle of the downtown area so will leave you with energy for the afternoon and evening. Plus, the earlier you get there, the more likely you are to beat the crowds that swarm around the palace ground every day from 8:30am-3:30pm. Admission is 350 Baht, but you won't get in unless you adhere to the strict dress code. Both men and women must have elbows and knees covered, with closed-toe shoes. If you're one of the hundreds of tourists who show up every day not dressed appropriately, the palace and street side vendors are happy to rent you clothes for a fee.
What to Pack for Bangkok
Bangkok can be hot and humid so pack accordingly. Here are some must-haves to put in your suitcase for your trip to Bangkok.
Linen Pants — Loose and lightweight, these are ideal for hot days in Bangkok when you might be visiting temples and need to stay covered. A maxi skirt also works well for this if you want to be a bit more dressy.
Travel Bag — A secure purse or daypack that crosses your body and which you can keep in front of you (no backpacks) — Pickpocketing is pretty prevalent in Athens, unfortunately.
A Lightweight Scarf — Ladies, you'll probably need your shoulders and possibly elbows covered for the majority of sights you want to go into. A light scarf or blouse that you can bundle up tightly into your purse and then wrap it around you when you need to be covered is convenient to have.
Sun Protection — Want to make sure you enjoy your trip free of pain? Don't forget this.
Lastly, but importantly, THIS is One Thing I Always Pack — Because a memory and camera don't always cut it! (Plus, they're kind of adorable!)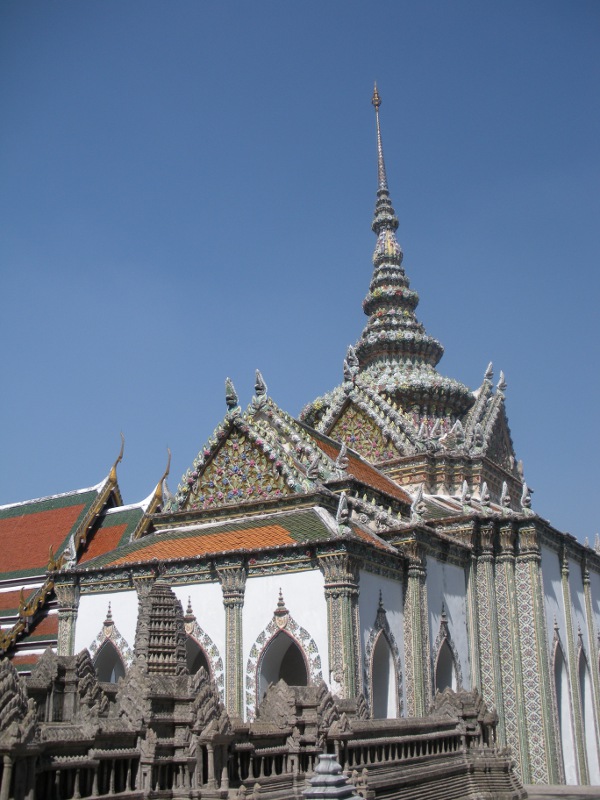 The grounds of Bangkok's Grand Palace are sprawling with dozens of gold-tinged, elaborate temples jutting up from the earth everywhere you look. Use the map that is provided to you with your ticket to put together a quick walking plan to hit each area of the temple. Since you're short on time, accept the fact that you're not going to want to go into every single building and temple. Not only does it take extra time to do so by having to take your shoes off each time you want to go in one, many are also small enough that you can peer in and get an idea of the ambiance and architecture without the hassle of untying and tying shoelaces.
What you must take time to disrobe your feet for is the Emerald Buddha, which is housed in Wat Phra Kaeo, a radiant, sparking jeweled temple built in 1782. Inside this stunning temple, amidst an array of gold decorations, sits the Emerald Buddha, who is not actually Emerald at all. The statue is made from jade, though the original discoverers of the statue thought it was emerald due to its green color. The Emerald Buddha sits at just 75 cm tall, but commands attention with its impressive wardrobe, which is changed seasonally. The off-season wardrobes can be seen in the Grand Palace museum.
Wat Pho
If you're disappointed by the small size of the Emerald Buddha, you're in luck. Just a short walking distance south of the Grand Palace is Wat Pho, the oldest temple in Bangkok – built in 1781 – and which houses the remarkably giant reclining Buddha, a golden statue sprawling through the long temple. Wat Pho is open daily from 8am-6pm and admission is 50 Baht.
The Street Food of Bangkok
After leaving the Palace, walk down Th Na Phra Lan toward the river and you'll come to a small square full of sizzling heat and exotic smells. Highlighted here is a Bangkok food staple – street stall cuisine. Choose from an array of food, such as impossibly tender pork on a stick, Tom-Yum soup served fresh and hot, chicken breast roasted and marinated onsite, and a bunch of other food stands that look scary from a hygiene perspective, but are worth getting over any hesitations. The food is amazing – and incredibly cheap.
The Shopping of Bangkok
After your history lesson and your snack at the palace, you're ready for a modern-day cultural lesson: shopping. Yes, you may only have one day in Bangkok so shopping may seem a silly way to pass the time, but the essence of Bangkok's social culture is found in Bangkok's malls.
From the cheap stands lining the mall floors to the behind closed doors allure of designer shops to massive food courts, Bangkok highlights the upper class lifestyle Bangkok's citizens are striving for and achieving – and socializing outside the doors of luxury if they can't. The pathways of malls are lined with locals lounging on benches, hanging out, having conversations, and sometimes browsing in the stores.
Siam Paragon mall located across from Siam square is a Bangkok institution. Level after level of stores line the mall including lower end labels such as Zara to high-end shopping at the likes of Burberry and Chanel. There's even a Ferrari dealership on one of the upper levels. The new Terminal 21 mall located in downtown Bangkok is also worth a quick escalator ride to each level for a look around as each floor is designed around a different city.
Food of Bangkok Tip: Bangkok mall food courts are not your typical food court. They offer everything from coffee bars (order a Thai iced coffee) to pizza to quick Asian meals ordered at a counter to well-reviewed Thai restaurants where you sit down and are served.
If you have extra time in Bangkok and love traditional architecture and decor, consider adding the Jim Thompson House to your itinerary.
The Nightlife of Bangkok
Rooftop bars, chill hangouts, dance shows, and more await you if you're lucky enough to spend the night in Bangkok. The aforementioned Sky Bar at the top of the State Tower building is amazing to go to for one or two drinks as it offers vertigo-inducing views of the city from its clear ledge rotunda on the 64th floor of the building. Be warned: stay for much longer than a couple drinks and you'll quickly have a hurting wallet. And no jeans or flip-flops, they have a strict dress code. Another fun rooftop bar that is a bit more casual and has a trendy garden-vibe is the Nest. They also have a dance floor so you can work off all the calories from the street food and mall food courts you've consumed.
Some fun places to check out in Bangkok for a chill night out is Cheap Charlie's – a small, outdoor haunt serving cheap beers located off of Soi 11 that is popular with expats who may share their stories of living in the city. Zanzibar, also off of Soi 11, has a neat ambiance under a canopy of trees and delicious cocktails plus a cigar menu. For an evening dinner that you'll never forget (or possibly pay off), a reservation at the restaurant adjacent to Sky Bar, Sirocco, will result in an incredible dining ambiance on their rooftop patio. It will probably set you back several hundred dollars – at least. On a budget like the rest of us? You can always grab a snack from one the street stall food vendors outside the bar you end up at to while the night away or on your way back to your hotel. Your one day in Bangkok will excite, thrill, and exhaust you – but it will have you eagerly anticipating a return trip to get into the bustling energy of the city all over again.
Where to Sleep in Bangkok
Hopefully you'll be able to stay overnight in Bangkok so you can really experience the nightlife. If so, here are a couple places I recommend.
This is where I stayed in Bangkok and I loved it! Accommodations are pretty affordable in Thailand so this was a great deal for a boutique-style hotel on a quiet side street in central Bangkok. The rooms were comfortable and bright while the lobby had a small cafe and cute little seating area.
Since accommodations are relatively affordable in Bangkok, this may be the one place you want to splurge for a true luxury hotel experience if your budget can handle it. My luxury hotel pick for Bangkok is the Peninsula Bangkok. It's like a tropical oasis in the middle of skyscrapers — very cool.
You can also search for your perfect Bangkok hotel using Booking.com, which is one of my favorite hotel booking sites. It's easy to use, has competitive rates, and most hotels let you book through Booking.com without paying until you arrive (with free cancellation).
One Day in Bangkok Quick Tips
Currency: Baht
Language: Thai
Getting There From Bangkok Airport: Get your luggage and just keep taking the "travelators" down until you reach the Express train. 150 Baht round trip.
City Layout: Streets are divided into two types – "Soi" and "Th". Familiarize yourself with where things are off Sukhumvit – you'll spend a lot of time there.
Transportation in the City: The Skytrain which serves Sukhumvit and Silom areas and the metro (MRTA) which expands a bit farther out from the Skytrain's two lines and connects with the Skytrain in Mo Chit station.
Found this article helpful? Pin for later!

Note: This article was originally published on May 15, 2012; updated October 8, 2015.
✕
Upgrade Your Travels
Learn how to create a 5-star travel experience on any budget with my eBook, yours FREE when you sign up for my newsletter, which features exclusive travel tips and stories.