Local's Guide to the Best Things to Do in Bath in 24 Hours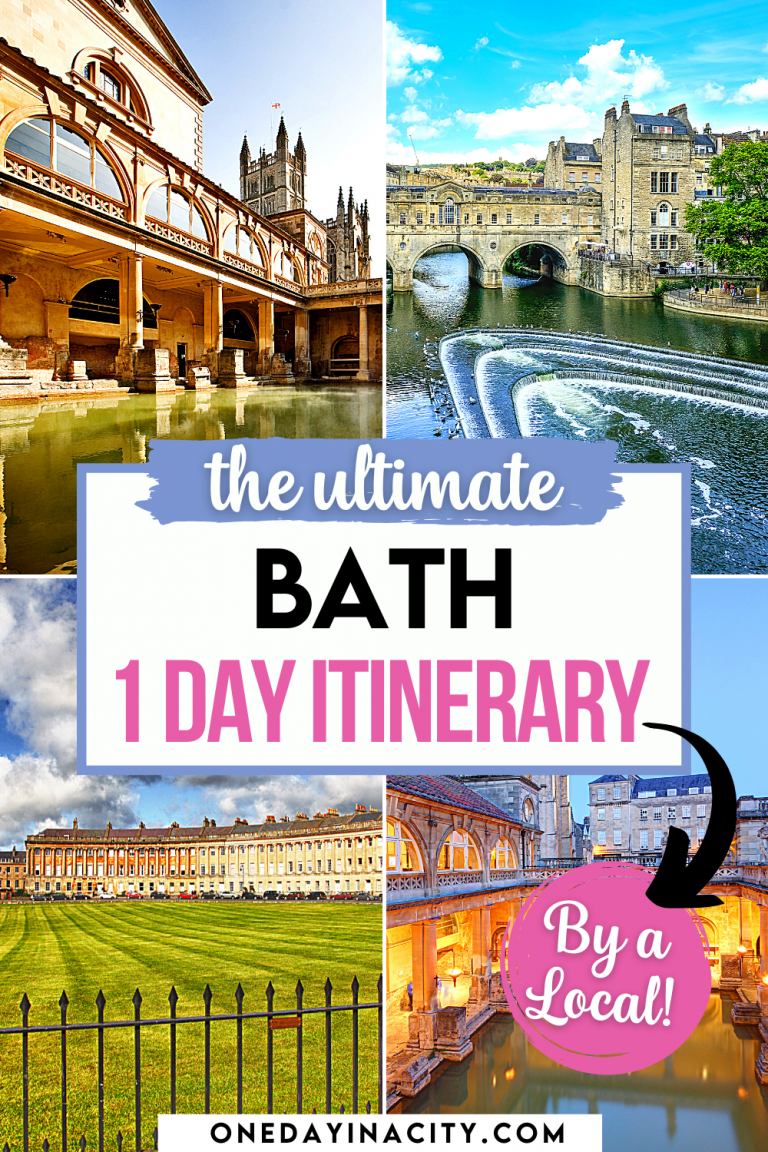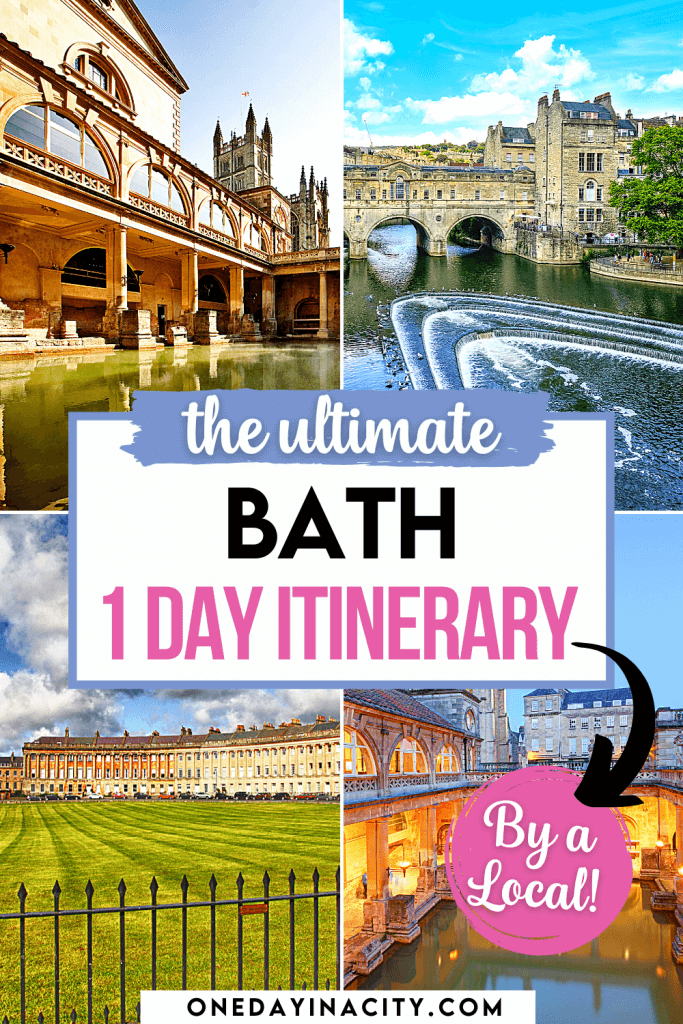 Bath, England is one of the best cities to visit in the whole of the United Kingdom and is a great day trip from London, or as its own overnight 24-hour getaway.
With Bath's majestic buildings harking back from the Georgian era, a 16th century Abbey, and ancient Roman bathhouses, it's hard to imagine a place more historic, making Bath a wonderful place to spend a day.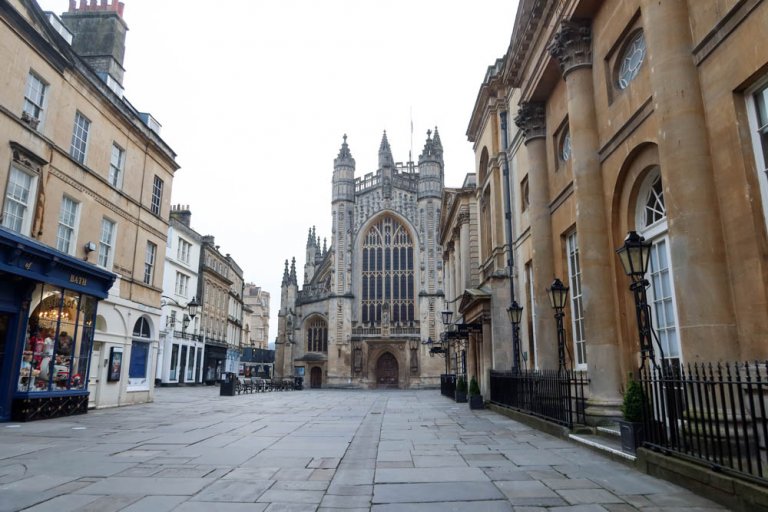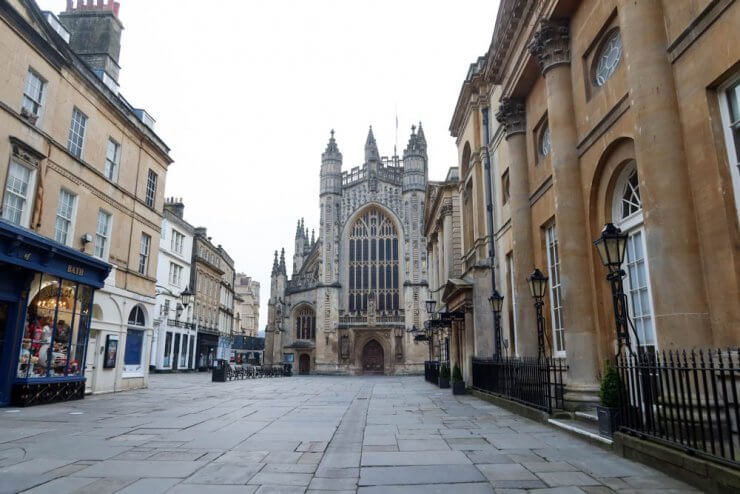 History is everywhere in Bath, but the city offers a lot of modern leisure activities as well, which you can easily do even if you have just one day in Bath to spend. These modern activities range from Bath's restaurants and bars to the relaxing Thermae Bath Spa, which is Britain's only natural thermal spa.
Although I would highly recommend spending a weekend in Bath so you can see all of the sights without feeling rushed, you can still easily see Bath's main attractions in just one day. To assist you in doing just that, read on for a detailed 24-hour Bath itinerary to help you pack in as much as possible into your day trip to Bath (plus some hotel options if you decide to spend the night in Bath, too).
How to Get to Bath
First off, where exactly is Bath, England?
Bath is easy to reach from a few cities in England and Wales, helping to make it an ideal day trip. Bath is less than two and a half hours' drive from London, two hours from Birmingham, two hours from Exeter, one hour 15 minutes from Cardiff, and only 40 minutes from Bristol. If you are visiting from any cities that are a bit further away, it's worth spending the night in Bath.
Parking is expensive if you are driving into Bath, although there are lots of options. Bath also has a clean air zone, so you need to pay to drive through the city center in some cars. To avoid this and for cheaper parking, I'd recommend using the Park and Ride service.
Bath is connected to Bristol and London by direct rail, and if you are doing a day trip from other cities, you can change in Bristol or other nearby towns. You can also take a National Express bus from London.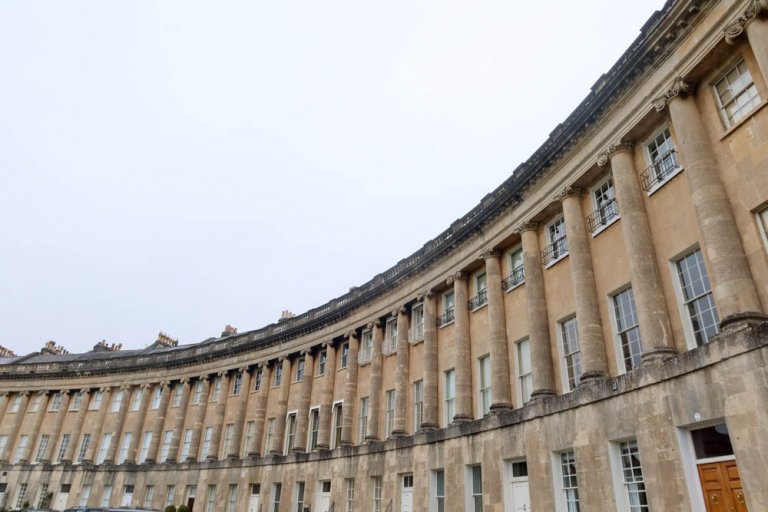 One Day in Bath Itinerary
Now for the 24-hour Bath itinerary you've been waiting for! Here are all the top things to do in Bath if short on time, plus tips on where to eat and where to sleep if staying overnight in Bath.
Breakfast at Boston Tea Party
Once you've arrived in Bath, we bet that you'll be hungry! Boston Tea Party is a popular cafe in the West Country. Founded in Bristol, it provides delicious breakfasts and lunches as well as flavorful coffee.
There are plenty of veggie, vegan, and gluten-free options – so whatever your tastes and requirements, Boston Tea Party is an excellent place to fuel up. And you'll need a lot of energy – this Bath day trip itinerary is action-packed!
Roman Baths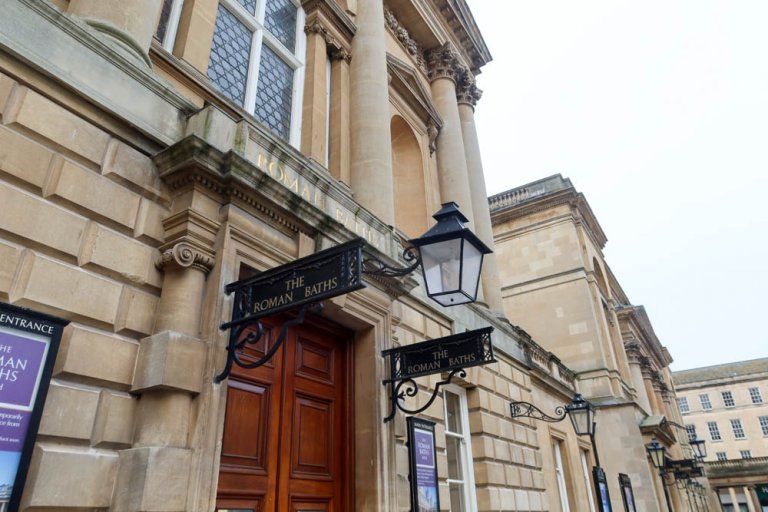 Start your day off by visiting the Roman Baths. This is the most famous attraction in Bath, and you can't miss it!
The Roman Baths date back nearly 2,000 years; they were built around 70 AD, around 30 years after the Romans first came to England. The Romans discovered Bath's natural hot springs and decided to make the most of them by building a vast spa town.
Some of the baths are still intact today, and you can see these and other Roman relics at the museum. I'd definitely recommend following the audio guide, as it will tell you all sorts of interesting Roman anecdotes.
Bath Abbey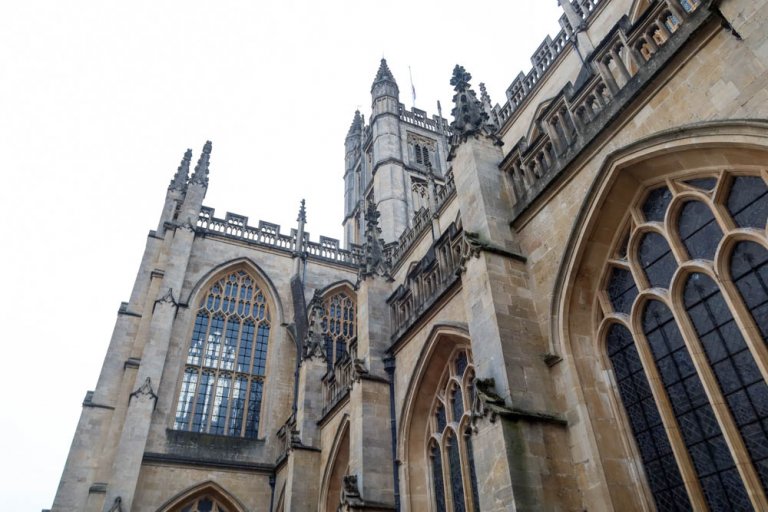 The Roman Baths are right by Bath Abbey, and it's well worth visiting after you leave the Roman Baths — even if you aren't religious.
The Abbey has a fascinating history: there used to be a Saxon Abbey on its site, then a Norman Monastery, but it fell into disrepair in Medieval times. In 1499, a bishop called Oliver King had a dream about angels descending an olive tree to reach earth. He interpreted this dream to mean that he should rebuild the Abbey.
He started doing so but had to stop when King Henry VIII dissolved the monasteries and changed the country's religion from Catholic to Protestant. This was so that Henry could divorce his first wife, Katherine of Aragon, and marry his second, Anne Boleyn — who he later beheaded!
It was eventually rebuilt during the time of Queen Elizabeth I (1558-1603). As a memento to Bishop Oliver king, there are engravings of olive trees, angels, and ladders outside.
Inside, there are beautiful stained glass windows and lots of interesting statues. If you are there at the right time, you could do a Tower Tour, which will take you to the top of the Abbey's main tower. From here you can enjoy a beautiful view over Bath.
Pulteney Bridge and the Weir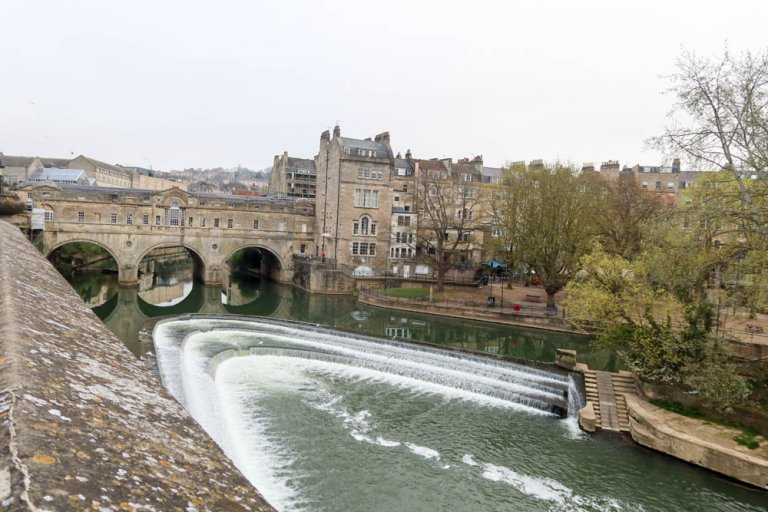 Pulteney Bridge is just behind Bath Abbey and is worth checking out while you're here. This is one of the only bridges in the world that is completely covered with shops.
It was built in the Palladian style by William Johnstone Pulteney in 1769. He wanted to make a new town on the other side of the river to rival Bath — this grand plan didn't end up coming to anything, but he did at least build the bridge!
Pulteney Bridge is also located just upriver from the Pulteney Weir, a uniquely v-shaped barrier built in the river in the 1970s to help prevent flooding.
Bath Coffee Break at Colonna & Small's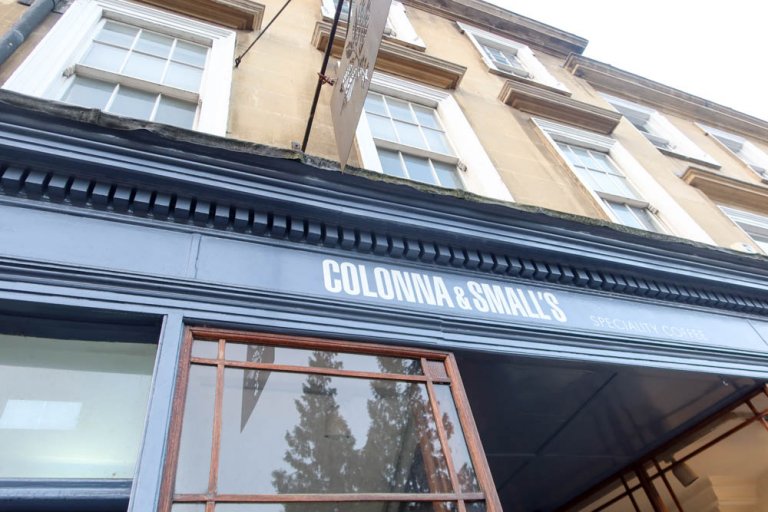 If you want to have a coffee break now, I highly recommend Colonna & Small's, which is less than a 10-minute walk west of Pulteney Bridge. This coffee shop serves delicious brews made from high-quality beans in a contemporary setting.
Walk Around Bath's City Center
One of the best things to do in Bath is to just walk around and admire the architecture, and I recommend doing this even if you're short on time. You can see the best of the historic and beautiful buildings of Bath simply by walking around the city.
Colonna & Smalls is right by Queen Square, so head to Queen Square first if coming from the coffee shop. The square is framed by Georgian buildings and was built in the early 18th century.
From Queen Square, walk up Gay Street, and you'll eventually end up in a circle of terraced houses. This road is called The Circus, and it is a perfect circle. These townhouses were designed by local architect John Wood the Elder in Palladian style in 1754.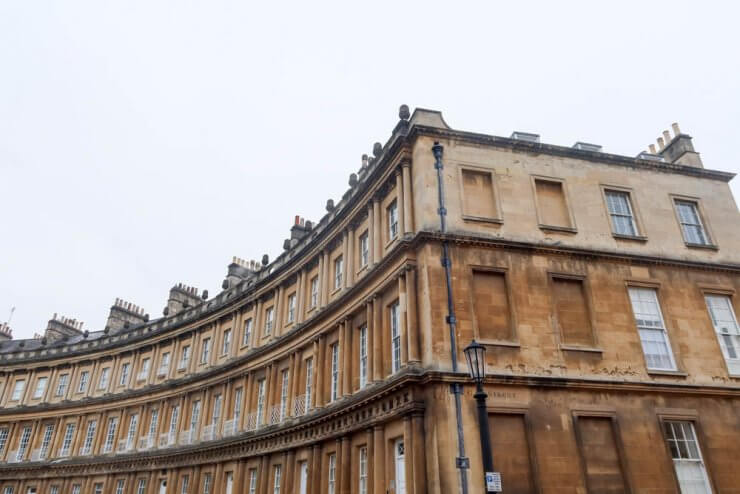 John Wood the Elder was very interested in Druidic history around Bath and designed the Circus to reflect their ancient stone circles, particularly Stonehenge in Wiltshire.
The architect sadly died three months after construction started, but his son oversaw the Circus and also designed the Crescent — which is next on the itinerary!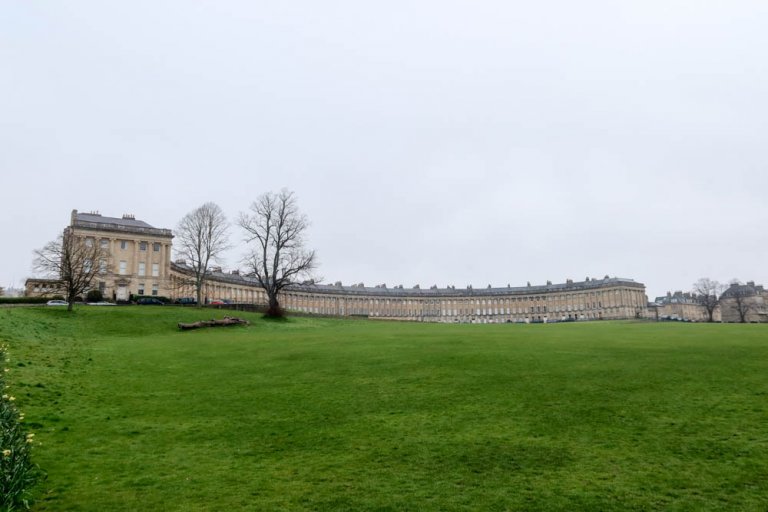 The Crescent is an iconic Bath scene. Located in the historic Victoria Park (named after Queen Victoria), this unspoiled crescent of houses has been featured in many period dramas and films; most recently, it was a filming spot for the popular Netflix show Bridgerton.
Tour Another Bath Museum
There are a few other Bath museums that you can see while visiting here – you've probably only got time to see one properly if you're just in Bath for 24 hours or less, but here are a few recommendations.
No 1 Royal Crescent
If you are a Bridgerton fan, this is a must-see – it was the home of the Featherington family. It's been a museum for years, though — long before Bridgerton was released — so it is also well worth visiting even if you haven't seen the show.
No 1 Royal Crescent is a house that has been remodeled to resemble what it would have been like in the 1800s. It's a great place to learn about this period of history and is fascinating for adults and children alike.
Jane Austen Museum
The Jane Austen Museum is an excellent place for book fans to visit. Jane Austen lived in Bath for a time, and some of her books were set here. In the museum, you'll be able to learn all about Austen's life and how she became such a popular novelist.
Fashion Museum of Bath
Bath's Fashion Museum is a must-visit for anyone who's interested in clothes and the history of fashion trends. It has several exhibitions that explore the relationship between popular culture and fashion and how clothing trends have changed throughout the centuries.
Afternoon Tea at the Pump Room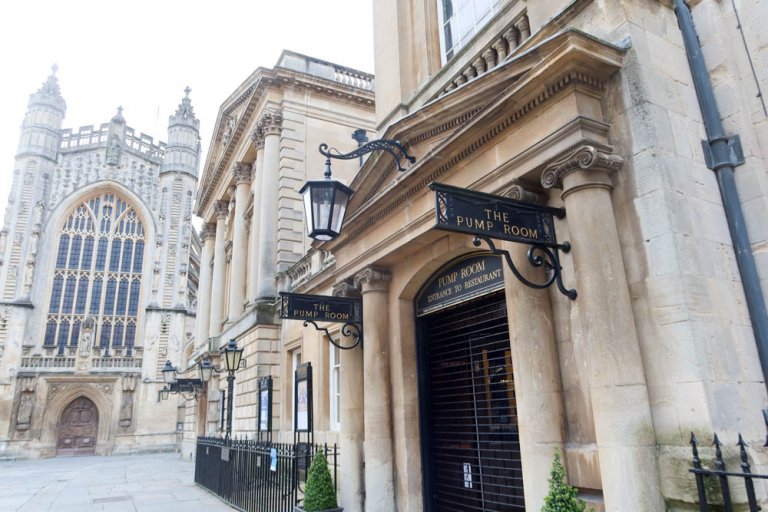 I bet you're hungry after so much sightseeing! Bath's pump house is the ideal place to enjoy a traditional afternoon tea. The Pump House is connected to the Roman Baths and is a historic restaurant, dating back to the 18th century.
You can enjoy delicious sandwiches, traditional cakes and, of course, plenty of cups of tea! There are options for vegetarians, although nothing vegan. There is usually classical piano music playing – pair that with the majestic architecture, and you'll feel like you're in another century!
While you're at the Pump Room, ask to try a glass of hot spa water, which contains 43 minerals and is rumored to have healed many ailments over the years.
Bath Thermae Spa
The only way to properly end a day in Bath is with a soak in the Bath Thermae Spa. Although this is the modern answer to the Roman Baths, it uses the same natural thermal spring that the ancient society discovered 2,000 years ago.
Bath Thermae Spa is huge. The best parts are the Minerva Pool downstairs, the four steam rooms all with their own scent, and the heated rooftop pool. Make sure that you leave enough time to enjoy the rooftop pool; you'll have an epic view of the city and be gloriously toasty and relaxed in the hot waters.
In addition to soaking in the waters, you can book massage and other spa treatment appointments, too. Be sure to make reservations in advance for treatments and for using the pools since this is a popular place.
Eating and Drinking in Bath
If you're not too full from your afternoon tea, there are some great restaurants in Bath. If you fancy Italian food, head to Sotto Sotto, an independently owned place serving amazing pizzas. Or visit Oak Restaurant for delicious vegetarian fare; try their five-course taster menu! Alternatively, Yak Yeti Yak is a popular Nepalese restaurant that has a delicious menu.
If you aren't driving home and want a few drinks, the Canary Gin Bar is the place to go for all things gin. Or, visit the Bath Brew House, which has an on-site microbrewery and serves up delicious local ales.
Leaving Bath After a Day Trip
The last train from Bath to London leaves at around 10pm, and it's around 11pm for the last train to Bristol, although these times are subject to change so check on National Rail to find out exact times and confirm that there are no delays or cancellations.
Coach times vary depending on your provider.
If you are driving, I would recommend waiting until after 7 p.m. to leave to avoid rush hour.
Staying Overnight in Bath
Planning to spend the night in Bath? Here are some top-rated hotels to stay at for a variety of budgets:
Gainsborough Bath Spa: A Luxury Hotel That Embraces Bath's Spa Culture
If you want to splurge and really embrace the spa atmosphere of Bath, then a stay at the swanky Gainsborough Bath Spa is a must. It's a 5-star hotel that has an onsite spa and mineral pool. The pool is definitely what helps to make this place special since it is the only hotel in the United Kingdom that has a naturally thermal heated pool on its premises. It's also located just 350 feet from the Roman Baths, making this a convenient place to stay for sightseeing in Bath, too. And, as you might expect from a 5-star hotel, the rooms are also gorgeously appointed.
—> Click here for pictures and prices for Gainsborough Bath Spa – YTL Classic Hotel
The Bird, Bath: a Boutique Hotel with Colorful Touches
The Bird, Bath has decor as fun as its name. This is more of a mid-range boutique hotel, with glam, eccentric decor that makes your stay feel unique and like its a destination unto itself. But the city of Bath is of course still a big focus and this hotel is just a few minutes walk from the city center. There is also a parking area, a lovely terrace, a gourmet restaurant, and even cool "Dining Domes" you can reserve for an unforgettable eating experience.
—> Click here for pictures and prices for the Bird, Bath boutique hotel.
Z Hotel Bath: A Budget-Friendly Hotel Right in the City Center
Z Hotel is located right in the city center. It has clean, simple rooms with contemporary decor at a great price. From the hotel, it's roughly a five minute walk to Pulteney Bridge, Jane Austen Centre, and Queen Square. Plus, you're right by many bars and restaurants for some evening entertainment and nightlife. There is no parking onsite at this hotel so those driving to Bath will need to find a nearby parking lot.
—> Click here for prices and photos of Z Hotel Bath.
Bath is a must-visit city in the UK, and the good news is that you can see most of it in just 24 hours! Hopefully this article has shown you how to explore Bath if you only have a day, but also enticed you to visit and see some more of it another time!
About the Author: Claire is a South West England travel expert. She currently lives in Devon, but has spent time living in Bristol and Bath. She blogs about the region on her blog Go South West England, where she aims to help both international travelers and locals wanting to explore their own backyard. You can follow her on Facebook or Instagram.
Found this article helpful? Pin to read again later!