How to Spend 24 Hours in Bogotá, Colombia
Colombia's capital city, Bogotá, is also the country's largest city. In addition to serving as the seat of the government, it is a cultural center with a wealth of things to do, making it an ideal place to visit even if you only have time for one day in Bogotá .
Set in a valley between the northeastern roots of the Andes Mountains, Bogotá's surroundings are surprisingly pretty given the size of the city and its reputation for being grungy.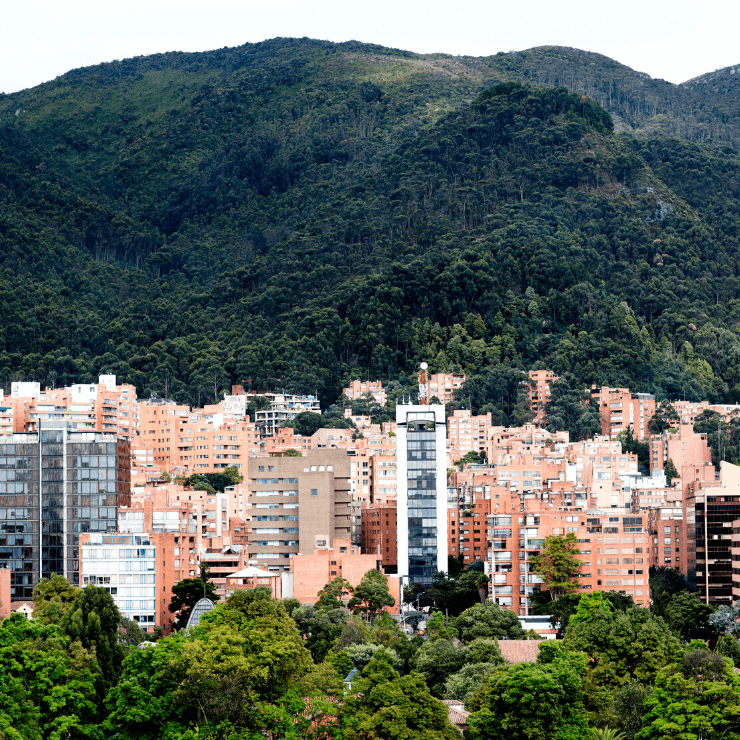 While often not as highly considered for a vacation destination as other major cities in Colombia like Cartagena or Medellín, or smaller nature destinations like Minca, Bogotá is still well worth a visit and I'll share why you should spend a day in Bogotá even if short on time in Colombia.
While you will only scratch the surface of all there is to see in Bogotá in just 24 hours, you can still get a feel for the city's culture and experience some of its top things to do and see.
One Day in Bogotá Itinerary
Have Coffee at Amor Perfecto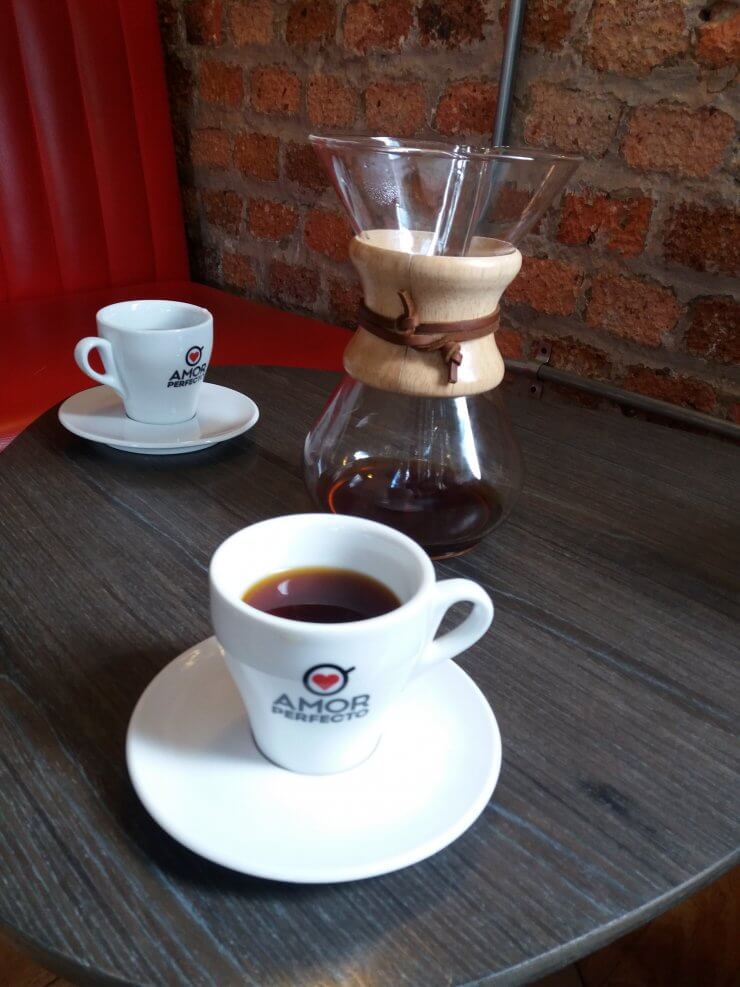 Begin your day with some delicious coffee. Colombia is famous for its coffee. At Amor Perfecto, you can get terrific, single origin coffee from different parts of the country, each with its own distinct flavor profiles. You can also get it served in a variety of preparations, including Amor Perfecto's innovative Aero Press.
They also have pastries and other breakfast foods, making this the perfect way to start your day. There are locations in Chapinero, in Usaquen, and inside the Librería Lerner near Parque 93.
Visit the Hill of Monserrate
I would suggest visiting Monserrate after breakfast as the first thing to do during your one day in Bogotá. At the top of the hill, there is a pretty chapel and gardens where you can follow the Stations of the Cross.
The highlight though, is the beautiful view of the city you get from atop the hill. It's impressive seeing such a large city from so high up that it looks small. You can easily get a taxi from downtown to the entrance where you can head up in the cable car.
See the Street Art on the Callejón Embudo
From Monserrate, head to La Candelaría, Bogotá's historic downtown. You can walk down from the entrance of Monserrate, but since you only have 24 hours in Bogotá, it's best to hop a cab.
Ask to get out at the Chorro de Quevado Plaza, where the city was founded. There you will see a small plaza in front of a restored, colonial era church.
From there, head down the narrow alleyway of Callejón Embudo. There, you'll see some of the most well known street art in Bogotá. 
There are also several little cafés along the alleyway where you can stop in for coffee if you didn't get it at Amor Perfecto (or to get another if you just love coffee like I do).
Visit the Plaza Bolívar
A short walk from there, you will find the city's central, historic plaza. In the center is a statue of Simón Bolívar, and you'll find around the plaza the National Cathedral, the Supreme Court, and the Capitol building where Colombia's Congress meets. They are all majestic buildings, and you'll get some great pictures here.
Try Some Ajiaco for Lunch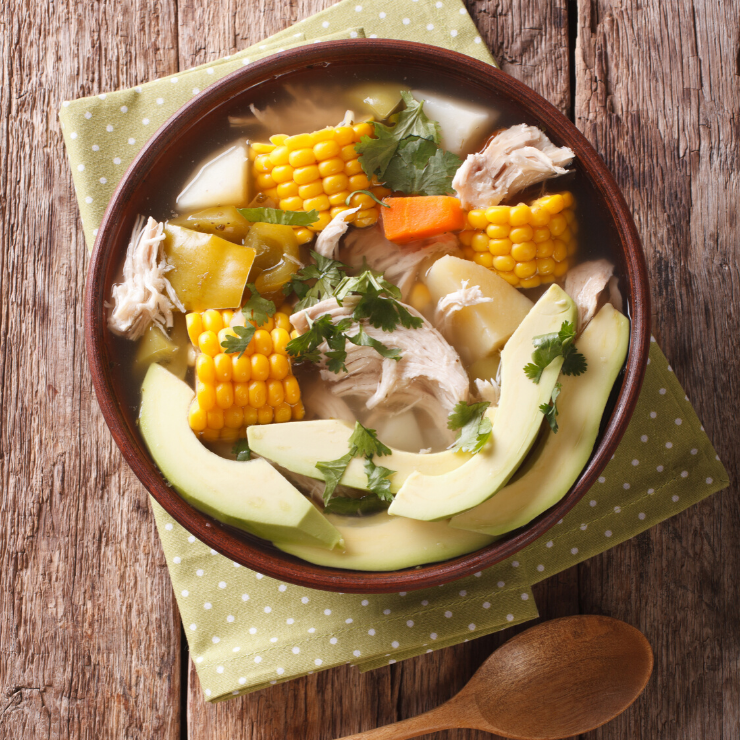 At this point, you are probably ready for some lunch. All around La Candelaría, you'll find restaurants serving up traditional Colombian fare.
While spending your 24 hours in Bogotá, you have to sample some Ajiaco, a soup featuring chicken, potatoes, and corn served with a slice of avocado and topped off with capers and a drizzle of cream. Not only is it a great chance to try a traditional dish from Colombia's interior, but it is also a nice way to warm up if you're experience some of the chillier weather that is common in Bogotá.
Visit the Fernando Botero Museum
A few blocks from the Plaza Bolívar, you'll find the Botero Museum. Colombia's most famous artist, Fernando Botero is most well known for his distinct style of drawing and sculpting people, commonly considered "fat."
Botero donated many of his own works and those from his personal collection to the Colombian nation, and you can find them on display here.
The museum is always free to enter. Besides lots of examples of Botero's own works, you can also find works by Dali and Picasso on display here.
Next door, you can also see a small mint museum with historic examples of Colombian coins and mints.
Visit the Gold Museum
A few blocks away from the Botero Museum, Bogotá's Gold Museum is one of Colombia's most well known attractions. It undoubtedly has to be included in any one day itinerary for Bogotá.
Colombia's indigenous peoples were expert goldsmiths, and you'll see many interesting examples of their work on display in the museum. The neatest is an ornate model of a boat complete with little gold figurines. You'll also get to learn a bit about the indigenous people's history and culture here.
Other Things to See in La Candelaria
Depending on how much or little time you've spent at these stops so far, it's likely late in the afternoon already. If you do still have some time to explore during your day in Bogotá, here are some other nearby things to see in La Candelaria.
The Casa Nariño Presidential Home
The Casa de la Independencia a museum devoted to Colombian Independence
The San Agustín, Santa Barbara, and Santa Clara Churches, all located within a couple blocks of the Plaza Bolívar
Have Dinner at Andres DC
Andres Carne de Res is one of Bogotá's most famous restaurants. Sort of like a mix between a Colombian Hard Rock Café that actually has great food and nightclub, it's a steakhouse with a lot of attitude.
The original location is located in the Bogotá suburb of Chía, but they more recently opened a location in downtown Bogotá called Andres DC, which will be much easier to visit if you only have 24 hours in Bogotá.
The steaks are really delicious, and the larger portions are enough to share since prices here are on the higher end. If you're feeling up for it, you can also hit the dance floor and enjoy some Aguardiente, Colombia's best known liquor after eating.
Try Some of Colombia's Most Famous Craft Beer
Bogotá Beer Company (BBC) is Colombia's largest craft beer company, and their beer is very good. My personal favorite is the Septimazo IPA because I'm a big fan of IPAs, but their Chapinero Stout and Cajicá Honey Ale are also great. Oh — and definitely don't miss the seasonal Macondo Coffee Stout if they happen to have it in stock.
You can find a Bogotá Beer Company location not far from Andres DC in the area known as Zona T. There are a slew of terrific restaurants around here as well if you decide you want a different option from the party atmosphere at Andres.
You can also head up to the area around Parque 93 where there is another BBC and lots of restaurant options nearby.
If you are a craft beer nut like me, others to look for during your single day in Bogotá include Chelarte, Tomahawk, and 13 Pesos. Chelarte has their own brewpub very close to Parque 93.
Unwind Around the Parque 93
Parque 93 is also the best area to unwind in the evening.  Besides the aforementioned BBC, Chelarte, and lots of restaurants, there are also other trendy pubs and bars as well as night clubs in the area in the vicinity of Parque 93. That makes it perfect for winding down as there's something for everyone's style, whether you prefer fancy cocktails, craft beer, or getting your dance on.
Where to Stay in Bogotá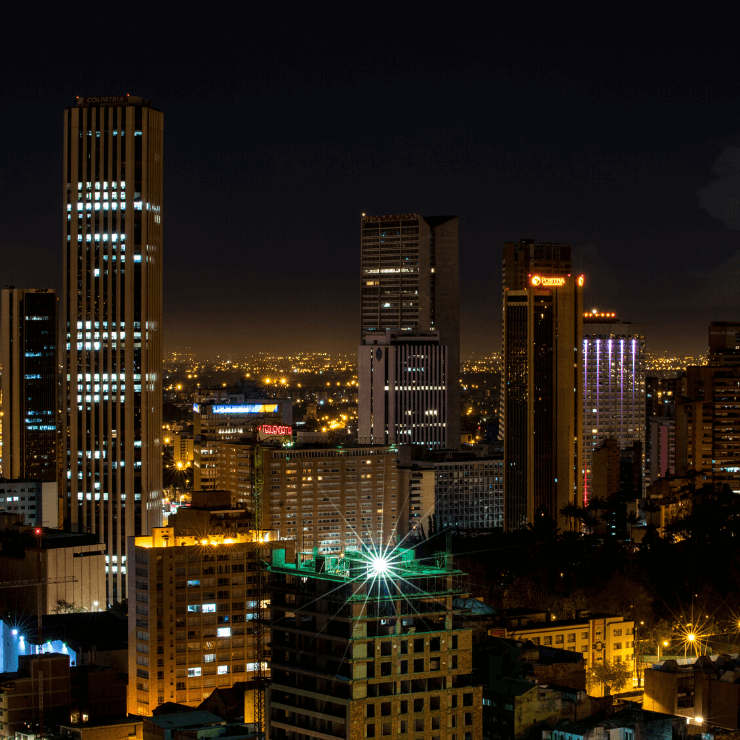 After that completely packed way to spend one day in Bogotá, you'll be worn out for sure and ready for some sleep. Here are some suggestions for where to stay in Bogotá.
Chapinero
This area is where many of the city's universities are located, giving it a nice blend of middle class residents and students. It's generally plenty safe to walk around, even at night. There are also a variety of nice little cafes and restaurants, perfect if you'd prefer to have a quieter night than the suggestions above.
The last time we visited Bogotá, we stayed at the 6 Suites Hotel, which was a nice, cozy little hotel in Chapinero and one I'd definitely recommend. It's also a great value.
Other hotels of note in Chapinero include the Bogotá Hilton and JW Marriot.
La Candelaria
The historic downtown of Bogotá tends to be popular for younger travelers and backpackers as many of the city's hostels are located here. There is some petty crime at night in La Candelaria, so be careful.
Some of the best-known hostels here are Selina, the Hostal Fatima, and The Cranky Croc.
Areas to Avoid
It is highly recommended that visitors avoid staying south of La Candelaria. These areas are more dangerous and far from the main tourist attractions.
Enjoy Your Time in Bogotá!
There you have a complete guide for how to spend just one day in Bogotá. I hope it helped you plan your 24 hours in Bogotá!
About the Author:  Adam McConnaughhay has lived in Colombia since 2011. He works as a school teacher and writes primarily about Cartagena as well as other destinations in Colombia at www.cartagenaexplorer.com. You can also find him on Facebook and Pinterest.