Top Things to Do in Buenos Aires in One Day Put Together By a Local
Today, I'm excited to share an article written by Erin Mushaway, a fellow travel blogger who lives in Buenos Aires, with her tips on how to spend a day in Buenos Aires when short on time. Hope you find it helpful! -Gina 
To see all of Buenos Aires in one day is a daunting task as it's a massive, sprawling city. But if you're up to the task and ready to hit the ground running, you can absolutely see most of the highlights of Buenos Aires in one day. Famous for being the Paris of South America, it's a city filled with European influences mixed with the grit and liveliness that you can only find in Latin America. So, lace up a pair of comfortable walking shoes and let's get the day started. This one day in Buenos Aires itinerary is jam-packed with top things to do, so start the day as early as possible so you can squeeze it all in.
Buenos Aires, Argentina One Day Itinerary:
Breakfast at Café La Biela to Start Off Your One Day in Buenos Aires
600 Quintana Avenue
Start your morning early with a light breakfast, just like a local. Order a coffee, toast, and pastries (called "facturas" in Argentina) at La Biela, a historic cafe in Recoleta. This traditional cafe has been open since 1850 and is a piece of history. If the weather is nice, grab a table outside to enjoy the view of the famous Recoleta Cemetery across the plaza. You can eat under the shade of the branches of the oldest tree in Buenos Aires. It's a rubber tree that stands just outside of La Biela. Its largest branch is supported by a metal Atlas statue.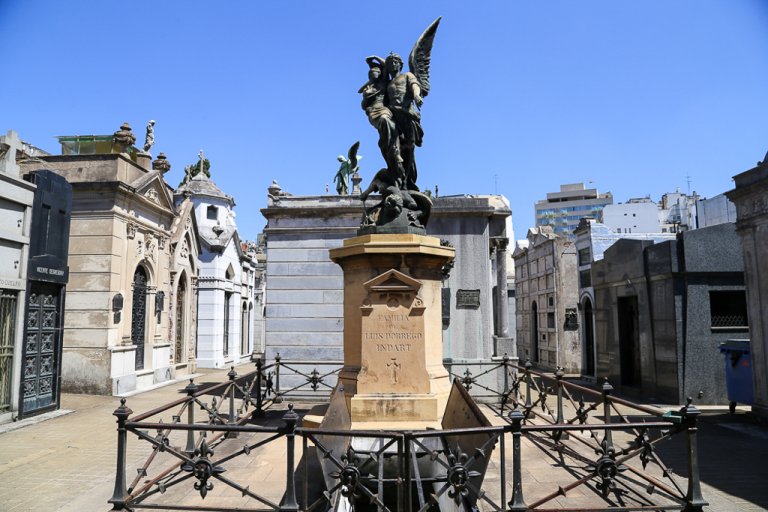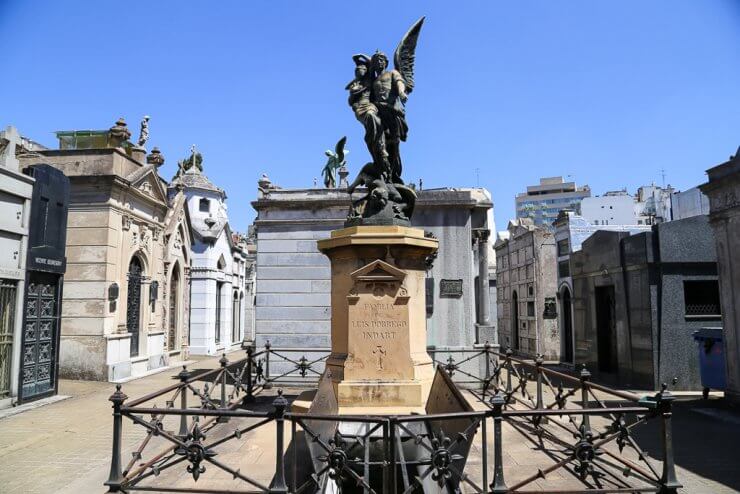 Visit Recoleta Cemetery
Junín 1760
After breakfast, explore the labyrinth of the infamous Recoleta Cemetery. The cemetery and its neighboring basilica were founded by monks from the Order of the Recoletos in the 1700s. The mausoleums and crypts contain past Argentine presidents, Nobel Prize winners, and even Napolean's granddaughter. Its most famous inhabitant is without a doubt Eva Perón; search for her grave marked with her familial last name of Duarte. Allow yourself to get lost here, explore the alleyways and passageways filled with well-kept crypts contrasted against abandoned, decaying mausoleums (their families have likely died out and there is no one left to maintain it).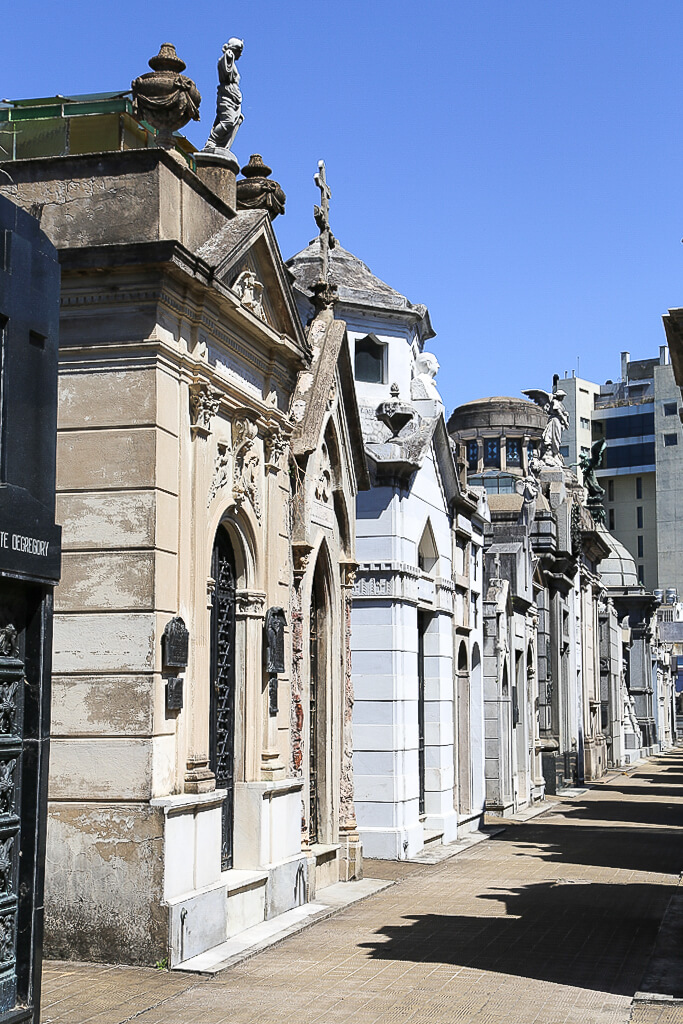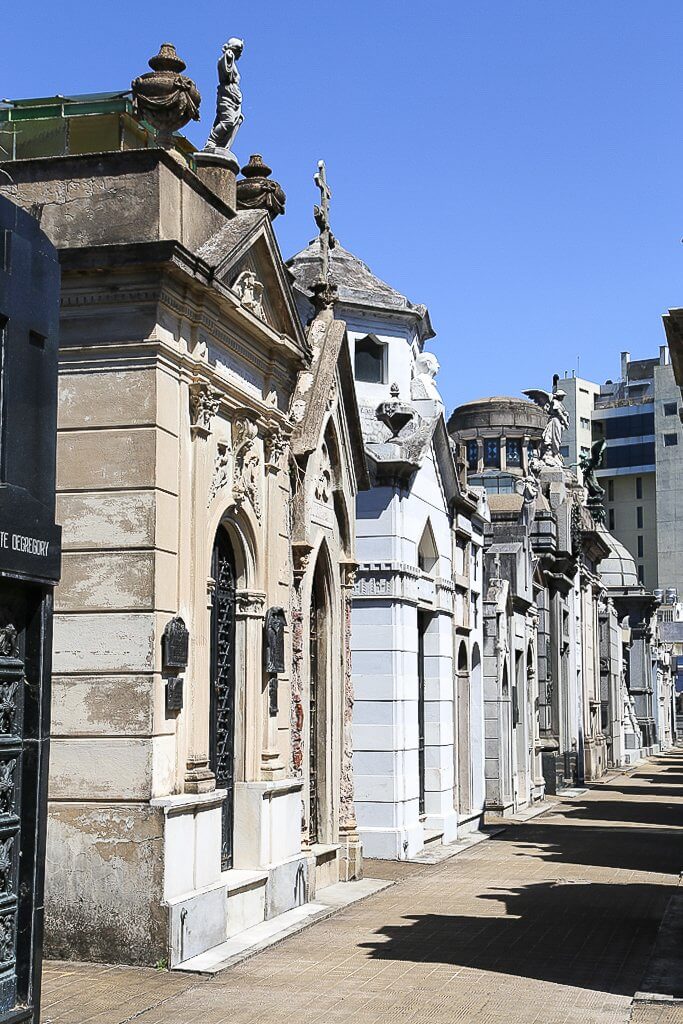 Take a Scenic Walk During Your One Day in Buenos Aires
Stroll down Avenida Alvear
Leaving the cemetery, cross the plaza to take a walk down luxurious Alvear Avenue. The mansions lining this avenue and its surrounding streets are where the nickname of Buenos Aires being the Paris of the South was born. Today they house luxury hotels, designers shops, jewelry stores, and even the Vatican Embassy.
Amble along 9 de Julio Avenue & The Obelisk
Avenida Alvear will lead you to 9 de Julio. Named after the date of Argentina's Independence Day, this 140-meter wide avenue is the widest avenue in the world. Turn right and take a walk towards its main attraction, the emblematic obelisk in the center of the avenue, at the intersection of Corrientes Avenue and 9 de Julio. The obelisk marks the place where the Argentine flag flew for the very first time in 1812. Here you'll feel the contrasts of the city, as it feels like a completely different city than the mini-Paris of Alvear and Recoleta. Here it is very urban, filled with traffic and people rushing to and from work. Take some photos at the obelisk then turn left down Corrientes Avenue to make your way to the pedestrian street, Florida Street.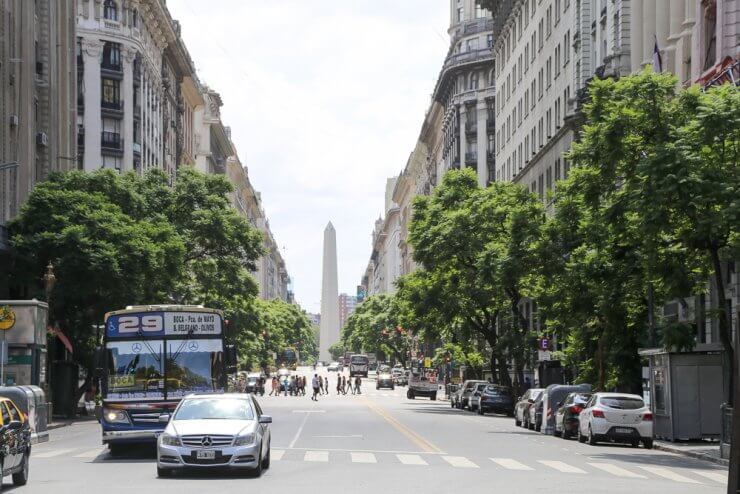 Delicious Buenos Aires Lunch
By this point in the one day in Buenos Aires itinerary you've probably worked up an appetite, so here are some great options for lunch nearby.
Las Cuartetas – Av. Corrientes 838: Order a slice of cheesy pizza at this historic pizzeria on Corrientes Avenue. It's been open since 1932 and dishes up some of the best pizza in the city.
Dellepiane Bar – Luis Dellepiane 685: At just under 10 blocks from the Obelisk, perhaps you might want to hop in a taxi to this delicious hole-in-the-wall burger joint. In the past year, Buenos Aires has really fallen in love with the hamburger and countless burger bars have opened up across the city. Dellepiane Bar was one of the first on the scene and their burgers are truly spectacular.
El Gran Paraíso: Not hungry yet? Wait a little longer for this classic parilla in La Boca. Located just off the Caminito, you can have a traditional parillada (more red meat than you'll know what to do with).
Buenos Aires' First Paved Road: Florida Street
Ok, bellies full and recharged, Florida Street is located in the heart of downtown. A lot has happened on this stretch of earth over the centuries. In 1580, this was just a path from the river. Many, many years later it became the city's first paved road. You can still see a preserved section of the original cobblestone outside the Catedral subway station on Avenue Diagonal Norte. The street has been pedestrian since the beginning of the twentieth century. Don't miss the abandoned Harrods storefront, it was the only Harrods outside of London. It's a bustling, busy street, filled with locals and tourists alike. Walk down Florida until you reach Plaza de Mayo.
History Lesson at Plaza de Mayo & The Casa Rosada
You are now in the center of Plaza de Mayo, surrounded by Buenos Aires history. At the top of the square is the pink presidential palace, the Casa Rosada. On the opposite end, you'll see the Cabildo, which was the government seat during colonial times. On the corner of the square at the Diagonal Norte intersection is the Metropolitan Cathedral. The cathedral, with its imposing columns, looks more like a government building than the most important church in the nation.
The square has been around in one form or another since Juan de Garay founded the city in 1580. It's home to the country's many protests, where people take their complaints from Congress down Avenida de Mayo straight to the presidential palace. The two houses of government are connected by this main avenue in both functionality and symbolism.
Head to La Boca for Quintessential Buenos Aires
Hop in a taxi to La Boca to explore El Caminito. This is what you've seen in all of your guidebooks: the colorful streets and houses of La Boca. This is the port that welcomed most of the city's immigrants at the turn of the century. Spend a few pesos to take a picture with a tango dancer and explore the shops. Buenos Aires isn't a classic tourist city in that it doesn't have many tourist attractions, but El Caminito is an exception. It is very touristy. Most of the restaurants are overpriced and the quality isn't great (the lunch recommendation I made early is an exception to that rule!). La Boca also has some issues concerning safety, so stick within the confines of the two blocks geared towards tourism and visit during daylight hours.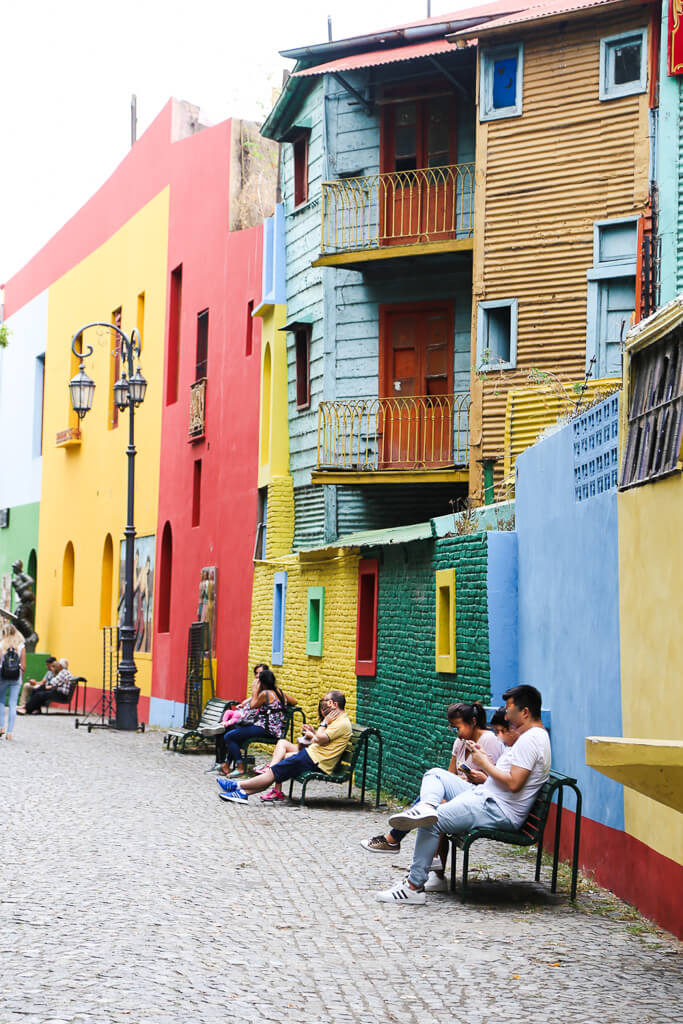 When you've had enough of El Caminito, take a taxi to Plaza Dorrego in San Telmo.
A Local Favorite: San Telmo
San Telmo is my favorite neighborhood in all of Buenos Aires, so what better place to end such a special (and busy) day? If you're visiting on a Sunday, peruse the weekly antique market. While the market takes place all day along ten blocks of Defense street, the actual antiques are only found in the stands set up in Plaza Dorrego. They begin to dismantle and put up shop a little before sunset. After sunset, every Sunday, at the back of the plaza a dance floor is set up. Locals come out to dance tango. This is a great chance to see authentic tango.
Not here on a Sunday? Don't worry. San Telmo is beautiful and worth a visit during the week when it's a bit quieter. Watch the sunset over the historic cobblestoned streets, then let's get to eating.
Where to Eat Dinner in Buenos Aires
Copetín at Bar El Federal – Carlos Calvo 599: Not quite ready for dinner or did you finish this busy day a bit earlier than anticipated? Hit up happy hour like a local with a copetín, a habit originating from Italian immigrants. Order a fernet and coke with a small "picada" (salami and cheese plate) to tide you over until dinner. Bar El Federal is the perfect place, their picadas are fantastic and you'll feel like you stepped back in time when you step inside.
Desnivel – Defensa 855: This restaurant may feel like a tourist trap, with its bright fluorescent lighting and world flags lining the walls, however it's anything but. Desnivel serves up my favorite steak in all of Buenos Aires. The menu is massive so focus on the "lomo" dishes, a cut similar to tenderloin. They have lomo with pepper sauce, creamy mustard sauce, and more.
La Brigada – Estados Unidos 465: Another great dinner option is just around the corner at La Brigada. Their steaks are so tender the waiter cuts it with a spoon before serving. I hear Francis Ford Coppola eats here whenever he's in town but that's purely anecdotal, I have no facts to back that up. But it has to be a good sign, no?
Post Dinner Coffee or Cocktails in Buenos Aires
It's been a long day, you've covered a lot of ground and I'm proud of you. If you want a coffee to help digest all that steak, walk down Defensa a few blocks to Bar Plaza Dorrego at Defensa 1098. I don't think they've changed their decor in a century. It's perfect.
If you'd prefer a cocktail to a coffee, take a taxi to Palermo Hollywood. You don't need any specific recommendation here, there are so many bars in Palermo that you can't go wrong. There's something for everyone and Palermo really comes to life at night. I, however, am not a night owl, so this is where I'll leave you. Enjoy the rest of your time in Buenos Aires, cheers! (Though first, here are a few hotel recommendations for your one day in Buenos Aires.)
One Night in Buenos Aires: Where to Sleep
Home Hotel – Honduras 5860: Home hotel is a great boutique hotel located in Palermo Hollywood. It's small and comfortable with a beautiful green backyard that will be the perfect oasis to escape the busy city streets.
Faena Hotel – Martha Salotti 445: If you prefer luxury and style when you travel, stay at the Faena Hotel in Puerto Madero. It's very fashionable and you'll receive impeccable service.
Milhouse Hostel – Avenida de Mayo 1245: If you're a backpacker, stay at the Milhouse Hostel on Avenida de Mayo. You'll be in the heart of the action and it's one of the best hostels in town.
About the Author: A Texan transplanted into Argentina, Erin Mushaway has spent a decade living abroad in Europe, the Caribbean, and South America, but mostly in Argentina. She has lived in Buenos Aires for the past eight years, perfecting her Spanish, drinking Malbec, and putting down roots with her husband and pets. You can follow her adventures on her blog, Sol Salute, and also on Facebook and Instagram. 
Found this article helpful? Share on Pinterest!