Expert's Guide to the Perfect 24 Hours in Cape Town, South Africa
Travel writer Roxanne de Bruyn grew up in South Africa, and I'm thrilled to have her sharing her top tips for visiting Cape Town when short on time. Read on for her perfect One Day in Cape Town itinerary!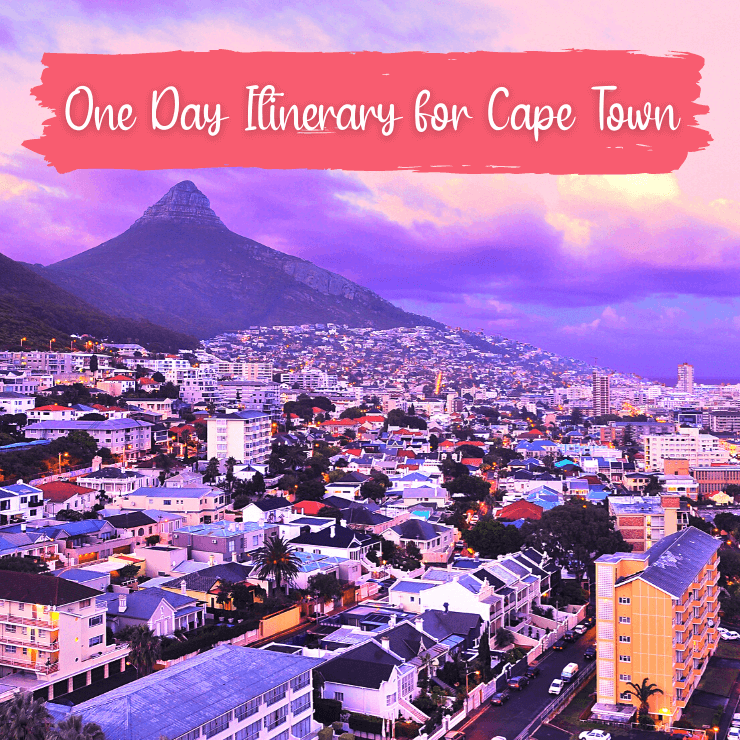 Known affectionately as the Mother City, Cape Town is the heart of South Africa. This is where European settlers landed in South Africa, and the city has a strong Dutch and British colonial past, mingled with the influences of all the other cultures that came to the Cape over the years.
If you're from a Western country, you may be surprised by how accessible Cape Town is. And no matter where you come from, you'll be enthralled by its beauty.
Nestled in the foot of Table Mountain, Cape Town is surrounded by white, sandy beaches and deep, blue oceans. Wherever you are in Cape Town, there's a stunning view just around the corner. This 1-day itinerary will give you a whirlwind tour through Cape Town's mountains, beaches and delicious food, with a small hint of its culture.
Getting Around Cape Town
A short note on transport: For this itinerary, you will need to hire a car and it's something I recommend to everyone who visits the city.
While you can use an Uber or the hop-on-hop-off city tour bus (public transport can be a challenge), driving yourself will help you get the most out of your short time in the city.
Also, some of the best things to see in Cape Town are a bit out of the city center, and so you really need a car to visit them all.
Table Mountain
Start your day early with taking a cable car ride up Table Mountain. From the top of the mountain, you can see the city spread out at your feet, with Signal Hill and the ocean in the distance. It's the perfect place to begin your travels in the city.
If you head up the mountain early enough, you'll beat the other visitors, and you'll be rewarded by beautiful views over the city while you eat your breakfast. The food at the café at the top is nice enough, but not the best in Cape Town.
The views, however, are spectacular, and you'll have many other opportunities for great food later in the day.
Go for a Scenic Drive Around the Coast
From Table Mountain, go for a drive around the coast. The road hugs the cliffs as you weave in and out of the bays, and the views of the water are stunning.
As you drive, you'll pass by a number of beaches and find yourself marveling at the clear water and white sand.
Just be warned: this is the Atlantic Ocean side of the Cape, and the water is incredibly cold, so don't be tempted to dip your toes in unless it's a really hot day.
When you get to Hout Bay, take the route along Chapman's Peak drive. Once again, the scenery is wonderful and many look-out points offer panoramic views, so stop to take photos.
Then, continue along the coast to Muizenberg, a long beach with white sand and a long stretch of charmingly colorful beach huts. A popular surf beach, the water here is much warmer (it's on the Indian Ocean side of the Cape) and it's a gorgeous place to take some photos before you head back inland towards Constantia.
Have Lunch at a Vineyard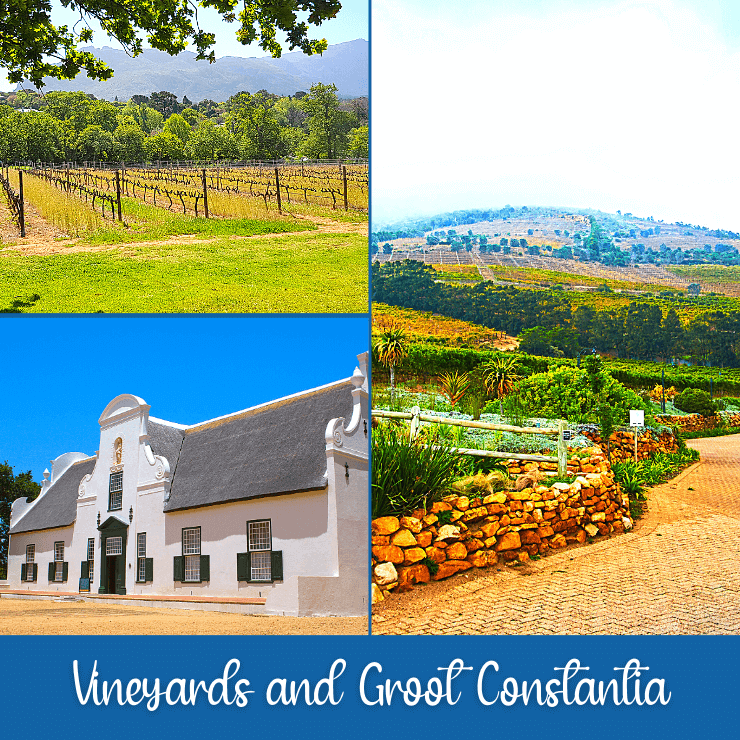 Generally speaking, the best wineries are in the countryside just out of Cape Town. However, the beautiful suburb of Constantia still produces wine, and it's definitely worth visiting while you're in the city. One of the oldest townships in Cape Town, Constantia has a number of large estates and colonial-style houses.
Finish your drive at Groot Constantia, South Africa's oldest wine estate. Groot Constantia has been producing wine since 1685, including Napoleon's favorite wine, Grand Constance (a French translation of "Groot Constantia").
The old Dutch-style manor house is now a museum with stories of the history of the winery and the people who lived and worked there, including the slaves who worked on the estate. The homestead is decorated in an 18th and 19th century style and is beautiful to walk through.
The estate is also home to two excellent restaurants with a wide range of wines. Enjoy a leisurely lunch outside overlooking the vineyards and rolling hills.
Take a Walk in Kirstenbosch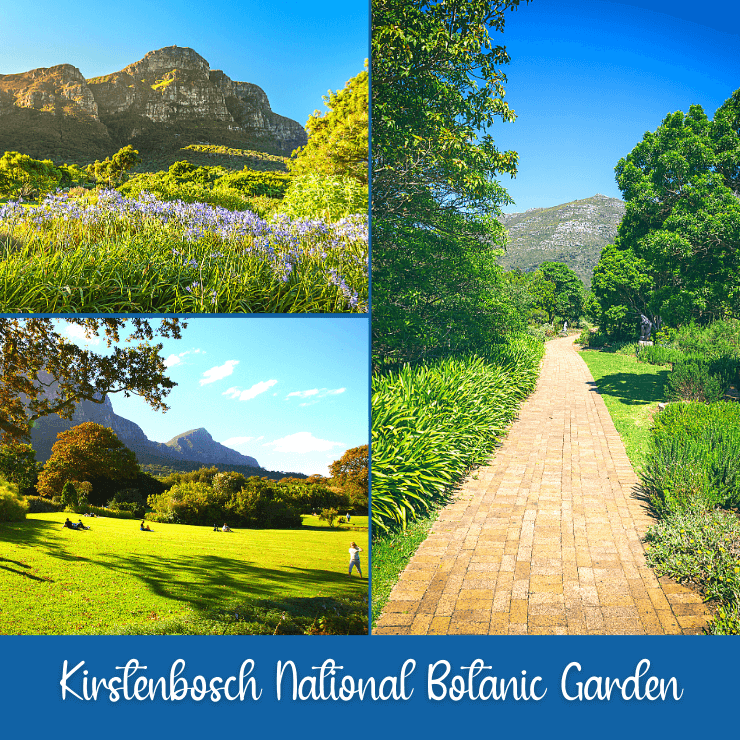 After lunch, it's a short drive to Kirstenbosch National Botanic Gardens, which is nestled at the foot of Table Mountain.
Recognized as one of the greatest – and largest – botanical gardens in the world, Kirstenbosch puts a huge emphasis on indigenous plants.
There are many routes to take through the gardens, many with stunning views of the surrounding area, and it's a wonderful way to see some of South Africa's native trees and flowers.
There are also a couple of cafes in the park if you want a cold drink or coffee to keep you going.
You could easily spend hours here, relaxing in this peaceful setting, however, as the afternoon ends, it's time to head back to your hotel for a quick change before dinner. Hopefully you're spending 24 hours in Cape Town so you can enjoy the nightlife!
Head to Sea Point for Drinks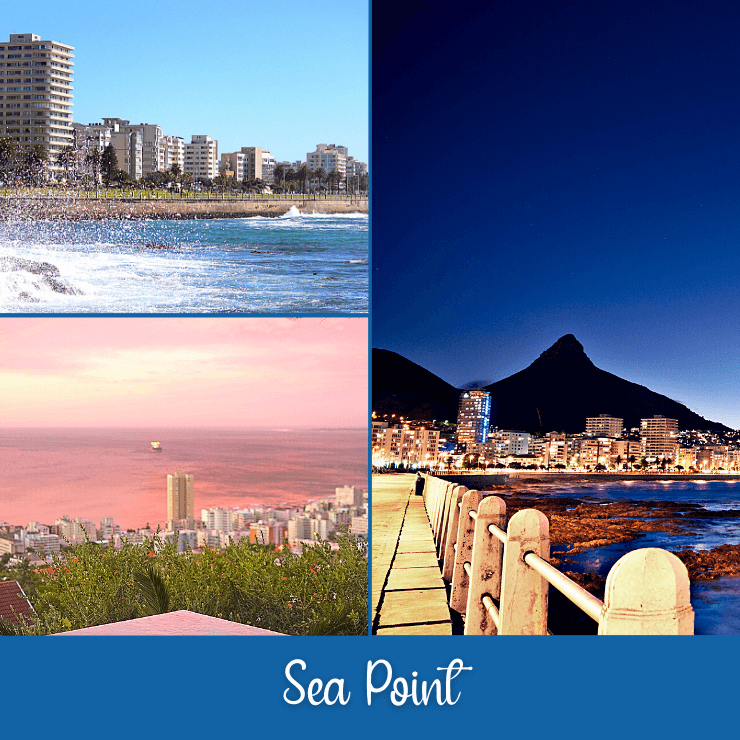 This is the point in the itinerary where you may want to drop off your car and rely on Uber for the rest of the night. Start your evening with drinks at a bar in Sea Point or Green Point.
People watch and enjoy the atmosphere with a few cocktails at one of the stylish bars. There are plenty to choose from, but if you doubt try Strolla for a relaxed, fun vibe or Harvey's for wonderful sea views.
From there, it's a lovely walk along the promenade to the V&A Waterfront for dinner (or take an Uber if you've done enough walking for one day).
Have Dinner at the V&A Waterfront
For dinner, choose the V&A Waterfront, with its wealth of restaurants and amazing views of both the harbor and Table Mountain. Yes, it's touristy, but there are still many excellent restaurants there. From seafood to steakhouses, there's something for all palates and with so much good food out there, it seems to be doing them a disservice to just recommend one or two.
However, since you are in Cape Town for just one day, it could be worth splurging on a seafood restaurant – Firefish, Sevruga, and Baia are all very highly rated. Otherwise, you can taste some South African food at Karibu or Signal.
Enjoy a Night Out on Long Street
If you still have energy after dinner, take an Uber to Long St. for drinks and dancing.
This is Cape Town's oldest party street and you'll find a range of bars and nightlife options along the street all open until late. From Irish pubs to cocktail bars, you'll find them here.
Or, if you'd like a taste of Cape-style jazz, you may find live music at the Crypt, just around the corner.
Regardless of your choice, you'll find plenty to keep you occupied into the early hours of the morning. Just remember to take an Uber back to your hotel, even if it seems like just a short walk – parts of the city center aren't safe at night.
When morning comes again, it'll be time for you leave this beautiful city if you only have 24 hours in Cape Town, but there's still plenty more to see and do when you visit again.
And, if this is your first time traveling in South Africa, you're in for a treat as you discover the rest of what this remarkable country has to offer.
About the Author: Roxanne de Bruyn is a writer who travels as often as she can, usually with her husband and young son. She is interested in ancient history, slow travel and sustainable tourism, and loves cooking, yoga, and dance. You can read more about her adventures on her blog, Faraway Worlds.
Found this article about 1-Day in Cape Town helpful? Pin to read again later!