A 24-Hour Itinerary for the Perfect Day in Charleston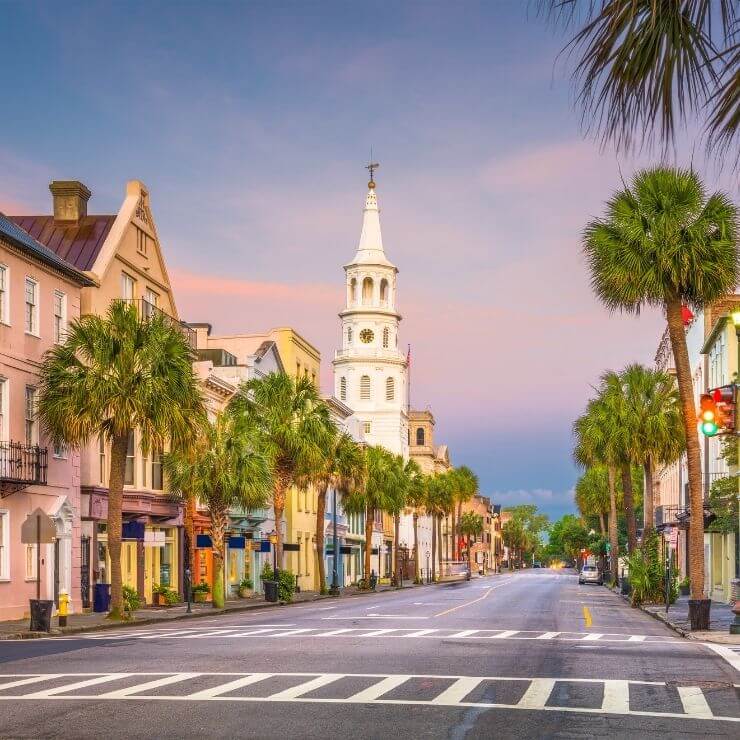 Short on time in Charleston and looking for the perfect One Day in Charleston itinerary? You're in the right place!
Charleston is an absolutely magical city that captures your heart the first time you visit. At least that's what it did to me. I visited Charleston for the first time in 2015 and return every year to explore more of the city.
If you only have one day to spend in Charleston, you'll definitely want to plan a return trip. However, with the below 24-hour Charleston itinerary you can still get a great feel for the culture and top attractions of the city in just a day.
Historic downtown is very walkable and there is plenty to do if you don't have your own car to get around. However, having your own transportation is beneficial to visit the plantation homes or any of the islands surrounding Charleston.
The Best Time to Visit Charleston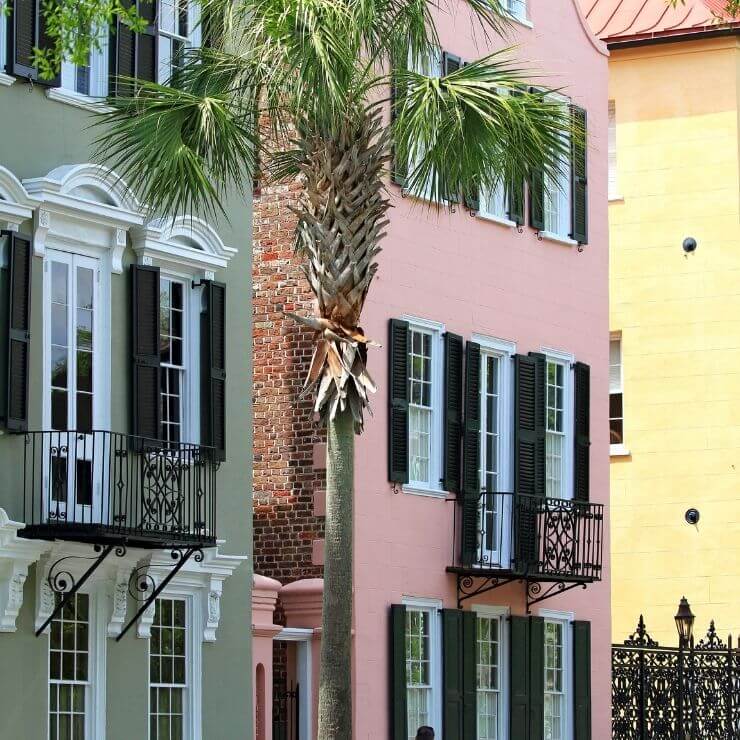 You may also be wondering when is the best time to visit. Each season brings unique opportunities. Spring brings blooming flowers and great weather. Summer is characterized by sweltering heat but a fun beach scene. In Fall the beautiful mild weather returns and many events and festivals are held. In Winter you can experience the magic of all the Christmas decorations!
Where to Stay in Charleston
I highly recommend staying downtown and walking to all the places you'll visit. You'll be close to all the great restaurants, nightlife, and many attractions. The Historic District is so quaint with all the gorgeous homes and cobblestone streets.
Staying downtown can be pretty expensive so if you prefer budget accommodations then look in Mt. Pleasant. You'll only be 15 to 20 minutes away from downtown by car and the prices are much cheaper. You can also take a ferry from Mt. Pleasant across the river to Charleston.
If you want more of a beach vibe then stay on the Isle of Palms or Kiawah Island. Either of these is sure to satisfy any beach lover!
One Day in Charleston Itinerary: What to Do in 24 Hours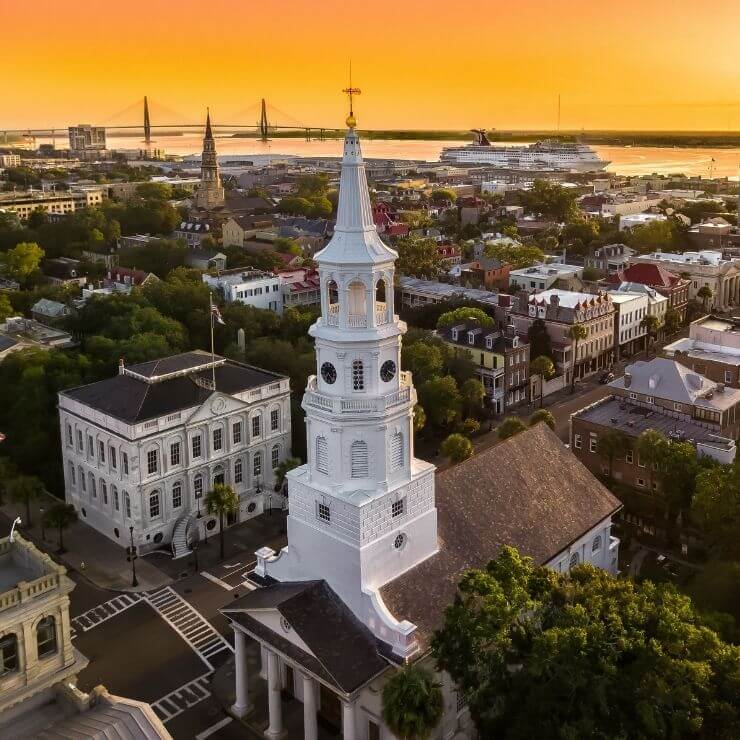 Arguably the most exciting part about visiting Charleston is being able to try all the incredible food in the city. This means you definitely can't skip breakfast! So that's where I'm starting this Charleston itinerary.
For an incredible breakfast in Charleston, I recommend heading over to Poogan's Porch to try some of their famous chicken & waffles or their Down Home Breakfast which has all the components of a typical breakfast in the South.
Watch out for ghosts when visiting, though; Poogan's is said to be haunted by the ghost of Zoe. This was a lady who lived there with her sister before it was turned into a restaurant. According to those who have seen her, you wouldn't even know she's a ghost until you see her dated picture on the wall.
Visit Fort Sumter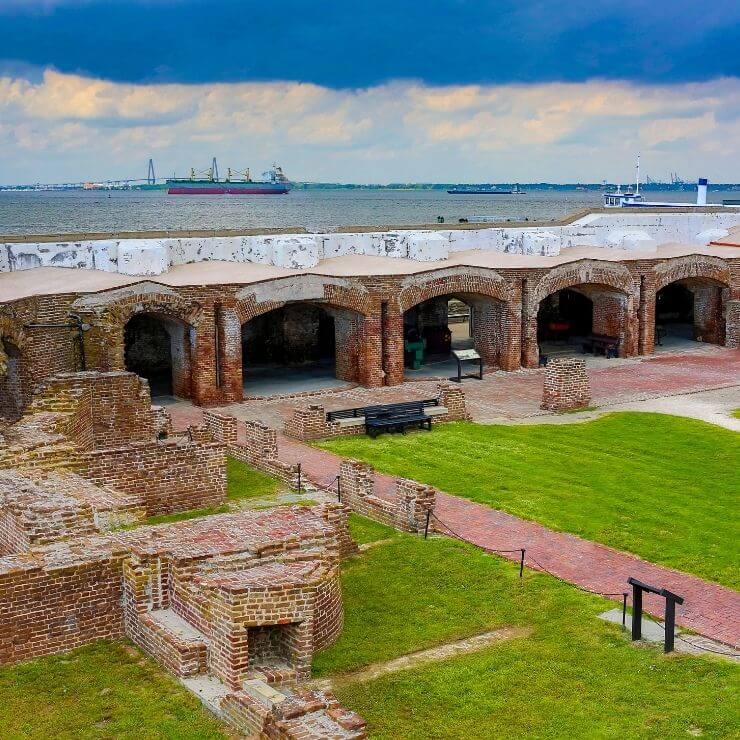 After a filling breakfast at Poogan's, head over to the ferry dock beside the South Carolina Aquarium. You can take the ferry over to Fort Sumter where the first shots of the American Civil War were fired. Here you'll have about an hour to explore the National Historic Park before the next ferry arrives to take you back.
While at the fort, you'll be able to walk around and check out different exhibits on how the soldiers lived while there. You can also see and touch the cannons that were used back in those days. There's also a beautiful view of Charleston Harbor and downtown.
After breakfast and Fort Sumter, the morning will surely be gone and you'll likely be ready for lunch.
Get over to Brown Dog Deli for a quick bite to eat. This unique gourmet sandwich shop sells the absolute best sandwiches with creative fillings. I would never have been able to think up these combinations on my own and with names like Apple Butter Jeans and Rubik's Cuban you'll have a good laugh too.
Shop In Charleston City Market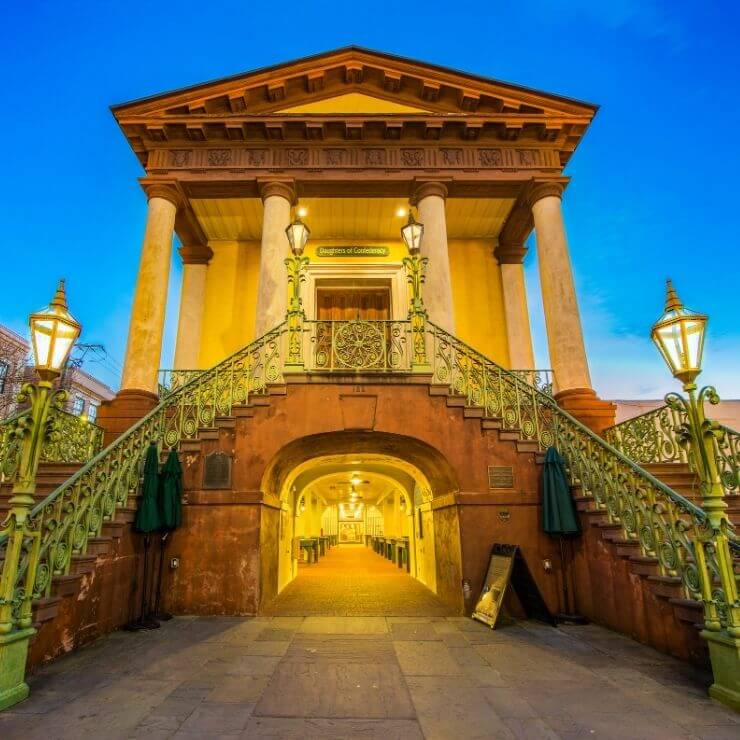 While there are so many things to do outside of Charleston like tour an old plantation, see the Angle Oak, or kayak in the salt marshes, with only one day in Charleston, it's best to stay around downtown.
First off, hit the Charleston City Market. This large, open-air market is where local artisans and craftspeople sell their items. You can find all kinds of things from leather goods to photography to books.
Explore Charleston's Downtown Churches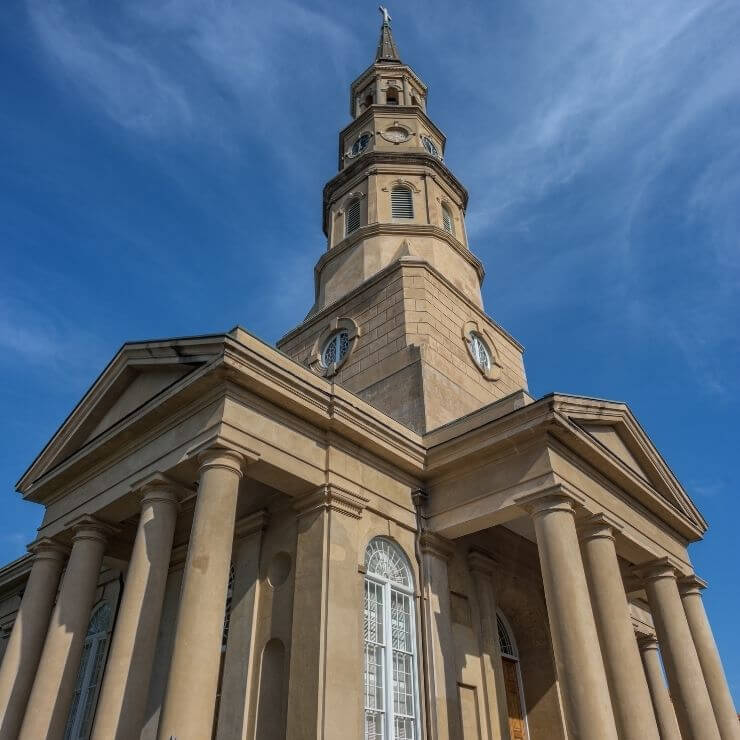 After you've spent enough money at Charleston City Market, you can explore the churches and graveyards of Charleston.
This is not necessarily about religion, but more about the gorgeous architecture and beautiful grounds of the graveyards. St. Michael's Episcopal Church, St. Philip's Church, and the French Huguenot Church are some of the most beautiful.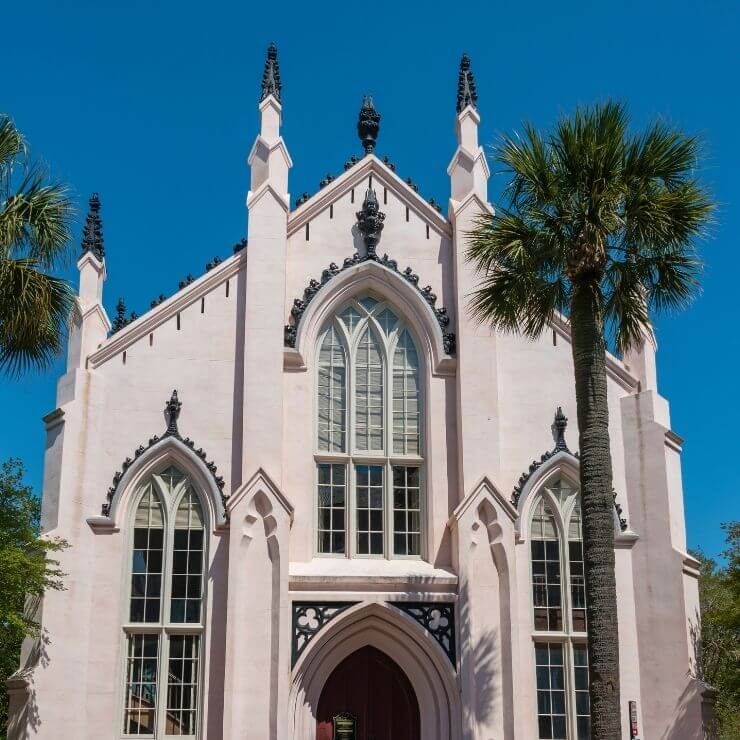 Both St. Michael's and St. Philip's allow people to visit and walk through the graveyard. Another graveyard to visit is the one at the Unitarian Church. This can be more engaging on a walking tour since the guides will usually tell you about the interesting people who are buried there.
The Battery: A Must-See Site for Your Charleston 1-Day Itinerary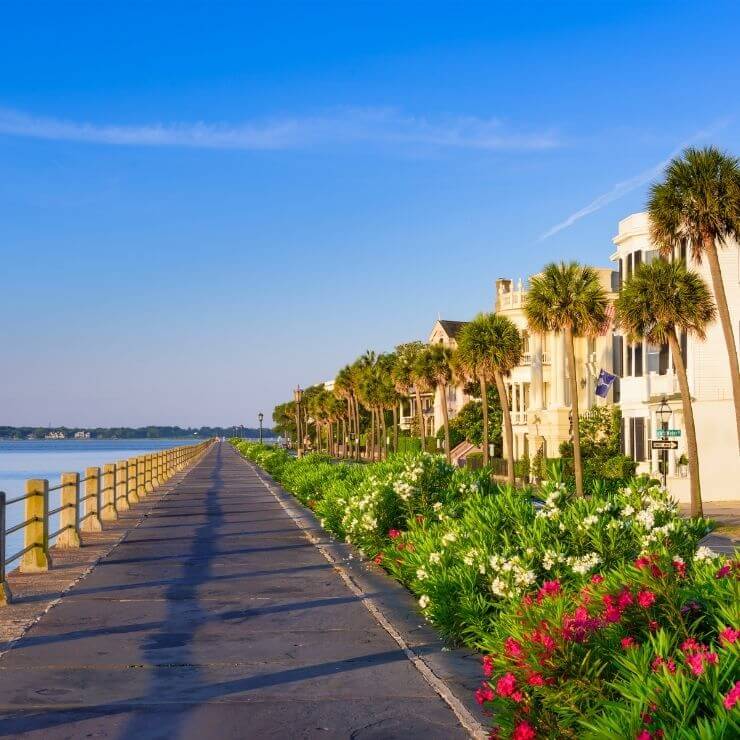 Next walk over to the Battery and White Point Gardens. The Battery is a defensive wall where the tip of Charleston juts out into the harbor. This is where the cannons were lined up in the old days which you can still see at White Point Gardens.
Some of the largest and most beautiful houses in Charleston line the Battery so take an amble down the pathway in front of them and do some daydreaming of owning one of these mansions someday.
Extra Time in Charleston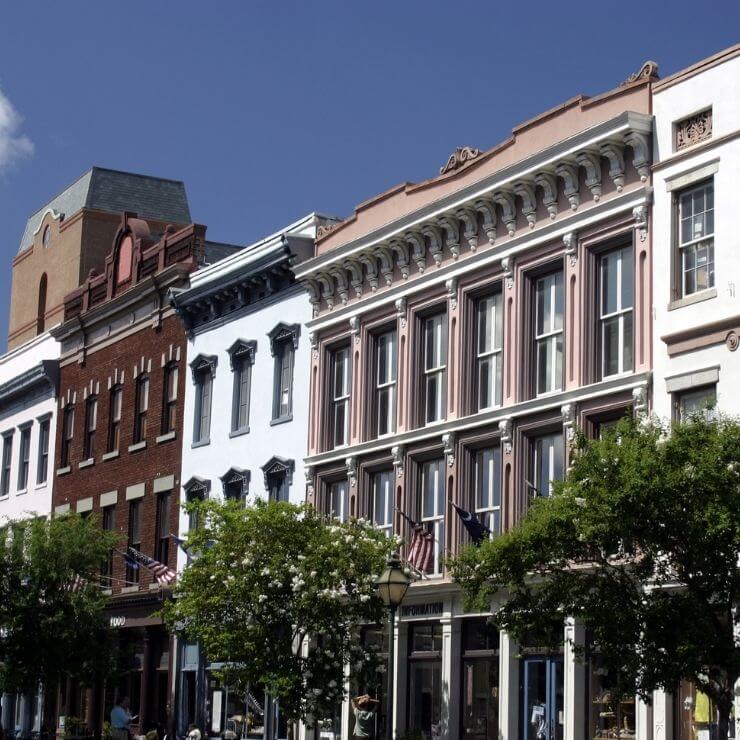 Depending on how much time you've spent at each spot this afternoon you may still have an hour or two to shop on King Street. People come from all over to peruse the one-of-a-kind boutiques, home decor shops, and specialty stores.
If you already spent enough of your day shopping at Charleston City Market, instead head to Rainbow Row.
Rainbow Row is a colorful row of historic homes near the waterfront along along East Bay Street between Tradd Street and Elliot Street.
Walk by the brightly colored homes and then head east down Elliott Street to the waterfront. If you head north along Concord Street for a few blocks, you'll come to the lovely Pineapple Fountain, a focal point of the Charleston Waterfront Park.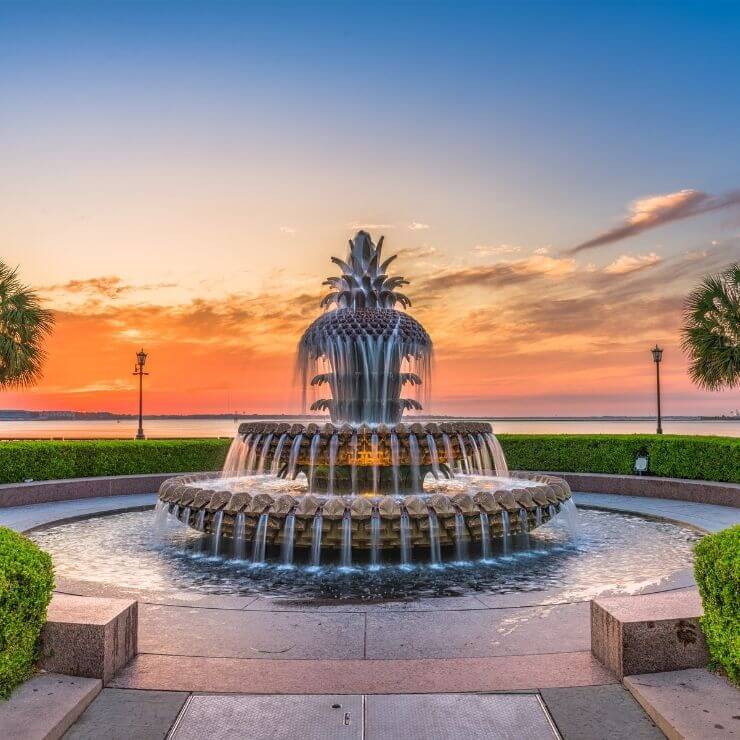 Dinner in Charleston
For your last meal in the Holy City visit Husk Restaurant, but be sure to make reservations well in advance. Husk fills up weeks, if not months, in advance. This restaurant and bar is all about local Southern ingredients and changes the menu changes often based on what's available.
Find a Charleston Ghost Tour
After dinner try to fit in a ghost tour if you aren't completely worn out. Charleston is known for being one of the most haunted cities in the US so a ghost tour is a must! It can be very eerie listening to the guide tell scary stories while walking around the city at night.
Late Night Dessert
Finally, head over to Kaminsky's bakery where they sell the most delicious cakes, pies, and ice cream. This spot is open until 12 a.m. on weekends and is a bar as well. Try some of their hot spirited specialties like Hot Buttery Chocolate or a Snow Cap.
About the Author: Anna is a content creator for PaddlingSpace.com where you can find information on all things kayaking. She spends every possible moment in the outdoors with her husband and hiking buddy, Barley, her German Shepherd pup.
Found this One Day in Charleston article helpful? Pin to read again later!