Romania's Transylvania: Things to Do in Cluj in a Day
If you're visiting Romania's Transylvania, there are bound to be a number of places you're considering seeing. However, when making your plans, make sure you don't overlook a trip to Cluj-Napoca. Read on for more information on Cluj and my thoughts on things to do in Cluj in a day.
Where is Cluj-Napoca?
Cluj-Napoca, otherwise known as Cluj, is a city located in the north-west of Romania's Transylvania region. It's around 450 km from the capital of Romania, Bucharest (click here for information on a tour in Bucharest – around Bucharest's People's Palace, the second largest administrative building in the world).
With a population of almost 330,000, Cluj is one of the biggest cities in Romania after Bucharest. It is also regarded as the historical capital of Transylvania.
How to Get to Cluj
Cluj has its own airport, located around 8km from the city center. From London, you can catch direct flights from both Luton airport and Gatwick airport with Wizz Air. 
You can also catch direct flights to and from other destinations in Europe, including Milan, Paris, Dublin, Munich, and Warsaw. There are regular internal flights within Romania to Bucharest.
There are airport buses (number 5 and number 8) that run from outside the terminal to the city center. You will also find a taxi rank outside the arrivals terminal (make sure they put a meter on and be clear on the fare – we were told around 30 euros). If possible, book inside the airport before stepping outside to the taxi rank. 
Things to Do in Cluj in One Day
There are plenty of interesting things you can do in Cluj in a day. I have set out below the itinerary we followed that takes you to the key things to see and do in Cluj in a day. 
Best of all, this is a walking route: sightseeing in Cluj is easily walkable!
Piata Avram Iancu and the Assumption Cathedral
When thinking about what things to do in Cluj and where to begin your day, I'd suggest starting from the Piata Avram Ianco. 
Stand on the 21 Decembrie 1989 street and look across the road at the colossal orthodox Cathedral. The building is really striking, with a World War II memorial in front of it. If you have time, it is also worth another visit at dusk, when the light is fading and there is a beautiful glow around the building.
Then cross the road and walk around the side of the cathedral. This is where you'll find its entrance (if you go inside you'll discover it's remarkably small). 
You'll also find a large open square – the Piata Avram Iancu. This is named after a lawyer and revolutionary figure in the country's history. A statue of him stands in the middle of the square surrounded by a fountain. 
At the back of the square, on Piața Ștefan cel Mare, is the National Theatre and Opera House of Cluj. Built in the early 20th century, it is a beautiful building in a pastel color.
Piata Unirii and the Art Museum
From the Opera House, take Eroilor Street in the direction of Piata Unirii.  This is a pleasant street with cafes, restaurants, and shops on an attractive row of pretty colored buildings. You'll also find the Tourist Information Centre on the left.
When you reach the end of the street, take a right to the Art Museum. This is located inside the 18th century Banffy Palace, a baroque style building.
When you do a search on the museum, you'll find that it has mixed reviews. However, the less favourable ones tend to mention the crumbling state of the actual building, rather than the art that you can see here. The art itself gets the thumbs up.
As you can from the photo below, there is, however, a lot of restoration work being undertaken on the building. So it may be that some of the critiques are being addressed.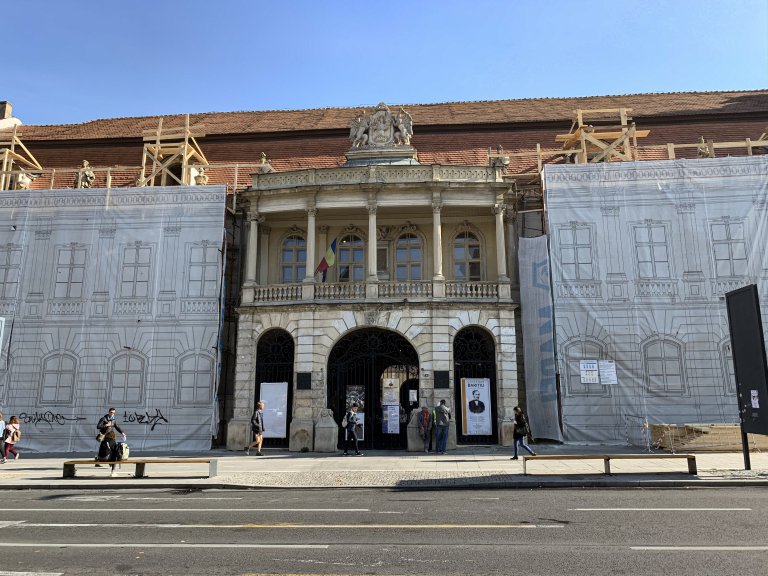 Crossing the road, you'll find yourself on Piata Unirii. This is a wide open square dominated by the 14th century St. Michael's Catholic Church. In front is a statute of Matthias Corvinus, a Hungarian king. He sits on horseback on top of a wide pedestal and is flanked by other warriors. It is a huge and impressive structure (but maybe a little bombastic for me).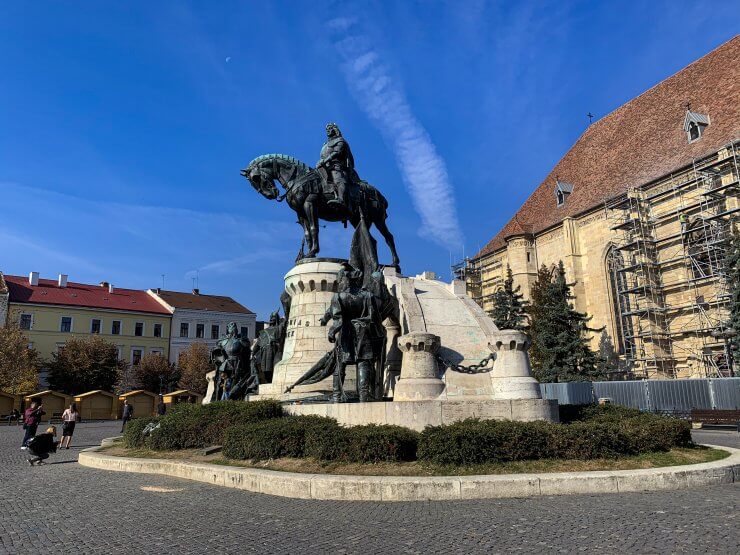 When we visited, the Piata Unirii was flanked by wooden stalls. These were selling a diverse range of goods, including handmade jewelery, ceramics, and various sweet and savory preserves. There was also a stall selling hot Romanian pies and apple strudel – perfect in the chilly autumn air we had during our visit.
Cluj Old Town
After a stroll around the square, exit onto Memorandumului street.  You can then walk into the pedestrianised Old Town of Cluj. 
I have to admit that Cluj Old Town wasn't the most memorable of old towns that I have ever visited.  It's quite small, with just a few cobbled streets with bars and restaurants lining them. 
However, it is quite pretty and for its size, has a remarkable amount of places you can visit. These include Matthias Corvinus' birthplace, as well as the National History Museum of Transylvania. There is also a Pharmaceutical Museum and a 15th century church.
Cluj Parcul Central
A walk though Cluj Old Town will take you in the direction of Cluj Parcul Central (this is signposted). You'll reach a lovely tree-lined boulevard with tiny bridges on either side.
We visited in October and the colors of the leaves on the trees were just amazing.
After a while, when you see signs for the casino, bear left.  The casino is a gorgeous white building with a large entrance in front. 
Cluj Casino
Cluj Casino was restored in 2012, which explains how pristine it is. Further proof of just how lovely this building is, is the fact that when we visited there were several wedding parties choosing the spot for their photos.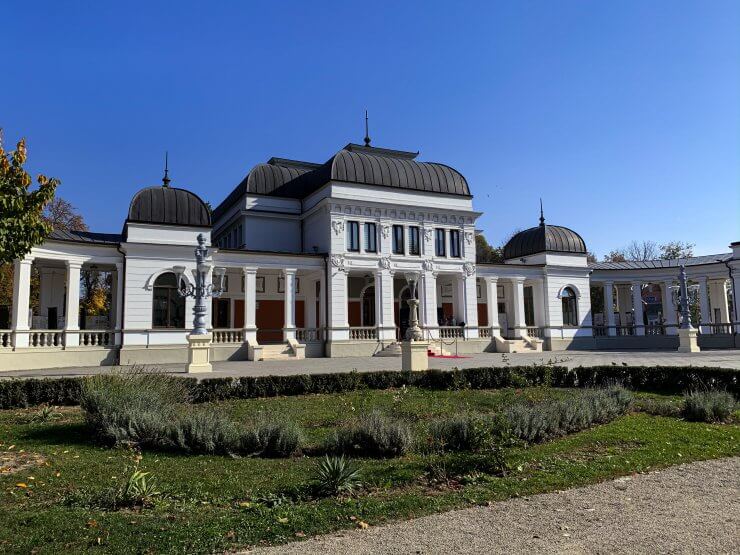 In front of the casino, there is an ornate fountain and a small bandstand nestled amongst the trees. Turn off of the path and you'll then come to the park's lake.
It's a peaceful spot with a small island in the middle. There are plenty of benches alongside the lakeshore should you wish to take a break and watch the world go by. Or for those feeling a little more energetic, there are pedaloes you can hire for a half an hour trip around the lake (for those with children, the pink flamingo and colored dragon pedaloes seemed to be a real hit!). 
If you've followed my route, then you'll probably be ready for a break from the sightseeing. At one end of the lake, is another attractive building with outdoor seating.
Dining By the Lake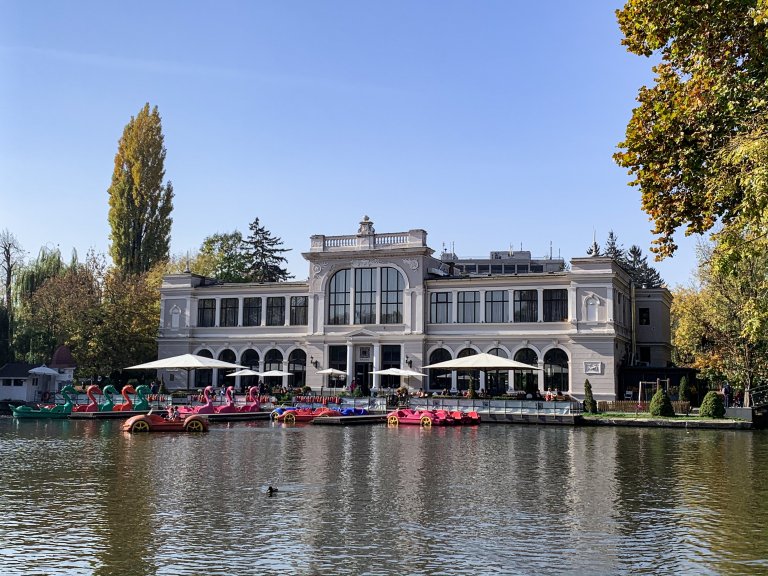 That attractive building is Chios Social Lounge restaurant, an eatery that is open until midnight. We ate here and had a really tasty meal. I'd recommend this for either lunch or dinner, especially if the weather is fine enough to sit outside.
A visit to the Cluj Parcul Central was for me one of the highlights of the things to do in Cluj. Make sure you don't miss it.
Parcul Cetatuia
After a bit of respite, you'll hopefully be refreshed enough to take a short climb uphill to take a look over Cluj from up high.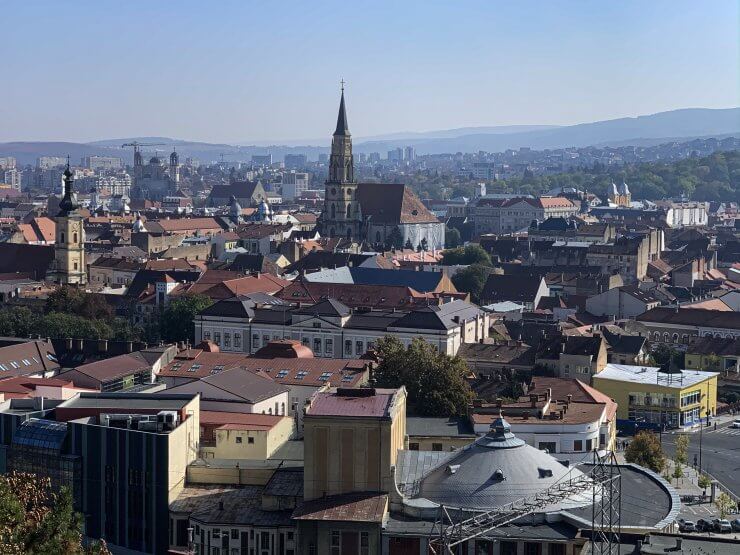 After leaving Parcul Central, cross the bridge spanning the Somescul Mic river. Walk back in the direction of the Old Town (if in doubt, you should see the Hotel Belvedere perched on the hill on your left).
After a few hundred meters, you'll find a turning on the left with some wide ascending steps. Take these to climb to Parcul Cetatuia. 
The route to the summit isn't too bad. The steps aren't steep and there are a few benches on the way up where you can stop and take a break if you need to. There is also a café with an outside terrace halfway up.
Once you get to the top, there is a viewpoint where you get a great view out across the city. You can see the river, the park and the steeples and spires of Cluj's churches rising up above the buildings. To the right you can also see Cluj Arena, home to the local football club.
Try Transylvanian Cake
Wander back into Cluj Old Town and make your way back to Piata Unirii.  If you have room for some cake, I'd stop for afternoon tea at one of the cafes flanking the square. We chose Rhedey Café and opted to try the vargabeles cake.
The vargabeles cake is a traditional dish from Cluj and the menu lists cottage cheese dough and raisons as among its ingredients.  Whilst this may sound slightly unusual, the cake was utterly amazing. 
The Alexandru Borza Cluj-Napoca University Botanic Garden
If you've had some cake, then an opportunity to walk some of this off might be welcome. If so, then a visit to the city's botanic garden is perfect on a sunny day. This is another definite for your list of things to do in Cluj.
The Alexandru Borza Cluj-Napoca University Botanic Garden is a sprawling garden, covering 35 acres, and with more than 10,000 different types of plants. There are a variety of different parts to visit – including an ornamental section, a Japanese garden, and areas dedicated to plants from different continents.
The different areas are connected by paths that wind through shady areas of trees, over small rivers, and into more open areas with flowers beds.  On the October weekend that we visited, the garden was particularly beautiful with its autumnal colors of yellows, oranges, and reds.  I particularly liked one section where the trees framed a pretty tower that you can climb up and look out onto the garden from.
The garden also has a tropical section with a Palm House. Make sure you don't miss this if you want to see absolutely gigantic water lilies in the glasshouse. I've never seen anything like these.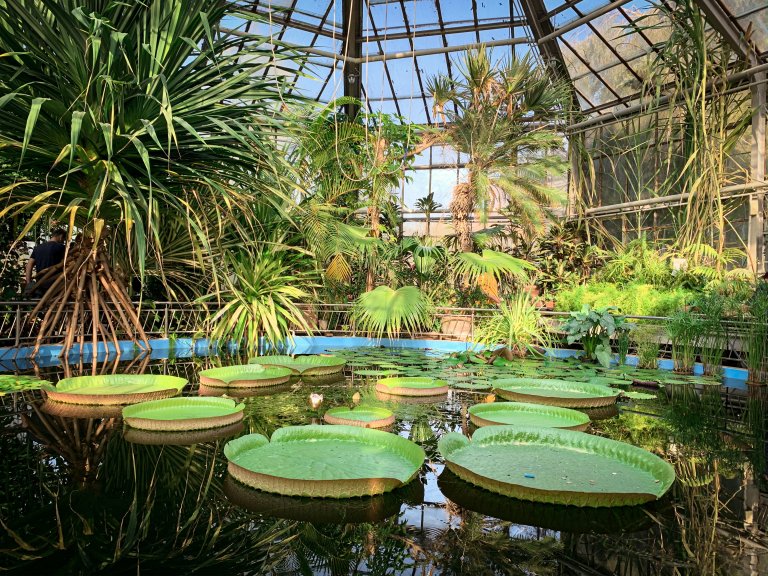 It is definitely worth spending a couple of hours here. Even on a wet day, I'd say it was worth a trip just to see the tropical section. Entrance is 11 lei for adults (around £2/ €2.30/ $2.56 as of October 2019), so it's a bargain for a visit to such a lovely garden.
End Your Day With Some Cluj Food and Wine
After a full day of sightseeing, you'll probably be a bit tired. You'll deserve to take the weight off your feet in one of the city's bars or restaurants.  There are plenty of these all around the main part of the city – in Cluj Old Town, around Piati Unirii, and along the surrounding streets.
For a pre-dinner drink, we visited the Bruno bar on the edge of the Old Town.  If you like decent wine in a quiet local place, then you'll love it here.  It's small, but it has an extensive wine list.  We tried some great Romanian wine from the local area.
We then ate in Bistro 1568 on the 21 Decembrie 1989 street. This is housed in an old building and is said to be named after religious changes that took place in the city in 1568.  It has a varied menu, some based on traditional Romanian, Transylvanian, and Hungarian recipes and dishes. 
We had a delicious meal. For desert, we chose the Szekler chimney cake combined with crème brulee. Chimney cake, (or spit cake as it is otherwise known), is another traditional Transylvanian desert. So this was an opportunity for us to try this traditional delicacy (albeit enhanced with the addition of crème brulee).
If we hadn't eaten here, we may have returned to Chios Social Lounge in Parcul Central (their pureed potato – ordered as a side dish – was worth the extra portion of carbohydrates that day!) or to Rhedey Café which was serving some hearty main dishes when we were there (I saw the grilled pork with onion-flavored mashed potatoes and garlic sauce come out and it looked pretty good!). The cafe also has goulash, chicken schnitzel, and Eszterhazy roast (apparently a royal dish of stewed and fried beef served with risotto). There are also fish and vegetarian dishes on the menu. http://rhedeycafe.ro/mainpage/
Aside from traditional Romanian fare, when you wander around Cluj, you will see a range of restaurants serving international cuisine. Tortellis', an Italian pasta restaurant, is in Cluj Old Town and consistently gets 5-star ratings. Same with the Tokyo Japanese restaurant, situated between the old town and botanic garden.
There are also numerous places in Cluj that serve pizza: the Storia Cucina Centrale in Piata Unirii looked good, and had some nice outdoor seating.
Places to Stay in Cluj
The center of Cluj is not that big, so most areas will probably be convenient for sightseeing and for going out and eating at night.
Hampton by Hilton Cluj-Napoca
We stayed in the Hampton by Hilton hotel.  This is situated on the 12 Decembrie 1989 road. It's a great location for a short city break, being just a 20-minute walk away from the Piata Unirii and Old Town. In addition to it being a great base, the hotel was extremely clean, it included a great breakfast, and there is an onsite bar. It was also reasonably priced.
Doubletree by Hilton Hotel Cluj – City Plaza
The Doubletree by Hilton is a slightly more expensive choice.  It is nearer to the city center, being located on the edge of Cluj Old Town and nearer to the Parcul Central (some rooms even overlook the park).  It has a gym and indoor pool.
Belvedere
For views over Cluj, you could consider the Belvedere in Parcul Cetatuia.  This has three restaurants, a fitness center, and a gym.
Guest House 1568
The building where you can find Bistro 1568 also has a guest house at reasonable rates. This gets excellent reviews and it might be nice to walk just a few meters from the restaurant to bed!  It only has a small number of rooms, however, so you would probably need to book in advance.
I hope this post has helped you plan out things to do in Cluj. If you're lucky enough to visit Cluj, I hope you enjoy your time as much as I did.
About the Author: Emma Marshall is a British travel blogger specializing in short trips and city breaks. She combines blogging with a job and career and so writes about places to visit and things to do when your time is limited. Her posts highlight some of the interesting and key things to do whilst traveling on a time budget, as well how to travel frequently and keep your day job. Read about it on her blog, Travel on a Time Budget.
Found this post helpful? Share on Pinterest!