Top Things to Do if You Have Just 24 Hours to Spend in Dallas, Texas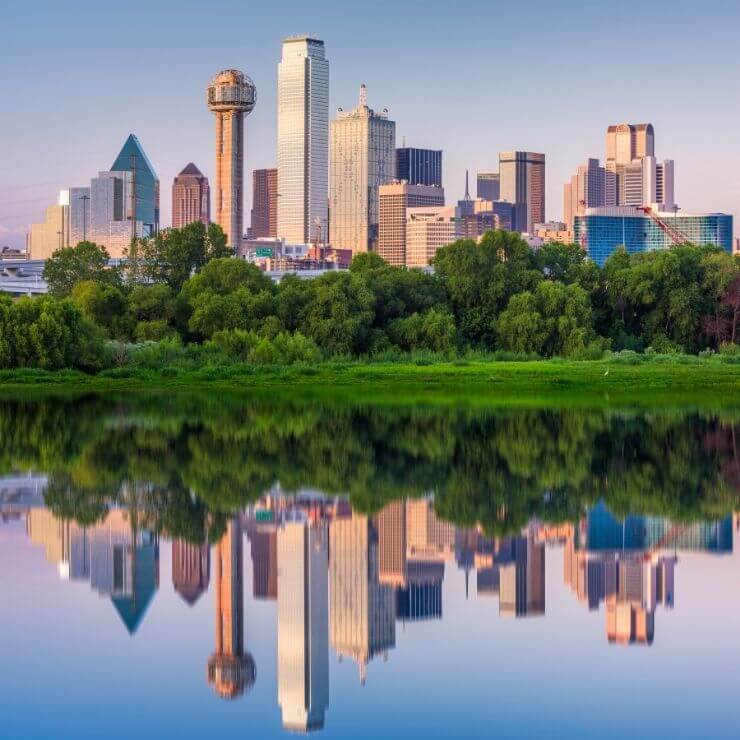 If you only have 24 hours or less in Dallas you will have one busy day. Sleeping in and calling room service is not an option. The city is home art-filled plazas, presidential memorials, and incredible museums where you can take in various art and cultures.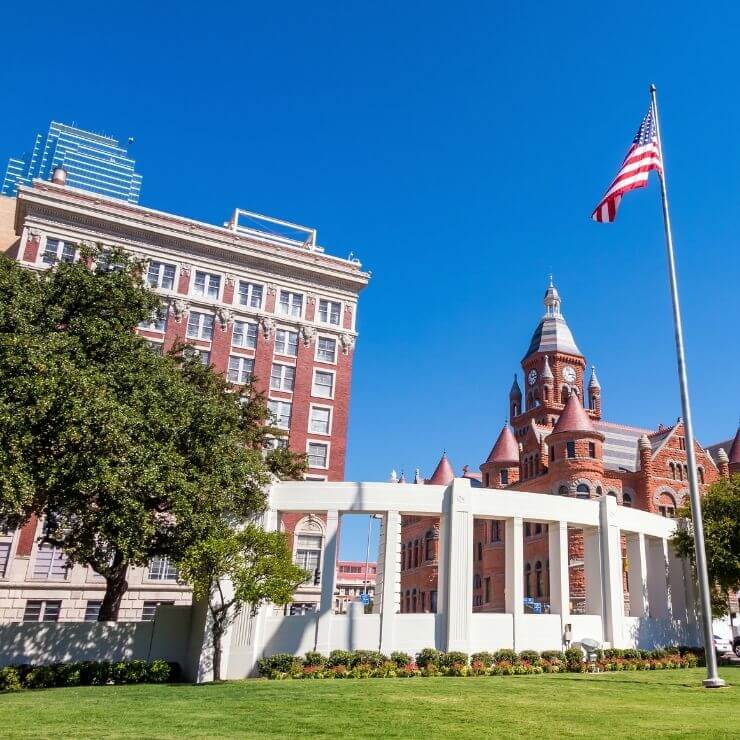 Since Dallas is so large, it's hard to see most of it in just one day. If you're fixing to see the whole city and as many of its neighborhoods as possible, there are all kinds of ways to do it, from Segways to tour buses (you can even tour the best bars in town on a party bike), which I highlight at the end.
However, my recommended Dallas itinerary will mostly focus on an easy-to-follow self-guided walking tour.
Where to Stay in Dallas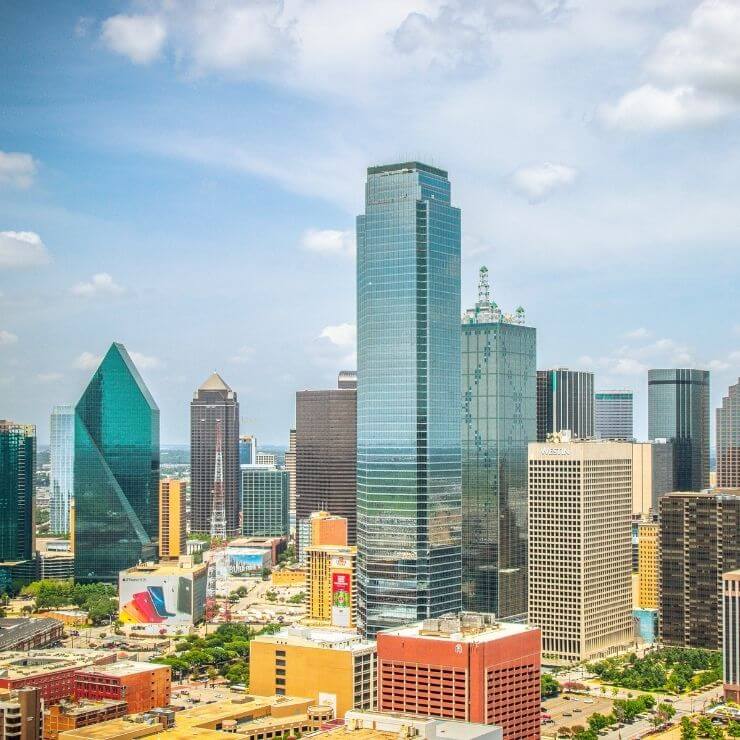 First, let's discuss where you should base yourself while in Dallas.
A lot of thing things to do that you'll find on this One Day in Dallas itinerary are located in the West End Historical District in downtown Dallas. Therefore, I recommend staying the night there.
And if you're driving and just doing a day trip to Dallas from elsewhere, find a good spot in the West End to park your car and then explore on foot!
Dallas Accommodation Recommendations:
Hyatt Regency: Located right by the Reunion Tower (where I recommend you end your day at sunset), it makes it easy to finish up the sightseeing portion of your 24 hours in Dallas and quickly head to your room to change for dinner and drinks.
—> Click here to view pictures and prices for Hyatt Regency Dallas.
Aloft Dallas: A budget-friendly option in downtown Dallas that is located right across the street from Pioneer Plaza, which you'll see in itinerary below is where I recommend you start your day in Dallas.
–> Click here to view pictures and prices for Aloft Dallas Downtown.
Omni Dallas: Located in between Reunion Tower and Pioneer Plaza, you'll be in a great spot for starting and ending your sightseeing journey in Dallas. In addition, Omni is known for its modern vibe with well-appointed rooms and swanky lounges. Omni Dallas also has a large outdoor pool with views of the skyscrapers.
–> Click here to view pictures and prices for Omni Dallas.
Immerse Yourself in The Atmosphere of Dallas and its Historical Part!
If you want to get from this city as much as possible in a short time, then one easy way to do so is with a guided sightseeing tour of Dallas. Learn interesting info about Dallas, hear stories about the city's history, focusing on both major and minor events throughout Dallas' timeline in a small group of people with a local guide. Don't miss such a perfect chance to explore Dallas completely!
BOOK THE TOUR HERE
Morning in Dallas: Spend it in the West End Historical District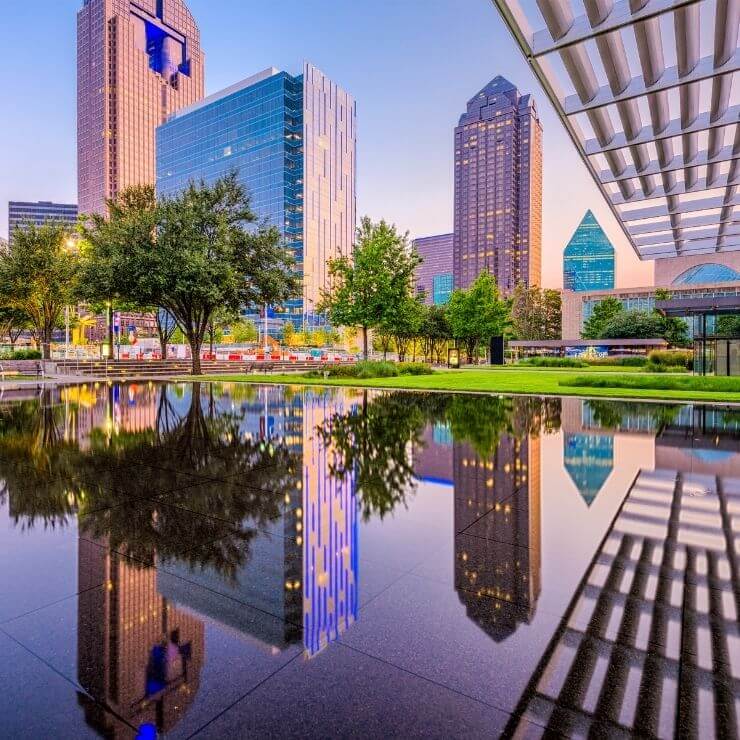 Now here is my recommended itinerary for the top things to do in Dallas if you have just 24 hours to spend there.
As I mentioned above, I recommend starting your day and spending most of your time in the West End Historical District of Dallas. Get up early and be ready for a cultural and history-filled day in this vibrant and interesting section of Dallas.
These morning sights are easy to be walked between as you can see from this map. Also, zoom out and you can see in the bottom left where the Reunion Tower is located, which I where I recommend you end your day before dinner and the nightlife portion of your 24 hours in Dallas.
Cattle Drive Sculptures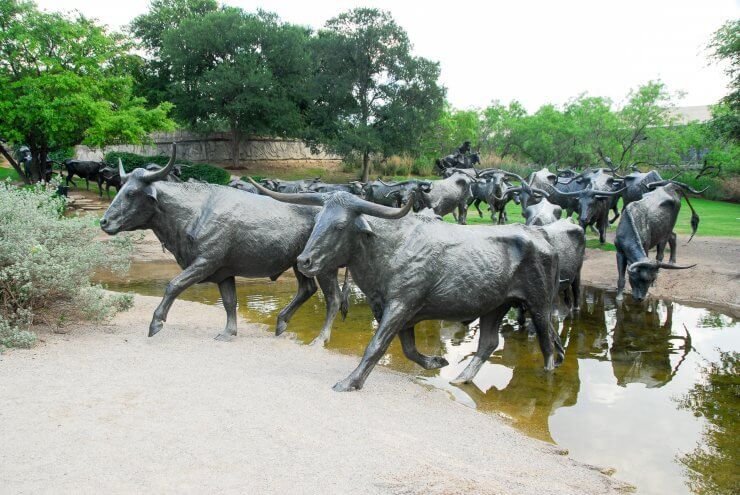 Wake up early and beat the crowds by starting your day at Pioneer Plaza in the West End where you'll get to see an impressive work of art called the Cattle Drive Sculptures.
The larger than life Cattle Drive Sculptures consist of three cowboys and a herd of cattle…running right through Pioneer Plaza in Downtown Dallas! It's definitely a cool sight to behold and is one of the most popular tourist attractions in Dallas, making it a fun way to start your day in Dallas.
Dealey Plaza and the Grassy Knolls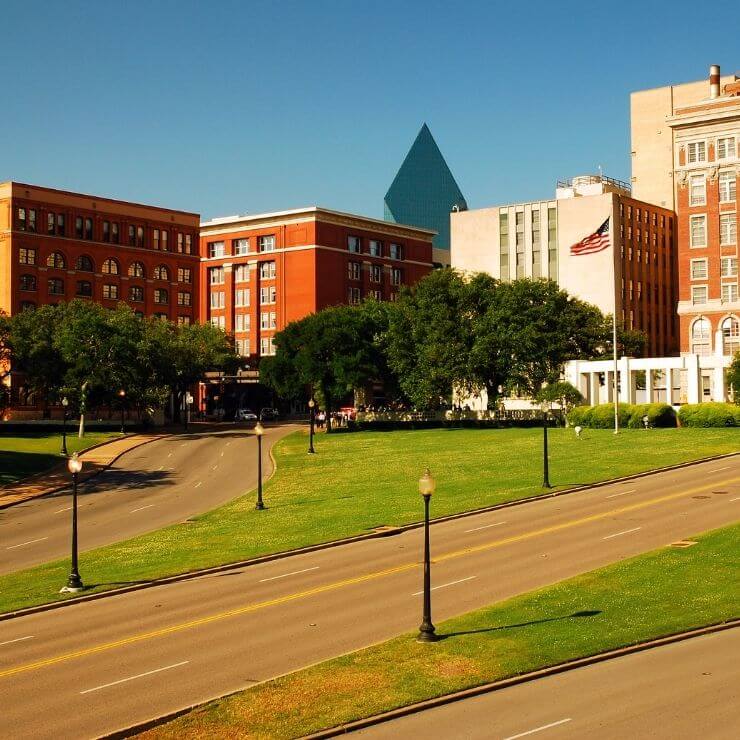 Dealey Plaza is known for two things: being the "birthplace of Dallas" and being the site of JFK's assassination in 1963.
Dealey Plaza is referred to as the birthplace of Dallas because it where the first home and trading post in Dallas was built.
To see the exact site of JFK's assassination, head to the Grassy Knolls part of Dealey Plaza.
The Sixth Floor Museum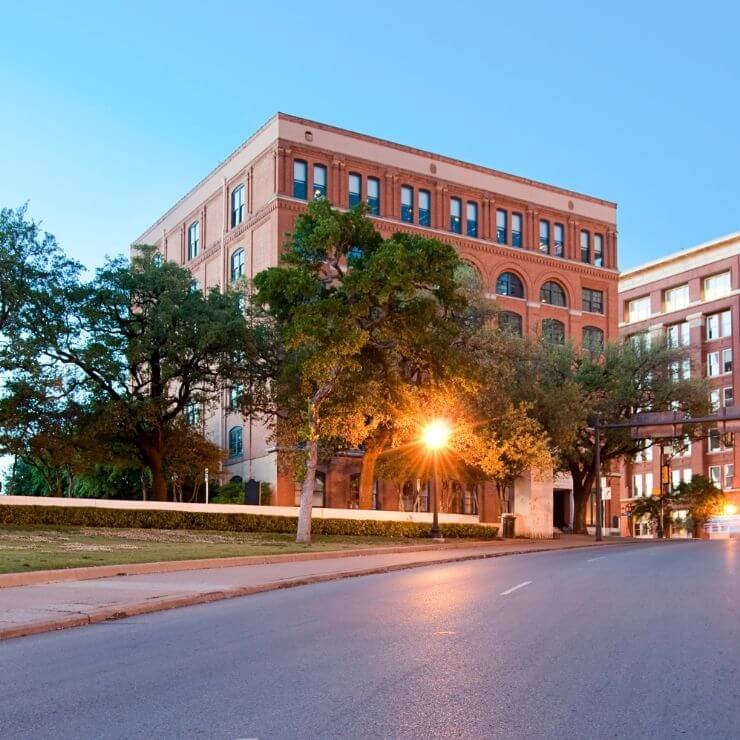 One of the most defining moments in American History happened when John F. Kennedy was shot by Lee Harvey Oswald. The tragedy sparked a never-ending slew of conspiracy theories and dogged pursuit of the truth by investigative minds for over half a century.
At the Sixth Floor Museum, you can discover more about the assassination and even take a tour that includes a guided trip down to the Grassy Knolls and the JFK Memorial.
John F. Kennedy Memorial
Just one block from Dealey Plaza is the John F. Kennedy Memorial, which was dedicated in 1970. Even if you don't do the above mentioned tour, it's worth going here on your own after you tour the Sixth Floor Museum.
The memorial consists of square blocks made of cement that you can walk among. In the middle is a large plaque with Kennedy's name on it.
Separate the facts, stories and theories behind that pivotal day in 1963
Join this JFK Assassination and Museum Tour with Lee Harvey Oswald Rooming House and put evetything in a right place.Visit both the Grassy Knoll in Dealey Plaza and the John F. Kennedy Memorial during this tour that includes entrance fees and round-trip transport. Your historian-guide will acquaint you with interesting facts and stories.
BOOK THE TOUR HERE
Old Red Museum of Dallas County History and Culture
The Old Red Museum is located in a gorgeous red-hued building that was built in 1892 and once served as the courthouse (aptly named the Old Red Courthouse). The building is designed in the Richardsonian Romanesque style.
After you're done appreciating the architecture of the building, head inside the museum to learn more about Dallas's past and how it has impacted the culture and vibe of Dallas today. You'll see some of Dallas's most prized artifacts, and families will enjoy the interactive features of many of the exhibits.
Afternoon in Dallas: Culture and Art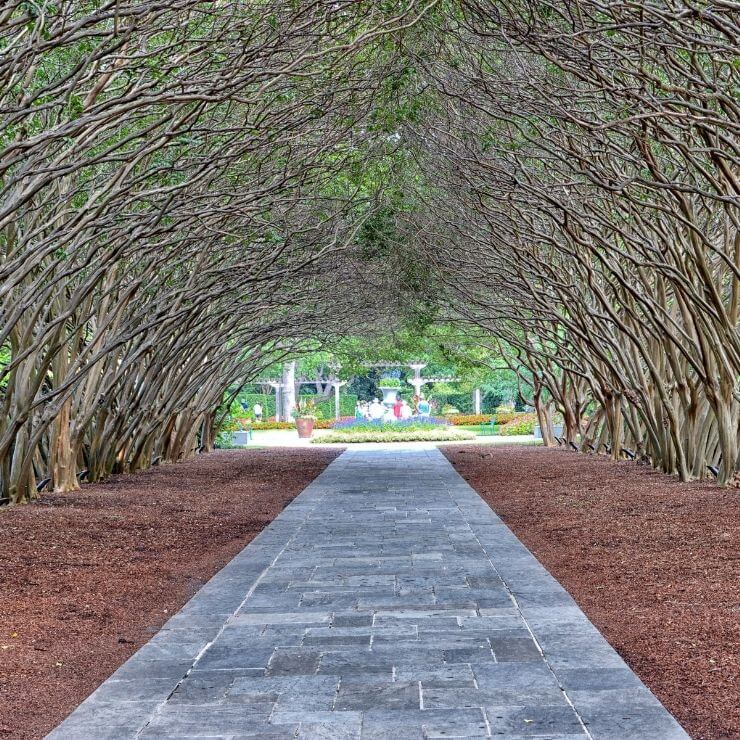 After lunch, I recommend spending your time at one of the below listed places. If you have just one day in Dallas, it will be hard to do more than one or two, but that gives you a reason to return to Dallas one day!
The Dallas Arboretum
While in Dallas, you should take some time to experience the differences in the sights and sounds at the beautiful Dallas Arboretum and Botanical Gardens.
Get an education on history, nature, art, and horticulture all in one with a visit to this world-famous destination.
Dallas Museum of Art
Five millennia and over 25,000 pieces span this impressive open-access museum in Dallas. After nearly 120 years of collecting, the DMA is one of the ten largest art museums nationwide. If you love art, this is the place to head so make sure it's on your Dallas itinerary.
Check the calendar before your visit so you can prepare for workshops and events taking place during your day in Dallas.
George W Bush Presidential Library and Museum
The library contains an impressive collection of presidential records from the Bush administration and a museum memorializing George W Bush and his term in the white house. Interactive exhibits and tributes recall a pivotal time in American History marred by a malevolent terrorist attack on 9/11.
Perot Museum of Nature and Science
With 12 halls and exhibits including a children's museum and a huge Dinosaur exhibit, the Perot Museum of Nature and Science will easily eat up your afternoon. It's a great pick for families, and it is a truly unique museum that is worth prioritizing on your list of things to do with one day in Dallas. The museum even includes exhibits on sports and weather.
Visit Perot Museum of Nature and Science and 3 more popular Dallas attractions
If you are planning to visit Perot Museum of Nature and Science, Reunion Tower GeO-Deck, Dallas Zoo, George W. Bush Presidential Library & Museum or Dallas Holocaust and Human Rights Museum, then I highly recommend you to buy Dallas CityPASS. This way you will have an opportunity to visit 4 attractions, you choose with no additional cost for you. This mobile ticket is valid for 9 days, so you may spread out the joy.
BOOK THE CityPASS HERE
The Dallas World Aquarium
This exotic and immersive aquarium transports visitors to a water-filled world where you'll get the chance to see with your own eyes some of the most unique and interesting creatures of land and sea.
Take a trek through a cloud forest, explore the world of central America, and discover five other exhibitions providing a glimpse at wildlife in many different forms.
Evening and Nightlife in Dallas
Reunion Tower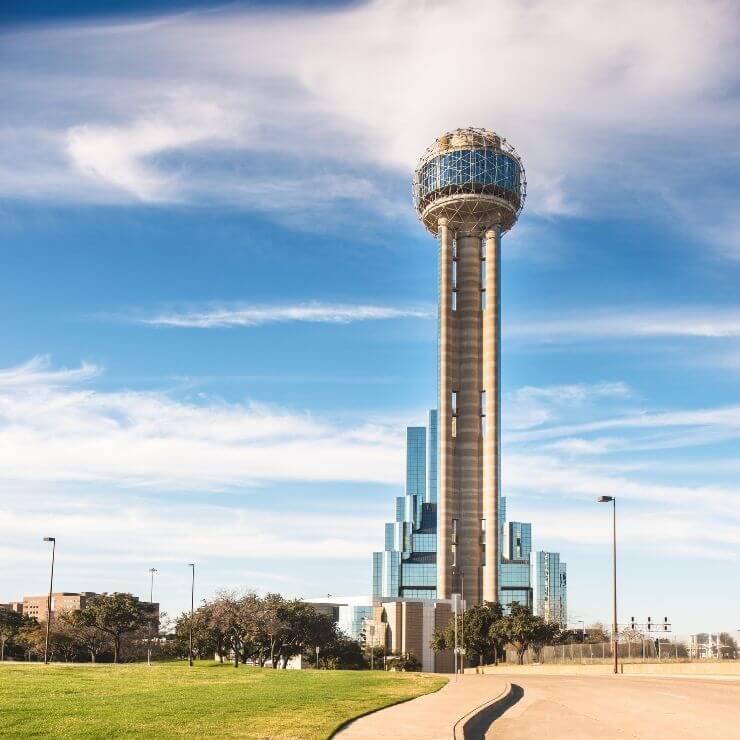 The best view of Dallas is from the indoor and outdoor observation decks of Reunion Tower. The geosphere at the top of the tower provides a sweeping 360-degree view. You'll see for miles in any direction.
The Reunion Tower is a great place to go for sunset viewing before getting ready for your night on the town.
Dinner and Drinks in Dallas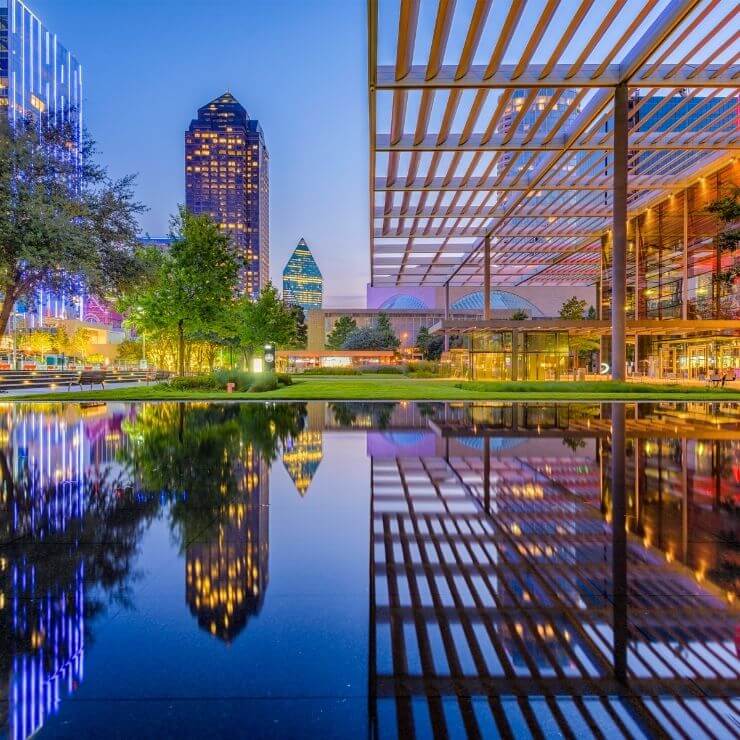 By finishing off the sightseeing part of your day in Dallas at Reunion Tower, you're also finishing up back in the West End. After you get your sunset pics, head to one of the many restaurants located in the West End for some delicious Texan cuisine.
After you fill your belly, you're a short walk away from fantastic bars and pubs to have some tasty drinks in, before you make your way back to your hotel, exhausted from your fun and cultural day in Dallas!
One Day in Dallas Bonus Section: City Sightseeing Tours
If you're less of a self-guided traveler and more of an escorted tour fan, then these sightseeing tours will pair you with an expert guide who will show you a lot of Dallas. I've included four different types so you can pick the transportation style that most fits your style.
Dallas and JFK Full-Day Tour with Sixth Floor Museum and Oswald Rooming House
This exhaustive tour of Dallas is one of the most comprehensive city tours you can do if you have just 24 hours or less to spend in Dallas. This 7-hour small-group tour takes you to the top sites of the city, including in-depth visits to the Sixth Floor Museum and Oswald Rooming House.
Shorter Sightseeing Tour: Welcome to Dallas
For an overview of Dallas that still gives you time to explore the city on your own, opt for a shorter sightseeing tour. The 3-hour Welcome to Dallas Tour gives you the quintessential sampling of the city and effortlessly takes you to some of the top sites to see in Dallas. Plus, it has convenient departures in both the morning and afternoon.
Dallas Segway Tour
A Segway sightseeing tour offers a different spin of things when touring Dallas. Like a walking tour on wheels, this 2-hour Segway tour through the middle of the historical district gives you an on-foot perspective without overworking.
Dallas Party Bike Tour
Unique and popular, one of the best ways to get around Dallas is on a Dallas Party Bike tour. It's more effort than a segway, but hey — you get drinks! The 15-seat bike stops at three top locations in Dallas's Deep Ellum neighborhood.
Found this One Day in Dallas Itinerary helpful? Pin to easily read again later!