Top Things to Do in Delhi in 24 Hours or Less
Headed to Delhi and short on time? While you do need at least a week's time to truly explore all aspects of this beautiful city, it is understandable that not everyone has the time.
So, in this one day itinerary for Delhi, I will be telling you how to make the most of your time here by visiting the top attractions and eating at the best spots.
One Day in Delhi Itinerary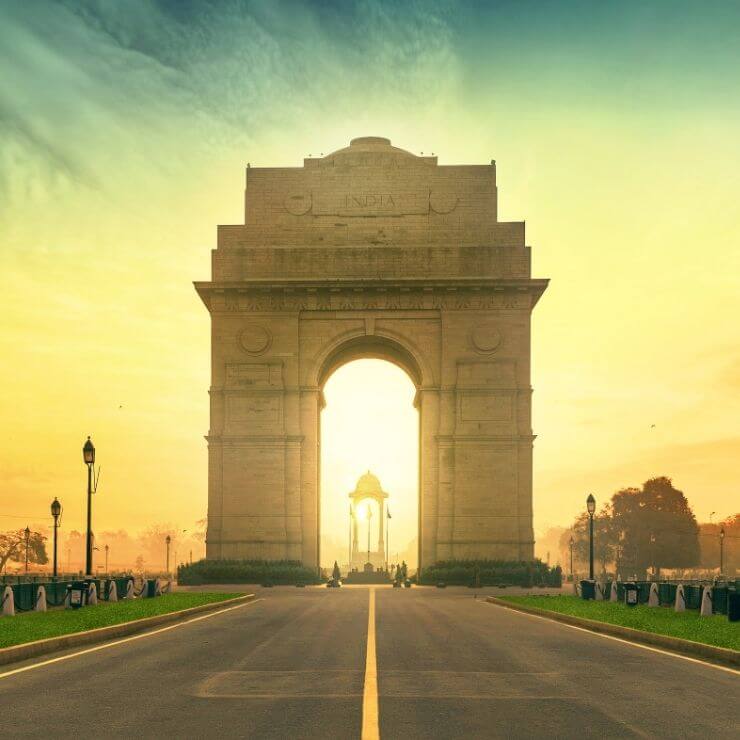 Known for its rich heritage and culture, plus an excellent shopping and street food scene, Delhi is one of the most popular places to visit in India.
Although it can be a little crowded here at times, Delhi is bustling with art, culture, museums, shopping, street food, and several unique attractions.
This one day in Delhi itinerary will help you experience a bit of all of it!
Red Fort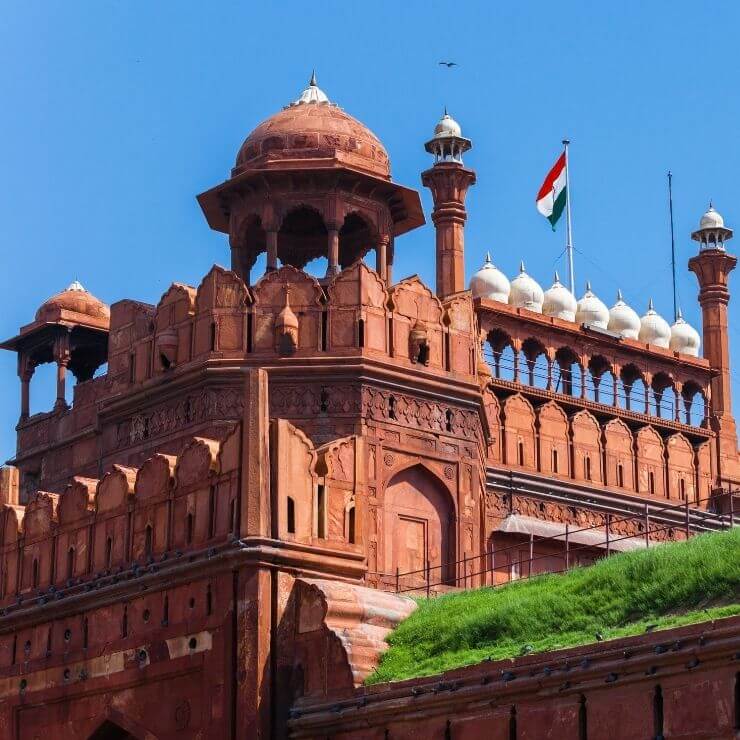 Start your day in Delhi by heading to one of the most beautiful historic monuments in Delhi, the Red Fort or Lal Quila.
This magnificent fort was built by Shah Jahan in 1639 and was the royal residence for the Mughal emperors who stayed in Delhi. Made from Redstone (which is why it was named Red Fort), this fort holds significant importance in present India as well.
Every year, the Prime Minister of India hoists the National Flag here on Independence Day and addresses the citizens of the nation. So, if you love historic places or are interested in Mughal architecture, then this fort in Chandni Chowk should be the first place to visit in Delhi on your one day itinerary.
You can take a metro to Chandni Chowk and then walk to the entrance of the fort.
Jama Masjid
Once you have explored the Red Fort, it is time to see another beautiful Redstone architecture with a visit to Jama Masjid. Situated just a kilometer away from Red Fort, this is one of the biggest mosques in India, and was also built by Shah Jahan.
You can spend some time at this mosque, admiring the three gates and two minarets that are 40 meters high. These structures are made from red sandstone and white marble and offer a charming feel to the place.
Streets of Chandni Chowk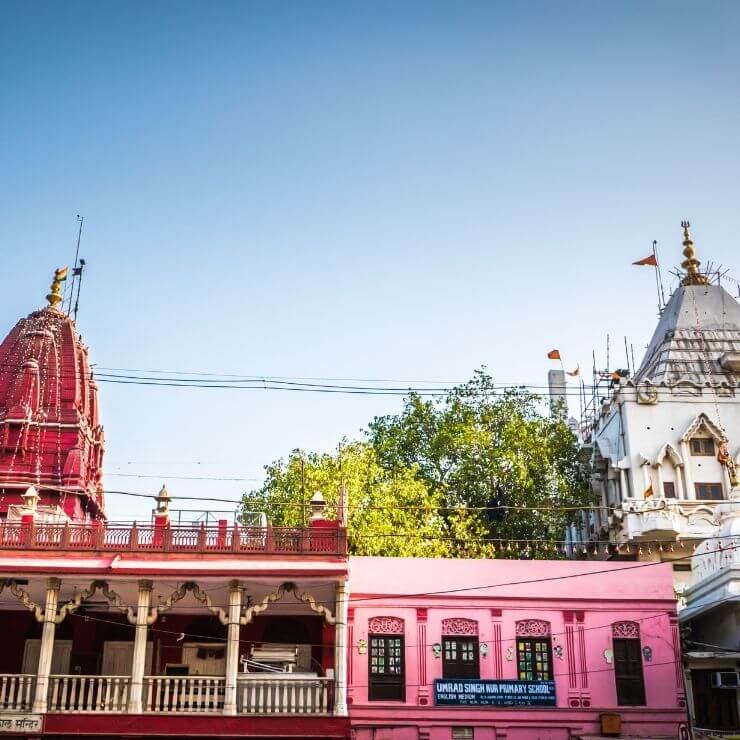 Once you have spent some time exploring the beautiful historic mosque, it is time to enjoy some delicious food and shopping in the streets of Chandni Chowk, a bustling market located right by Jama Masjid.
If you eat non-vegetarian, then you can take a stroll around Jama Masjid and try the local delicacies in meat and sweets. For a light lunch, you can visit Karim's in Chandni Chowk which is famous for its Kebabs and Mutton dishes. Also, make sure that you try the famed Shahi Tukda which is a Mughlai dessert that is made from bread, milk, and nuts.
For vegetarians, it is time to head to the famous Parathe-wali Galli that is just a 5-minute rickshaw ride from Jama Masjid. Here, you can enjoy huge parathas for just 80 to 150 INR and can try other dishes as well such as Chole Bhature, Jalebis, and more.
India Gate
Once you have eaten, you can head to the Chandni Chowk metro to get down to Rajiv Chowk or take a cab directly for India Gate.
India Gate is a 138-foot tall war memorial that was built under British rule. The main significance of this memorial is that it has the names of all the Indian soldiers inscribed who died in World War I.
The memorial has beautiful architecture and is surrounded by lush greenery that makes the entire place more charming and friendly to visit.
You will find a lot of locals enjoying a picnic out here and several street vendors selling snacks, ice cream, etc. as well. So, take a walk around the place, enjoy the ambiance, probably enjoy popcorn or candy from one of the local vendors, and then head to the next place.
Agrasen Ki Baoli
Another beautiful place to visit in Delhi is the Agrasen ki Baoli which is just a 5-minute rickshaw ride from India Gate.
Agrasen ki Baoli is an ancient stepwell that consists of 108 steps and was earlier used by the locals to fill water for daily usage.
The entire stepwell has been constructed out of stone and will instantly take you back to the era of Maharajas and Ranis.
Built by Maharaja Agrasen, this ancient reservoir sees a lot of photographers throughout the day so if you love taking pictures then this is the perfect backdrop for you.
Lodhi Garden and Art District
Next, take a cab to reach Lodhi Garden and Lodhi Art District.
Lodhi Garden is a park complex that comprises several tombs and is a great place for enjoying the evening light in the city. The entire park is covered with greenery and flowers and you will find people jogging around here during the sunrise and sunset.
Most importantly, there are a few impressive tombs to explore around here such as the Tomb of Sikander Lodi, Mohammed Shah's Tomb, and others.
Later, you can head to the Lodhi Art District as well where you will find street art graffiti on several walls around here. It is quite colorful and makes for a good backdrop for photographs as well.
Delhi Haat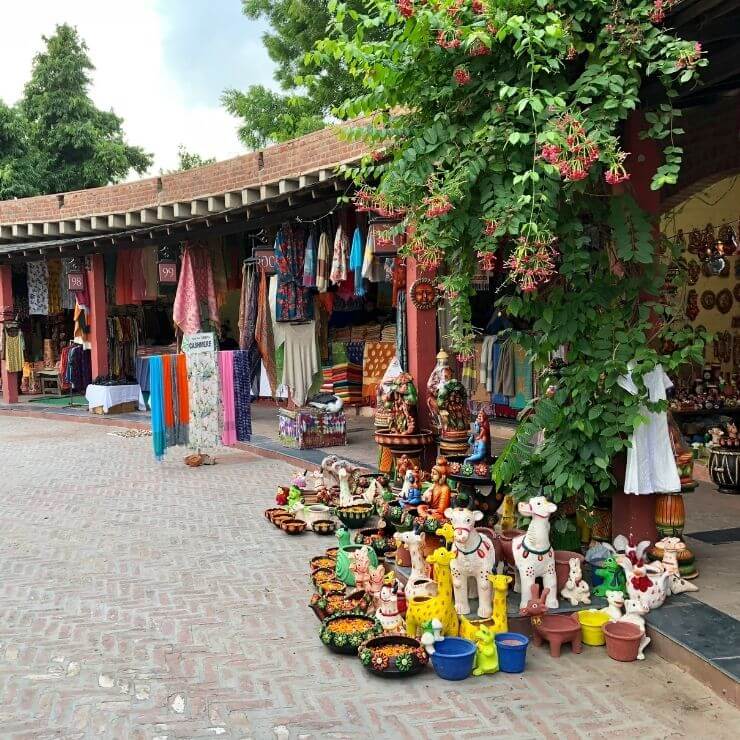 Finally, head to Delhi Haat to explore the food and crafts market here. The most interesting thing about Delhi Haat is that you get to admire crafts from all over India, so it is a good place to shop as well.
And you can indulge in some finger-licking dishes from different Indian states here. From momos to dosa, you will find it all here.
Enjoy a nice meal at Delhi Haat, trying out different states' dishes, and end your day in Delhi on a high note.
How to Travel in Delhi
Traveling in Delhi can be a little confusing with so many options available.
From luxury to budget, you will find all kinds of modes of transportation to travel around the city. However, since you have just a day at hand, it would be better to travel in metros or private cabs.
Metros are comfortable, budget-friendly, and don't take a long time to drop you at your destination. And if you wish to avoid the complete hassle of changing metros, then you can simply book an Uber or Ola cab for yourself for the short distances that you travel.
Food in Delhi
One of my favorite things about staying in Delhi is that it offers the most delicious street food in entire India. And that's not all, you also get a wide range of options to choose from. From continental to Korean, Punjabi to South India, you will find all kinds of dishes in Delhi.
A few dishes that you should definitely try in Delhi are Butter Chicken, Butter Naan, and Rogan Josh for non-vegetarians, and Shahi Paneer, Jalebis, and Aloo Tikki for vegetarians.
There are several amazing cafés and restaurants here as well that will provide you with not just delicious food but amazing ambiance as well. If you love visiting interesting cafés, then do try Kunzum Café (Hauz Khas), Rose Café (Said Ul Ajaib), and Lodhi – The Garden Restaurant.
Getting to Delhi
Since Delhi is a popular metropolitan city, there are thousands of flights to Delhi from all over the world. You will find flights from all over India to Delhi as well and the road connectivity to Delhi is also pretty great.
Enjoy Your Day in Delhi
Delhi is a great place to explore and obviously 24 hours or less to see it makes it hard to experience it all. But if you are short on time, then you can make the most of your limited time in Delhi by simply following this concise itinerary.
One more tip: Make sure that you wear a comfortable pair of shoes, have several cups of coffee, and bring your A-game for bargaining to best enjoy your day in Delhi.
About the Author: Rachita Saxena is a travel blogger from India who has been traveling full-time for three years now. She shares her travel stories on her blog Meanderwander and loves trying new food and experiences in a new destination. When she isn't traveling, she loves reading about new places and plan her next trips! You can follow her on Instagram and Pinterest.
Found this One Day in Delhi itinerary helpful? Pin it to easily read again later!