One Day in Dubai Itinerary + Essential Things to Know Before You Go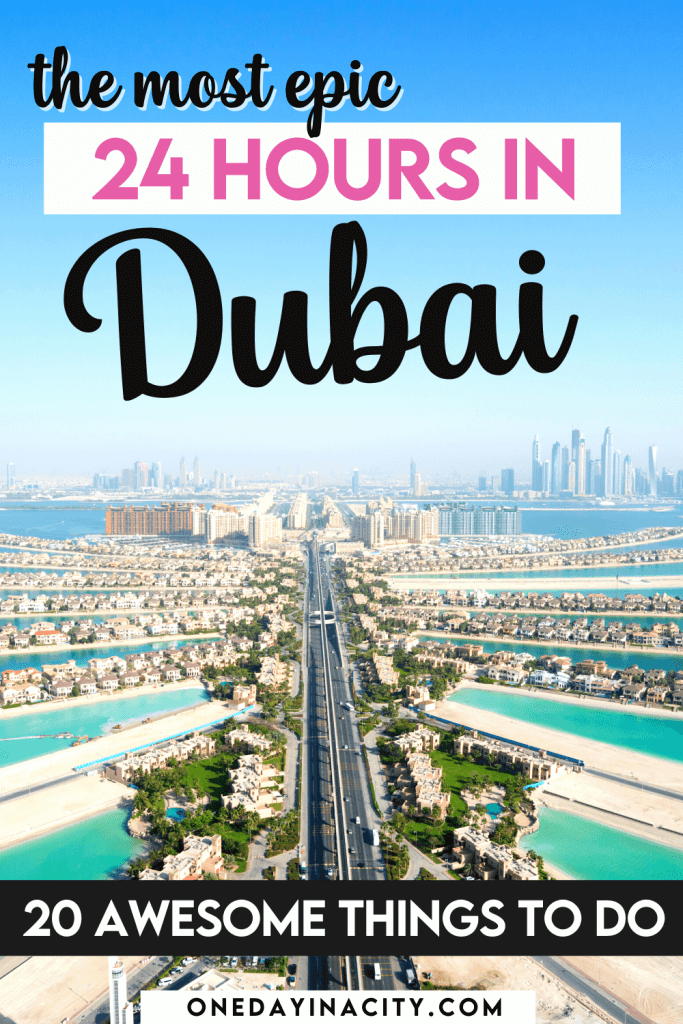 Dubai is ever dynamic and multi-faceted. It has all the sparkle and sophistication of an uber-contemporary metropolis on one side, and the old world vibe on the other with the Al Bastakiya Quarter and a quaint untouched desert scene.
Because of that, the thought of hitting the UAE's most popular city in one day may sound overwhelming. But, luckily, with appropriate planning, it's easier than you think! Especially with our one day in Dubai guide, which has all the vital Dubai info and top suggestions you need to help you make the most of your 24 hours in the city.
Before You Go: Essential Dubai Information to Know
• Dubai is located across the southeastern coast of Arabian Gulf.
• Dubai is the UAE's second largest emirate, after Abu Dhabi.
•, The winter months from November to March make up the peak season due to its pleasant weather and many seasonal events and attractions.
• Dubai is four hours ahead of UTC (Coordinated Universal Time.)
• Dubai's currency is the UAE Dirham and is pegged to the US dollar. One dollar is equivalent to AED 3.67.
• As an Islamic destination, the destination expects you to dress modestly with strict restrictions on all kinds of PDAs.
• Dubaiites and Emiratis revere the month of Ramadan, so refrain from eating or drinking in public during this holy month.
• Get prior permission before capturing images of significant government structures and locals, mainly Emirati women.
• There are two international airports: Dubai International Airport and Al Maktoum International Airport.
Top Tips To Get Around Dubai
• Dubai is by no means a walkable city, but its well-integrated public transport consisting of the metro, public buses, cabs, and ferries make it super easy to get from one place to another.
• Purchase a NOL card (ideally red card) to make payment for all public transport.
• While public transport is convenient and exceptionally affordable, the best tip is to rent a car to get around quickly if you've got only one day to spend in Dubai. Don't forget to carry your international driving license in case you plan to get behind the wheels.
• If you want to make it even more convenient, you can go for a guided excursion with a made-to-measure itinerary that incorporates all your favorites (check our 'Where to Go' section for more ideas.)
1 Day in Dubai: Where to Go
Instead of an off-the-rack itinerary, we've included a list of must-sees and experiences that encompass some of Dubai's top neighborhoods.
This will help you to pick your favorite attractions and activities, thus allowing you to put together a more feasible travel program that matches your preferences and style.
Each thing to do in Dubai that we list below also includes an estimated amount of time we recommend you should spend at the attraction so you can better put together your perfect one day in Dubai itinerary.
1. Downtown Dubai
Downtown Dubai is a posh 500-acre neighborhood that is packed with glitz and glamor, making it one of the most stylish places in Dubai. Sure enough, the region is home to some of the city's powerhouses such as:
The downtown area is situated along Dubai's Sheikh Zayed Road and is surrounded by Business Bay in the south and Financial Centre in the north.
Burj Khalifa
It's the world's tallest structure towering at an astounding height of 828 meters. A visit to its observation decks on 124th and 148th levels is highly recommended for the most comprehensive and unparalleled views over the entirety of Dubai and beyond. A high-speed elevator ride and a fascinating multimedia display of Dubai's past are all added perks of your Burj Khalifa visit.
Recommended Amount of Time to Spend Here: 30 minutes to 45 minutes
The Dubai Mall
Next to Burj Khalifa is the world's biggest mall. The Dubai Mall hosts outlets of many beloved brands and merchandise with some 1,000+ shops. More than 200 dining outlets make it a foodies' haven as well.
Aside from these, this mall is also one of the city's most favorite leisure and entertainment destinations. At the Dubai Mall, you'll find Dubai Aquarium and Underwater Zoo, Dubai Ice Rink, KidZania Dubai, VR Park Dubai, and Hysteria Dubai Mall.
Recommended Amount of Time to Spend Here: You can wander around here as long as you wish. But with just one day in hand, it's ideal to spend here not more than 60 minutes to 90 minutes.
Dubai Fountain Show
You'll find this extravaganza of light, music and water outside of the Dubai Mall and Burj Khalifa. Simply put, it's a choreographed water performance in perfect harmony of iconic regional or classic international musical numbers played in the background. With limited shows during the day, make sure that you time your Downtown Dubai visit accordingly to catch the show, preferably after 7 p.m.
Recommended Amount of Time to Spend Here: 15 minutes
2. Palm Jumeirah
This chicest neighborhood of Dubai is also renowned as the world's most elegant man-made island, which looks like a giant palm tree crowned by a crescent. The following are among the can't-miss sites here:
Atlantis, The Palm
This 5-star resort on the crescent part of the island is easily identifiable for its regal, palatial style façade.
Atlantis, The Palm is more than just its high-end accommodations; it's equally worth a trip for its many cool attractions like Aquaventure Water Park (a must-do for water park lovers), Lost Chamber Aquarium (which is a real stunner for its mysterious ambience and distinct exhibits), and Dolphin Bay with some adorable dolphins to give you company.
Recommended Amount of Time to Spend Here: Depending on what you wish to see or experience here, you'll need an average of one to two hours.
Helicopter Ride
Want to cherish the splendor of this island in its true state? Hover above the island in an advanced helicopter equipped with the latest safety measures. Beyond the bird's-eye view of this island, your pilot will regale you with some captivating facts about the island as well as its top highlights.
Recommended Amount of Time to Spend Here: Subject to your chosen flight package, it lasts for 12 minutes to 40 minutes.
Sky Dive
This is especially recommended for those who wish to add a touch of wild fun and adventure to their sky-high Dubai sightseeing. With no interludes in between your jump from the aircraft and your way down, it's one of the ultimate ways to take in the unequaled majesty of this man-made island.
Recommended Amount of Time to Spend Here: Sky diving lasts for not more than 15 to 20 minutes but the whole experience from check in to the pre-flight orientation will require at least two to three hours.
Monorail Ride
Not able to afford airborne sightseeing tours? Then a ride aboard the monorail does the job for you. And the bonus is that it covers almost the entire of this island in a 10 to 15 minutes ride.
Recommended Amount of Time to Spend Here: 10 minutes to 15 minutes
Boardwalk
Laid out along the shorelines behind Atlantis, The Palm, this is one of the refreshing spots for the most scenic sea views and calm ambience. Many food trucks, souvenir shops, and other shops line the boardwalk and add to its vibrancy.
Recommended Amount of Time to Spend Here: 10 minutes to 15 minutes
3. Old Dubai
Living up to your imagination, this neighborhood holds some of the area's most historic and distinctive structures. The iconic Dubai Creek comprises this age-old part of Dubai, as does the Deira and Bur Dubai areas. Top attractions here include:
Al Bastakiya Quarter
It's unimaginable for culture and history buffs to end up their 24-hour Dubai trip without traveling here. Also called Al Fahidi Historical Neighborhood, a visit to this 19th century era neighborhood is like stepping into an altogether different era, thanks to its many modest sand-colored structures that are still retained to their original state. Also don't miss touring some of the area's intriguing museums, art galleries, and landmarks such as Sheikh Mohammed Centre for Cultural Understanding.
Recommended Amount of Time to Spend Here: 30 minutes to 60 minutes
Al Seef
This charming area along the Creekside is bursting at the seams with some of the most amazing dining, leisure, and shopping options.
Recommended Amount of Time to Spend Here: 15 minutes to 30 minutes
Souks
Whether you're a shopping fanatic or not, don't leave Old Dubai without checking out the traditional Arabian bazaars or souks spread across Bur Dubai and Deira. There is Gold Souk, Perfume Souk, Textile Souk, and Spice Souk – each with its own intrinsic appeal and character.
Recommended Amount of Time to Spend Here: 60 minutes
Abra Ride
An abra ride across Dubai Creek is one of the most cost effective things to do in Dubai, costing just AED 1 per ride.
Recommended Amount of Time to Spend Here: 30 minutes
4. Jumeirah
This coastal neighborhood is one of the most striking with its stunning beaches, lovely green parks, and a bevy of chic cafes, lively bars, and extraordinary accommodations. Along with these, it stands out for its attractions and sights like:
Burj Al Arab
This is one of those Dubai landmarks which people don't want to miss on their debut trip. After all, it's iconic for its sail-shaped structure and also considered the only seven-star hotel in the world.
Recommended Amount of Time to Spend Here: 15 minutes to 60 minutes (if you plan for a dining session here)
Wild Wadi Water Park
This is one of Dubai's perennial attractions. It has a variety of water-based rides, ranging from milder ones to thrilling slides and even a water rollercoaster. Wild Wadi Water Park also has onsite dining and shopping.
Recommended amount of time spent here: At least 60 minutes
Kite Beach
Don't miss this pulsating yet pristine beach if you seek water fun with cool activities such as parasailing, paddle boarding, and kite surfing.
Recommended Amount of Time to Spend Here: 30 minutes
Madinat Jumeirah
Fusing Arabian heritage with modernity, Madinat Jumeirah boasts four luxurious hotels, 40 plus dining choices, a traditional style souk, and a host of other facilities like Talise Spa.
Recommended Amount of Time to Spend Here: 30 minutes
Jumeirah Mosque
It's one of the region's oldest and most charming mosques and is open to non-Muslims as well.
Recommended Amount of Time to Spend Here: 30 minutes
5. Al Barsha
Al Barsha is a hotspot for dining, shopping, and leisure and entertainment. One of the most visited spots here is:
Ski Dubai
It's inside the Mall of the Emirates and is popular as the Middle East's first indoor ski resort. Once you enter, you'll forget for a bit that you're in a searing desert city. With its snow-filled alpine settings, real-like skiing slopes, and a vast array of snow-themed rides and attractions, it gives you a feel of being in an authentic winter destination.
Recommended Amount of Time to Spend Here: At least 60 minutes
6. More Dubai Attractions / Activities
Desert Safari
If you get a chance to squeeze in this desert trip to your one day itinerary, don't miss it. Dependent on your time, take a brief morning or an elaborate evening desert safari. Whichever you opt for, you'll no doubt have a pulse-racing and fun-filled time amidst the incomparable serenity of Dubai's desert landscape.
Recommended Amount of Time to Spend Here: 3 hours (Morning Desert Safari) to 6 hours (Evening Desert Safari)
Dhow Cruise
This is one of the most ideal ways to end your Dubai visit. Surrounded by the most breathtaking Dubai night skyline vistas and complete with mind blowing live traditional performance and lavish buffet dining, a cruise in a traditional dhow gives you a slice of the timeless Arabian culture and heritage as well.
Recommended Amount of Time to Spend Here: Approximately 90 minutes
Seasonal Sights & Events
While the majority of attractions mentioned above can be experienced during any part of the year, Dubai's seasonal attractions are those exclusively lined up for its winter months from late October to April. This ranges from Dubai Miracle Garden and Dubai Garden Glow to the grandest ever Dubai Shopping Festival and Global Village.
Best Places For Quick Shopping in Dubai
Dubai is a shoppers' haven, so what's a Dubai holiday without some retail therapy? Whether you're looking for items from top-notch or even budget brands, more than 70 gigantic malls across the city have it all – The Dubai Mall, Mall of the Emirates, Ibn Battuta Mall, Wafi Mall, and Deira City Centre are just some to name.
For bargain shopping, the souks across Bur Dubai and Deira will fetch you some unique souvenirs, apparels, and decorative items at rock-bottom rates. Want to scour more deals? Head to the spots such as Dubai Outlet Mall (where clearance sales are regular) and Dubai Flea Market, which exclusively hosts the sale of second hand, but well maintained items such as handicrafts, books, gadgets, and more.
Enjoy Your Day in Dubai!
That's a wrap of our suggestions for your one day in Dubai itinerary! So if cobbling together diverse aspects of your mini Dubai getaway gets out of your hands, we anticipate that the above recommendations and tips would certainly prove beneficial for you.
About the Author: Neha is a travel blogger by profession and also an avid photographer. In her spare time, she loves spending time with her family, binge watching various series on Netflix, and painting. You can follow her writings on www.DubaiWikia.com.
Found this article helpful? Save to Pinterest to read again later!