How to Spend the Perfect 24 Hours in Galway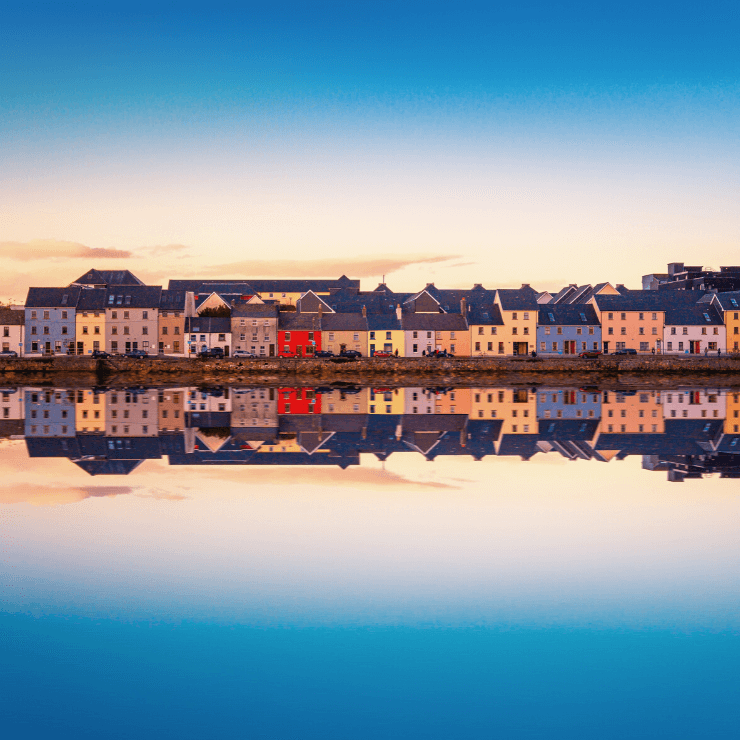 It doesn't take more than a day to fall under the spell of Galway's beauty and vibrant atmosphere, which makes it a fortunate place for visit for those who are short on time and only have 24 hours to spend in gorgeous Galway.
Street performers (called buskers) line Galway's cobbled pedestrian street, providing beautiful music as the soundtrack to your Irish adventures. This ambiance is amplified as you pop into Galway's best pubs for a pint or a bite while listening to talented musicians playing trad (the nickname given to traditional Irish music) or Irish pub classics many times throughout the day. And when you need a break from all of the activity, Galway Bay is there to provide a breath of fresh air.
Just outside Galway's city limits lie some of Ireland's most beautiful places, like the Cliffs of Moher, the Aran Islands, and Connemara. Day trips to explore these locations may tempt to pull you away from Galway's charms.
But if you can commit to adding one full day in Galway to your Ireland itinerary, then I promise, Galway's vibrance will draw you in and leave a mark on your heart that you'll remember long past your short time spent in the city.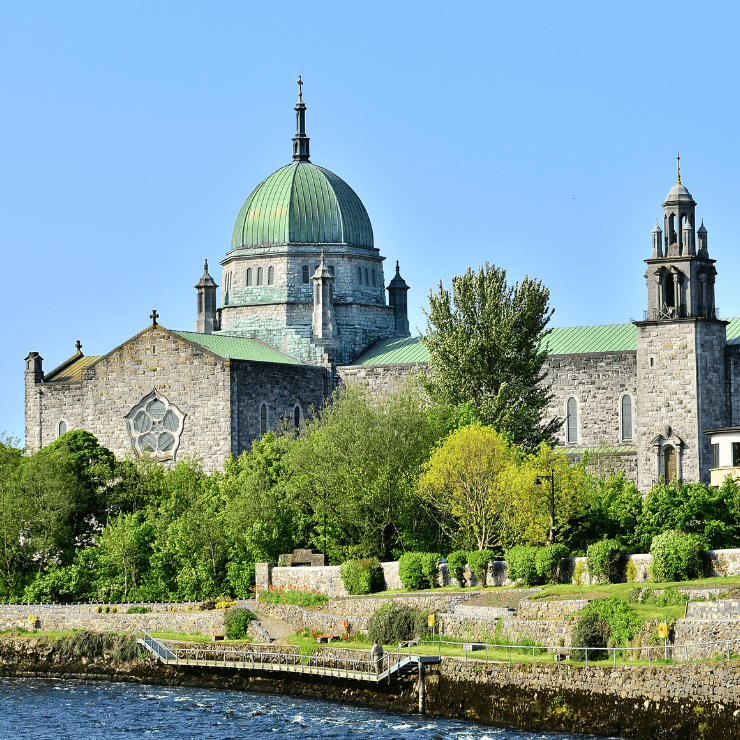 An overview of how to spend the perfect day in Galway
Breakfast at a Michellin Star restaurant that won't break the bank
Learn about the city's medieval past
Buy yourself a momento from one of the shops on shop street
Lunch at a pub
Walk up the canals to Galway Cathedral
Walk salthill prom at sunset
Dinner at one of the city's many delicious restaurants
Enjoy a trad session at the pub
One Day Itinerary for Galway, Ireland
Without further ado, here is my recommended one day itinerary for Galway. Be sure to wear comfortable walking shoes because walking is the best way to see the city!
Also, it's wise to always have a rain jacket close by, because this is Ireland after all, there's always a chance of rain!
Breakfast at Ard Bia at Nimmos
Located in between the famous Spanish Arch and the picture perfect homes of the Long Walk is Ard Bia at Nimmos a cozy little restaurant serving up seasonal fare at a reasonable price.
Ard Bia's walls are lined with locally sourced and hand crafted gifts for the foodie in your life (or for yourself) and there are a number of tables to ensure everyone gets served. But, if you get there after 10:30 a.m. be prepared for a bit of a wait any day of the week.
Galway City Museum
Across the sidewalk from Ard Bia's is Galway City Museum, a free museum that is a great place to gain some perspective on the medieval beginnings of Galway. The museum's three levels tell the story of how Galway came to be known as the city of tribes, the city's role in the country's many wars, the importance of the bay, and it even has a section dedicated to a successful soccer team (which you'll hear being called football in Ireland).
The Galway City museum is not overwhelming in the way that other museums can be and you could easily see the highlights in about an hour. Especially if it happens to be raining out, it's a great place to spend some time to acquaint yourself with Galway's history and culture.
Go Shopping on Quay Street
You're now in a prime location to go shopping on Quay Street. There are two shops I highly recommend visiting.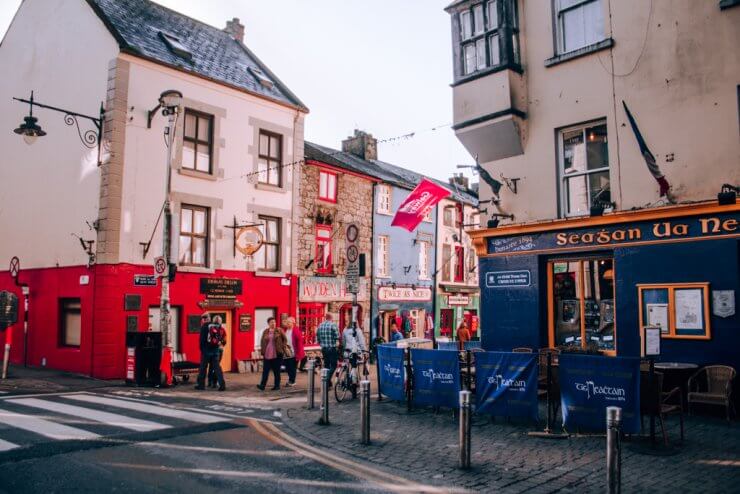 First is Thomas Dillon's, who has been making the world famous Claddagh ring since 1750. This tiny red front shop is a great place to pick up some jewelry and learn about the history and significance of the Claddagh. In the front is the jewelry shop and in the back is a little museum with the smallest Claddagh ever made!
After your experience at Thomas Dillon's, it's time to connect with Ireland's literary culture by bookshopping at Charlie Byrne's bookshop. It's not actually located on Quay street (just one block away) but it's a gem that is not to be missed.
Before you even enter the store, you'll see a wall lined with gently used books for as cheap as €2. Then step inside to a maze of bookshelves from floor to ceiling, each little room dedicated to a different genre.
You're sure to find a book that you can't put down on their shelves. And if you feel a bit overwhelmed, just ask a friendly staff member to point you in the direction of their favorites.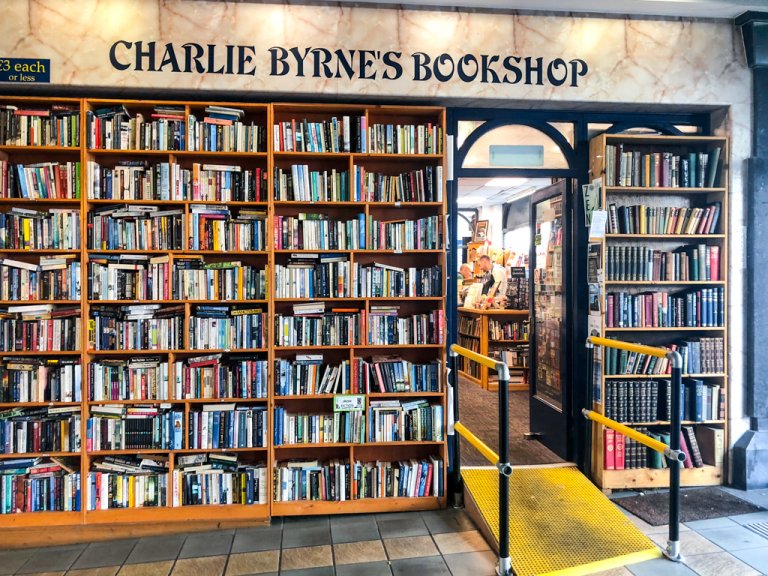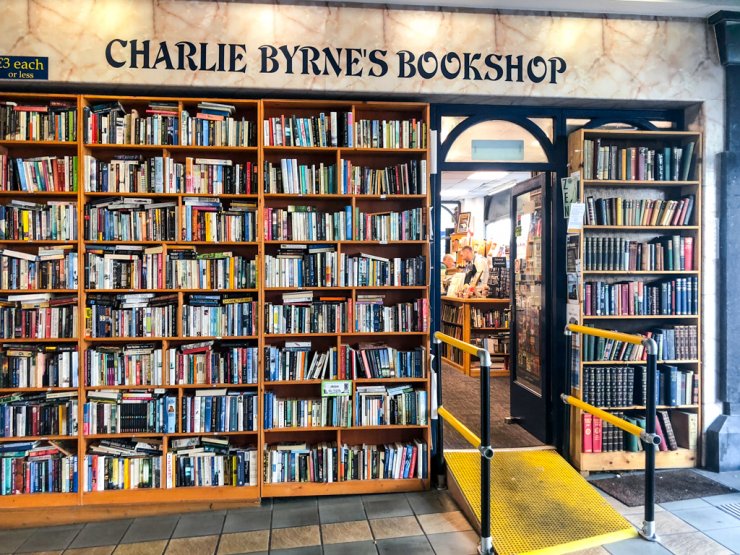 Lunch at Tigh Neachtain
Returning to Quay street you'll find the colorful blue and yellow pub located directly across from Thomas Dillon's jewelers. Tigh Neachtain is one of the best pubs in Galway with plenty of cozy little nooks and crannies and a well stocked bar that will leave you feeling right at home.
They serve lunch every day from 12:00 pm to 4:00 pm. As with many restaurants in Galway, their menu changes seasonally, so you'll be in for a unique treat.
Galway Cathedral
After lunch take a relaxing walk along the canals to Galway Cathedral. Galway Cathedral is the last stone church built in Europe and boasts beautiful mosaics inside, including one of JFK who visited Galway multiple times. It's free to enter the Cathedral, but I'd advise avoiding it during mass, unless of course you want to participate.
Sunset on Salthill Prom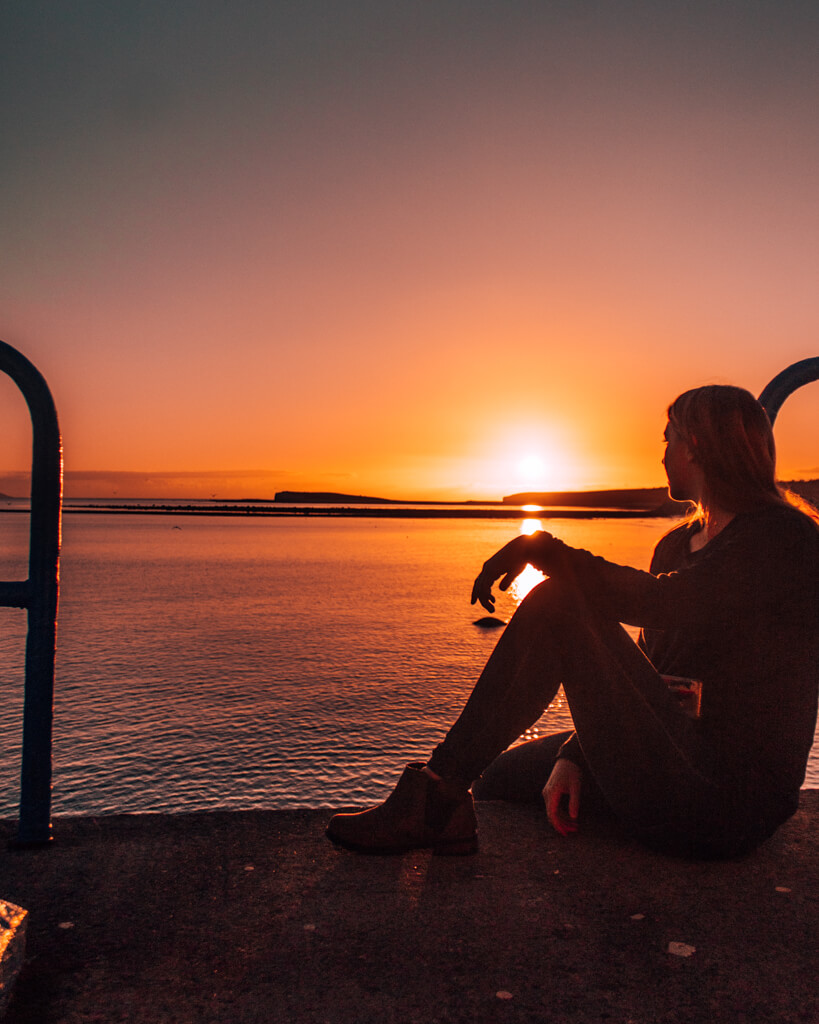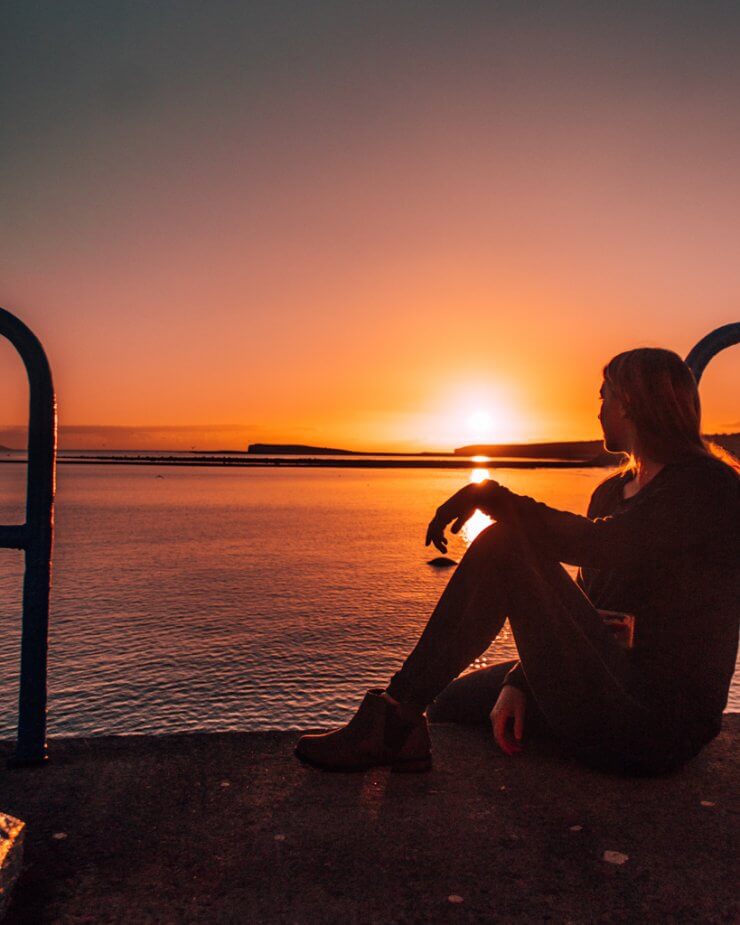 The best place for sunset in Galway is anywhere along Salthill prom, but my personal favorite spot is at the Blackrock Diving Tower. Start your walk on the pedestrian path next to South Park and walk towards the tower. Along this walk you'll pass by numerous beaches, a Famine memorial and Galway Bay Aquarium. If you don't want to go all the way to the tower, just find a bench and relax.
If you want to go all the way you'll be rewarded with stunning sunset views, and if the tide is right, you'll witness people jumping from the third deck into the freezing waters below.
Don't worry about having to walk all the way back to town for dinner. There is a bus stop directly across the street from the tower and it will take you back to Galway city center for €2.
Dinner at Handsome Burger
With all that walking, it's time to refuel with a delicious burger at Handsome Burger. This small burger joint is located in the artsy West Side of Galway, an area that is less trafficked by tourists and has a distinctly different vibe than the city center.
As a self proclaimed burger aficionado, I am usually hesitant to try burgers outside of the USA as they're generally a let down. But not Handsome Burger. Their burgers have a unique combination of flavors and they also offer vegetarian options!
Enjoy Galway's Pub Culture
Your day in Galway isn't over just yet! It's now time to enjoy Galway's famous pub culture and you're in prime location for a number of pubs.
The thing about Galway's pubs is that they each have their own unique vibe so you can find one that works for the kind of night you're looking for. No matter where you decide to go, you're sure to enjoy a warm welcome from locals and other tourists alike.
Here are my top three recommendations for pubs to go to during your day in Galway:
The Crane Bar
The Crane Bar located in the West End was recommended to me by a local I'd met at another pub (O'Connors in Salthill – also highly recommend) and it did not disappoint. This cash only establishment has local musicians playing traditional Irish music seven nights a week. It has a chilled out atmosphere and if you're a singer, the band will even let you join in for a song!
Taaffe's Bar
Taaffe's Bar is located on Quay Street and has a much more upbeat and party vibe as the band plays songs that are a bit more in line with Irish pub rock. You'll hear classics like Galway Girl (the original) and Wild Rover and dancing is encouraged!
Tig Coili
Tig Coili holds a special place in my heart because it was my first pub experience in Galway. Tig Coili is a place that packs in a large crowd to hear talented musicians, but you'll also find that the people inside are incredibly friendly. Even if you walk in alone, don't be surprised if you leave with a few new friends!
There are way more pubs in Galway than this, but these are a good starting place for your night and then see where it takes you!
Where to Stay in Galway
That was quite the whirlwind day in Galway and you'll likely be quite tired when you leave the pub. There are a number of accommodation options for any budget in Galway. Here are two of my favorites.
The Nest Boutique Hostel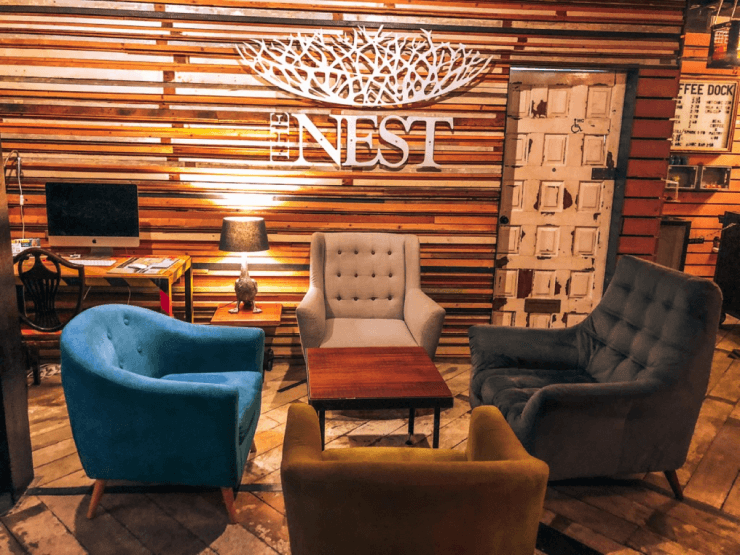 This hostel is located in the Salthill neighborhood, but don't let its location deter you. Salthill is a great place to stay and just a 15-minute walk to the city center or a 5-minute €2 bus trip from the stop right outside its doors. Since it's not located in the city center, it has a much more relaxed atmosphere.
Plus, The Nest definitely feels more like a hotel with it's boutique design, large kitchen, coffee shop, and delicious (free!) breakfast every morning. They offer every type of room from private to mixed dorm, most with their own bathroom. And the beds are so comfortable! You'll definitely rest well at The Nest.
The Zen Den Airbnb
Airbnb's in Ireland are under strict regulation due to a national housing crisis. No longer can you rent out an entire house, but you can still rent out a room and the Zen Den is the perfect place to do so. It's located literally steps away from Quay Street and is beautifully decorated. The warm and welcoming hosts give expert advice for things to do in Galway and surrounding areas. If you want to be in the center of the action then the Zen Den is for you!
And just like that, you've had one epic day in Galway! I hope you love it as much as I do!
About the Author: Katie Minahan is the solo female travel blogger behind Just Chasing Sunsets. Her first solo trip to Ireland in 2015 inspired within her a deep wanderlust and she left her job in health care for 10 months of backpacking throughout South America and Europe, eventually returning to her beloved Ireland. While she has returned to the working world, she travels every chance she can get, mostly to Ireland. You can follow her for the best solo travel and Ireland travel tips on Instagram and Pinterest!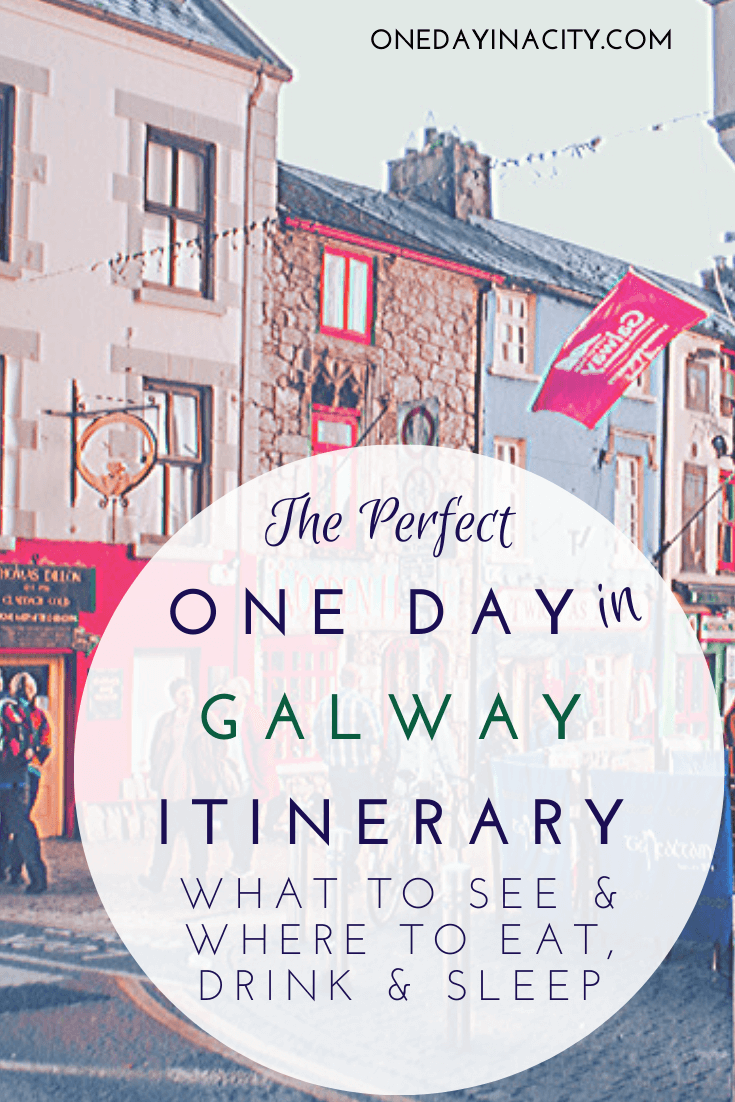 Save on Pinterest to read again later!