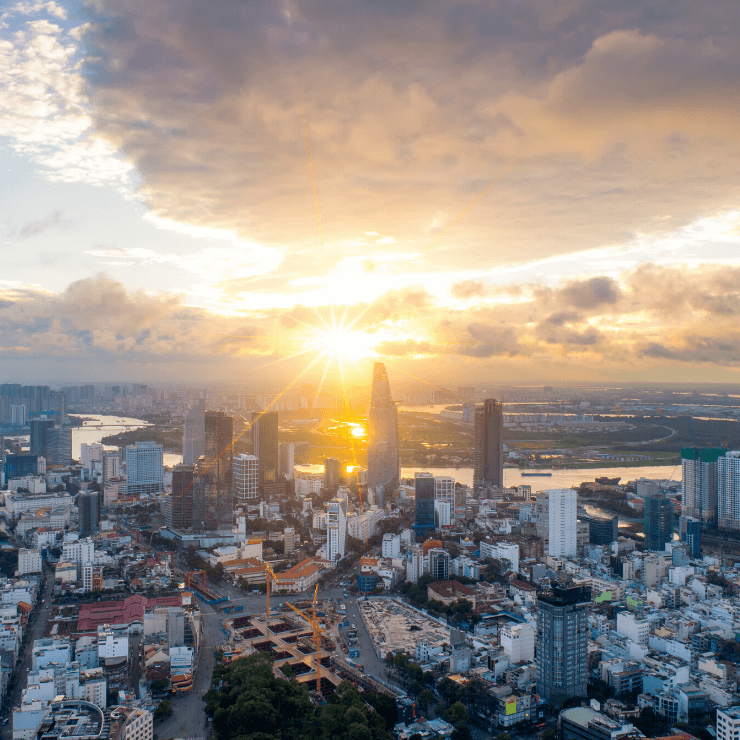 If you're traveling through Vietnam, Ho Chi Minh City is sure to be on your list of places to visit. With so much to see all across Vietnam, it can be difficult to visit everywhere in just one trip. The good news is, you don't need to spend long in Ho Chi Minh City to see the best sites and get a feel for life in the city. With this One Day in Ho Chi Minh City Itinerary, you'll learn exactly how to maximize your time in the city to experience its top sites and culture.
Personally, I believe Ho Chi Minh City is the perfect place to start your trip through Vietnam before heading north.
About Ho Chi Minh City
Although Hanoi may be the country's capital, Ho Chi Minh City is the largest city in Vietnam. The city was formerly known as Saigon but was renamed at the end of the Vietnam War in honor of Ho Chi Minh, the man who drove the country towards independence. Despite its official renaming, many locals will still refer to the city as Saigon.
When the country was divided during the war, Saigon was the capital of South Vietnam until it fell on 30th April 1975 marking the end of the war and victory for North Vietnam. Because of its significance during the conflict, the city and surrounding areas are excellent places to visit for those interested in the history of the Vietnam War.
Since the city is the most developed in all of Vietnam, you'll find more skyscrapers here than anywhere else — including Landmark 81, which is the tallest building in Vietnam and South East Asia.
One Day in Ho Chi Minh City Itinerary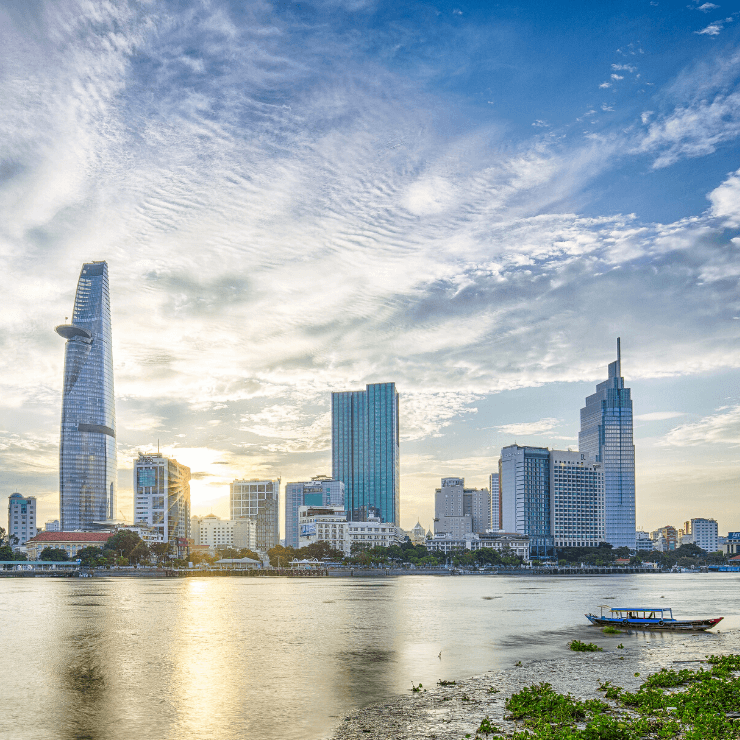 Even with just one day, you can see a lot of Ho Chi Minh City and learn about the country's history. Here's what I recommend when visiting Ho Chi Minh City.
Cu Chi Tunnels Morning Tour
Even if you don't have a keen interest in war history, the Cu Chi Tunnels are fascinating to visit. The tunnels give you the chance to see and experience just some of the conditions that the Vietnamese faced during the war.
Although the tunnels were slightly widened and reinforced to accommodate mass tourism, they can still be a challenge to crawl through and perhaps not suitable for those with claustrophobia.
The tunnels are around two hours drive from the city center, and there are plenty of tours available each day which include transportation from Ho Chi Minh City. There are afternoon tours as well, but I recommend choosing the morning option to avoid visiting during the heat of the day. Even in the morning, the tunnels can be very hot given that they're in the jungle.
Visiting the Cu Chi Tunnels takes a little more than half the day so you can expect to return at around 3pm. Despite the lengthy tour outside of the city, this is a real highlight of the southern part of Vietnam.
On your return, if you want to learn more about the war, head over to the War Remnants Museum which is arguably the best museum in Vietnam.
Late Lunch Banh Mi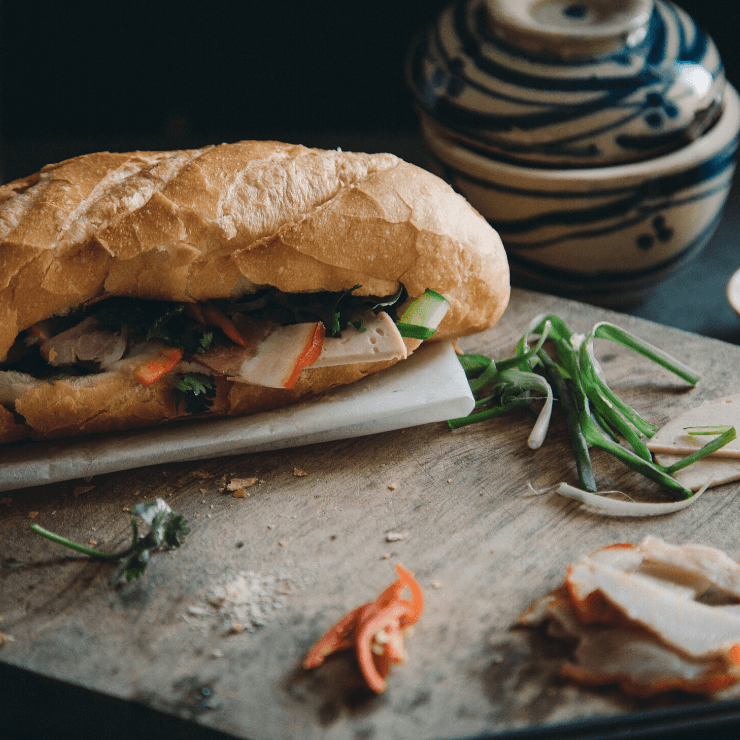 Before heading off around the city, grab a quick bite to eat; there's nothing better for lunch in Vietnam than a Banh Mi. This is a Vietnamese-style baguette often filled with pork, pâté, and salad, but most vendors will have several different options available.
Perhaps the only thing better than how good Banh Mi tastes is the price. You can expect to pay somewhere in the region of 20,000 VND for a baguette. That's less than $1 USD!
Throughout the whole country, you won't struggle to find someone selling Banh Mi, whether it be in a cafe or a street vendor.
Near the War Remnants Museum, you'll find Banh Mi Phuong Thao, an excellent little street vendor.
War Remnants Museum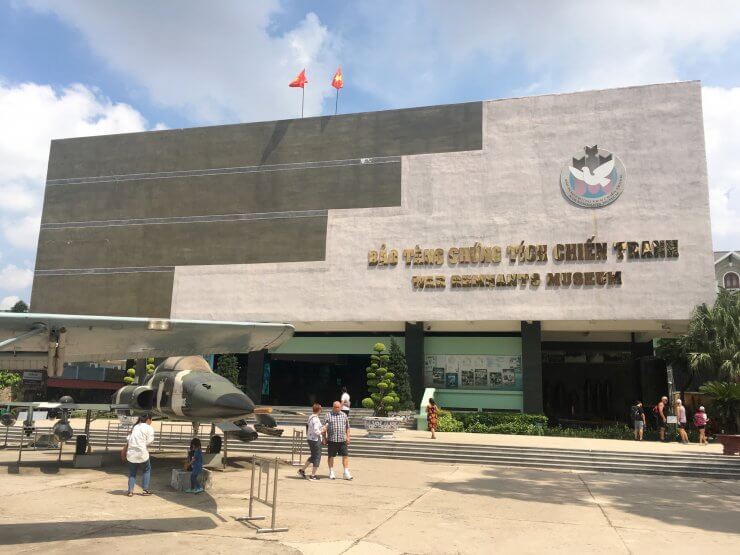 It may not be for everyone since the War Remnants Museum's exhibitions are far from light-hearted, but they're certainly some of the most interesting and eye-opening. The museum gives a view of the Vietnam War from a local perspective including the challenges they continue to face from the heavy bombing and Agent Orange chemicals used during the conflict.
You can get around the museum in about an hour or so depending on your level of interest. The museum also has a large courtyard full of tanks, planes and other military vehicles as well as a replica prison block.
City Sights Walk
Within the same area as the War Remnants Museum are several other iconic landmarks. It will take around an hour to walk between all of these sites plus any additional time looking around them. Finishing up at the Notre Dame Cathedral will put you about 15 minutes walk from the next stop at the Saigon Skydeck.
Thich Quang Duc Monument – a memorial to the monk who set himself on fire in protest of the persecution of Buddhists
Mariamman Temple – a temple dedicated to the Hindu goddess Mariamman
Independence Palace – workplace of the President of South Vietnam during the war
Central Post Office – a beautiful French Colonial building built in the late 19th century
Notre Dame Cathedral – completed in 1880 in a similar style to Notre Dame de Paris
Saigon Skydeck & World of Heineken
After visiting all of the sights above, if you've timed it well, it should be around sunset. In Ho Chi Minh City, the sun sets between 5:30pm-6:30pm throughout most of the year. This is the perfect time to head to the Saigon Skydeck, the centrally located observation deck in the Bitexco Financial Tower along the Saigon River.
There are actually two attractions inside, the Saigon Skydeck and the World of Heineken. Visiting the Skydeck alone costs 200,000 VND (around $9 USD) but you can buy a combi ticket for both attractions for 250,000 VND. If you like beer, it's definitely worth buying the combi ticket. The World of Heineken sits a few floors above the Saigon Skydeck and includes a small tour about the history of Heineken in Vietnam.
With your World of Heineken ticket, you also get four beers: two in the sky bar, one you'll learn to pour yourself during the tour, and a personalized bottle to take home with you.
If you visit both attractions, you'll go up to the World of Heineken first and then visit the Saigon Skydeck afterwards. If you time it well, you'll get to see Ho Chi Minh City by day and by night as the sun sets over the city.
Landmark 81 Alternative
If you prefer to see the city from higher up, you can visit Landmark 81's observation deck. However, this is more expensive at around 810,000 VND (about $35) for a standard ticket as well as being a couple miles outside of the city center so you'd need to take a taxi to get there.
Dinner at Noir or Blanc
Although there are plenty of restaurants and food options in Ho Chi Minh City, there's one dining experience I recommend above all others. About half an hour's walk (or a 15-minute taxi ride) from the Saigon Skydeck is Noir, a restaurant where you can enjoy dinner in the dark. Here, all the waiting staff are either blind or visually impaired.
The idea is to take away your sight to make you truly aware of how much you rely on it when eating. Not only is it a challenge to use cutlery but it's harder than it seems to work out the ingredients of a dish. When you dine at Noir, you will only get to give your food preferences such as meat or vegetarian. Other than that, the menu is decided by the chef so you have to decipher each dish as you eat it.
After the meal, you'll be shown the menu that you ate and see how right (or wrong) you were. Not only is the food at Noir excellent but it is reasonably priced when compared to similar restaurants in Western countries. Although you will pay more than a typical Vietnamese restaurant, it's well worth it for the unique experience.
If you'd rather avoid the ambiguity of not knowing what you're eating or you're uncomfortable sitting in the dark, Noir has a sister restaurant next door called Blanc. In Blanc, the waiting staff are deaf or hearing impaired. Here you'll find the lights turned on and you'll learn how to order your dinner using sign language. Either of these restaurants is the perfect way to end your day in Ho Chi Minh City.
Alternative Day Trip: Mekong Delta
If the Cu Chi Tunnels aren't of interest to you or if you find yourself with an extra day, you can visit the Mekong Delta to the south of Ho Chi Minh City. The Mekong River is one of the longest in the world and flows all the way from China through mainland South East Asia to its delta in Vietnam. The area is home to floating markets, fruit plantations, and fishing villages.
Visiting the Mekong Delta takes up most of the day so you may not find time for much else when you get back to the city. If you want to visit both the Cu Chi Tunnels and Mekong Delta, it is possible to do both in one day with some tour operators but be prepared for an incredibly long and tiring day.
What to Eat in Vietnam
Want some more ideas of what to eat during your trip? Here are some of the best dishes to look out for in Ho Chi Minh City and across Vietnam:
Pho: A rice noodle soup made with either beef (Pho Bo) or chicken (Pho Ga)
Bun Cha: Pork belly or meatballs marinated and barbecued then served with rice noodles and dipping sauce. Easily one of the most moreish and tasty foods in all Vietnam
Spring Rolls: Available either fresh or fried and is my personal favorite Vietnamese food. The fried spring rolls are wrapped in rice paper making them extra crispy
Banh Mi: A classic Vietnamese-style baguette usually filled with pork, pâté, and salad
Egg Coffee: Black coffee served hot or iced and topped with thick egg custard
Where to Stay in Ho Chi Minh City
Like many cities in mainland South East Asia, Ho Chi Minh City is an affordable place to visit. From hostels to 5-star resorts, there are plenty of options available. Here are just a few that I recommend checking out during your stay:
Budget: Vy Da Backpackers – cheap dormitory beds (often less than $5 USD per night) right in the heart of District 1
Mid-Range: BAO Hotel & Apartment – small, friendly, and reasonably priced family-run hotel
4-Star Luxury: Innside by Melia Saigon Central – complete with a roof-top pool, this hotel offers a luxurious stay in Ho Chi Minh City
About the Author: Oli is the British-born creator of Not Brits Abroad. He has been traveling full-time with his partner, Katie, since September 2018 when they both quit their jobs to explore the world. They have since spent most of their time traveling around Europe and Asia. Although Oli enjoys travel and new experiences, he is often overly honest with his disappointment, as is the British way. You can follow Not Brits Abroad on Facebook and Pinterest.
Found this post helpful? Pin it to read again later!