Things to Do for the Perfect 24 Hours in Madrid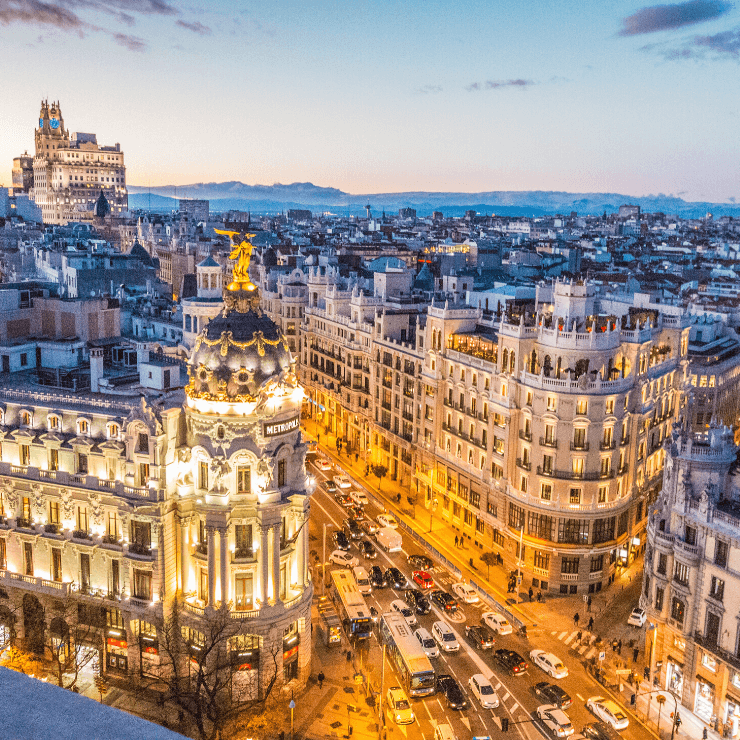 Madrid is one of our favorite cities to visit in Spain. The capital and economic hub of Spain, Madrid, is cosmopolitan while retaining its Spanish charm. If you only have one day in Madrid, you luckily still have many options for how to explore this amazing city.
You'll discover Madrid is easy to navigate on foot. The city also has plenty of must-see places, fantastic shopping, great restaurants, and world-class museums, making for an unforgettable 24 hours in Madrid.
First Thing to Do in Madrid: Adjust your Body Clock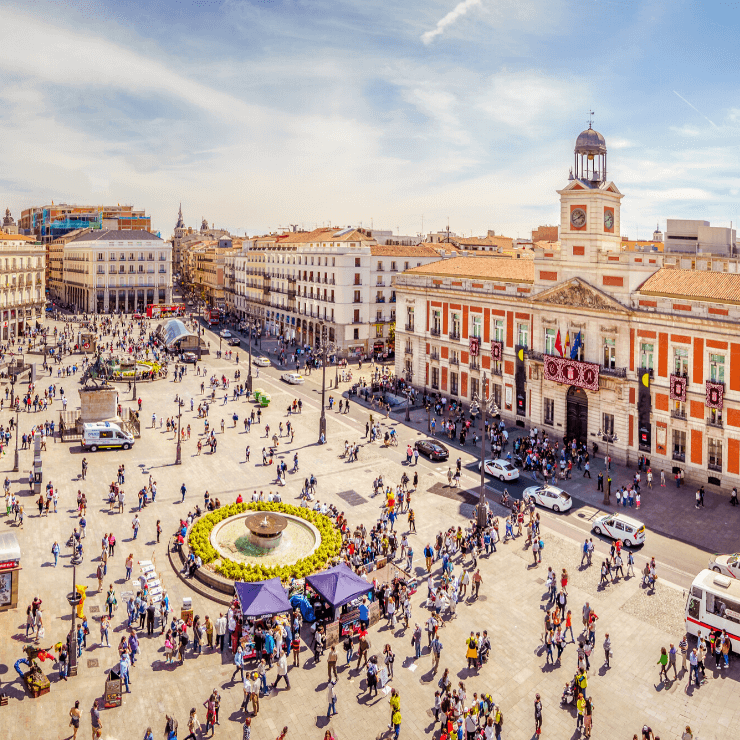 When you arrive in Spain, time seems to slows down and stretches itself throughout the day. The day begins late, so expect lunch at 2:30 pm, and by 5 pm you're ready to enjoy the long evenings.
Most places of interest in Madrid open at 10 am and close at 6 pm. Also, don't be surprised if you find some of Madrid's shops closed between 2:30 pm to 4:30 pm for family and siesta time.
Enjoying and embracing this slower pace of life is a big part of experiencing the best of Madrid in one day.
When to Visit Madrid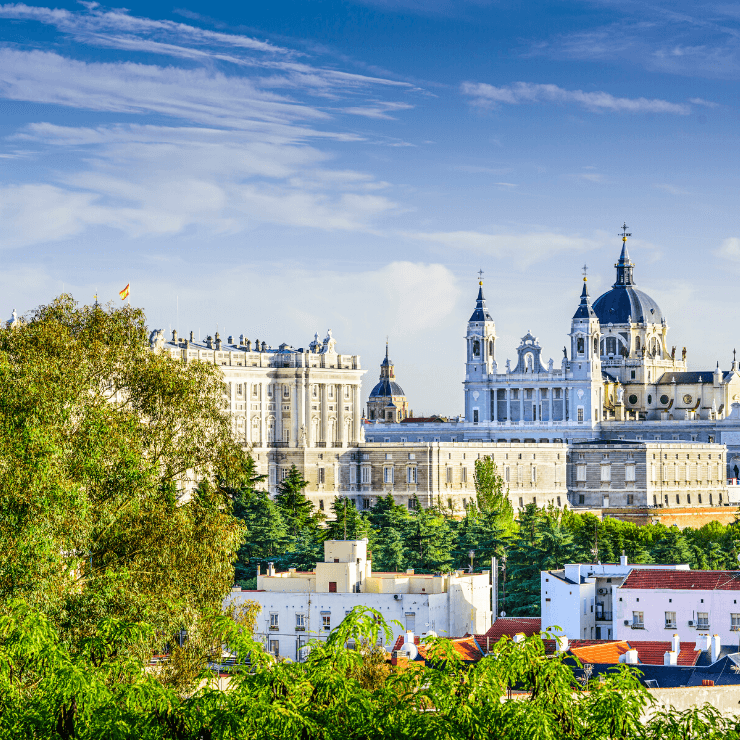 Madrid is inland, only 40 miles south from the Guadarrama mountain range and is about 1,780 to 2,775 feet above sea level. Therefore, the winter is cooler with occasional snow, the summer is hot and dry, with most rain falling in spring and autumn.
The best time to visit Madrid weather-wise is in March and September where rainfall is lower, temperatures are in the mid 20 degree Celsius, and there is plenty of sunshine hours.
One Day in Madrid: Recommended Itinerary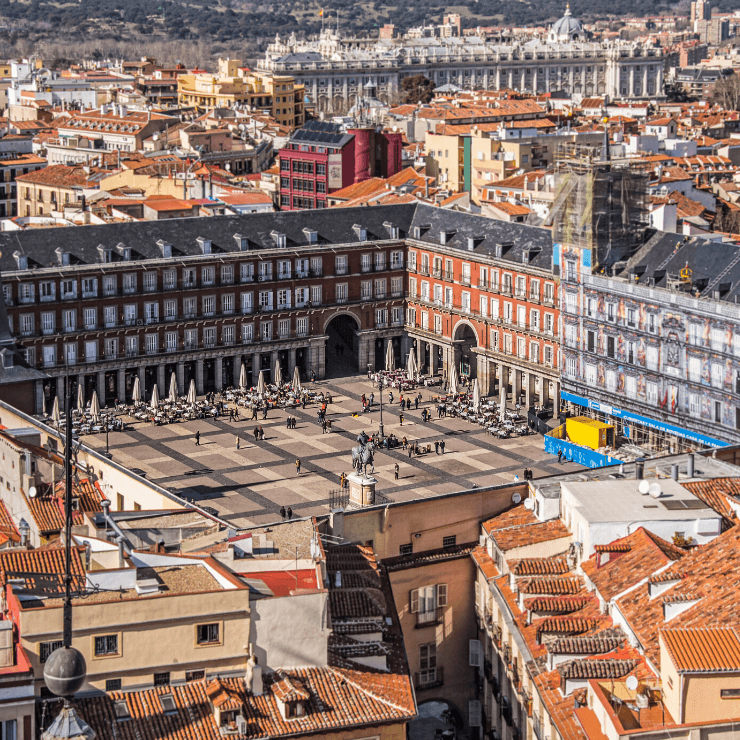 Now for the details on how to spend your day in Madrid! I first included a list of the top things to see and do and then will go into each item in more detail below.
How to Spend One Day in Madrid
Start your day with Coffee and Tostadas
Visit the Bear and Strawberry Tree
Enjoy shopping at Plaza Mayor
Choose gourmet tapas at Mercado San Miguel
See inside the Royal Palace of Madrid
Time Out at Jardines de Sabatini or Plaza del Oriente
Visit the Temple of Debod
Taste Delight at Chocolatería San Ginés
Try Delicious Ham at Enrique Tomas
Find Boutique Shops on Gran Via
Spend an evening at Prado Museum
Art Lovers Rejoice at Thyssen-Bornemisza Museum
Walkthrough El Retiro Park
Learn More About the Top Things to Do in Madrid
And now for some more details about each of those things on the recommended itinerary to do during your day in Madrid.
Find a Small Café or Bar to Start your Day
Rather than eat at your hotel, head out after 9 am to find a small café or bar. On the menu you'll likely find a local breakfast of tostadas and coffee with orange juice. This simple breakfast is a toasted baguette, drizzled with olive oil and spread with crushed tomatoes favored with a sprinkle of salt and pepper. It is a delicious and filling start to the day.

For coffee, you can choose from an espresso, cappuccino, or cortado (small espresso with a little bit of milk.)
Visit the Bear and Strawberry Tree at Puerta del Sol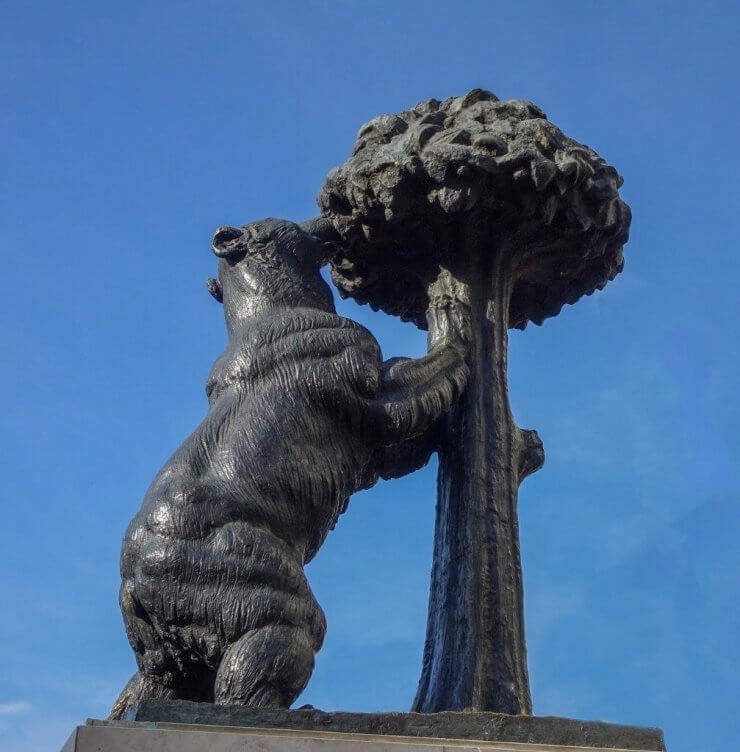 Madrid's famous Plaza is Puerta del Sol, where you will find the coats of arms symbol of Madrid: the Bear and Strawberry Tree statue. The emblem dates to the 15th century and is a busy tourist attraction for photos. This Plaza is also a popular meeting place for locals.
Enjoy Shopping at Plaza Mayor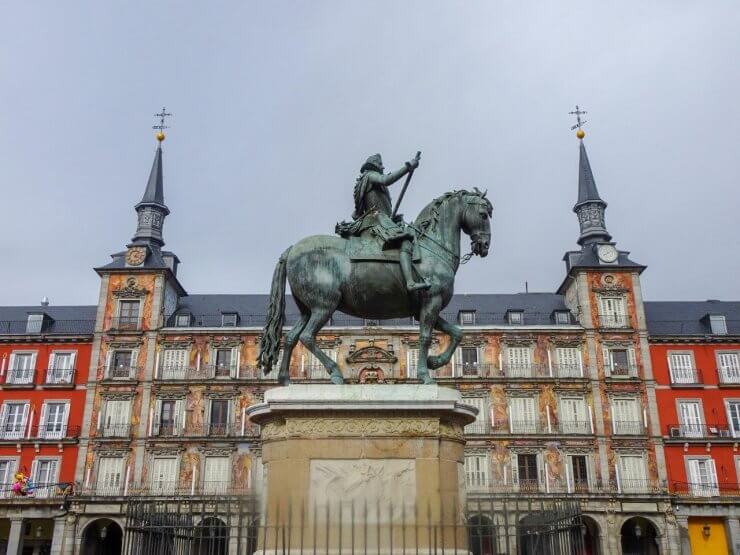 When you enter the Plaza through one of the ten entrances, you find yourself surrounded by a three-story building complex with 237 balconies. The Plaza was originally the center of Old Madrid and used for the local market. During the Habsburg reign of Philip III, whose statue is a feature of the Plaza, major changes were made to the plaza. Now every year, it is the place of the Christmas market.
Choose Gourmet Tapas at Mercado de San Miguel
If you feel like you need a second cup of coffee, stop indoors at this beautiful historic market building. With over 20 different vendors, you can decide whether to eat now or choose from the fresh produce for a small snack later. The gourmet tapas are sensational, especially the specialty, calamari.
The Mercado opens at 10 am each day for dining until very late. Seating is at a premium, so be prepared to share a table and conversation.
See Inside the Royal Palace of Madrid
A visit to the Royal Palace of Madrid is one of the top things to do in Madrid. The Royal Palace is styled on Versailles near Paris and is the largest Royal Palace in Europe. It became the royal residence in 1764 for a time, but is now only used for state occasions.
What makes it one of the must-see places of Madrid is its opulent interior, which took 100 years to furnish. Open from 10 am daily, you can book tickets online or at the Palace ticket office.
If you don't have time to visit the Palace, Plaza de la Armeria (Armoury Square) is perfect for photos of the Palace and Almudena Cathedral to the left of the Palace.
Time Out at Jardines de Sabatini or Plaza del Oriente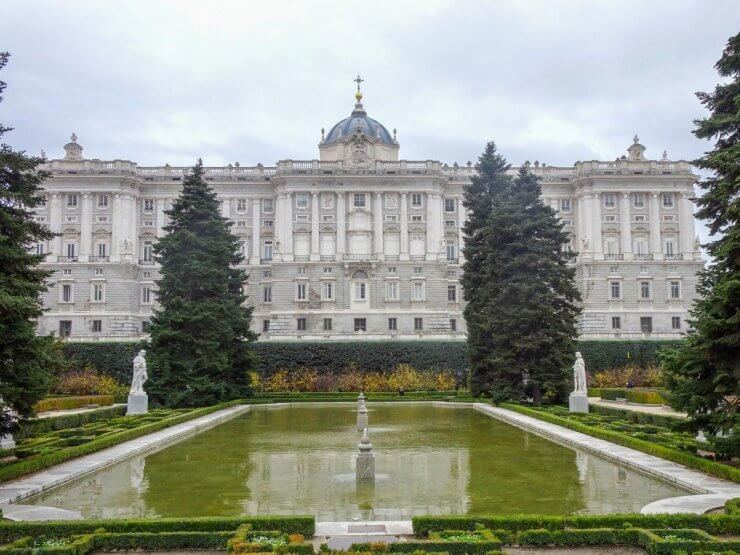 Around the Royal Palace of Madrid, you have two beautiful places to relax. The gardens of Sabatini or the Plaza of Oriente.
Jardines de Sabatini is The Royal Gardens of the Palace, open to the public to enjoy its fountains, beautiful flower beds, and a wonderful view of the Palace.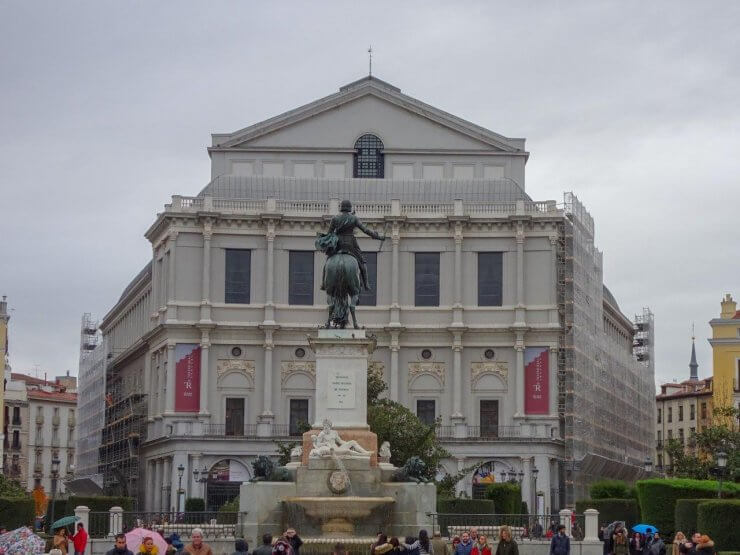 Plaza del Oriente is a perfect spot to shelter from the sun as you sit under trees amongst sculptures of Spanish kings and queens. Here you can also view the beautiful Teatro Real Opera, which features performances of ballet and opera.
Visit the Temple of Debod
For views over the city of Madrid, the park surrounding the Temple of Debod has spectacular views.
The Temple of Debod is an ancient Egyptian temple gifted to Spain by Egypt, for their help moving the Abu Simbel temples during the Aswan Dam construction. Temple of Debod is a tranquil setting of temple and water away from the busy Madrid city center.
Late Afternoon Delight at Chocolatería San Ginés
When spending one day in Madrid, a delightful thing to do is sit and enjoy a plate of churros dipped into a cup of hot chocolate. Churros are fried dough sticks coated in sugar. The best place for this is Chocolatería San Ginés, where since 1894, it has made excellent tasting chocolate and churros perfect for a late afternoon pick me up.
Try Delicious Ham at Enrique Tomas
A specialty in Spain is Jamon (a dry cured ham) prepared using an ancient method of curing meat. To try this tasty delight, Enrique Tomas shop has a variety of Jamon to taste either on its own or in a sandwich. The staff at Enrique Tomas will give you samples to find the right Jamon for you.
Discover Boutique Shops on Gran Via
If you love shopping, a walk along the 100-year-old Gran Via will have you stopping at some of the major brand stores and many boutique shops.
Be prepared for crowds along this busy street, which is also famous for its exquisite architecture. Start your walk at Plaza del Callao, wander along Calle de Preciados and return along Calle del Carmen.
Spend an Evening at the Prado Museum
An enjoyable way to spend an early evening is to immerse yourself at the Prado Museum. Here you can view a collection of the best European art dating back to the 12th century. What makes the museum unique is the collections of art linked to the history of Spain including works by the Spanish painter, Goya.
Open 10 am daily to 7 pm (except Sunday when it's open to 8 pm) with FREE entry the last two hours each evening.
Art Lovers Rejoice at Thyssen-Bornemisza Museum
If art is your passion, you may want to visit another art collection at the Thyssen-Bornemisza Museum. The museum has an extensive collection of over 1,600 private paintings.
Walk or Row Through El Retiro Park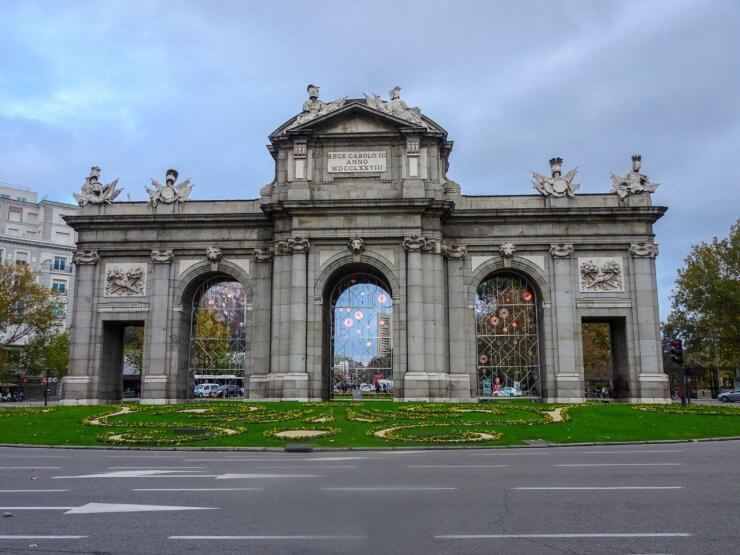 The central feature of El Retiro Park is Crystal Palace, set back behind a lake where you can hire a rowboat.
Often while at the park, you will be entertained by buskers or families enjoying picnics.
Whatever the season, El Retiro Park is an escape from the busy city center. To find the main entrance, head towards the Puerta de Alcalá triumphal gate.
Relax in Madrid at Night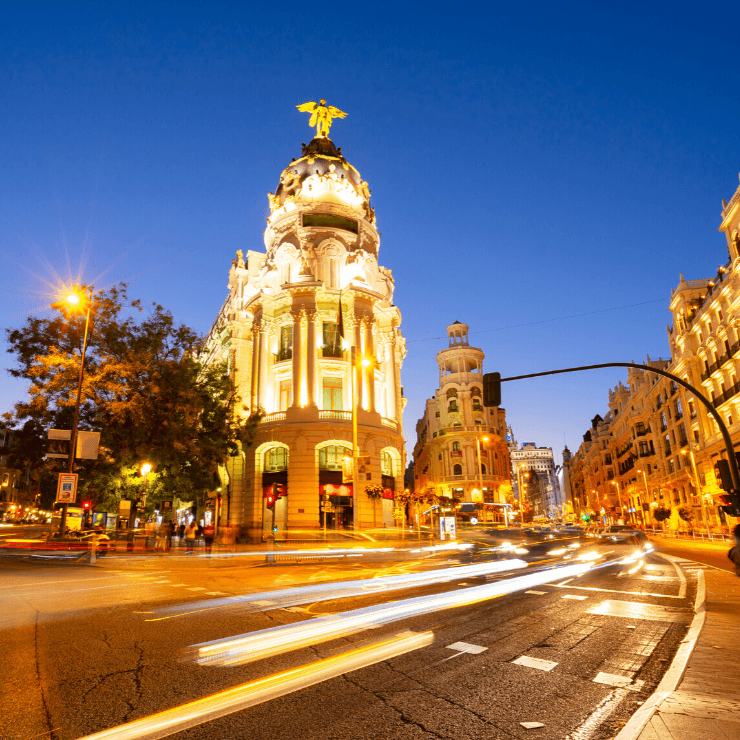 The slow pace of the evenings in Spain means the day stretches well into the late evening.
When looking for places to enjoy the evening ambiance of Madrid, two places we recommend are either the Literary Quarter or the area known as Malasana. You'll find narrow streets to wander, restaurants with seating in small plazas, and lots of local dishes to try.
We tend to choose busy local restaurants where waiters help with choices of regional specialties, wines, or beers. Make sure to try the dish Patatas Bravas (fried potatoes covered in a spicy sauce). It's a great dish to complement a beer.
If you are staying near Plaza Mayor and Plaza de la Villa, check out the streets nearby for smaller, cozier restaurants to enjoy your Madrid experience.
Where to Stay in Madrid
When time is short, staying in the heart of Madrid is how to see the best things in the city.
One place we stayed was the Petit Palace. From here you can walk to Plaza Mayor, and as far as the Temple DeBod while still having time to browse the shops along Gran Via.
Seeing the Best of Madrid in One Day
Madrid is a vibrant, friendly city, and spending one day in Madrid highlights the culture of this wonderful capital city of Spain.
Even though Madrid is a busy city, you can relax like the Spanish and start your visit late morning. By the early evening, many museums are still open so you can relax over a late dinner starting from 10 pm.
So take your time and immerse yourself as you spend one day in Madrid. And one more tip — if you do decide to stay longer, a day trip to Segovia or Toledo from Madrid is highly recommended.