A Cultural and Fun-Filled Itinerary for a Perfect Day in Manchester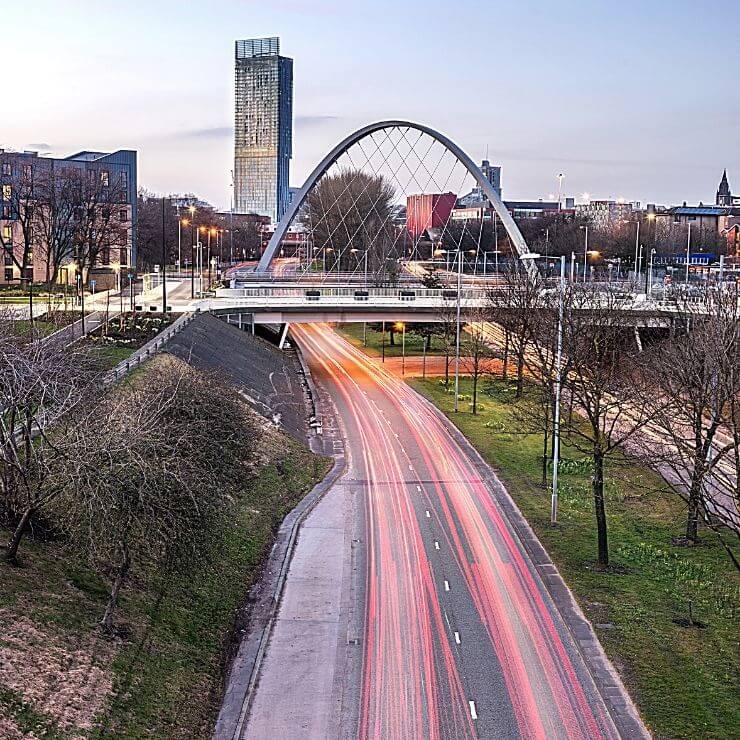 The northern English city of Manchester is one of the most vibrant and exciting places to visit in the whole of the United Kingdom. Known for its love of the arts, it is one of the best cities to visit if you enjoy music, theatre, and art.
Manchester is also known for its two gargantuan football clubs, Manchester United and Manchester City, which dominate life in the city.
We can trace life in Manchester back to the Romans, and it's home to some of the best historical sights in the country too.
So, whether you fancy a stadium tour of Old Trafford, a tour of Manchester Cathedral, or you want to party alongside some of the world's best DJs at The Warehouse Project, you're sure to find something that takes your fancy on our exhaustive list of the best things to do if you have just 24 hours in Manchester.
One Day in Manchester Itinerary
For this Manchester itinerary, you'll find the day split into morning, evening, and evening, plus a recommendation for finding some nightlife excitement. As you read, you'll also find recommendations for where to go shopping and eat.
Morning in Manchester
Start your day with a quick breakfast at your accommodation or a local cafe and then head out to discover the cultural touchstone of Manchester.
Take a Football Stadium Tour
In Manchester, football (that would be soccer for Americans!) is life. You are either a red or a blue.
Even if you aren't a soccer fan, touring one of Manchester's iconic football stadiums will help you better understand the culture of Manchester since football plays such an important part in it.
For years under Sir Alex Ferguson, Manchester United dominated English football, racking up the trophies and attracting world class players such as Cristiano Ronaldo, Ruud van Nistelrooy, and David Beckham.
But following a financial takeover in 2008, the noisy neighbors in blue, Manchester City, emerged from their slumber. Now managed by arguably the world's greatest coach, Pep Guardiola, Manchester City are more than a match for United these days.
The two clubs play their home matches at Old Trafford (United) and the Etihad Stadium (City), both of which offer stadium tours to visitors. Stroll through changing rooms, marvel at the pitch where the players strut their stuff and see the collections of trophies that the two clubs have acquired over the years.
At Old Trafford there is an onsite museum too, so you can learn about the history of some of Manchester United's older legends, from Sir Bobby Charlton to George Best.
One Day Tip: If short on time, the Old Trafford Stadium and Museum tour is probably your best bet — just book well in advance to get one of the earlier morning time slots.
Visit the Manchester Museum
The Manchester Museum is The main focus of the Manchester Museum is archaeology and natural history, and visitors will be dazzled by its main exhibits. The most famous of these is probably Stan the T-Rex, a near complete and well-preserved skeleton of a Tyrannosaurus Rex.
Other exhibits include one on the natural history of Manchester and a vivarium. The latter is a fascinating exhibit that is home to a live collection of reptiles and amphibians, including some of the world's rarest frog species. Some of these, such as the Lemur Leaf Frog, are on the brink of extinction in the wild, and captive breeding programs initiated by the museum are helping to preserve these rare species.
Into Manchester's City Center
After the Manchester Museum, it's time to head to the city center (or back into the city center if that's where you're staying). Unfortunately, there's not an easy to get to metro stop by the Manchester Museum so either walk the 25 to 30 minutes back into the city, walk 15 minutes to the Oxford Road station and then get off at the Dean's Gate Station, or just hail a cab or uber for the roughly 2-mile drive.
Whichever way you take, you'll be heading first toward the Ruins of Mamucium, followed by Manchester Town Hall, before getting lunch and starting the afternoon portion of your day in Manchester's Chinatown and Northern Quarter neighborhoods.
Admire the Ruins of Mamucium
It was the Romans who first settled what was to become Manchester, when they built a fort called Mamucium in 79AD. This structure actually survived for centuries but was sadly bulldozed during the Industrial Revolution.
Luckily for today's visitors, the ruins of the original fort can still be found on the site. Fans of Roman history can learn all about the colonisation of Manchester by the Romans and see the original layout of this groundbreaking settlement.
Manchester Town Hall
A 15 minute walk from the ruins of Mamucium takes you to the Manchester Town Hall.
One of the most recognizable landmarks in the city is Manchester Town Hall, which was featured in such blockbuster movies as The Iron Lady and Sherlock Holmes.
Located in the heart of the city's Albert Square, Manchester Town Hall is a stunning gothic building, dating all the way back to the 1870s.
A guided tour of the interior reveals equally stunning architecture, with spiral staircases and arched ceilings. There's also a Sculpture Hall, displaying a number of statues of famous Mancunians (the nickname given to people from Manchester).
---
Alternative Idea for Your Morning in Manchester: Go Skiing at Chill Factore
If you like your day out in Manchester to be spent getting the adrenaline pumping, then you'll want to pay a visit to Chill Factore – one of the best indoor ski slopes in England. Home to Britain's longest real snow indoor slope, visitors can enjoy a day of skiing and snowboarding, while kids can hang out in the snow play park.
If you've never skied before then you can get lessons at the center, or if you'd prefer to give it a miss, then you can enjoy a coffee and a bite to eat at the onsite restaurant, while the rest of your family or friends hit the slopes.
---
Afternoon in Manchester
After your morning of learning about Manchester's culture and history, you're no doubt ready to eat. Grab some lunch at one of the below places, and then spend the afternoon exploring some of Manchester's most enchanting neighborhoods, and maybe grabbing a pint or two.
Wander Through Chinatown
A short walk from Manchester Town Hall is Manchester's Chinatown neighborhood.
Chinatown in Manchester is the second largest in the United Kingdom, home to a range of authentic restaurants, shops, and supermarkets. A large Chinese archway greets you on arrival into the area.
The best place to head for a bite to eat is arguably Red Chilli, an authentic Chinese restaurant located in the basement of a store. You can also spend some time browsing the shops for traditional products and toys or buy your own ingredients if you're spending a few days in Manchester and fancy cooking a meal for yourself.
Explore the Northern Quarter
The Northern Quarter is perhaps the must-visit region of Manchester if you have limited time. Packed full of small independent shops, trendy cafes, and hip bars, a wander around the area is a great way to spend a few hours. You could also choose to get lunch here instead of in Chinatown and just walk through Chinatown on your way to Northern Quarter if you so desire.
Affleck's Palace is a one-stop shop for shopping, while numerous art galleries have popped up around the Quarter, selling a range of locally produced and international art. Piccadilly Records is a great place to shop for vinyl records, attracting music lovers from all over the country.
When evening falls, the Quarter bursts into life, with jazz bars and live music venues full of revelers enjoying some of the city's craft beers. And if you get hungry, you can file into one of the independent eateries, selling a range of locally sourced meals and snacks. Just follow the queues!
Sample Local Craft Beer
The craft beer scene in Manchester is well-known and worth exploring if you're visiting the city and love a pint.
Many independent bars and breweries sell locally brewed real ales and craft beers, and Manchester even plays host to an annual beer festival.
Some of the best bars and breweries to try include Port Street Beer House, Beermoth, and The Hope, all fabulous venues selling a range of premium craft beers.
Evening in Manchester
Your evening in Manchester will likely be dominated by eating, drinking, and going to a theater performance or nightclub. Here's what you need to know to plan the perfect evening in Manchester for your interests.
See a Show at The Lowry
Several great theaters are located in Manchester, but the Lowry is arguably the best place to watch a show in the city. Constructed at the former city docks, just 10 minutes from the bustling city center, the Lowry knows how to put on a show — from West End classics to Shakespeare.
There are also shopping facilities, a cinema and plenty of bars and restaurants in the area.
The Lowry is also within walking distance of the Imperial War Museum North and Old Trafford Stadium, providing plenty of things to do for people of all ages and interests during a day in Manchester.
Manchester Nightlife Recommendation
Party at The Warehouse Project
The Warehouse Project offers one of the best nights out in all of England. Attracting partygoers from all over the world, The Warehouse Project relocated in 2019 to the much bigger and more impressive Mayfield Depot, just a stones throw from Piccadilly Station in Manchester.
If you've got 24 hours to spend in Manchester and fancy some nightlife with dancing, then there is nowhere better in the city. The venue attracts people of all ages to see world class DJs perform with top quality sound, lighting, and pyrotechnics. Legends of the game such as Fatboy Slim and Carl Cox feature on line ups alongside more recent arrivals on the dance music scene.
The venue is colossal, with several bars and different rooms, meaning you'll never get bored – which is good news because partying at the Warehouse Project can last well into the early hours of the morning!
Have Fun During Your Day in Manchester!
Manchester is one of the most diverse and vibrant cities in the United Kingdom, and there is something to do for everyone, whatever your interests.
Historic landmarks, an atmosphere-charged nightlife, a love of the arts, lush green spaces, and the all-encompassing nature of football combine to make Manchester one of the most desirable places to visit in the whole of the UK and is well worth a day trip or overnight stay.
About the Author: Vicki runs the blog, Day Out in England, which is here to help you make the most of this wonderful country and to find great days out to suit your budget. Filled with guides and itineraries to England's best days out, and searchable by interests, counties, cities, and areas – Day Out in England is definitely not just for the kids!
Found this One Day in Manchester Itinerary helpful? Pin to read again later!