Things to Do if You Only Have One Day in Oslo, Norway
I'm excited to have an Oslo local share with you today on the blog exactly how you should spend one day in Oslo to see the top sights and experience it like a local. Read on for a detailed itinerary for one day in Oslo. Happy Travels! -Gina
It is not easy to know what you should spend your time on if you're new to a city. Answering questions like "how to get there", "how much does it cost" and "how much time should we spend on this activity" and so on can be difficult. Luckily, Oslo is not that big, and this one day in Oslo itinerary should make it rather easy for you. It includes the most worthy attractions to spend your time on if short on time in Oslo.
Facts about Oslo, Norway
Oslo is the capital of Norway and is its biggest city, with a population of approximately 700,000. The city center is situated at the end of the Oslofjord inlet. To the north and east, wide forested hills rise above the city.
Oslo can be visited both in winter and summer, due to its perfect location for different seasonal activities.
One Day in Oslo Itinerary: Top Things to Do
Oslo has several museums and parks, holds several festivals every year, and was even recently named one of Lonely Planet's Top Ten Cities to visit.
Oslo Museums
If you love art and history and the weather is not at its best, you have a great opportunity to visit some of Oslo's greatest museums. There are several of them located in different areas and you can check my itinerary recommendation at the end of this post for the best combination of museum activities.
Folkemuseum – The Norwegian museum of cultural history is dedicated to Folk Art, Sami (the Lapps) and Viking cultures. The museum is an open-air museum and is located in Bygdøy. It is open during the whole year, but only on weekends during low and shoulder season.
The Kon-Tiki Museum – Houses vessels and maps from Thor Heyerdahl's expedition – Kon-tiki raft and RaII. The museum is located in Bygdøy, close to Folkemuseum. It is opened throughout the year.
The Viking Ship Museum – Showcases a – you guessed it – Viking ship. It is open throughout the year except January 1.
Fram museum – This unique museum is dedicated to Norwegian polar explorers and their expeditions. It is open every day.
These museums are all located in the same area – Bygdøy, and gives you an opportunity to learn a lot about Norwegian history. Some of them have discounted prices if you visit several museums. Others will give you two for the price of one – one ticket for two museums. Check at the cashier when purchasing your tickets if any special conditions apply.
Now onto more museums to choose from when visiting Oslo. These ones are located in the city center.
Munch Museum – This museum is dedicated mostly to the works of Edvard Munch, one of Modernism's most significant artists. The museum is located at Tøyen.
The National Gallery – Houses Norway's largest public collection of paintings, drawings and sculptures. Here you will find Edvard Munch's "Scream" and "Madonna". The museum is located in the city center, just off the main street.
The Olso City Museum – As the name suggests this is a museum about Oslo. It is open Tuesday through Sunday, and has a free entrance on Saturdays.
The Historical Museum – Open Tuesday-Sunday, closed during public holidays.
I recommend you always double check opening hours online before visiting any museums in Oslo (note from Gina: this is a good travel tip in general for museums and other attractions!).
Outdoor Attractions During Your One Day in Oslo
If you are not much of a museum person the outdoor attractions in Oslo are the perfect way to spend your day in the city.
Holmenkollen National Arena – Known for biathlon and Nordic skiing venues as well as hosting annual World Cup tournaments. It takes you 30-40 min by tram (which is on metro line 1) to get to the arena. On your way up to Holmenkollen you will get the most amazing views of Oslo from above. If you dare, try the Holmenkollen zipline, which is 361 meters long with an elevation drop of 107,5 meters. Holmenkollen is open every day during July and August. You can get your tickets online or by drop-in is available. The ticket includes entrance to the Ski Jump Museum.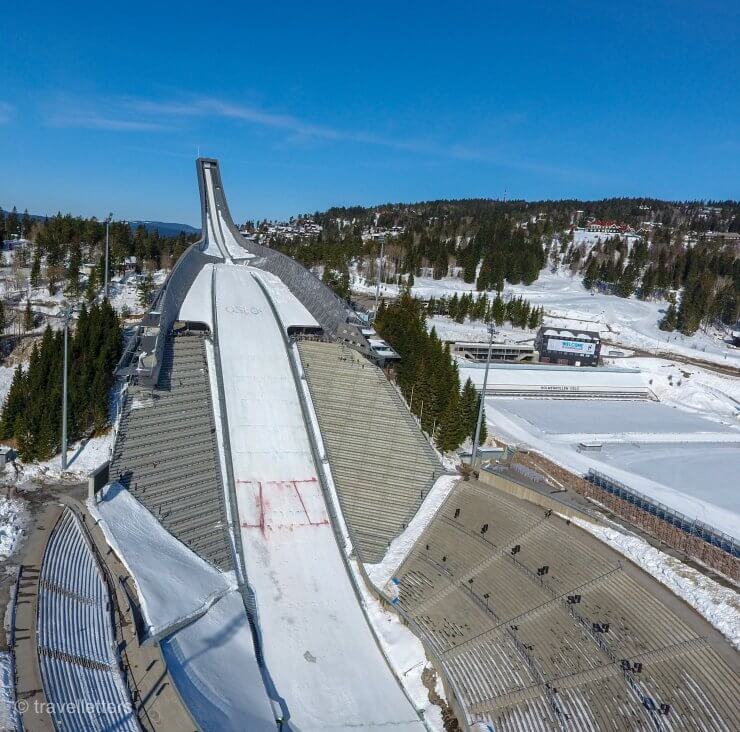 While you are up in this part of Oslo, take the metro even higher up to the end station to visit Frognerseteren Café and Restaurant. It will only take you an extra 10 minutes to get up there. Here you can get a coffee and try the café's famous apple tart or feast on a full lunch. But the best part is the beautiful views of Oslo. Remember to get a window seat preferably on the right hand side on your way back to the city center.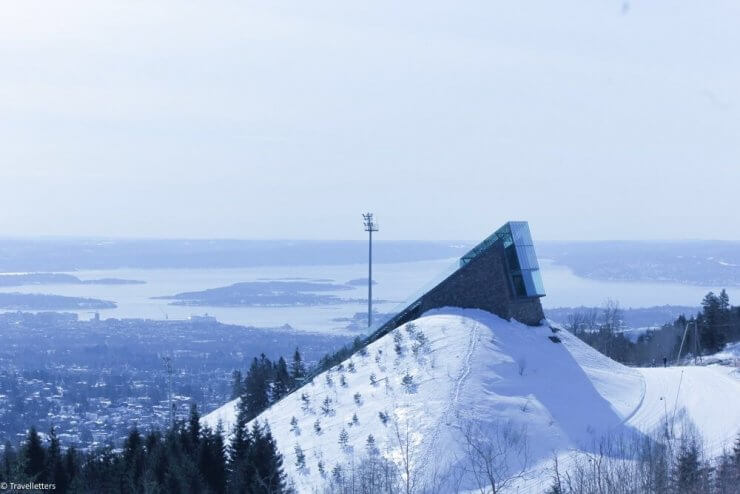 Even after museums and sport attractions, you should still have a few hours left to visit some of Oslo's most famous parks during your one day in Oslo.
Vigelandsparken – Located in Frogner Parken in the city center. It is free to access the park. Vigelandsparken contains over 212 sculptures by Gustav Vigeland including an obelisk and the Wheel of Life. Another popular sculpture is Sinnataggen, a baby boy stamping his foot in fury. This statue is very well known as an icon in Oslo. During summer you will see the park filled with people having picnics when the weather allows. The park is the world's largest sculpture park made by a single artist and is open year-round.
The Royal Palace – Located at the end of the Main Street Karl Johan. Start your walk at the top of Karl Johan, which is the central railway station end. You will pass by many shops, cafes, and restaurants. On your left hand side you will see the Parlament building with two beautiful lion statues guarding the entrance. A little bit further down the street, still on your left hand side you will see The National Theatre. Continue towards the Palace and on your right hand side you will find Oslo University. The Royal Palace is open to the public during summer, for guided tours only. I
Akershus Festning – Akershus Castle and fortress, located just off Aker Brygge, the harbor. The Castle was completed in the 1300s and had a strategic location. The Fortress and its beautiful surroundings have a free entrance.
Aker Brygge and Tjuvholmen is the harbor area in Oslo. It is extremely popular during summer months and during warm weather. The area is filled with restaurants, bars and shops. Tjuvholmen is the new borough, with cool architecture; cool restaurants and a little bit more sophistication.
Oslo Opera House is located in The Barcode, an highrise area in the Bjørvika neighborhood known for its architecture. The Oslo Opera House is situated right by the central railway station. The opera house is known for its cool construction that allows you to walk on top of it.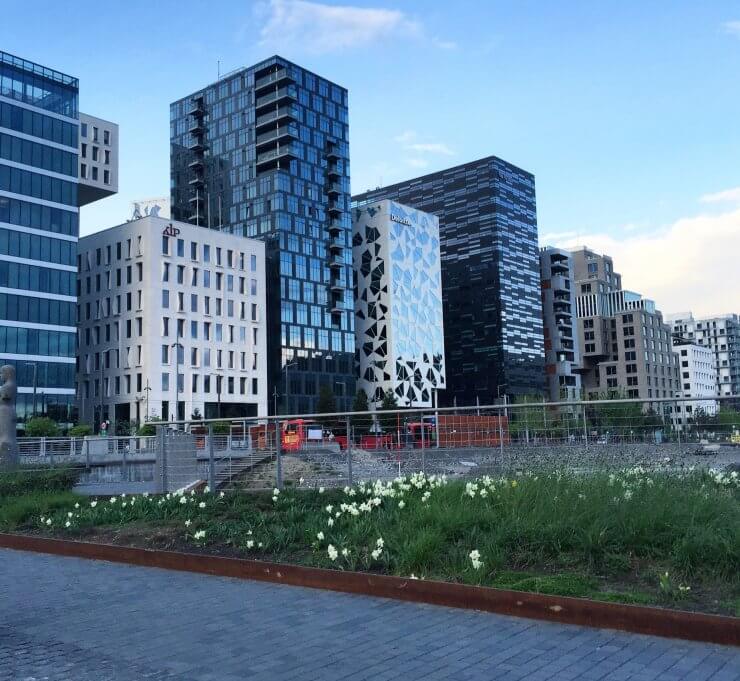 Ekeberg Parken – Another Oslo sculpture park; this one is located on Ekeberg hill with beautiful views of Oslofjord, the city, and Holmenkollen. It is situated next to Ekeberg Restaurant and can be reached by tram or car. It takes 10 min to get there depending on the traffic. The Park is located in a wooded area, which will give you nice shade during summer heat. Ekeberg parken is open every day all year and has free admission.You can also book a private guided tour of the park.
What and Where to Eat During Your Day in Oslo
While in Oslo you'll want to try its New Nordic Cuisine, which is cuisine focused on local ingredients and freshness. Here are two places at which you can try New Nordic cuisine:
Vippa Oslo is an up and coming food, culture and education center located at the edge of Vippetangen, right by the Oslo Fjord. Vippa has food and drink and often events such as concerts on its premises, too.
Mathallen is an indoor food court centrally located in Oslo between St.Hanshaugen, Grünerløkka and Alexander Kiellands Plass.. Mathallen has 30 specialty shops, cafés and eateries. that offer high-quality products from Norwegian small-scale producers as well as special foreign imports.
Shopping in Oslo
If you have some time left during your one day in Oslo, you can do some shopping. Oslo has two shopping malls located close by the central railway station and a few more along or near the main street Karl Johan. Norway is expensive, but if you visit Oslo during July you can find some really good bargains during summer sales. There are also many small shops that promote up and coming young designers or small brands, where you can find some really cool stuff.
Bonus One Day in Oslo Recommendations By a Local
Oslo is not a big city and it is easy to get around by public transportation or walking in the centre. However, if you get an "Oslo pass" for 24 hours it will give you many discounts and some freebies.
What you get with Oslo Pass:
Access to public transportation within zones 1 and 2, which covers the whole of Oslo, and some suburban areas.
Access to most museums
Free or discounted prices for Sightseeing tours
Discount at various cafes and restaurants
Free and discounted prices for different activities.
You can get the pass at Oslo Visitor Centre as well as some museums.
Oslo Packing Tip – always bring a jacket, a sweater and an umbrella traveling to Norway – any time of the year. Oslo can get all four seasons during one day!
One Day in Oslo Itinerary Breakdown
Now that you have an idea of all the different things there are to do in Oslo, you'll have to narrow it down. I've done four different itineraries for you with time recommendations so you can pick the one that's best for you and then add on other sights from the other itineraries depending on your time availability.
One Day in Oslo Itinerary #1
Folkemuseum, along with others located on Bygdøy – 2-3 hours
Aker Brygge and Tjuvholmen – 1 hour
Royal Palace and Karl Johan (the main street) 1- hour
The National Gallery – 3 hours
One Day in Oslo Itinerary #2
Holmenkollen and Frognerseteren – 2-3 hours
The Opera House and Bjørvika the barcode – 1 hour
Royal Palace and Karl Johan – 1 hour
Aker Brygge and Tjuvholmen – 1 hour
One Day in Oslo Itinerary #3
Royal Palace and Karl Johan – 1 hour
Vigelandsparken – 1 hour
Akershus Festning – 2 hours
Aker Brygge and Tjuvholmen – 1 hour
One Day in Oslo Itinerary #4
Ekeberg Parken – 2-3 hours
Oslo Opera House and Bjørvika the barcode – 1 hour
Royal Palace and Karl Johan – 1 hour
Aker Brygge and Tjuvholmen – 1 hour
You can of course change the itinerary as you wish, but my general recommendation is to do one museum and one sightseeing activity. Remember to stroll around and take in the vibes of the city. People-watching is always a great idea when traveling and the best spots to do it in Oslo are any side street café in Karl Johan or Aker Brygge.
Also, here's one last bit of Oslo trivia… Did you know that Oslo is the only city that hosts the Nobel Prize award outside of Sweden? It hosts the Nobel Peace Prize award, which you can attend in December — if you can get the tickets.
Enjoy your day in Oslo!
About the Author: Lena Eriksen is a Norwegian travel blogger based in Oslo. She loves traveling but also her job and would love to show you that it is possible to travel quite a lot while working 9-5. You can follow her on her blog, Facebook and Pinterest.