One Day in Porto – The Perfect One Day Itinerary
Porto is an exciting and vibrant city full of fascinating history and beautiful sites to discover. The city's main highlights and attractions are all located within close proximity to the center making it easy to explore if you only have one day in Porto.
Porto is Portugal's second largest city and has become a very popular destination for those seeking short European breaks. It's famous for the production of Port wine and is home to a number of historic wine cellars which offer tours and Port tastings.
This one day in Porto itinerary will help you figure out exactly what to do with your time in the city.
It includes many things to do and see in Porto, including exploring the labyrinth of alleys in Porto's colorful Ribiera district, cruising along the beautiful Douro River, and of course sampling the famous Port wine which is easily the most popular thing to do in Porto!
This charming coastal city has so much to offer, you could easily spend up to a week there and not get bored. If you're short on time, read on to discover the best way to spend one day in Porto.
One Day in Porto Itinerary Overview
Time needed: 1 day.
One Day in Porto Itinerary Overview: How to best visit Porto in One Day
Brunch at the Zenith Brunch & Cocktail Bar
Admire the beautiful Igreja do Carmo
Climb the tallest tower in Porto
Visit one of the world's most beautiful train stations
Take a scenic cruise on the Douro River
Tour an ancient wine cellar and taste the famous Port wine
Finish the day with dinner and drinks in Porto's vibrant Ribeira District
One Day in Porto Travel Guide
And now for the detailed One Day in Porto itinerary!
Zenith Brunch & Cocktails Bar
Start your day off right by having brunch at the Zenith Brunch & Cocktail Bar. This highly rated brunch spot serves generous portions of delicious, high quality food. Some of their popular dishes include smoothie bowls, pancakes, eggs benedict, shakshuka and much more.
With great service, amazing food, and good coffee, this really is the place to go for brunch in Porto!
Igreja do Carmo
Once your belly is full, make your way over to this stunning Baroque style church to snap a photo of its famous tiled exterior. If you've ever seen photos of Porto, it was probably of this blue and white azulejo (tile) covered church.
Nothing screams Porto like these traditional painted tiles! Entrance to the church is free and it is worth a peek as the inside is just as beautiful as the outside.
Clérigos Tower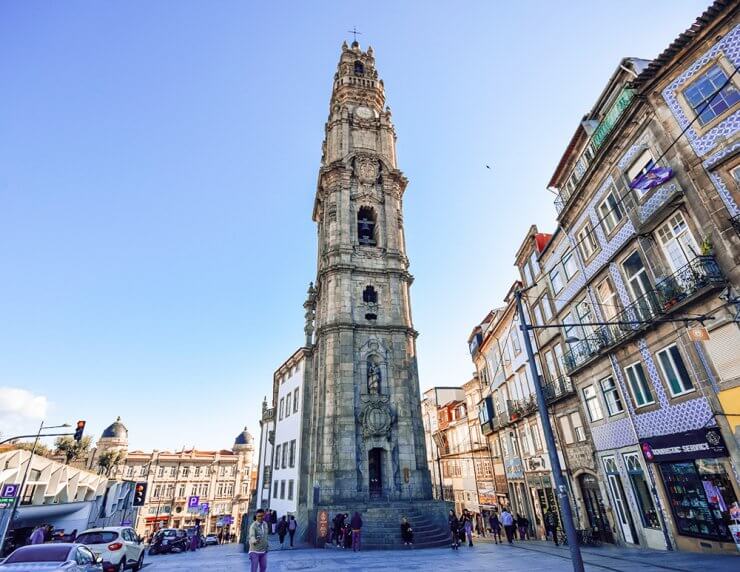 Next up on your itinerary is the Clérigos Tower which is a short 5-minute walk from the Igreja do Carmo. One of the most iconic symbols of Porto, the dominating Cérigos Tower can be seen from pretty much anywhere in the city.
If you're looking to find an awesome view over Porto, you'll want to make your way up all 240 steps to the top of the tower. Stunning panoramic views of Porto's red rooftops and the Douro River will reward you when you reach the top. Tickets for the tower cost €5 per person.
São Bento Train Station
São Bento Train Station is said to be one of the most beautiful train stations in the world. It's an attraction unto itself, even if you don't have a train to catch. Pop in here for a few minutes to admire more of the incredible Portuguese tile work that covers the inside of the building.
There are over 20,000+ azulejos inside this beautiful historic building, each one telling stories of Porto's colorful past. The São Bento Train Station is truly a work of art.
6 Bridges Cruise
Take a scenic boat cruise along the Douro River passing underneath all six of Porto's bridges. Enjoy beautiful views of the city from the water and learn the fascinating history behind the bridges and the Rabelo wine boats that once sailed the same route. These traditional wine boats were used to transport wine from the Douro Valley to the cellars of Porto.
The cruise begins at the Ribeira Quay and lasts for about 50 minutes total. A tour departs every hour.
Port Wine Cellars
A trip to Porto isn't complete without visiting the famous historic wine cellars which line the waterfront of Vila Novo de Gaia. This area can be accessed by crossing over the Dom Luis I bridge from the old center of Porto.
Most of the wine cellars offer guided tours and tastings where you can dive into centuries of Portugal's wine making history. The tastings are usually accompanied by a selection of pairings like cheese, chocolate, and more tasty snacks.
One of the most popular wine cellars which offers a great tour is Caves Cálem. The guided tour includes a visit through the wine cellar followed by a Port wine tasting.
Ribeira District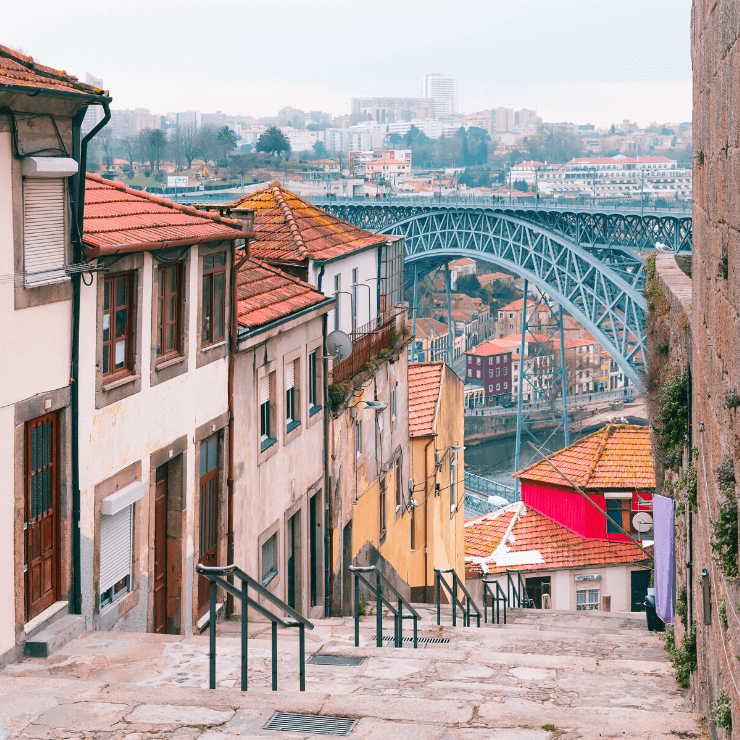 Finish off your day in Porto's oldest neighborhood. The pretty Ribeira District sits on the waterfront of the Douro River and is made up of twisting, cobbled lanes lined with ancient buildings.
It's easy to get lost in the maze of streets but this is often the best way to discover some of Porto's finest family-run restaurants. The little wine bars along the waterfront make the perfect place to sit and relax after a full day of sightseeing while sipping a glass of Douro wine or two and taking in your surroundings.
Dinner in Porto
There is no shortage of highly rated traditional restaurants around the Ribeira District. If you're looking for a light Tapas style meal I would recommend going to the 'Ribeira Square' which is located near the waterfront. This lovely restaurant offers a large range of Tapas options along with a great selection of wines and Ports to choose from.
If you're a fan of seafood and looking to try some traditional Portuguese cuisine, look no further than the 'Taberna dos Mercadores'. This hidden gem is tucked away down a back alley and serves the highest quality of fresh seafood dishes with fantastic service.
It's a small restaurant with a cosy atmosphere and due to its popularity, booking ahead of time is essential!
Getting Around Porto
The best way to get from the airport to the city center is to take the metro Line E which runs every 30 minutes.
Porto's city center is quite compact and when I visited, I found it easy to see all the sites by foot. If you prefer to get around by bus or tram, I recommend getting the Porto Card.
The Porto Card card includes unlimited access to public transportation, free entrance to select museums, 20% off Douro River cruises, and more.
Best Viewpoints of Porto
Whenever I visit a new city, I always love to find the best viewpoints so that I can take the best photos. There are a few spots in Porto where the views are absolutely breathtaking and they can be easy to miss if you don't know about them.
The following viewpoints are easy to find as you make your way around the city and I highly recommend that you don't skip them! Click the links to view the exact location on Google maps.
Miradouro da Vitoria – This lookout is tucked away in the backstreets and easy to overlook but it's well worth a stop as it offers the most picturesque view of the city, river and Dom Luís I Bridge.
Dom Luís I Bridge – This one might seem obvious but to catch the best view, you must walk across the upper part of the bridge. There are foot paths on both upper and lower decks but if you want the most epic panoramic view of the river and city, you'll want to head for the top one (Warning: those with a fear of heights might want to give this one a miss!)
Vila Novo de Gaia – Located on the other side of the bridge, this popular viewpoint offers stunning views looking back at Porto, the Ribeira District, Douro River and bridge.
One Night in Porto: Where to Sleep
The best place to stay in Porto is in the historic center. This is where you will be conveniently located by the popular cafes, restaurants, and shops as well as have easy access to the city's main sites.
Here are some of the best accommodation options to suit every budget range.
Budget: Best Guest Porto Hostel
This highly-rated hostel is in a prime location in the historic center of Porto, surrounded by popular cafes and restaurants. It offers a variety of options including 6-bed dorms, private rooms and female only dorms. You can expect clean rooms, friendly staff and a breakfast included making this a great option for any budget traveler.
Mid-Range: Mo House
This lovely guest house is located in the heart of Porto within walking distance to the Douro River, Clérigos Tower, and many other attractions. It features comfortable rooms with a kitchenette and a private bathroom. A delicious breakfast is also included in your stay.
Luxury: Pestana Vintage Porto Hotel
This beautiful 5-star luxury hotel is in a 16th century building situated on the Ribeira waterfront offering spectacular views over the Douro River. With a fabulous breakfast and great service, this is the perfect option for those seeking some comfort and luxury during their stay in Porto.
About the Author: Ann is the other half of The Road Is Life where she blogs with her partner Rick about travel and living a minimalist lifestyle. Originally from Vancouver, Canada, she is now living in the UK where you can often find her exploring Europe and sharing her travel stories on her blog and social media. You can follow The Road Is Life on Instagram and Facebook.
Found this post helpful? Share on Pinterest!