How to Spend a Perfect 24 Hours in Santo Domingo, Dominican Republic
If you're looking for the perfect one day in Santo Domingo itinerary, then you're in the right place. Today, Chris is sharing his recommendations about the top things to do when short on time. He lives in Santo Domingo part-time so knows all about this gorgeous city in the Dominican Republic!
Santo Domingo is the capital of the Dominican Republic and the cultural center of the country. It features one of the most beautiful old towns in the entire Caribbean, a UNESCO-awarded historical center, and a vibrant nightlife, which all are reasons why you should spend at least 24 hours in Santo Domingo before heading out to other areas in the Dominican Republic.
So, what does a perfect day in Santo Domingo look like? Read on to get my recommended itinerary.
One Day in Santo Domingo: the Morning
After waking up, have breakfast at your accommodation. I highly recommend you to book yourself an accommodation inside the Colonial Zone, as this is where everything is happening in Santo Domingo.
With the Colonial Zone being located directly in the historic center, you can immediately start exploring this area right from your hotel if you choose to stay in this area.
The Colonial Zone with its ancient cobblestone streets, centuries-old buildings, and creative art scene is the perfect place to start your day in Santo Domingo.
When strolling through the streets with its colorful houses you might even start to feel like you're in an open-air museum.
When exploring the Colonial Zone, you have three options on how to go.
You can either walk around on your own, which is perfectly fine and considered to be very safe. Each street in the area is different and there are so many secrets to explore.
Places you shouldn't miss are the House of Columbus' son (Casa Alcázar Colón), the Basilica Cathedral of Santa María la Menor (the First Cathedral of the Americas), the Fortaleza Ozama (the oldest fortress in America) and the Museo de las Casas Reales, a very beautiful building and extensive museum on the colonial history of the Dominican Republic.
If you are interested in some more information about culture and history, you should go with a private guide. Your guide can really enrich your walking tour through the Colonial Zone with a lot of unique stories and information.
You can either book a guided walking tour online, ask your accommodation to call one, or join one right in the street, especially in the pedestrian zone Calle Conde.
The third option is to book a Trikke Tour. A Trikke is a kind of triangled Segway and it's a fun and quick way to move around. Usually, these tours include a short glimpse of the Dominican history, visiting some of the colonial sights as well as a stop at a chocolate factory. It is probably the most entertaining way of all three options.

If you need further recommendations on what to see in the Colonial Zone of Santo Domingo, you can check out this article.
Lunch Time in Santo Domingo
Once you are done with your first impressions of the historic center, have a look for a suitable lunch place. There are tons of options in the area, from cheap to expensive.
My recommendation would be to get an outside table at the restaurant of the Conde de Peñalba hotel right at Parque Colón. You can have a typical Dominican dish here and watch what's happening on the lively square.
One Day in Santo Domingo: the Afternoon
After lunch, it is time for your second part of your perfect day in Santo Domingo.
If you have not seen enough from the Colonial Zone yet, you can continue to explore the cultural heart of the city. Plenty of art shops, museums, cafés and little shops are waiting to be explored. Everything in the Colonial Zone is walkable. Most of the area isn't touristy so you can get a good glimpse of the Dominican way of life as well.
Parque Nacional Los Tres Ojos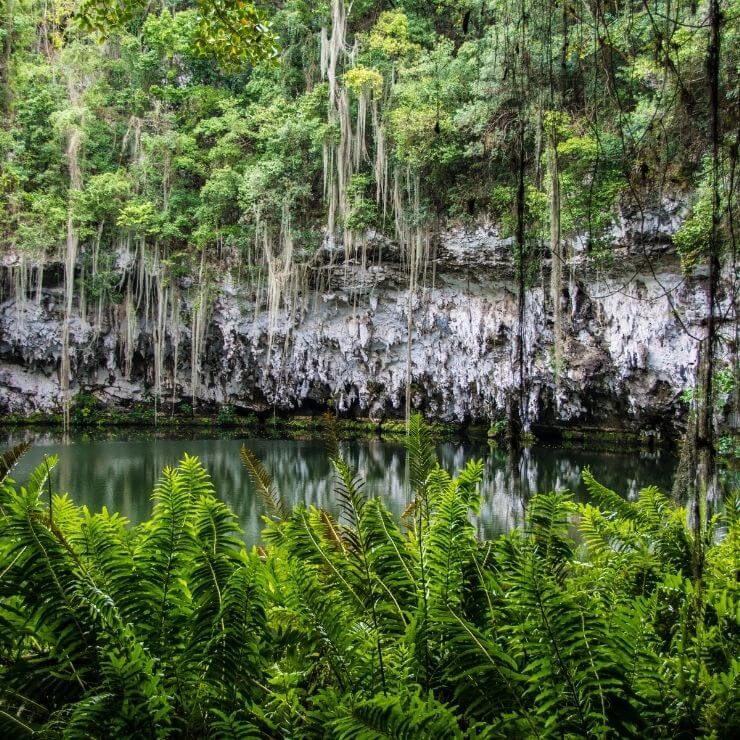 However, there are also a few places that are worth visiting in Santo Domingo outside of the Colonial Zone. One of them is the Parque Nacional Los Tres Ojos ("The Three Eyes National Park"), a national park amidst the city.
It consists of three lagoons fed by underground water. Though you cannot swim in the lagoons, it is surprising to see these natural beauties as they are surrounded entirely by the concrete jungle of Santo Domingo, which makes it a unique attraction in the city.
To get to Parque Nacional Los Tres Ojos, you can simply take an Uber or a taxi. Even though you can get there by public transport, I would not recommend it if you're short on time since it is quite complicated to understand the bus system in Santo Domingo.
Faro Colón
When you are on your way from the Colonial Zone to Los Tres Ojos, you can also stop at Faro Colón, which is known as Columbus' Lighthouse. It is an impressive building, monument, and mausoleum which is especially worth seeing from outside, as it is so huge.
Inside, you can visit a museum and be (allegedly) close to some remains of Christopher Columbus, but there is no official proof that it is him to whom the remains belong.
Enjoy the Santo Domingo Sunset
After heading back to the Colonial Zone, it is time for your sunset drink, a relaxing part on this Santo Domingo itinerary. The rooftop terrace of the Rum Experience ("La Casa del Ron") at Parque Colón is a perfect place with a great view. 
One Day in Santo Domingo: the Night
At night, the Colonial Zone awaits you with various options of bars and restaurants, where you find everything from rustic to elegant, from hole-in-the-wall to fine dining, and from ramshackle old bars to hip cosmopolitan dance clubs.
Also, Dominicans love to go out in the Zona Colonial, so you will be definitely among many locals. Depending on where you go, you might be the only foreigner, which shouldn't be a problem, as Dominicans are very open-minded and welcoming.
Dinner in Santo Domingo
For dinner, I would recommend two options. If you are looking for a romantic and upscale experience, you can head to Plaza España area.
It is one of the best places to spend the evening, as there are many fine-dining restaurants, all with outdoor terraces and marvelous views on the illuminated Casa Colón, the house of Columbus' son.
If you prefer something more low-key, you can head to Mercado Colón, a beautifully designed market-style eatery on a typical colonial patio.
If you're looking for a mix of entertainment and Dominican food at Mercado Colón, head to Jalao where you usually can enjoy a live performance of local bands or dancing sessions while sampling from an extensive Dominican menu.
Falafel Restaurant is another good option.
Drinks and Dancing in Santo Domingo
When it comes to after-dinner drinks, I have two perfect recommendations for you, depending on your budget and on the way you travel.
For a unique (outdoor) bar, you can visit La Alpagateria, another colonial patio with a relaxed atmosphere and a decent cocktail menu.
If you prefer the local experience, head to Parque Duarte, a popular hangout spot where you buy your 1-liter bottle of beer in the little mom-and-pop store and then can meet and mingle with every kind of people right in the park.
If you want to finish your night with a typical club experience, you should head to Parada 77. This is the locals' favorite when it comes to dancing Salsa, Bachata and Merengue. Usually, there is no cover. It is particularly packed between Friday and Sunday. That being said, those are the perfect days if you just want to watch. If you indeed want to dance, consider coming from Tuesday to Thursday as you have much more space to move around.
Once you done with your night and are heading back to your accommodation, you have had the perfect first impression of Santo Domingo in just one day.
You can either stay longer to explore more or get out of the city to discover the many beautiful regions of the Dominican Republic, such as Punta Cana, the Southwest, the central mountain area or the north coast with the gorgeous Samaná Peninsula. 
Found this article helpful? Pin to read again later!
About the Author: Chris has traveled to over 70 countries and has been living in the Dominican Republic since 2015 — mostly in Santo Domingo and Punta Cana. Follow him exploring this amazing and underrated country on his blog, focusing on insider tips for the popular destination of Punta Cana. He loves to plan trips for others, travel on his own, and write about the coolest adventures and best experiences. You can also follow him on Facebook, Instagram, and Pinterest.