A Seattle Local Shares How to Spend the Perfect Day in Seattle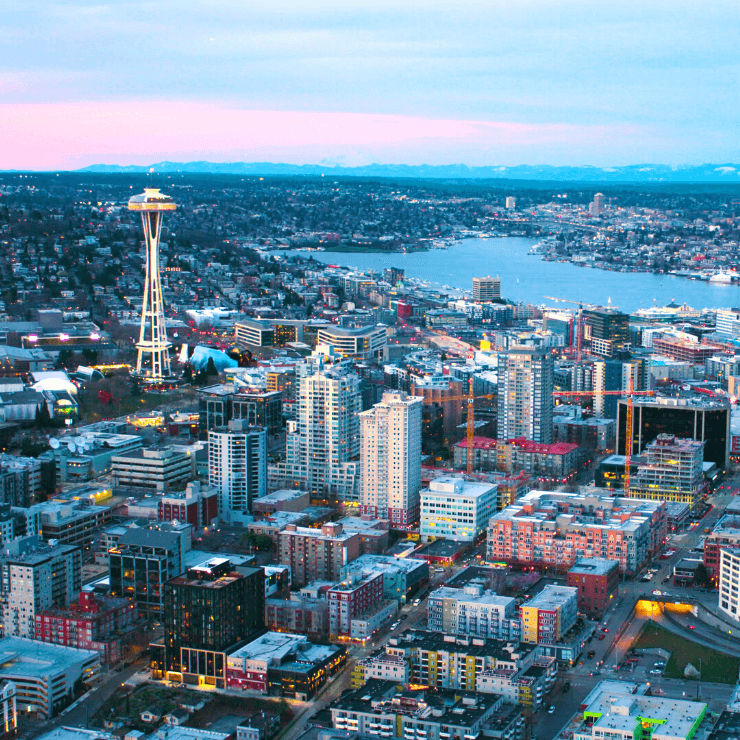 Get ready for a fantastic day in Seattle! Seattle became my place of residence four years ago and it didn't take long for me to fall in love with this gorgeous and unique city, and now I want to share how to spend 24 hours in Seattle so you love it, too.
What makes Seattle so special is that it's a major city, but it's completely surrounded by nature. Lake Washington is located to the east and the Puget Sound to the west. Also to the west is the Olympic Mountain Range, while the tops of the Cascades can be seen to the east, and Mount Rainier towers above the southern horizon.
If you only have 24 hours in Seattle to spend (or just the daylight hours!), you can still get a feel for this mix of cosmopolitan life and nature. I share the top things to do to achieve this below.
Getting Around Seattle
First off, let's talk traffic. If you only have one day in Seattle, you want to make sure you fully understand the transportation around Seattle to make sure you can maximize your time. If you're staying in the city center, there are trains and buses you can take, but if you're planning to go further afield then you're going to want a car to maximize your time. You'll also want to make sure you plan for the traffic patterns of Seattle. It can take a long time to get in and out of the shower.
One Day in Seattle Itinerary
Now for my recommended itinerary for how to spend 24 hours in Seattle.
Pike Place Market
Start your day at Pike Place Market. This is an especially smart thing to do if you're there on the weekends or during a school break or summer holiday as Hope Place market can get really crowded as the day goes on. Plus, in the morning you'll have a wide range of choices of things to choose from the artisan craft and the fresh produce stands. 
Pike Place Market looks out over Elliott Bay and is one of the oldest continuously operating farmers markets in the United States.
Seattle Great Wheel
Go up for a gorgeous view of the Seattle skyline, the Puget Sound, and beyond to Bainbridge Island and even see the Olympic Mountain Range on a clear day with a ride on the Seattle Great Wheel. It's conveniently located on Pier 57 and is just a few minutes walk from Pike Place Market, making for an easy and exciting activity.
The Seattle Great Wheel ride lasts goes around three times and varies in length from 10 to 20 minutes, depending on the time of year and how busy the attraction is. You'll be seated in an 8-person gondola that is climate controlled, meaning this is a fun activity to do even on a cold winter day.
Both Pike Place and the Seattle Great Wheel are located in Union Square. After you're done exploring the market and taking a ride (and looking at all the skyscrapers that belong to Amazon) it's time to head to the
Chihuly Gardens and Glass
The Chihuly Gardens and Glass is a unique museum that features the works of Dale Chihuly, a glass artist who was born in Tacoma, Washington. You'll have the opportunity to see over 200 of these glass works in addition to a gorgeous garden that grows within the museum's ground. The way the glass art is mixed in with natural elements and colors is what wows most people to the gallery, and many consider it to be the focal point of their trip, making it a must-see even if you have just one day in Seattle.
Seattle Space Needle
In the same area as the Chihuly Gardens (referred to as Seattle Center) you'll also find one of Seattle's most famous — and unmissable — attractions: the Space Needle. 
Since it's such a popular attraction, it's smart to get your tickets ahead of time. You can choose a time slot online and purchase your tickets online, then you'll line up when that time arrives at the designated spot from where you'll be escorted to the elevator that will take you to the top of the Space Needle.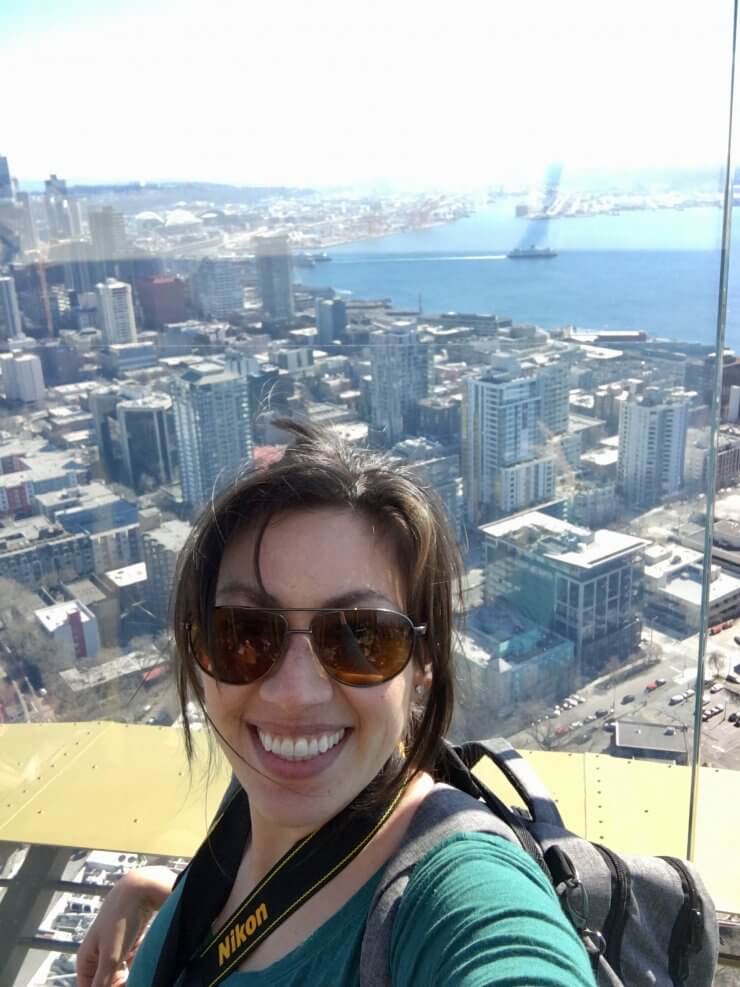 The Space Needle was recently remodeled in 2018 and the new Space Needle Observation Deck now has glass walls around the deck instead of a fence-like barrier, meaning you can now have unobstructed views of the surrounding scenery. (It's also probably smarter in a world of smartphones that inevitably get stuck through said fence for a photo — yikes if it dropped!)
You also can't miss the Loupe, the lower level of the observation deck, which has clear glass panels in the floor and slowly rotates, making it feel like you're walking on thin air!
If you have kids with you, the playground at  the base of the Space Needle is a can't-miss experience. It's full of rope towers and tunnels with fast slides, large rocks to crawl on, and intricate climbing structures that look like a work of art — fitting since the it's close by both the Pacific Science Center, the Children's Museum of Seattle, and a number of public artworks, galleries, and artistic theaters.
Those aforementioned museums also make for great places to spend a few hours if you find yourself with extra time in Seattle. The Pacific Science Center is a particular favorite of mine, with exhibits that will wow both adults and kids. 
Urban Neighborhoods of Seattle to See During Your Day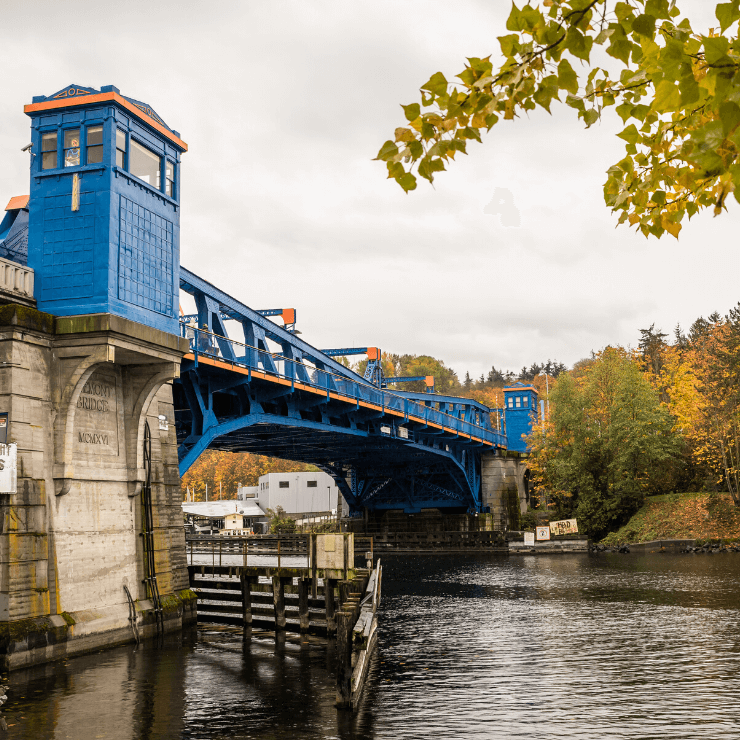 To really experience Seattle, you need to head out of the city center to its urban neighborhoods. This will give you a better sense of the culture of Seattle and how the city mixes urban living with nature.
A great example of this is the neighborhood of Green Lake, where you'll find cute craftsman style houses and trendy eateries situated around a peaceful lake where there are always people walking, biking, or — if it's a nice day — paddling around the lake on a rented rowboat.
Near Green Lake are the hipster neighborhood of Fremont and Ballard, home to farm-to-table restaurants, some of Seattle's best breweries, and more interesting attractions.
In Fremont, head beneath the George Washington Memorial bridge and you'll discover the Fremont Troll, which is exactly what it sounds like — a troll under the bridge! This troll is made of stone, though kids still might find its large face and hands spooky. It makes for a fun photo op.
In addition to the food and drink, you'll find the Ballard Locks in Ballard, where there's the chance to see salmon leaping over up the salmon run during the fall, or watch how the engineering works for the lock system as it adjust the water level to allow boats to come through.
The Ballard Locks are located next to the Carl S. English Jr. Garden, which is a lovely place to walk around, too, though if you're short on time, you may be about ready to head to dinner by this point!
Eating and Sleeping in Seattle
Ballard is a great place to get dinner. If you don't have kids, the Walrus and a Carpenter is a must-eat place for oysters and seafood. But try to get there for the first seating if you don't want to spend part of your evening waiting in line. It's first come first served when the doors open at 4pm. When I ate there, we got there about ten minutes before it opened on a Saturday and made the first seating (barely), but that was in winter so I'm guessing during tourist season the line gets long much faster!
If you like water views with your meal, head back to Belltown, located just north of Pike Place, where you'll find a plethora of restaurants lining the bay. Miner's Landing back on Pier 57 where the Seattle Great Wheel is also home to many restaurants to choose from, such as the Crab Pot.
For sleeping, there are many hotels located near Pike Place Market, making it a centrally located place to stay. Airbnbs are usually easy to find in the urban neighborhoods to the north.
If you have time in the morning before leaving, head to the nearest Top Pot Doughnuts, which is a Seattle institution and has some of the best donuts around! The caramel old-fashioned is incredibly delicious!